Fantastic Budget Monitor
Aputure have defined themselves as a major manufacturer in the photo and video accessory community, for amateurs, prosumers, and professionals alike. Their product line, once small with decent quality products, has now grown into a full-scale professional toolkit. From lighting and audio, to motion control, monitors, and support, Aputure has come to be known for high quality products at a more affordable price than much of its competition. I have used several of their LED lights, and been very happy with their output, build quality, and price.
Sitting in the middle of their monitor product line is the Aputure VS-2 FineHD monitor. This monitor, while a few years old now, still reigns supreme as a budget friendly 7" monitor. If you are not aware of the price of external monitors that have a variety of different video assists features, most of them come in at least a double or triple the $279 that the Aputure VS-2 FineHD is priced at. It's lack of barrier to entry will initially catch your eyes, but let me explain why I enjoy using this monitor so much, and what makes it a worthy purchase.
Aputure VS-2 FineHD – Inside the box
The Aputure VS-2 FineHD arrives in a semi-soft carrying case. This case includes the VS-2 FineHD monitor, a Sony style LP battery, charger, sun hood, mini magic articulating arm, charger, power adapter cable, HDMI (type A to C and A to D), firmware update cable, and cleaning cloth. Right away they take care of you. There's nothing more annoying than buying a product and having to order the necessary cables and adapters right away. They even include a battery, which gives them high marks in my opinion. The carrying case that they provide is really nice, with laser cut hard foam on the inside with the proper cutouts for all included accessories. I'm a huge fan of the Manfrotto magic arm. The small articulating arm that Aputure provides with the VS-2 FineHD is fantastic as well.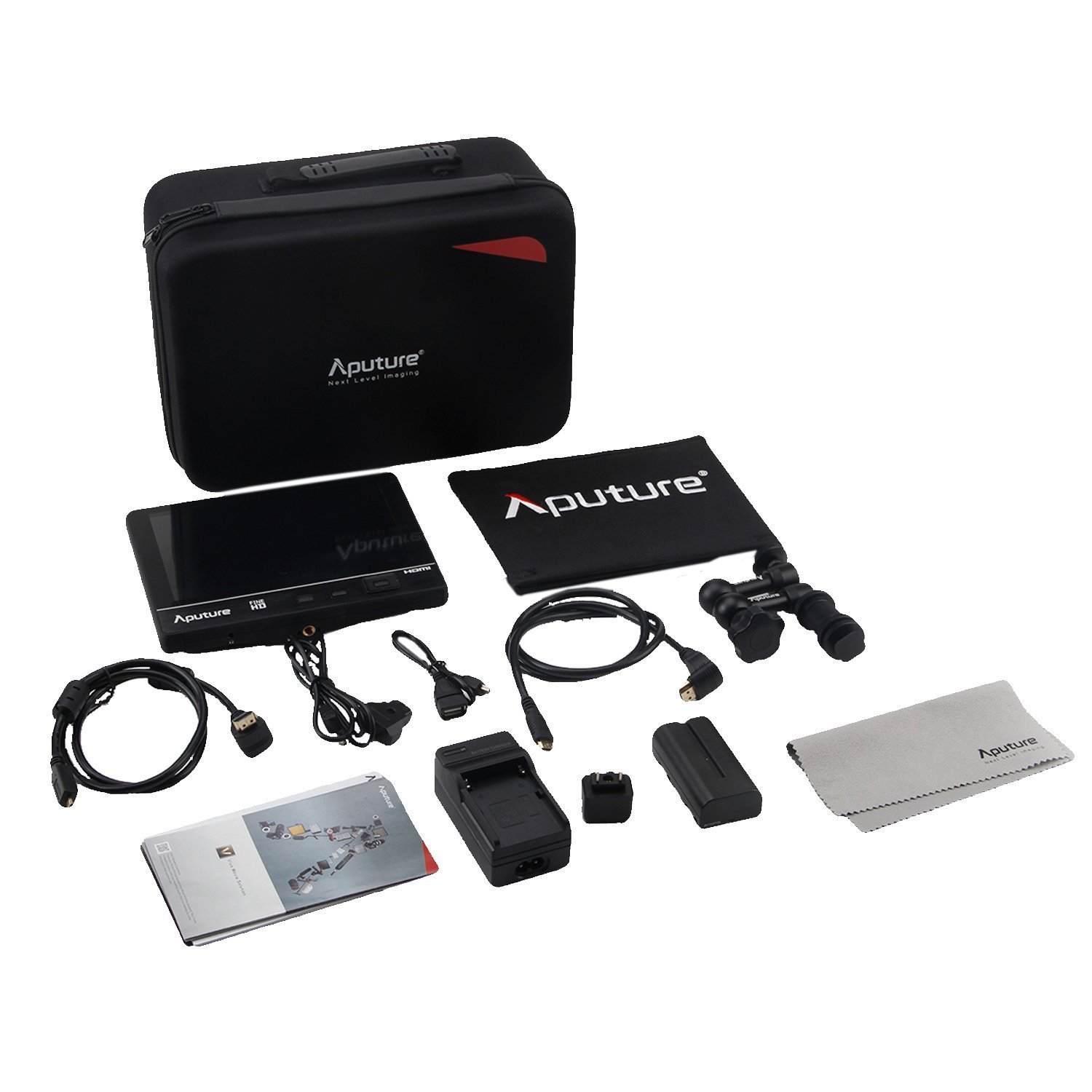 Items included in the package
Aputure VS-2 FineHD – Build and Features
The Aputure VS-2 FineHD monitor is built well for a monitor in this price range. While not made from metal, it seems to be made for me decent quality plastic, making it lighter than if it were to be made from metal. The front features the 7-inch IPS screen, power button, A/V button, and menu button with a directional pad around it. The buttons have a nice feel to them, and an audible click when pressed. The rear of the Aputure VS-2 FineHD has a slot for a Sony NP style battery, full HDMI in port, YPbPr, AV, and power input.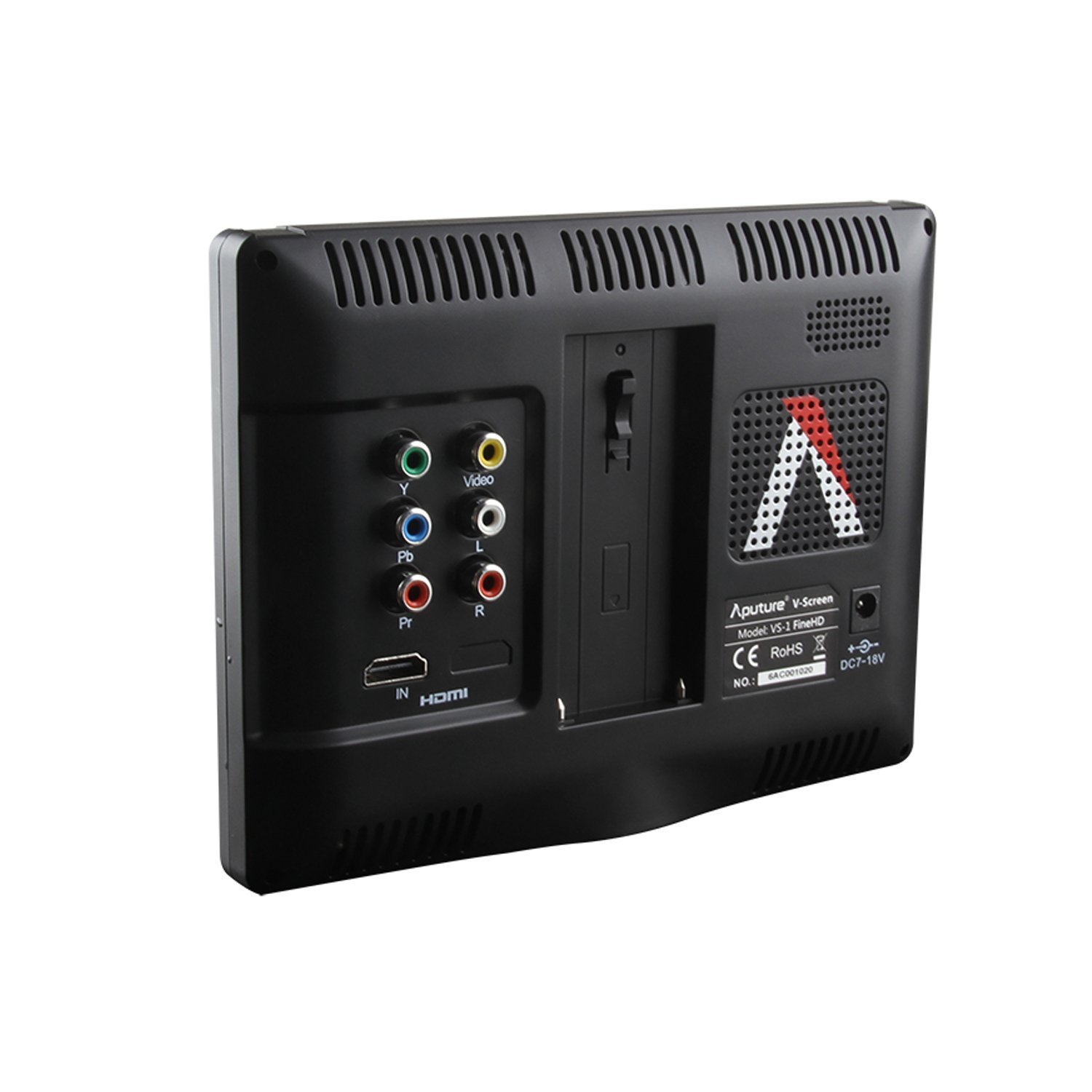 Rear of the monitor
The only port that I have used is the HDMI port, as all of my cameras have an HDMI out. I would assume that this would be the case for most people using this monitor, but it is nice that Aputure also included other inputs. The HDMI cord that was included in the package has a right angle, angling it perfectly towards the camera. I'm surprised that more companies don't include thoughtful accessories like that.
The screen itself is decently bright, at 450 nits. With the added sunshade, it is easy to see in outdoor conditions. The resolution of the screen is 1920×1200. What that means is information can be displayed on the bottom of the screen without interfering with the image for being overlaid on top of it. This is handy for framing, and one of those added touches. If you look on Aputure's website, you might be a little bit confused as to whether this is a full HD monitor for a 4K monitor. The monitor itself displays a full HD image, but if you are shooting in 4K it will accept that 4K signal out. It will still display the footage in full HD on the monitor though, but it is nice that it will display the footage at all.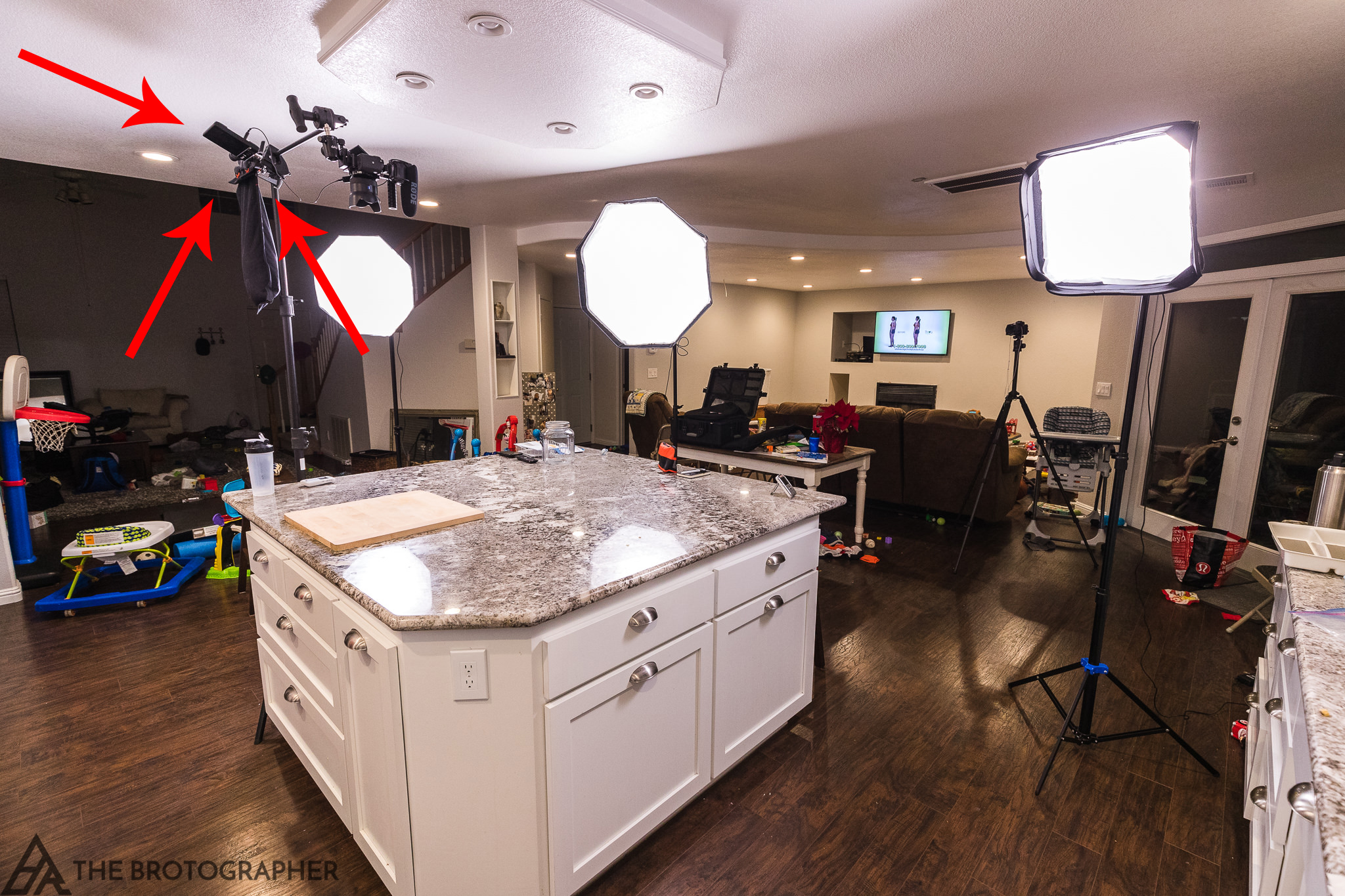 The Aputure VS-2 FineHD is mountable anywhere.
Those features are fantastic, and definitely a reason to buy this monitor. However, where you get extreme added value and a monitor that can be used for more than just viewing what you're shooting on a larger screen is in the added features that Aputure bakes in.
Those features include:
Focus assist functions
Peeking and highlighting are included to help get perfect focus on your subject. Everyone knows that it can sometimes be hard to nail focus when using the rear screen or EVF, so having red yellow blue or white peeking bars make it much easier to nail precise focus. As a one-man band, peaking really comes in handy when I am shooting myself specifically. I like to use autofocus on my Sony cameras when I am shooting by myself, I can be pretty sure that the camera will focus on me or my subject, but when I press the record button I don't get the peaking features in camera. While using autofocus, I still get those features on the Aputure VS-2 FineHD monitor, and it eases my mind to know that I am in fact in focus. There is nothing worse than doing a great take and reviewing your footage only to learn that you were out of focus. That feature is fantastic, ended my opinion worth the price of the monitor if you are using hey Sony camera like the A7RII or A7SII.
Headphone out
If you use a camera body like the Sony a6300 or a6500, you are playing with fire when it comes to recording audio because there is no way to monitor it while you are shooting. Anyone who has shot with those cameras knows that you either have to hack together a solution, or record, then check audio levels during playback. Since the Aputure VS-2 FineHD monitor has a headphone out jack, you're able to monitor audio while you're shooting, potentially mitigating a disaster. This is one of the main reasons I wanted to use this monitor, and it has not disappointed.
Audio levels
Yes you can listen to your audio while you were shooting, but you won't necessarily know if you're clipping it unless you can view the audio levels. Since I shoot with Sony cameras, if I am shooting myself, I can't view the audio levels that are on the back of the cameras. Being able to see the audio levels on the Aputure VS-2 FineHD monitor while shooting alleviates another pain point. If I start clipping, I know to stop the take and turn down the input level a little bit.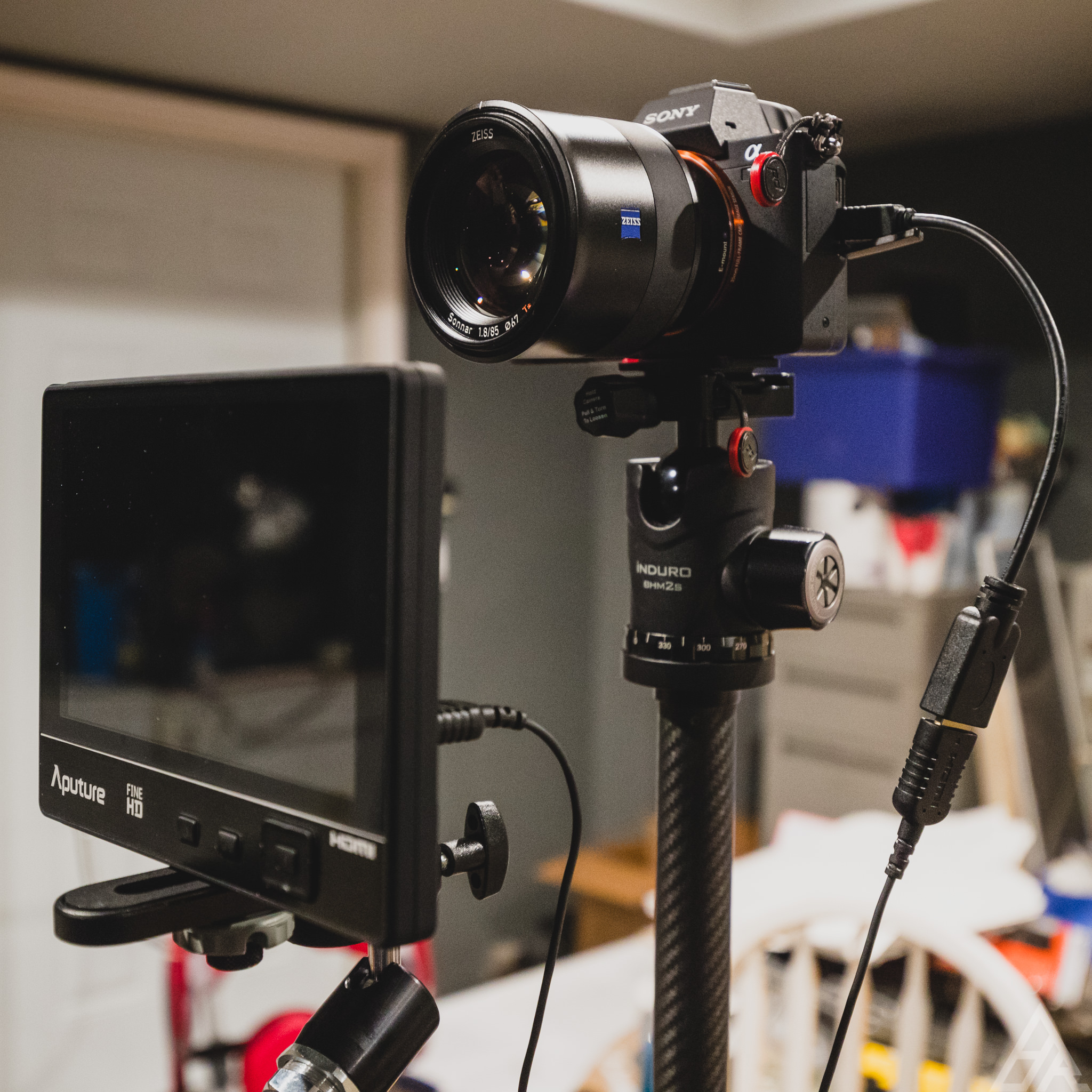 Perfect for a one-man-band.
Exposure control
Nailing exposure in bright sunlight can we tough, especially if you aren't using an EVF. The Aputure VS-2 FineHD makes getting a proper exposure much easier with the use of false color, zebra-marking, and a histogram. Out of these three features, hi mainly stick with either zebras or the histogram. It boggles my mind that Aputure put something like false color in a monitor of this price point, because more advanced videographers typically use that feature.
If you are using a camera such as a Sony mirrorless, some of these features are already built into your camera, and the monitor will simply help you out a little bit more. However, if you are a DSLR user, a monitor with these features may stand between you nailing or missing the exposure or focus in a shot. I absolutely love my Canon 1DX Mark II, but the lack of exposure assist features is a real bummer. With the help of the relatively cheap Aputure VS-2 FineHD monitor, I can nail exposure easily most of the time.
Aputure VS-2 FineHD – Ease of use
The Aputure VS-2 FineHD monitor really doesn't even need instructions. Out-of-the-box the monitor is easy to set up, and the menu system is straightforward and self-explanatory. The four custom buttons are very easy to set up in the shortcut menu, and you should be up and running within a few minutes. Updating firmware was also very easy the one time I had to do it.
The Aputure VS-2 FineHD monitor is small enough that I can be thrown in a run-n-gun camera bag, but large enough to where it really helps and production of the content that you are creating. The Sony NP-F style batteries are easy to come by, and you might already have a few extras lying around in case your shoot goes long.
The Aputure VS-2 FineHD on a top-down rig. Notice the audio levels and histogram.
The Aputure VS-2 FineHD is perfect for a run-n-gun setup, but is also a great monitor if you are running with a gimbal like the DJI Ronin-M. I did have to purchase another small clamp to mount the monitor to the Ronin-M, but that was cheap. The Aputure VS-2 FineHD monitor has little features that I haven't mentioned, like "flip horizontal or vertical", making using it with a gimbal much easier. When you are running around with the gimbal all day, having to reposition the monitor as little as possible as I'm lost, and flipping the image vertically really helps your workflow.
It is really tough to find any cons with a monitor that has this many features at this price point. Sure the build quality could be a little bit better, and the screen could be a little bit brighter, but there are other monitors for that, costing much more. I do feel like it drains the batteries quite quickly, but the NP-F style batteries are easy to come by.
In conclusion, I really think that you should take a look at the Aputure VS-2 FineHD monitor if you are in the market for a video assist monitor, Or even just a monitor to view yourself. You'd be hard-pressed to find yourself a better deal with the amount of courts and accessories included in a package at this price point. Aputure is really changing the game with their affordable, high quality products, and I'm looking forward to seeing them continue to solve the problems of content creators and filmmakers in the future.
If you would like purchase the Aputure VS-2 FineHD monitor and would like to help support The Brotographer, keep the website alive and these reviews coming, and help support my growing family, I humbly ask that you use our affiliate links. It doesn't cost you anything extra, and a few pennies off every dollar are sent this way. Purchase the Aputure VS-2 FineHD from APUTURE HERE.
Follow Our Social Accounts
Aputure VS-2 FineHD Review
The Aputure VS-2 FineHD monitor packs great features in a sub $300 package.





Fantastic Budget Monitor