I'm a sucker for camo gear. Camo has both an awesome urban feel, but can also feel woodsy and rural at the same time. It's a pretty cool fashion statement too. When I saw that Hex carried a camo DSLR backpack in addition to there're other backpacks, I reached out to them and they were nice enough to send me out hey bag for review. I had a New Year's trip planned, and thought that it would be a great time to test out this backpack from Hex.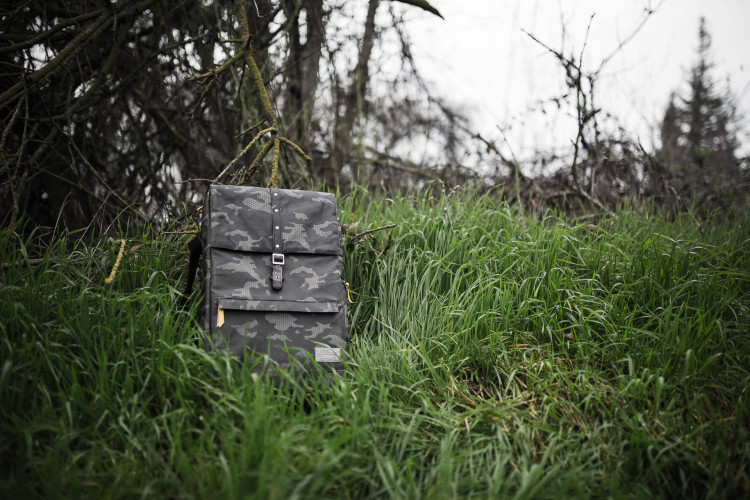 Camo DSLR Backpack – Design and Build
When I opened up the package, I was pleasantly surprised by the size of the backpack. It is 20″H x 12″W x 8″D, which is a nice medium size for a backpack. The first thing that I noticed about the backpack was that it was not as deep as some of my other bags. I used to think that I needed extremely deep bags, But find that I typically don't work with the grip on my 5D Mark III attached very often. And for what I was going to be using this back for, I would not meet the grip rarely, if ever. So at about 8 inches deep, this bag has a really low profile to it, and ends up not sagging on your back at all. Another Plus to this bag is it's moderately rigid construction. Because of both its premium coded canvas outer material, and the inner removable partitions, this bag has a somewhat rigid feel, but I'm happy to say that it doesn't mess with the comfortability of the bag.
Like I just stated, the outer shell of the bag is made from a nice smooth coated canvas material, that is also water resistant. The back of the bag is made from an extremely padded mesh, and that padded mesh carries over to the underside of the straps. Wearing this bag is a breeze, as both a combination of the padded straps and the fact that you can't fit 30 lenses in it makes for A pretty nice ride.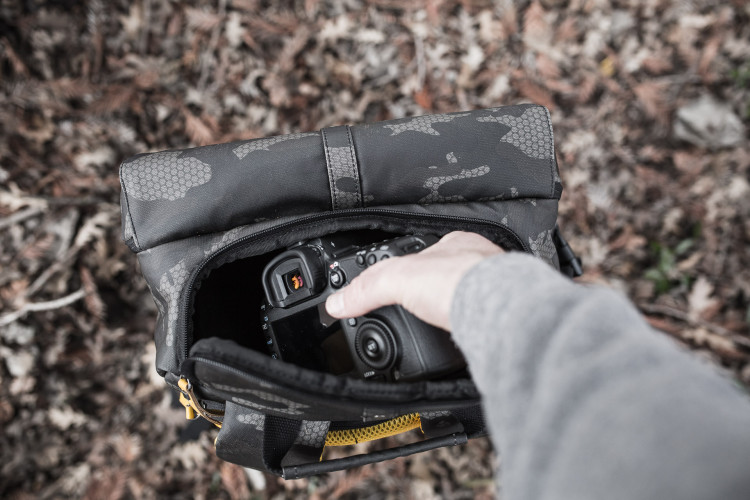 The top of the bag features a zippered access panel to get at your camera. At first glance, I wrote off this zippered opening as being way too small, but after further inspection and use it really worked out well. It was easy to both put in and take out my 5D Mark III from this zippered access panel. A nice feature indeed.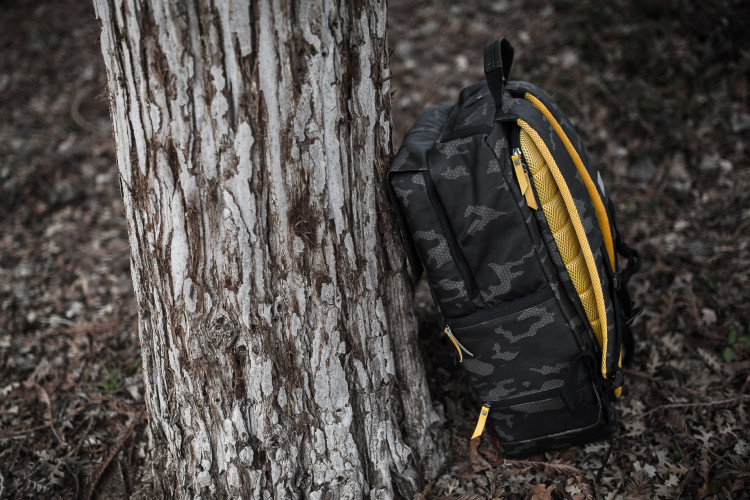 One side of the bag features straps which seem to be there for strapping on a tripod, but in my opinion, My tripod would be a little bit too big, And it would also way down the bag it a little bit too much for my taste. The other side of the bag features two zippered pockets. They both are too small for my iPhone 6+, but they are just big enough for a few memory cards or business cards. The front of the bag features a really nicely padded zippered pocket, which fits A 7 inch Kindle Fire very nicely, as well as a small notebook. Let me add once again how nice this soft faux-fur is inside the pocket. It's a great touch, and great to touch!
When you unbuckle the front flap, there is a buttoned pouch for a few business cards if you ever need too hand some out. Opening up the front large zippered compartment reveals what is my favorite part of this bag. Hex was able to add a lot of features in this section of the bag, without making it deeper. It features a huge 20 inch deep pocket, Two zippered pouches, and another faux-fur lined laptop sleeve, that easily fit my 15 inch MacBook Pro. You can really fit a lot in this section of the bag, so that you don't have to take up the camera portion of the back. The one issue that I did have with this section is that you are not able to put anything too bulky into it. Still, if you have a lot of large flat items such as notebooks, they will fit great in this section of the bag.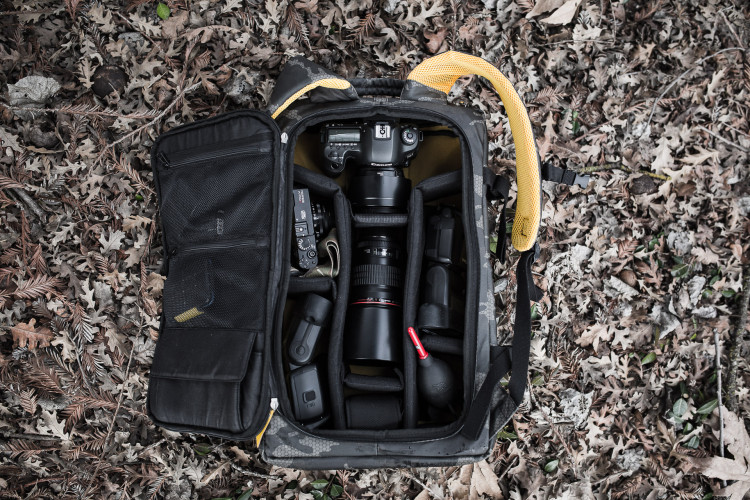 Let's get on to the inside of the bag. I don't need to evaporate long on this section, because the inside of the Hex camo DSLR backpack is quite simple. The flap that opens features to medium-sized zippered mesh pockets, Perfect for memory cards, tether cords, for a few solid-state drives. The bottom of the flap features a nylon pocket with Velcro closures. The padded divider section has just enough space for what I like to use this bag for. It can hold a 5D Mark III with pretty much any lens up to 200mm attached. I typically like to keep my 50mm 1.2 attached with a 70-200mm 2.8 below it in the center section of the dividers for even weight distribution. Depending on what lenses are in your kit, You can probably fit two or three more in this bag, as well as a few hard drive, filters, or other small accessories.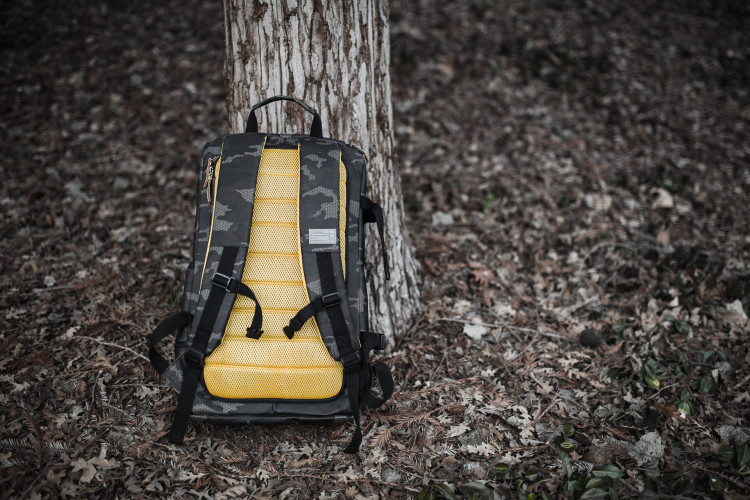 Don't feel like this only needs to be a photography bag though. I recently brought it on a commercial shoot as my second bag, because I needed to bring an insane amount of gear in my roller bag. The Hex camo DSLR backpack easily fit two 2 Canon 600ex-rt flashes with the st-e3-rt trigger, an action camera with the new Tether Tools RapidMount Q20, EOS M for filming b-roll, grids, Joby GorillaPod Action Tripod, cords, accessories, audio equipment, and a ton of other gear. This back can easily be configured as either your photography or video bag.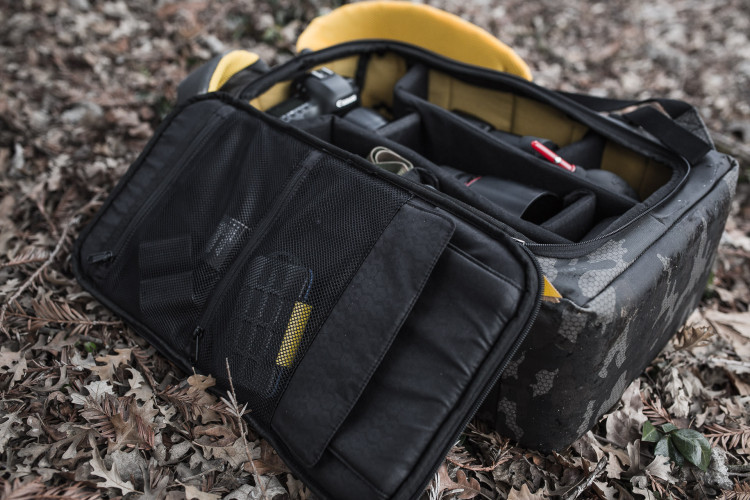 Wearing the bag is pretty nice. I do prefer to not have the MacBook Pro inside it when out shooting, as it adds a little extra weight. However, it is not extremely cumbersome with it inside it, just not preferred. The Hex camo DSLR backpack stayed fairly high on my back when loaded up, and that is something that I really look for in a bag. While I don't want to where a bag that has a rigid cage in it like a hiking backpack, I still wanted to stay fairly high on my back. This bag did a pretty good job with that.
Getting the bag on and off was pretty easy. When I got it off, Specifically on the beach, I wasn't worried about the moisture or grime around because of the water resistant canvas on the outside of the bag. While I didn't wear this bag in the rain, I would feel okay with having it out in the moisture for a little while at least.
Looks wise, you can't go wrong with the Hex camo DSLR backpack. It has a great urban explorer feel to it. The camo pattern looks really good, and the yellow accents are and added plus.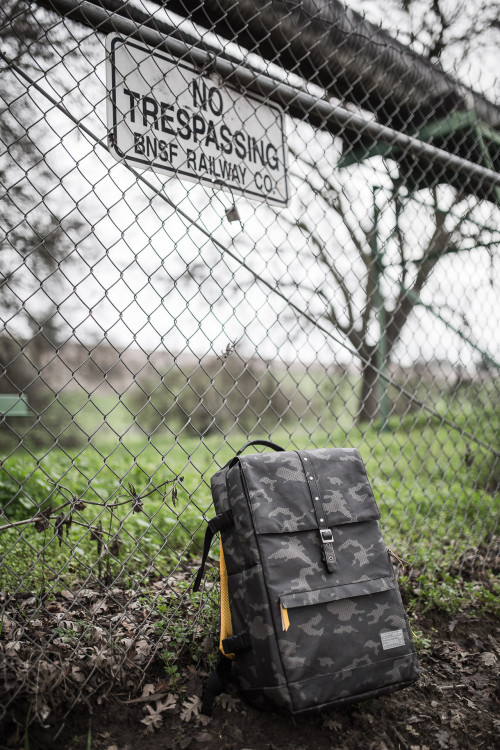 I've been struggling with the question of who would I recommend this bag to. That is a tough question to answer. This bag really surprised me in many ways. Its looks drew me in because of the awesome camo, but the function of the bag is what keeps me grabbing for it to take out. I would recommend this back to both photographers and videographers. If you are looking to take an arsenal of gear, I don't think this is the right bag for you. If you are going out with a camera and a couple lenses, then I think that is the perfect amount of weight to carry around all day. I did use it for traveling as well, and you can definitely loaded up when doing that. But I think that this bag shines when you don't load it to the brim with gear. It's a bag that I would feel comfortable taking with me to San Francisco for the day to explore. So, to make a long story short, I would recommend this bag to a wide variety of shooters, for a wide variety of purposes. It's a nice all-around bag that really surprised me with both style and function. Kudos to Hex for designing a stylish and functional DSLR camera backpack. Hex also makes this identical back in a black colorway, which may catch your eye if you're into more of a modern, sleek look. But for The Brotographer, it all about the camo.
Inside the Hex DSLR Backpack
Hex Camo DSLR Backpack Review
Looks Great
Fits Perfect Amount of Gear
Just Rugged Enough
Functional
Side Pockets A Little Small
Tripod Straps Not Super Functional