Writing a review of camera straps can be tough. Amongst photographers, camera straps are one of the most debated accessories. There seems to be two different schools of thought with regard to straps. The first, and may I add, antiquated school of thought in my opinion, is functionality over everything. These photographers don't care how their straps look, as long as they are functional. This first school of thought seems to care nothing about style. Then there are the photographers who fall into the other category. They care about looking good. I definitely fall more into this category than the first. We, as photographers, are supposed to make clients look their best. How then can we show up to a photo shoot or wedding dressed like a fly fisherman? What if there was a company that merged both style and function. I needed a company that built durable, beautiful, stylish straps for both men and women. Enter Hold Fast Gear.
If you have not heard of Hold Fast Gear by now, let me introduce you to this fine company. Hold Fast Gear was founded by Matthew Swaggart, in Oklahoma. Matt was sick of lugging around military inspired camera straps, and wanted something more. Enter the Money Maker.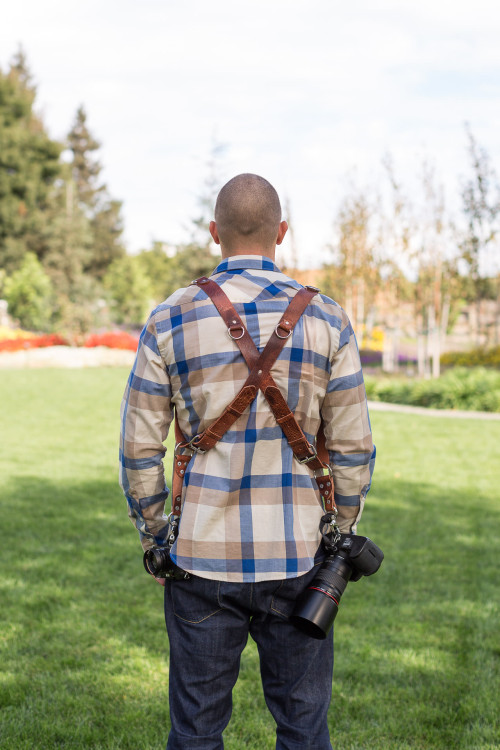 Leather Money Maker
I purchased the Water Buffalo Tan Money Maker earlier in the year, pretty much for the exact reason Matt created the brand. I wanted dual camera straps that looked great, and that would provide me with exceptional style while on a photo shoot. The Water Buffalo Tan leather was exactly what I was looking for. I wanted leather that would look better the more I used it, had natural lines and patina, and was soft enough on my shoulders. It was beautiful, let me tell you. My favorite way to wear these straps is with a pair of boots, jeans, and a plaid shirt. Remember that issue where photographers should show their clients that they too can be stylish? Well checkmate. On a comfort level, I give these straps a ten. I'm not saying that lightly either, or barely making it a ten. When using two cameras, you simply don't notice that you even have straps on. They're perfect.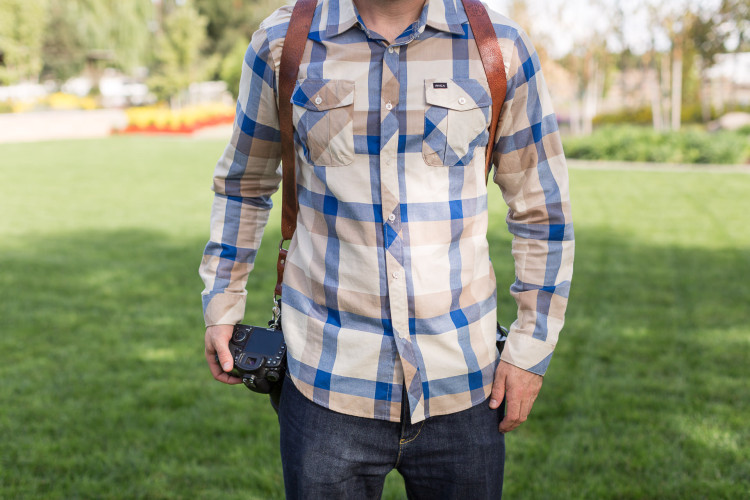 The straps are also extremely easy to use. Sliding the camera up and down on the leather works great. Just remember to pull the camera away from your body slightly when you do so, so that you don't get it caught on a loose part of your shirt. With a 5D Mark III on the right strap, the length of the slider allows for both landscape and portrait orientation of the camera. For the camera on the left slider, taking pictures in portrait orientation can be a little tougher. For this problem, Matt makes portrait sliders, which are a little longer, and solve this issue with ease. These leather straps have quickly become favorites for many photographers, especially wedding photographers.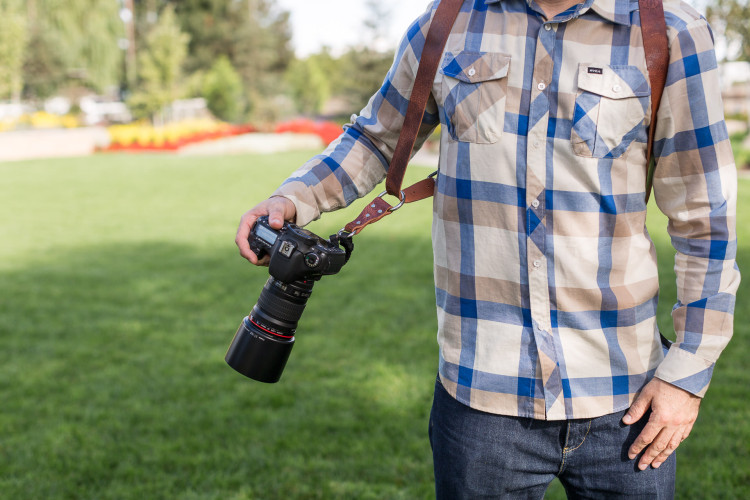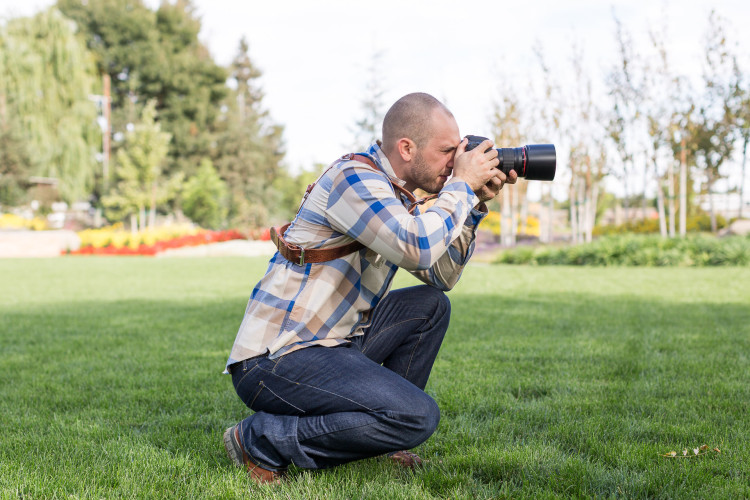 The Camera Swagg
The leather Money Maker from Hold Fast Gear is absolutely my go-to camera strap. However, sometimes I found myself in a situation where I also wanted something that looked a little different. After using the Money Maker, I was very used to that mix of style and functionality. When I saw that Hold Fast Gear released a non-leather version of their straps, I reached out to Matt at Hold Fast, and he was nice enough to send me out his new straps to review. He calls his new straps the Camera Swagg, in what I think is an amazing play on his last name! I received the red straps, which I love. I wore them with shorts and a v-neck shirt, which I felt worked a little better than the leather in this particular occasion.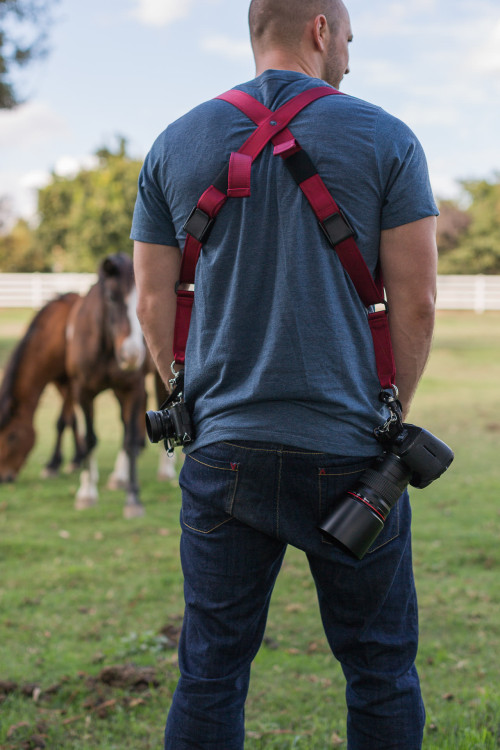 The biggest question I had before "strapping" them on, was if these straps were going to live up to the comfort standards I had grown so used to in the Money Maker. I really wanted to put them to the test. I had a 2 and a half hour engagement photo shoot coming up, and thought that it would be a great time to test the Camera Swagg out. I don't think I need to elaborate on their comfort, because in my opinion, they're just as comfortable. While the weight of the leather Money Maker isn't an issue for me, the Camera Swagg is even lighter, which some people will love. The sliders slide extremely well. The Camera Swagg comes with the same great sailboat clip and screw system as the Money Maker, which is wildly secure.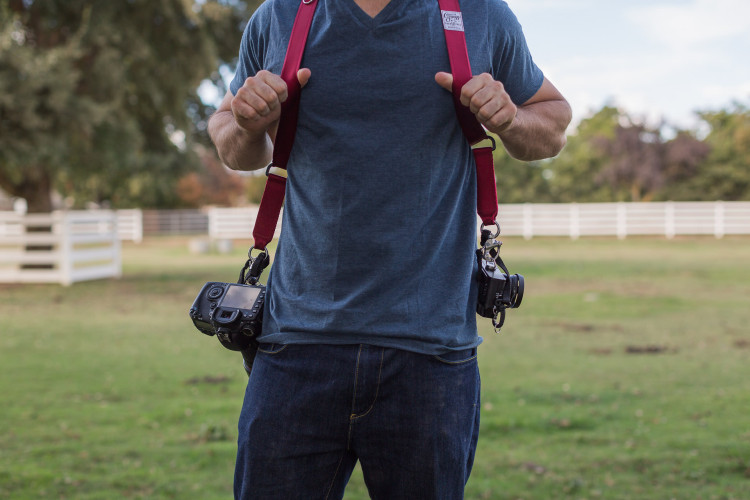 Adjusting the fit of the straps on the Camera Swagg is really easy. The pinch design lets you change them quickly. Because of this system, the Camera Swagg has more of a one-size-fits-all feel, which is nice for people worried about them being too big. I'm about 6'1" and 190 pounds, and could make them much larger or much smaller with ease.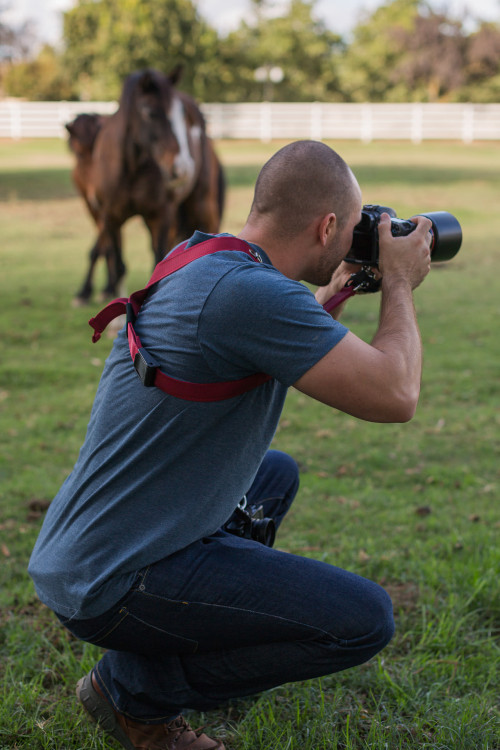 I truly feel strange writing this review, because I really have nothing negative to say about both sets of straps from Hold Fast Gear. I would highly encourage photographers who are used to buying utilitarian, ugly straps, and who are pessimistic, to purchase a set of straps from Hold Fast. Whether you decide to purchase the Money Maker or the Camera Swagg, you'll be glad you made the purchase. While I have only been able to get my hands on the straps from Hold Fast, they also make other camera bags and accessories from leather and other unique materials. These other items seem to be made with the same great craftsmanship, so check out these other items as well.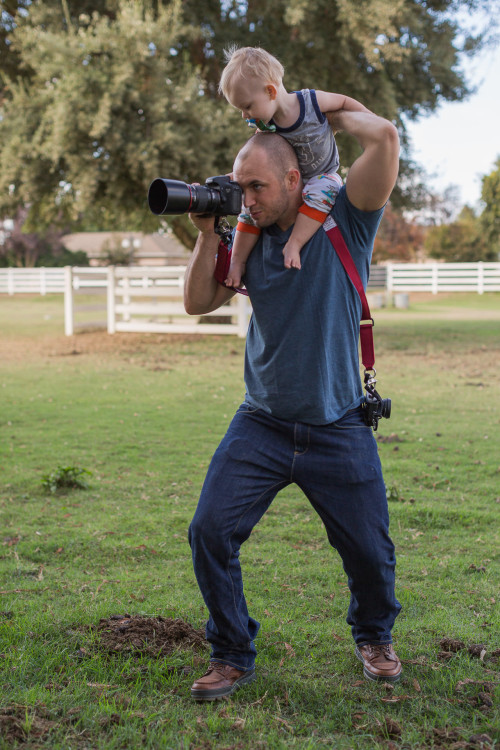 I will, however, talk about price for a second. While some people may think that the cost of both straps is a little high, I would have to disagree. I think that we all get to a point in our lives where we are willing to pay for quality. These straps are just that, quality. I don't worry about throwing them around, scratching them (that makes the Money Maker look even better), or using them highly. I plan to use both straps for years and years, and not worry about them breaking down. That comes at a cost, and a cost that I think people are finally learning that they are willing to pay. I promise you, it is worth it. If you are wanting to buy a cheaper strap because it costs less, I highly encourage you not to. Save, and invest in something that will last for years. You'll be glad you did.
I also want to take some time out at the end of this review to talk about the customer service over at Hold Fast Gear. Matt has been amazing in getting back to me. I have also heard the same thing from dozens of other photographers. That's really unique in sales, and it's even more unique for an owner of a brand, with his busy schedule, to personally respond to so many emails and messages, and to work with so many people making special requests about his products. All of his straps are made in Oklahoma, and it makes me feel great to be able to support a homegrown brand like Hold Fast.
Visit the Hold Fast Gear website here to grab my favorite straps.
All images by Ross Thomas Photography
The Brotographer Reviews The Hold Fast Gear Money Maker & Camera Swagg
Amazing quality
Extremely stylish
Great Value
Durable
Extremely comfortable
9.9
Brotog's Choice for Camera Straps