Editor's Choice Award
The HoldFast Gear Sightseer backpack is my favorite backpack ever. Scratch that, it's my favorite bag in general…ever.
Now that those thoughts are out of the way, let's get into my love affair with this bag, and HoldFast Gear in general. While I appreciate, and even love other companies and brands, I wouldn't be a human being if I said that I didn't have a favorite company and gear. Without getting political, there is a big push in the USA right now to make it great again. There is a big push to make things here again, to hire here again, and to have pride in the American dream again.
I love out great land, but more important than that, I love people striving to make their dreams become reality. All too often in life, we are willing to settle for what is given to us, instead of putting in the hard work and building on our dreams every day. That is the first reason that I love HoldFast Gear, and admire Matt, HoldFast's founder. He is a family man who has put in the work to build his dream from the ground up, takes pride in the products that he produces, end employs the great men and women of this country. It is very expensive to make high quality, long-lasting products right here in the USA, without sacrificing certain things. HoldFast Gear has done just that with every single product that they produce, and you know exactly what you are going to get when you purchase something from them.
The next reason that I love HoldFast Gear is that they provide a different way of looking at creative bags and accessories. First, like I said many times before, they don't make cheap gear. But most importantly, I think that HoldFast Gear can actually help artists in the creative process. I'm always looking for great-looking accessories, and so are any other creatives, but HoldFast Gear always takes it to another level. Whether I'm wearing the MoneyMaker or carrying one of their bags, I really have no choice but to be inspired. Think about this. If you are a woman, you buy that new pair of yoga pants and it inspires you to get in better shape and get you in the mindset to workout. Or maybe you wear a new watch and it makes you feel a certain way. In the same way, when artists wear HoldFast Gear, they aren't locked down into a boring black bag. That may be what your father wanted as a photographer, but a new generation of creative minds wants their apparel and accessories to say something about themselves. HoldFast Gear does just that.
Now that you understand where I'm coming from, let's take a look at my favorite backpack ever, the HoldFast Gear Sightseer backpack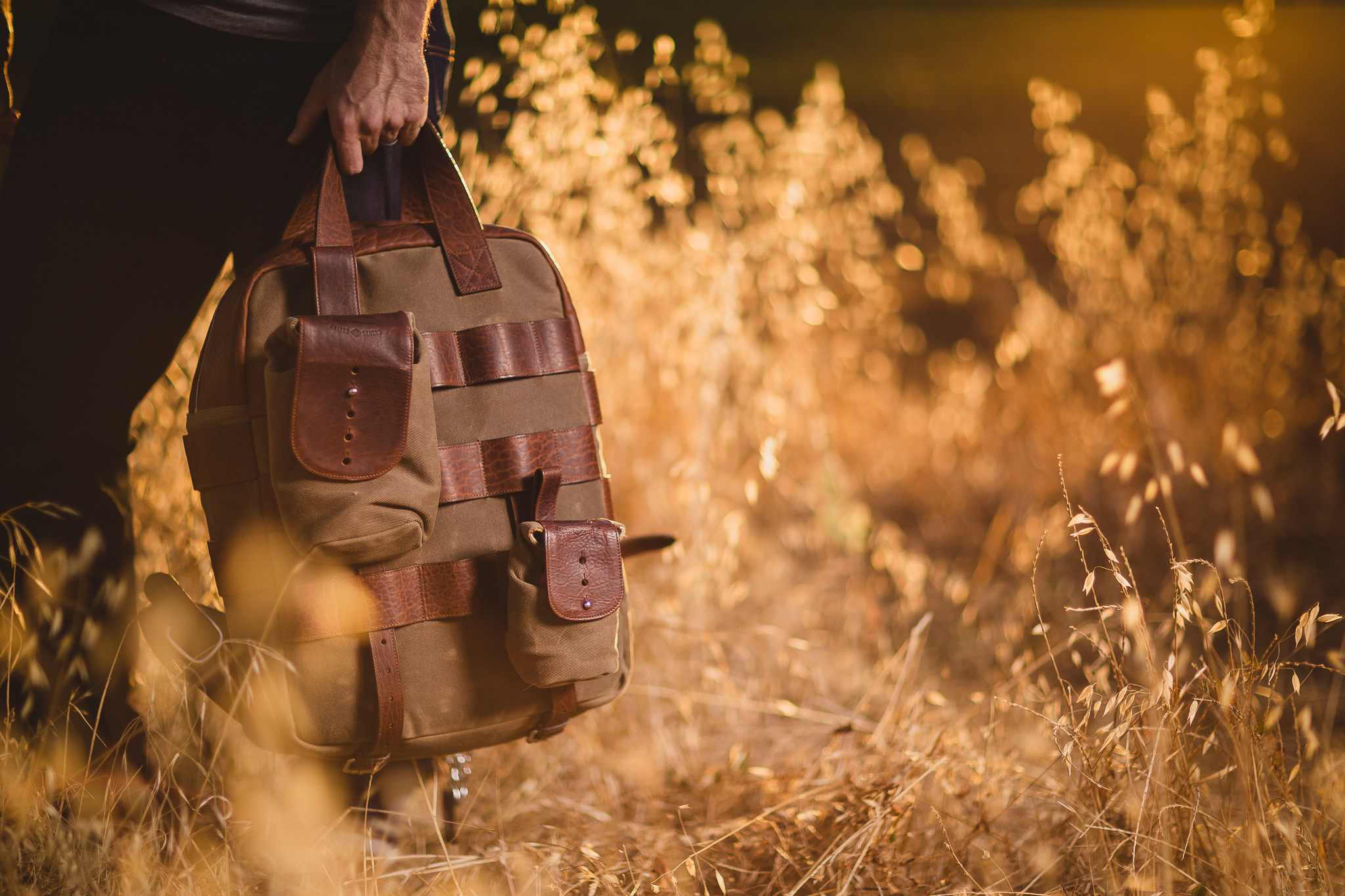 What does the HoldFast Gear Sightseer backpack hold?
This backpack is built exquisitely well, and in such a way that allows it to hold a variety of gear in a variety of ways. In the main gear compartment, you can easily fit one or two gripped DSLR's and several lenses. If mirrorless is your thing, 2 bodies and a maybe 6 lenses are easily fit in the main compartment. Since the HoldFast Gear Sightseer backpack doesn't feature a hard shell, it has a Velcro strap that can be tightened to maintain the shape of the bag. Most camera bags with a large man compartment don't also have a large zippered top compartment as well, but the HoldFast Gear Sightseer backpack offers that too. In that compartment, you can easily fit all your chargers and cables, and I like to store my MoneyMaker there as well.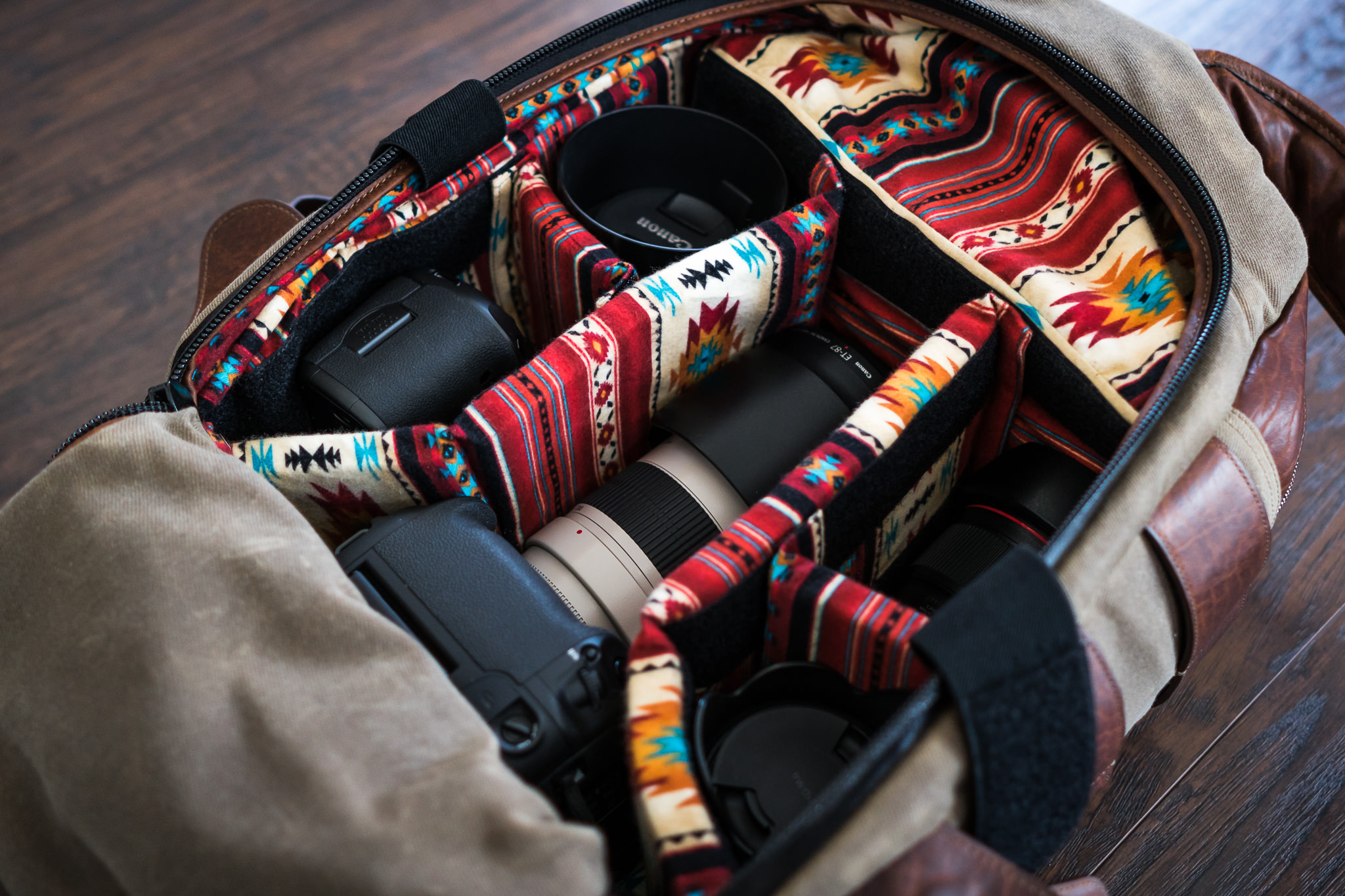 A tripod can be strapped to the bottom of the backpack as well. If for some reason you need to expand the backpack with even more space, the HoldFast Gear Sightseer backpack is compatible with the Sightseer pouches. The pouches can be attached to the front or sides of the bags in a variety of ways. These pouches come in very handy when you want to have quick access to extra lenses, but don't want to have to get back into the bag for them. Because of the myriad of compartments and expandable storage, the HoldFast Gear Sightseer backpack can easily hold your whole kit.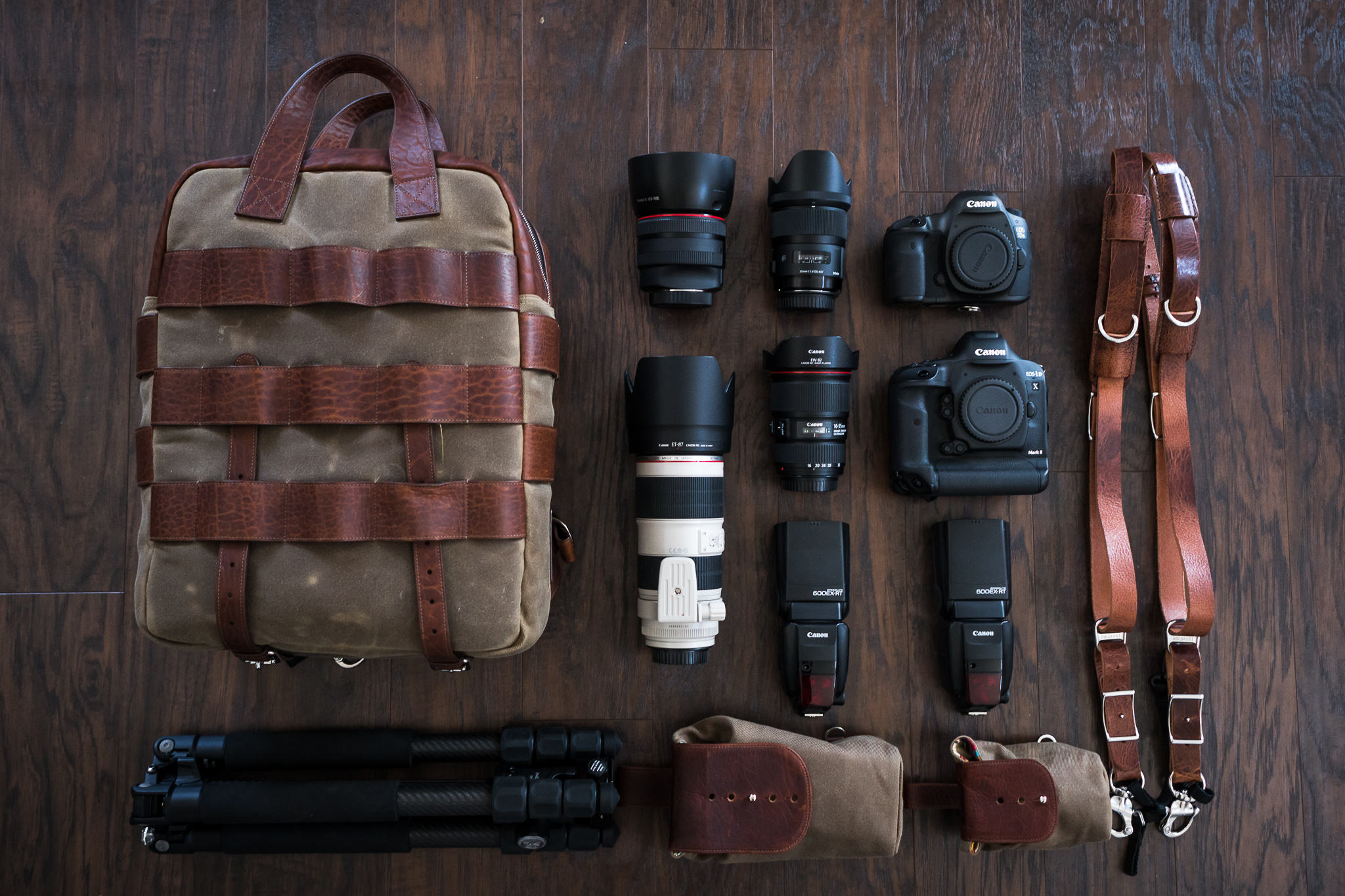 HoldFast Gear Sightseer backpack design and features
This backpack features most of the same materials as the Sightseer lens pouches and lens bag. Made from waxed canvas and American Bison leather, the outside of the Sightseer backpack in Olive has simple, yet timeless materials. The front and sides of the backpack have leather straps, making the expansion of this bag almost endless with the addition of the Sightseer lens pouches. The addition of these straps on the backpack are ingenious, because they can be customized with the pouches in such a way that doesn't require you to get back into the bag in order to get some lenses. If extra lenses on in the pouches aren't your thing, other items like a water bottle or other accessories can be stored there, away from your valuable gear on the inside of the bag. Other bags have side panel zippered access to the inside of the bag to grab a camera or lens, but because of this design feature, that just isn't needed.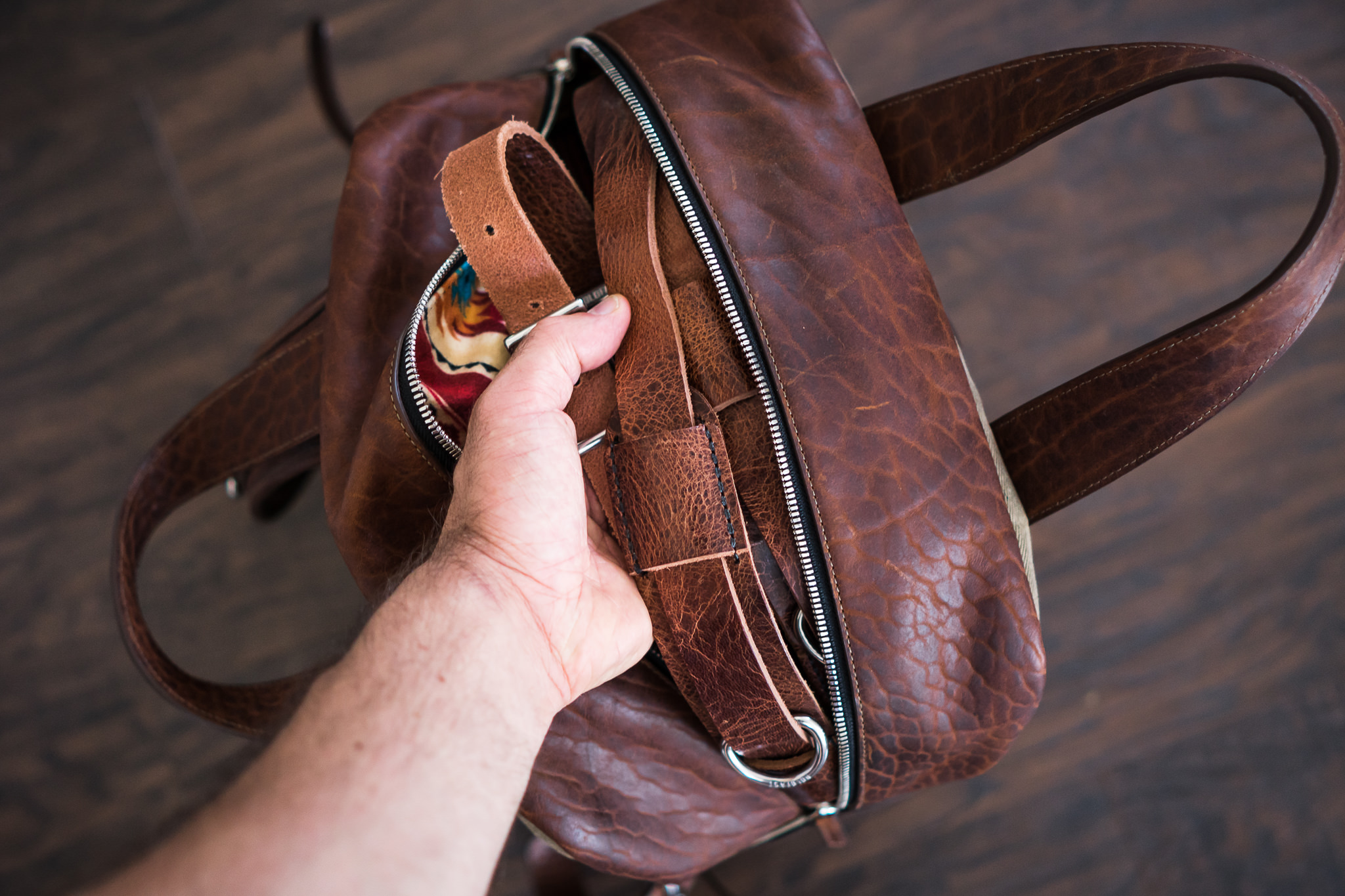 You might be asking, well if I can change lenses, where do I grab my camera? Well, HoldFast Gear has you covered on that front as well. Originally known for their MoneyMaker camera straps, they decided to include a removable camera slider, which can be put on either shoulder strap. Since the shoulder and camera straps are both made of amazing leather, the slider blends right in. When I was first using the HoldFast Gear Sightseer backpack, I worried that putting a heavy camera on this slider would feel awkward. However, I've put my 1DX Mark II with a heavy prime attached no problem. Adding a 70-200mm might start to get a little heavy on one side though. The shoulder straps also have D-rings near the clavicle area, so using them to hang other items is easy. You can pair them with two of the camera leashes that HoldFast Gear sells, allowing you to carry another camera essentially around your neck.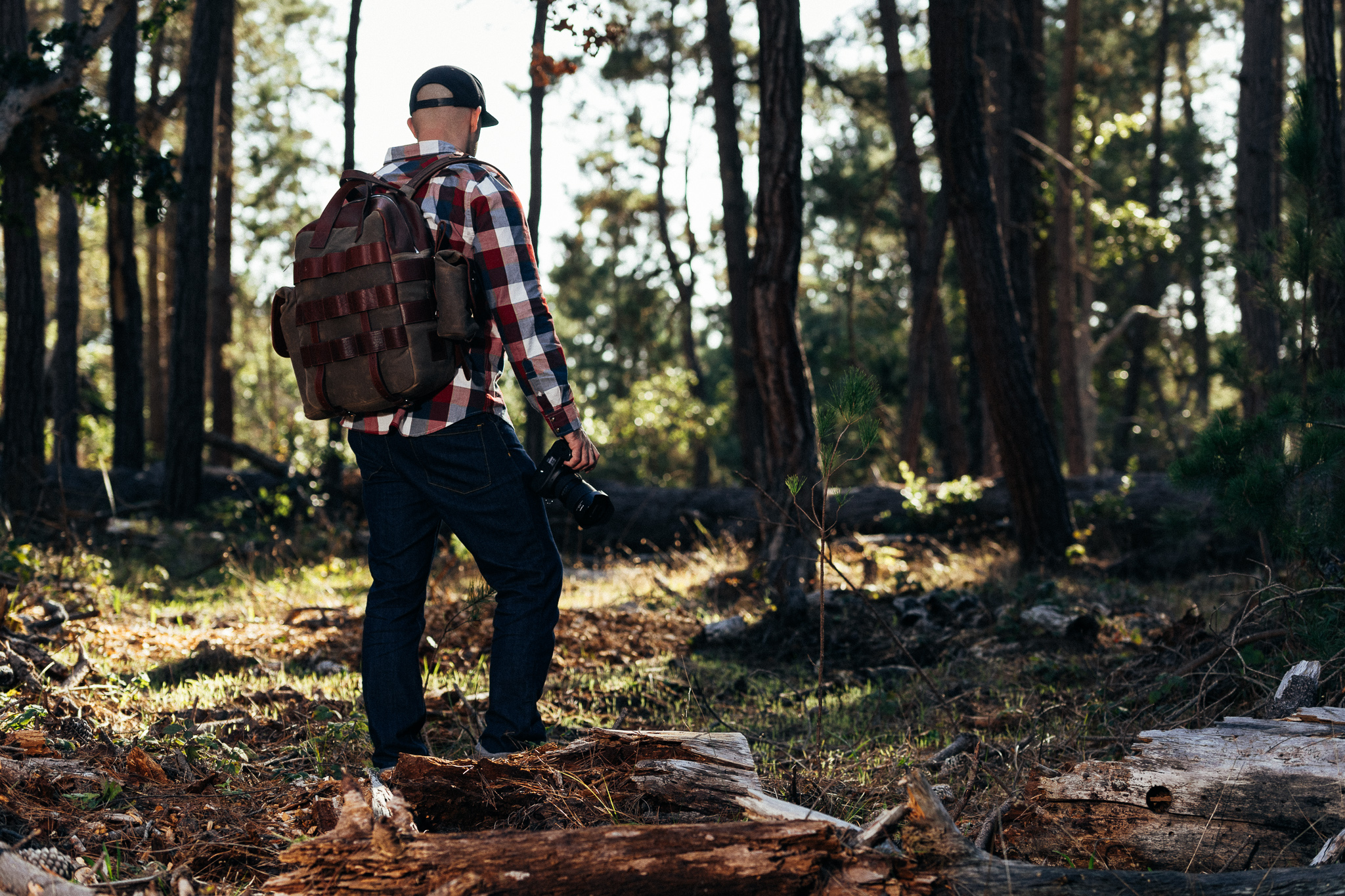 I've used other bags with leather straps before, and also a combination of leather and fleece or cloth padding. The leather straps on the HoldFast Gear Sightseer backpack are by far the best leather straps I've ever used in a bag, period. They managed to put extremely thick leather on the straps, yet pad them super well. Don't quote me on it, but I believe that they sowed in padding inside of the leather, making the straps super durable, yet comfortable at the same time. It's a design that I've not seen before, but I've really noticed it when I compare it to other bags with leather straps. HoldFast Gear also added two leather handles, making it easy to pick up the bag vertically as well.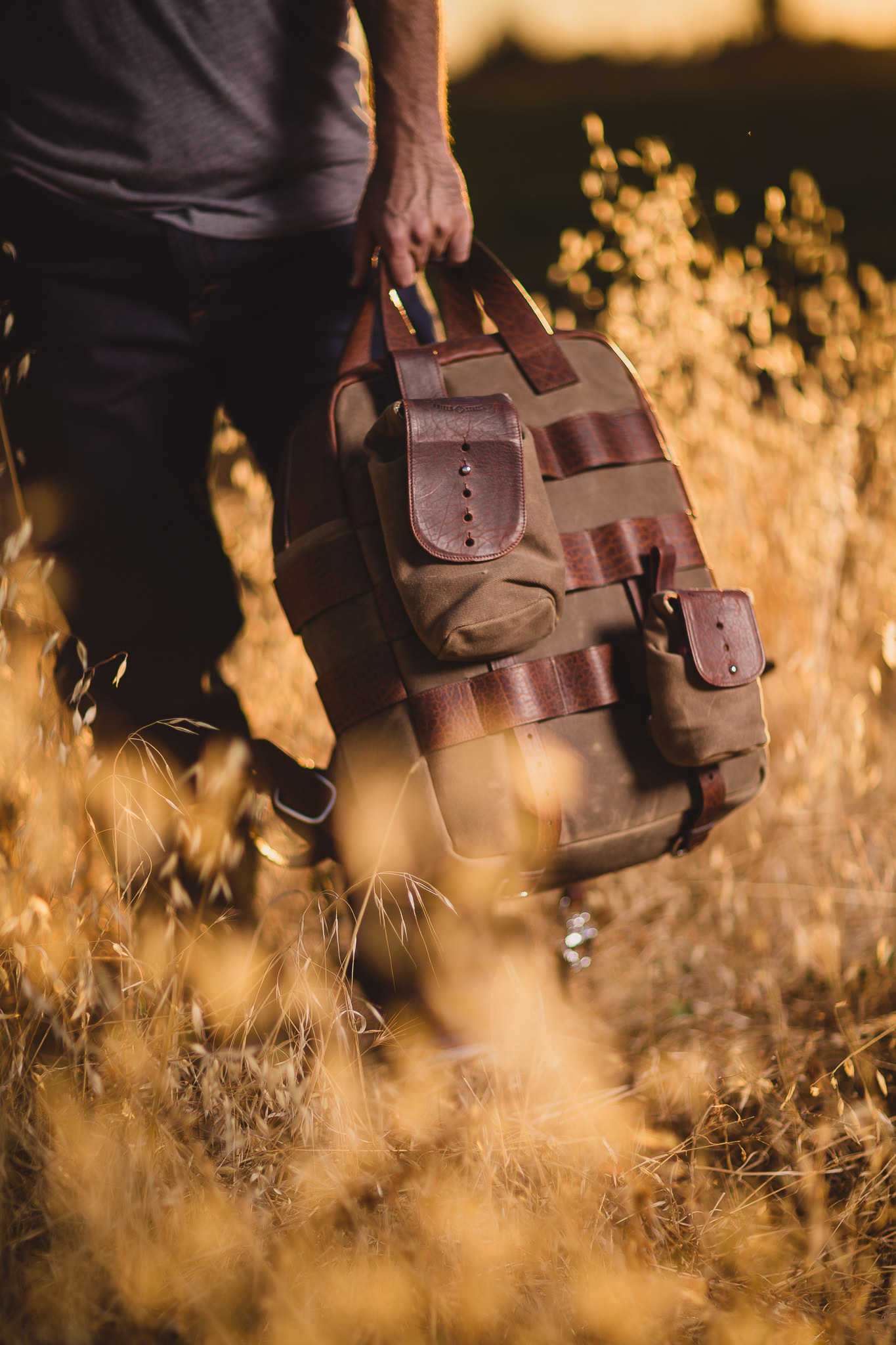 With a bag built with this much heavy-duty materials, the stitching should be up to par. There is nothing worse than spending quite a lot on a bag, and having the seams slowly come apart over time. I've really felt comfortable with all the stitching on the bag. At no point has any stitch failed so far on the bag, which is exactly up to par with any bag I've ever used from HoldFast Gear.
Both the top zippered compartment and the rear-opening camera compartment are lined with the same awesome Aztec flannel fleece. It's unlike any material I've seen before in a camera bag, and is a signature look of some HoldFast Gear bags. The dividers that HoldFast provided in the Sightseer backpack are less rigid than some other bags, but I've never had any issue with them. They're very thick, and really wrap around your lenses. The depth of the bag also allows you to fit a few small primes in a single divider, which is pretty cool. HoldFast Gear knew this, and because of that they include several standalone dividers with no Velcro attached, allowing for his type of stacking.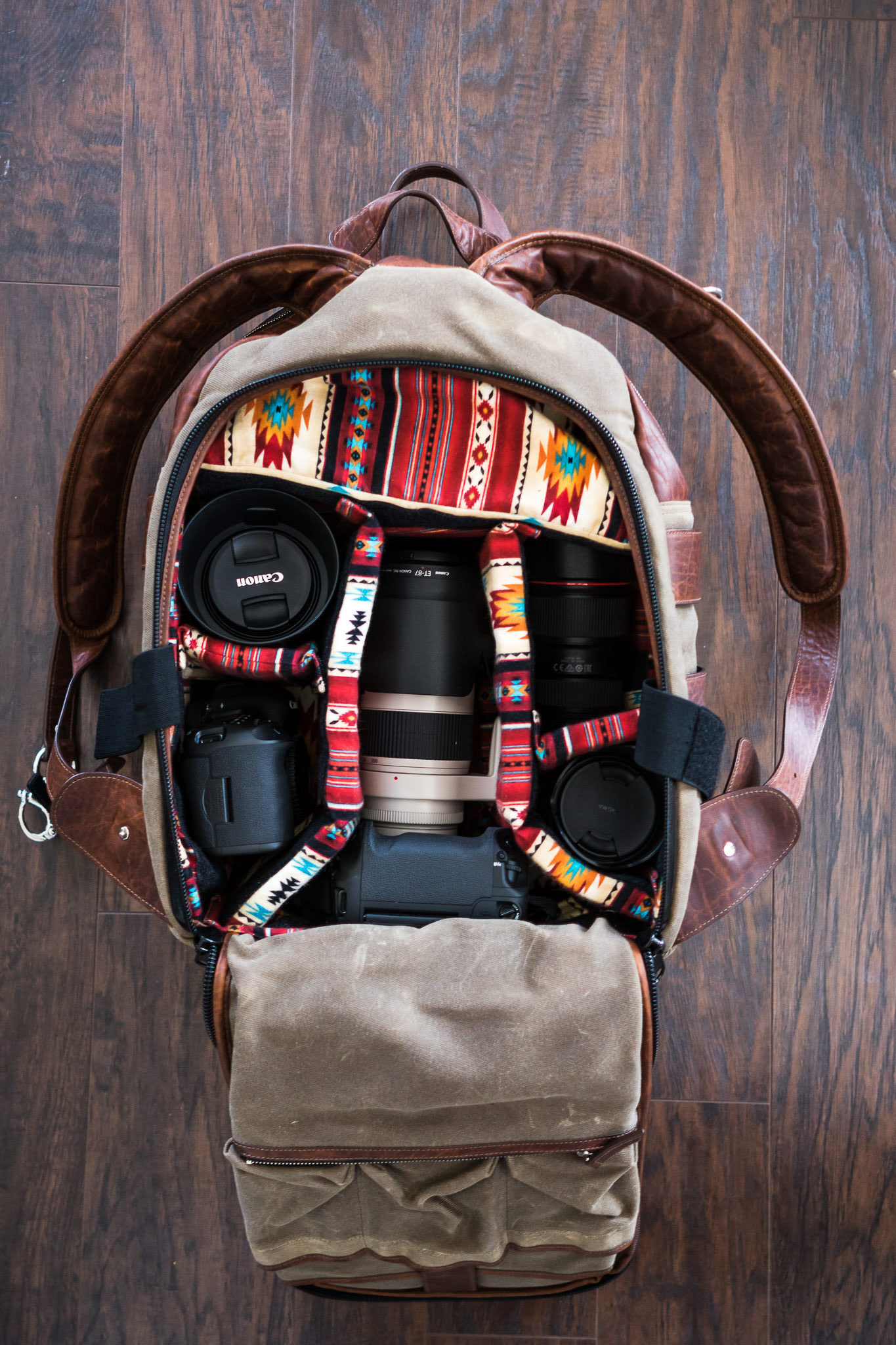 The back of the bag, which is the rear side that opens, also has room for a 15 inch MacBook Pro, which will lay against your back. Be aware that it will only fit a MacBook Pro or thinner laptop. It's not really meant for bulkier PC's. Outside of the laptop sleeve are three Velcro'd smaller pouches, and a large zippered pocket below that. The three smaller pockets fit a 1DX battery perfectly, or pretty small accessories. The zippered pouch is great for batteries as well and other accessories.
Build & Durability of the HoldFast Gear Sightseer backpack
HoldFast Gear, if you aren't aware, does not make cheap products. Their products last, because they're constructed with great materials, in a solid way, making them last a lifetime. While they haven't been around a lifetime quite yet, I really do feel comfortable saying that. Sure you could just buy a Pelican case that would also last forever, but that's boring. I've not seen a camera bag built this well in my time as a photographer, especially when working with leather. I think one thing that really makes the HoldFast Gear Sightseer backpack stand out with regard to build and durability is that this bag isn't stiff. Many leather bags are built decently well, but too often they are so rigid that you can't really work with them at all. This bag maintains its build quality, but is pliable in the areas that it needs to be.
Value
I feel like I write the same thing with regard to value every time I review a product from HoldFast Gear. Their products are meant to last. They are made with exquisite materials, right in the heart of the USA. They'll last a lifetime. This bag is going to make you feel good. It looks great. It holds a ton of gear. With all those things comes a price tag. The HoldFast Gear Sightseer backpack will run you $785, which is just about the most expensive bag I've ever owned, running about the same price as the Wotancraft Commander (REVIEWED HERE). That kind of price is going to have to be something that you're ready for. The photographer who purchases this backpack will probably have a mature camera kit, and have gone through several bags before. The average cost of even a decent, not great looking camera bag will run you at least $250. Most photographers go through several bags, easily surpassing the $785 price tag over several years. Why not invest in a beautiful bag like the HoldFast Gear Sightseer backpack that is not only going to last, but look even better over time. Yes, it is expensive, but still great value in my opinion.
Conclusion
The HoldFast Gear Sightseer backpack is unlike any bag I've ever reviewed. It is truly unique. It is a luxury item, but still maintains that "everyday man's" feel. The values of hard work, craftsmanship, pride in your work, and creativity really shine though in this one of a kind camera backpack. From its use of materials and its spacious compartments to its unique expandable storage and great looks, this backpack ticks every box I could ask for in a camera bag. Because of all these reasons, I'm awarding the HoldFast Gear Sightseer backpack with the 2017 Editor's Choice Award for camera bags. It is well deserved, and really an easy pick.
Additional Images
HoldFast Gear Sightseer Backpack
The HoldFast Gear Sightseer backpack wins The Brotographer's Editor's Choice Award for camera backpacks.
PROS
Exquisite materials
Holds a ton of gear
Comfortable
Will last forever
Beautiful design
Expandable storage
External gear carry
CONS
Could possibly have a bit more of the receiving velcro in camera compartment





Editor's Choice Award