Most of the reviews at The Brotographer are usually geared towards gear that you would use on a photo shoot for a client in your professional or hobbyist life. Today, however, I've got something a little different for you. I've wanted to step up my videography lately in my family life. All too often, I feel like I whip out my iPhone when I want a video of my son. Don't get me wrong, these videos are great, and the convenience of always having my phone on me is great, but I wanted something more. I have found that after owning several iPhones, it seems much easier for me to lose videos than videos I've shot on my camera. It's probably my fault, but I find it much easier to simply take out the memory card from a dedicated camera, and create a folder structure that is conducive to being able to find these videos in the future.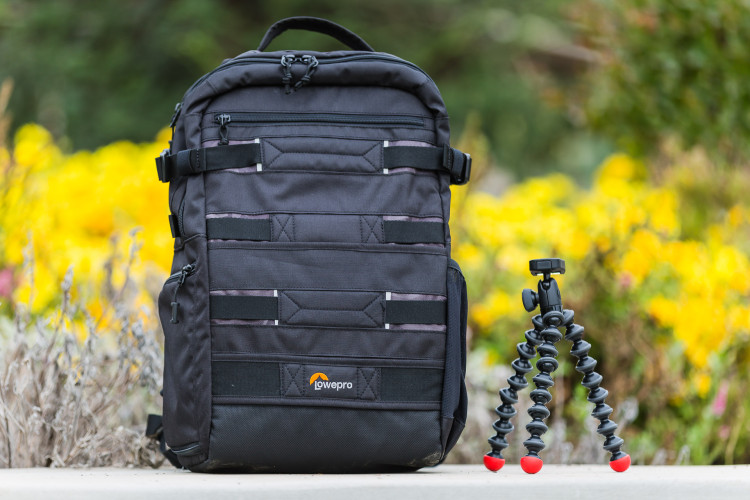 After thinking about all that, I decided to pick up a GoPro clone, a camera called the KINGCOOL Action Camera. I decided to pick this camera up for various reasons, but mainly the price. I wanted to see if I enjoyed shooting video this way before I invested in the more expensive GoPro. I ended up liking shooting this way, now needed a way to store it and carry it around. This brings me to the Lowepro Viewpoint BP 250 AW with the ViewPoint CS 80. I don't want to lug around a heavy DSLR backpack with only an action camera inside, so I needed the backpack to be smaller than normal.
What the Lowepro ViewPoint fits
Before I let you know what this bag fits inside it, let me fill you in on what I wanted to achieve when bringing the ViewPoint along. I wanted a small day backpack that could fit my action camera, its accessories, a GorillaPod Action Tripod, Fuji X100S, water and snacks for my little guy, his sweatshirt, as well as personal things like a wallet, keys, and phone.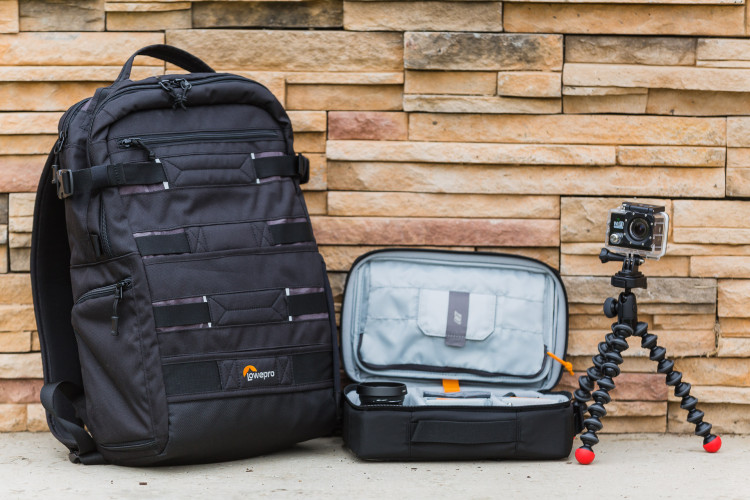 The Lowepro ViewPoint BP 250 AW and the CS 80 let me carry all these items with ease. I added the CS 80 just to give me a few more options for carrying gear. The insert that comes with the backpack should be more than able for most people, unless you're carrying multiple action cameras and tons of accessories. In this removable insert, I'm able to carry the action camera gear, mounts, Fuji X100S, chargers, and extra batteries, all with room to spare. In the top pocket, I'm able to carry everything else that I mentioned above. I do, however, like to carry my keys inside of the outer upper pocket, which is exactly what it is meant for. The inside upper pocket has a cool little headphone holder also, making it less hard to damage headphones that you may want to carry on an excursion.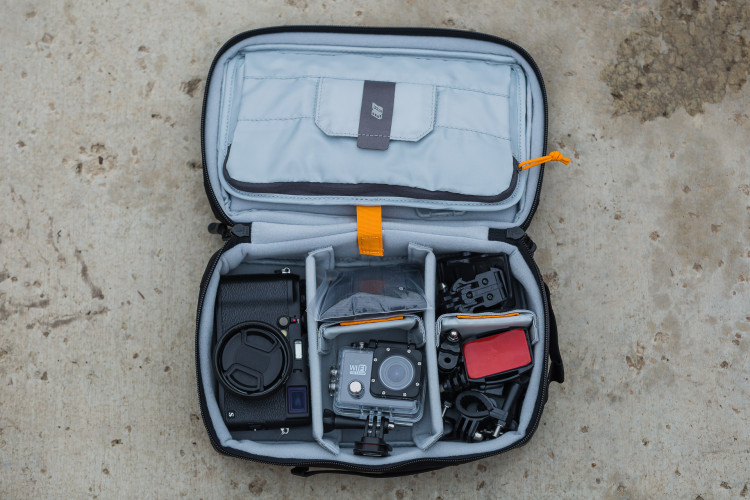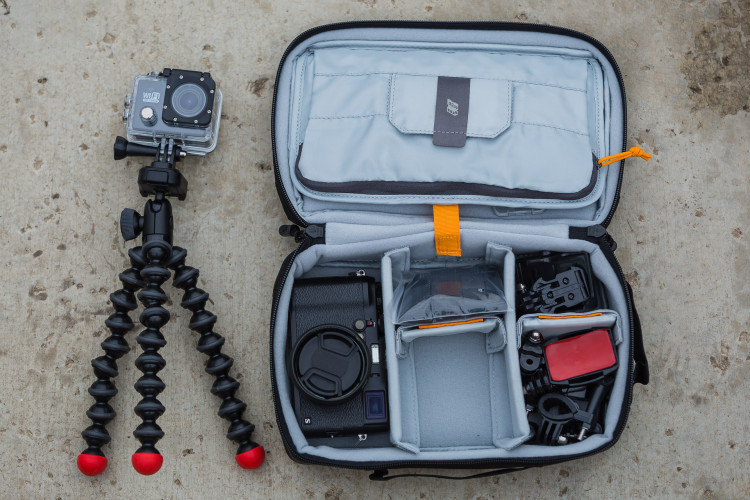 Another great addition to this bag is the laptop compartment. In my day-to-day life, I use a messenger bag to carry my 15-inch MacBook Pro Retina. Sometimes though, I want to bring my laptop with me on a day trip. On these occasions it can get annoying to have to bring an extra bag. TheLowepro ViewPoint BP 250 AW lets me bring my 15-inch MacBook Pro, and also has room for a tablet. This lets me upload footage from my action camera periodically, making sure everything is backed up properly.
Build and fit
My previous experiences with Lowepro backpacks have been great. I never doubt build quality of their bags, and theLowepro Viewpoint is no different. The bag feels nice and durable, while maintaining a weight that is completely manageable. The width of the bag is smaller than my usual backpacks, and I like that. It makes me feel like I can whip around with the bag and keep it centered on my back.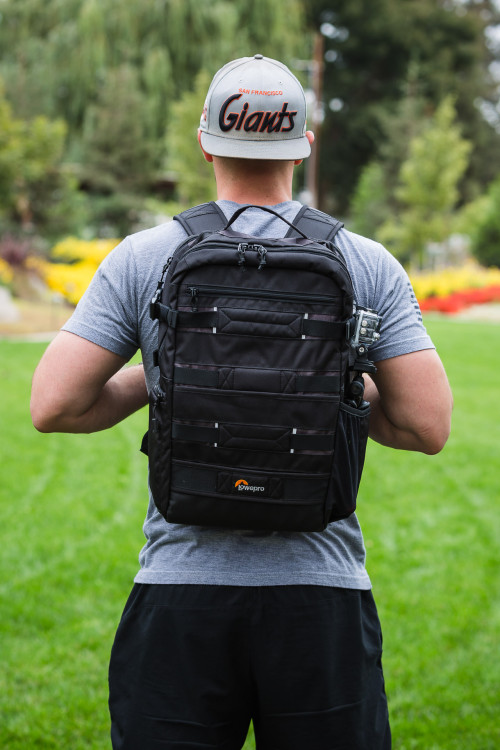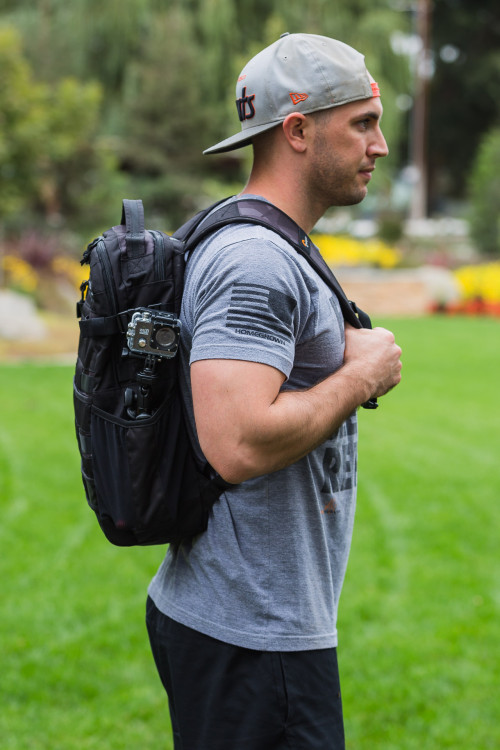 The straps feel nice and snug on my shoulders, and while I do enjoy snapping the chest strap, I don't feel like I need to in order for the bag to be secure. The backpack rides high enough on my back to make it feel like it's not sagging, and because I'm not carrying gear that is extremely heavy, the ViewPoint stays high on my back. Because I like to take this bag out on day trips with my wife and son, I'm usually a little sweaty when trekking around. The bag, being a little less wide and tall as my other DSLR backpacks, doesn't have the same "sweaty back" effect that I know all too well. This may sound strange, but one of my favorite things about the backpack is that it is small, and limits what you can bring. I'm easily able to carry the items I need, but because it is smaller than my other DSLR backpacks, I don't overload it. This, in turn, keeps it light on my back, which allows me to wear the bag for extended periods of time. One last thing about the bag that I think is a great design touch is the "fractal-camo" accents on the straps. I mean, who doesn't love modern camo?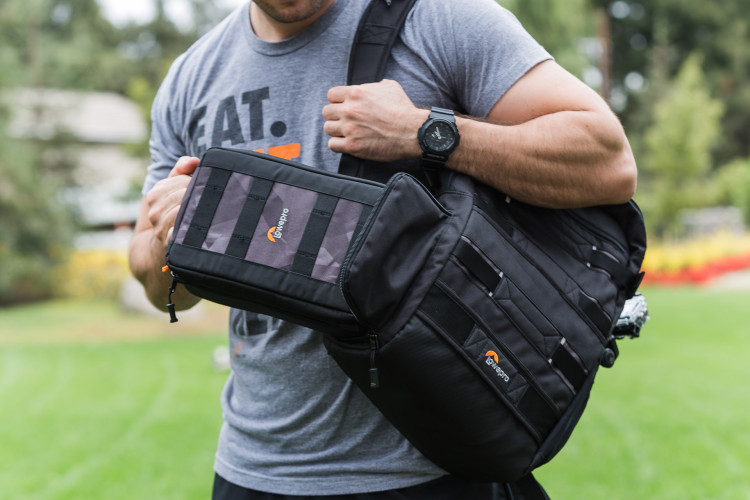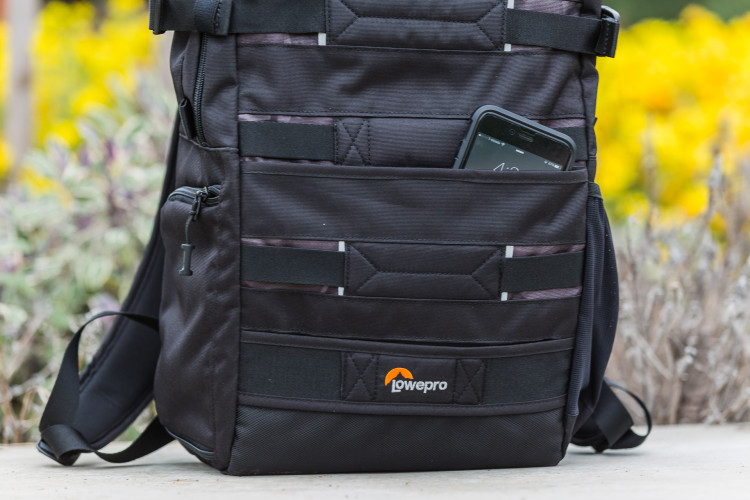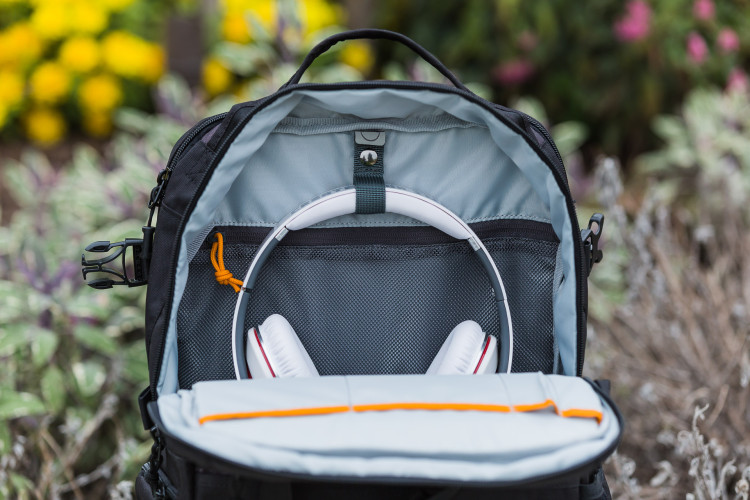 JOBY GorillaPod Action Tripod
In addition to the Lowepro ViewPoint BP 250 AW backpack, I received the GorillaPod Action Tripod for GoPro and other action cameras. GorillaPods are awesome products, and if you've ever used these products from JOBY, I don't need to go too far in depth. For those of you who do need explaining, the GorillaPod Action Tripod is a flexible, rubberized tripod, with a ballhead, that can wrap its legs around pretty much any object. This model comes with two quick-release clips with the standard ¼"-20 tripod clip, which means that it works with all action cameras. The ballhead on the little tripod is really easy to use, and gives 90 degree tilting and 360 degree panning capabilities. The tripod weighs less than half a pound, and is 2.17 x 2.17 x 10 inches. This easily fits inside the upper pocket of the Lowepro ViewPoint BP 250 AW when carrying a water bottle on the outside, or inside the outer side pocket when not carrying a bottle.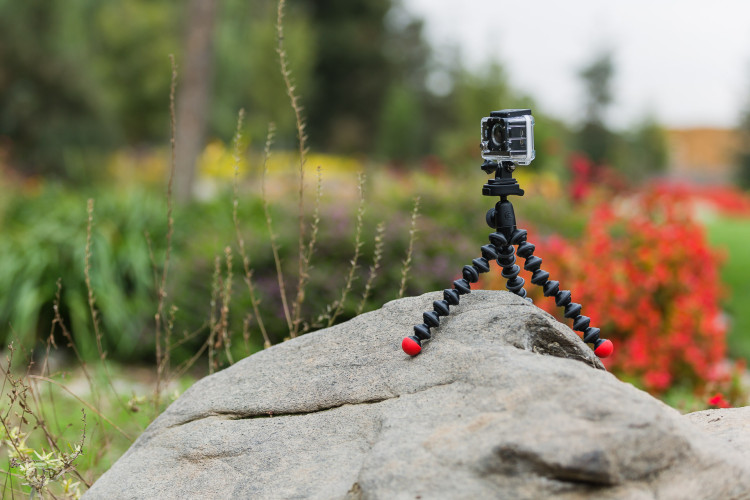 The GorillaPod Action Tripod easily stands up on its own, wraps around most objects like tree branches or fence posts, is very sturdy while doing so. This may sound a little sappy, but I'm in love with this little tripod. Being a dad who is a photographer, I'm always the one behind the camera. That means that I'm not usually in the photos, unless I can get someone else to take them. The GorillaPod Action Tripod allows me to set up the action camera and actually be in the videos that I'm shooting. This may sound like a small detail to some people, but to me this means everything. There's not a lot to say about the GorillaPod Action Tripod. It's built well, handles a beating, can be mounted anywhere, and can even hold my Fuji 100S when I want some pictures when I'm out and about. It does what it says it does, and at $40 is worth every penny.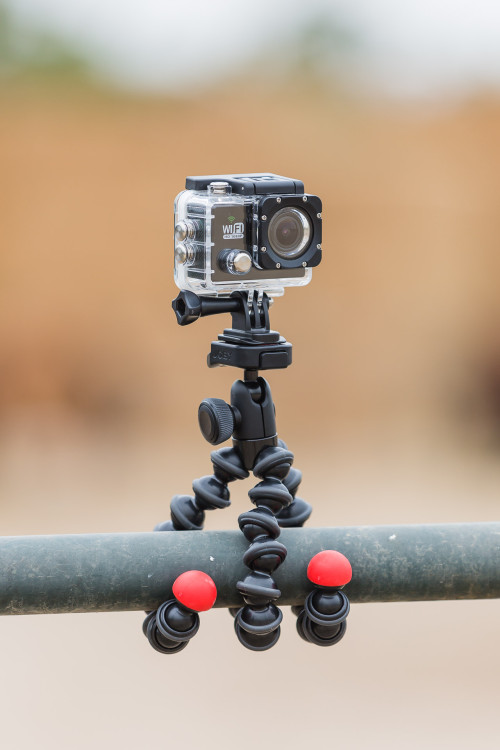 What kind of person who benefit from the Lowepro ViewPoint BP 250 AW and the GorillaPod Action Tripod? If you're an action camera user who is looking to take your gear out for the day and shoot, while also bringing along some extras, it's right up your alley. If you're a family man who wants a day bag with food, an action camera, and a small mirrorless camera like the Fuji X100S, then it's a great bag for you as well. I don't know of any other action camera backpacks that function this well while looking this good.
Pick up the Lowepro ViewPoint BP 250 AW here

Pick up the JOBY GorillaPod Action Tripod here

The Brotographer Reviews the Lowepro ViewPoint BP 250 AW & JOBY GorillaPod Action Tripod
Light
Great Fit
Fits 15 inch MacBook Pro
Fits perfect amount of gear
A little pricey as a day bag, but not as an action camera bag
9
Action Camera/Day Bag Favorite