Lowepro Whistler BP 350 AW Review - A nice adventure photography backpack
Super Comfortable
Built Like A Tank
Great Value
Looks Good
Takes A Beating
Handle Could Be Thicker
Straps Could Be Thicker
Can't Remove Waist Strap
92

%
Nice Adventure Backpack
Today I'm reviewing the Lowepro Whistler BP 350 AW. I would not call myself an extreme photographer. I am not a huge hiker or outdoorsy, foresty, hiker kind of photographer either. I typically stay in the portraiture realm. However, many of you out there reading this are that kind of photographer. I typically push bags that first and foremost have a super high aesthetic quality, and then function after that. Today, I'll be switching that up a little bit, but keep in mind that I'm still going to touch on aesthetics as well.
Overview Of The Lowepro Whistler BP 350 AW
You are probably wondering why I started off the review like that, but it was not intended to come off as me saying that the Whistler isn't an aesthetically pleasing backpack. On the contrary. I actually find see Whistler to be an extremely good-looking backpack given its "rugged" nature. I am a huge fan of the color orange, and the orange accents on the Whistler are really pleasing in my opinion.
Pretty much the entire outside of the bag is made of 420-denier ripstop nylon. The bottom of the bag has a Hypalon base, which is super durable. I would feel comfortable with my gear in this backpack in most inclement weather. It is seriously built like a tank. I would have no problem skiing, hiking, or any other kind of activity in this bag.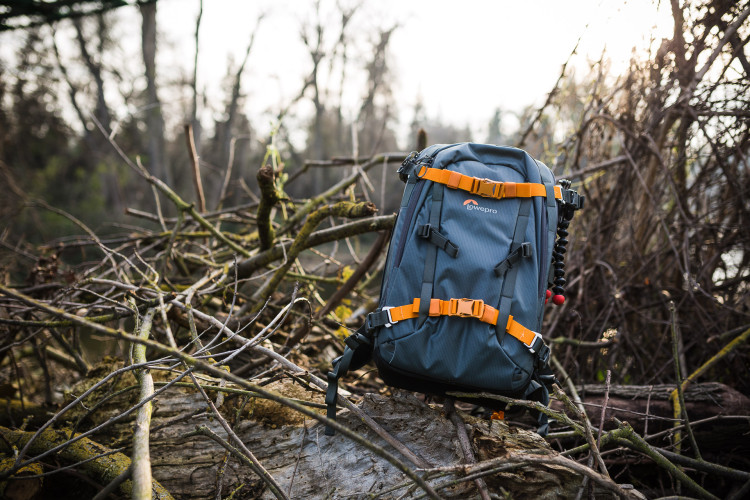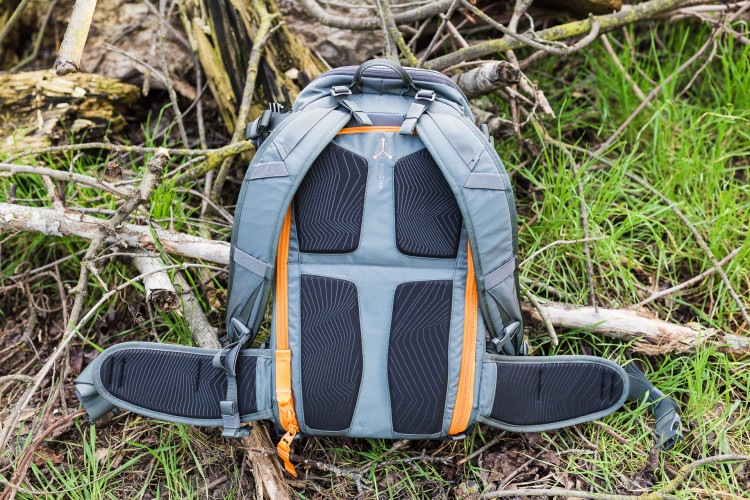 The fit of the Whistler is also fantastic. I have owned a lot of backpacks, and the Whistler ranks up near the top of them for comfort. The main source of comfort that I look for in a bag like this is how high it sits on my back. I don't want the backpack to slouch down when I'm carrying it full of gear. The Whistler doesn't do that at all. The straps stay snug, and the waist belt takes some of the weight off my shoulders as well it seems, which is an added plus. The first time I put on the bag, I was surprised that the waist belt sat at about my belly button, but I actually grew to appreciate that after I wore it a few times, because of the added support. Another thing that Lowepro does well with the Whistler is the use of their ActivZone technology. They use this technology on the padding on the back of the bag, both making it more comfortable and also adding a little extra support where you needed. Well done Lowepro.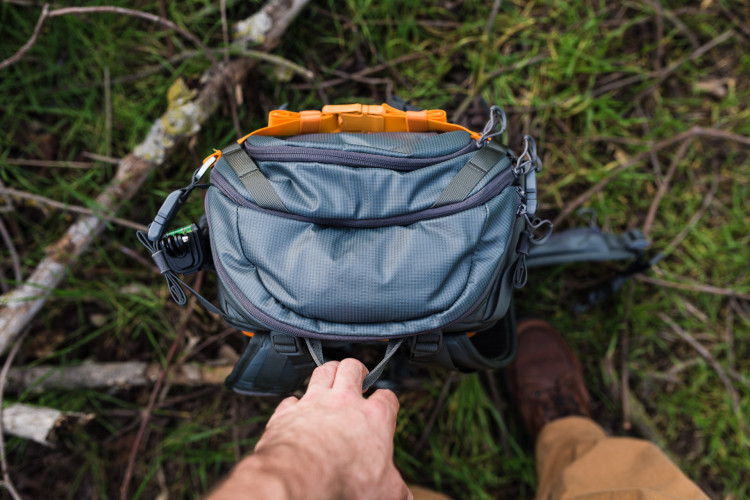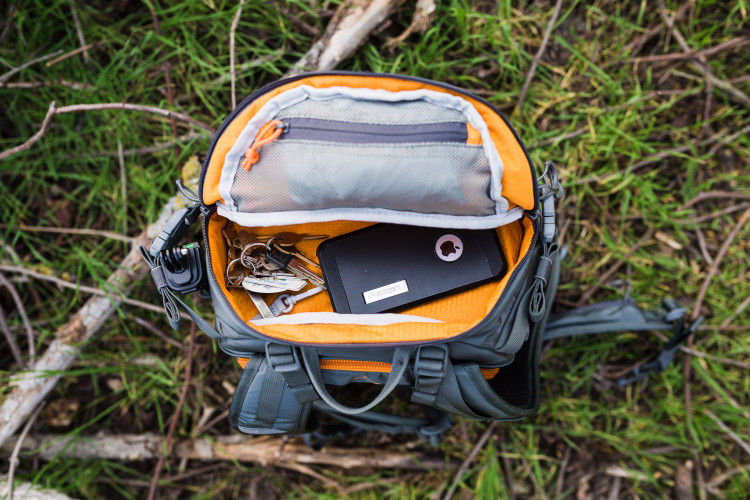 I feel like wherever Lowepro could put a pocket or harness on the outside of the Whistler, they did. Both sides of the bag have both harnesses and buckles, making it extremely easy to carry light stands, tripods, or any other item that you would use in this way. The front of the back also has nicely placed orange straps that can accommodate ski poles or a skateboard.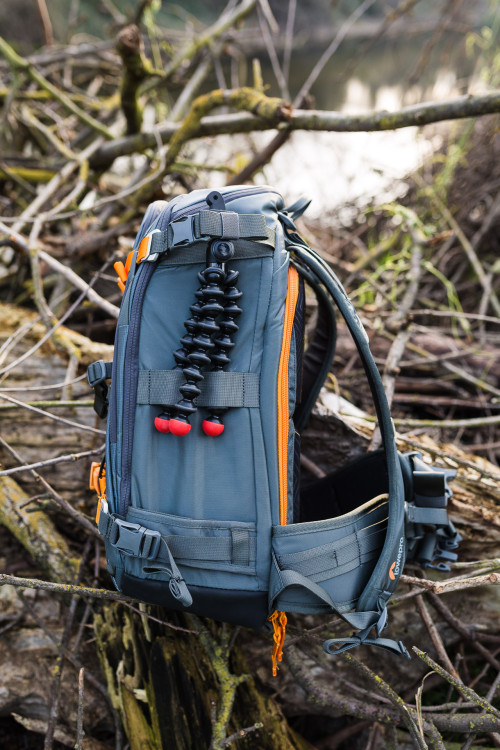 The top of the bag features a nice pocket that can hold the necessities, and also the all weather cover when it is not in use. There is also a zippered expanding section if you are filled to the brim, and a large front pocket with additional zippered pocket inside. This section can easily fit a bunch of odds and ends, notebooks, water bottles, or snacks.
I want to stop for a minute and talk about the zippers on the Lowepro Whistler BP 350 AW. There is nothing worse than zippers that are hard to move or grab. I really appreciate it when companies go out of their way to make it easy to get into the zippered sections of a bag. Lowepro does a great job with their zippers on all of their bags that I have owned and reviewed. All of the outer zippers have a hooked feature for opening them up with one finger. I can imagine that if you are in the snow or a very cold situation that this feature would be needed even more. The rear zipper that opens up the main compartment features extra large zippers with poll tags on them, making it very easy to grab them as well. Now on to the inside of the bag.
When I am using a camera backpack, an opening on the side that touches my back is pretty much a must. When you are around people, you don't want them to be able to get into your bag without you knowing. In the case of an adventure backpack, you might be in some crazy situations with wet or extremely dirty ground, and still want to be able to get to your gear. Since the outside of the Lowepro Whistler is so weather resistant, it's nice to be able to just lie be back down, and open up the main compartment.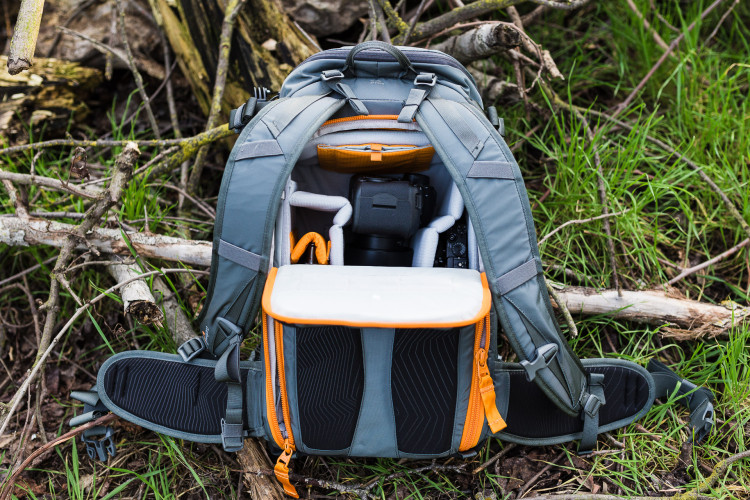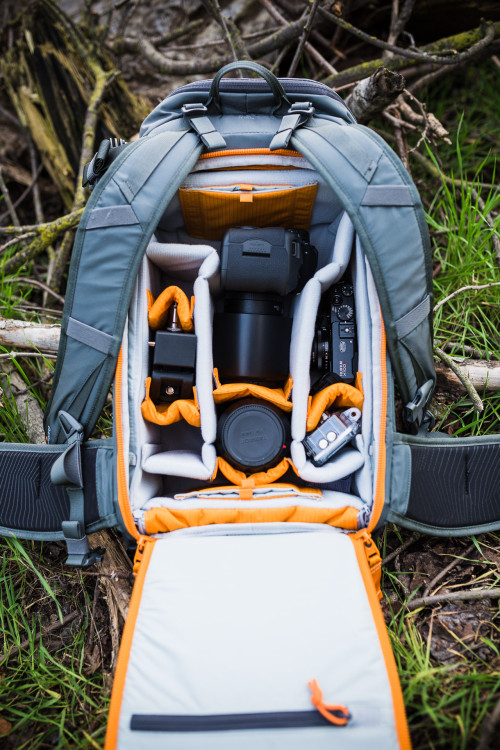 On this particular backpack, Lowepro opted not to add a top zippered compartment to be able to get to your gear. Because of this, they added a pretty cool feature on the main compartment opening. You can decide to unzip the back panel pathways, and fold the back down a little bit so that you don't have to unzip it the entire way, possibly spilling some gear if the bag is upright. Inside the bag, they decided to go with a removable insert. Inside the insert, I can easily fit a 5D Mark III with any lens attached to it. I could also fit three or four lenses, accessories, and an action camera. Typically, I would want to take this bag out with a 5D Mark III with hey 35mm art attached, possibly a super wide angle lens, and maybe a 70-200, with accessories and an action camera. Since I'm out there looking this around all day, I don't want to bring my entire kit. That amount of gear can get me through anything that I really need. I also think that is the perfect amount of kit for the bag to feel well balanced, without getting too heavy on my back. The zippered flap has room for several memory cards, and a zippered pocket for a small accessory. The insert also makes use of Lowepro's MaxFit dividers, which I find to be the best in the industry. They just make it so much easier to customize the bag to fit your needs.
If you don't want to use the Lowepro Whistler as a camera bag, you can easily remove the rectangular insert, and use it as a day bag that can withstand any bad weather situation that it is put through. If you are both an adventurer and photographer, this bag can easily serve a dual purpose for you.
There isn't much that I don't like about this bag. However the top handle of the bag is a little thin for me, and I wish it was just a little more robust. I don't I think that it is necessarily going to break, but with the amount of expensive gear in this bag, I just wish it was a little heftier. I also wish that there were just a little bit more padding on the shoulder straps. I did not climb Mount Kilimanjaro, so I can't speak on their comfort after days of wearing it, but I wish there was just a little bit more padding. Also, I wish the waste strap could be removed. I realize that for the market they are going after with this backpack, those consumers probably don't want to remove it; I just wish at times that I could. In Lowepro's defense, it probably makes the bag more secure with them sewn in rather than clipped on, so I understand the reasoning behind that move.
There is some pretty big competition in the camera backpack industry for bags that also have removable inserts. However, those backpacks are typically a little bit more expensive than the $300 price point that Lowepro comes in at. I think that they did a great job with this backpack. They packed it full of useful features, made it really rugged and durable, and actually managed to make it look pretty good (thank you for the orange!). If you are looking for a medium sized, extremely durable backpack with a removable insert, then you need to give this bag a serious look.
Take a look at the Lowepro Whistler 350