German Luxury
When I think of German engineering, Mercedes, Audi, and Leica come to mind. Sleek and modern yet timeless design, great quality of materials, and a sense of luxury encompass German made products. On the off chance that you do own a Leica, or just appreciate high quality products, you're going to want a camera bag that also exudes quality.
Ronnie Joy, of Joy Lifestyle Photography, previously reviewed the Oberwerth Kate, a women's designer camera bag styled like a purse. If you haven't read that review, you can check it out HERE. I have happy fantastic chance to review the Oberwerth Munchen camera bag for a while now, and am happy to be able to share my thoughts of this German made bag with you.
Let's get the price discussion out of the beginning. Yes, this bag is €599, or at the time of writing this, about $635. That is very expensive for any bag, let alone a camera bag. I get that. If that is insane to you or you can't appreciate it for what it is, stop reading now. But if you are the type of person that can get past price (or you're a Leica owner) this may be a bag that is perfect for you. Shelling out $6000-$7000 on a Leica system means that you appreciate craftsmanship and high quality products. If that is the case, maybe the Oberwerth Munchen is for you. Once you can get past price, you can look at the Oberwerth Munchen for what it is, and that is a fantastically made, well-thought-out, luxury shoulder camera bag.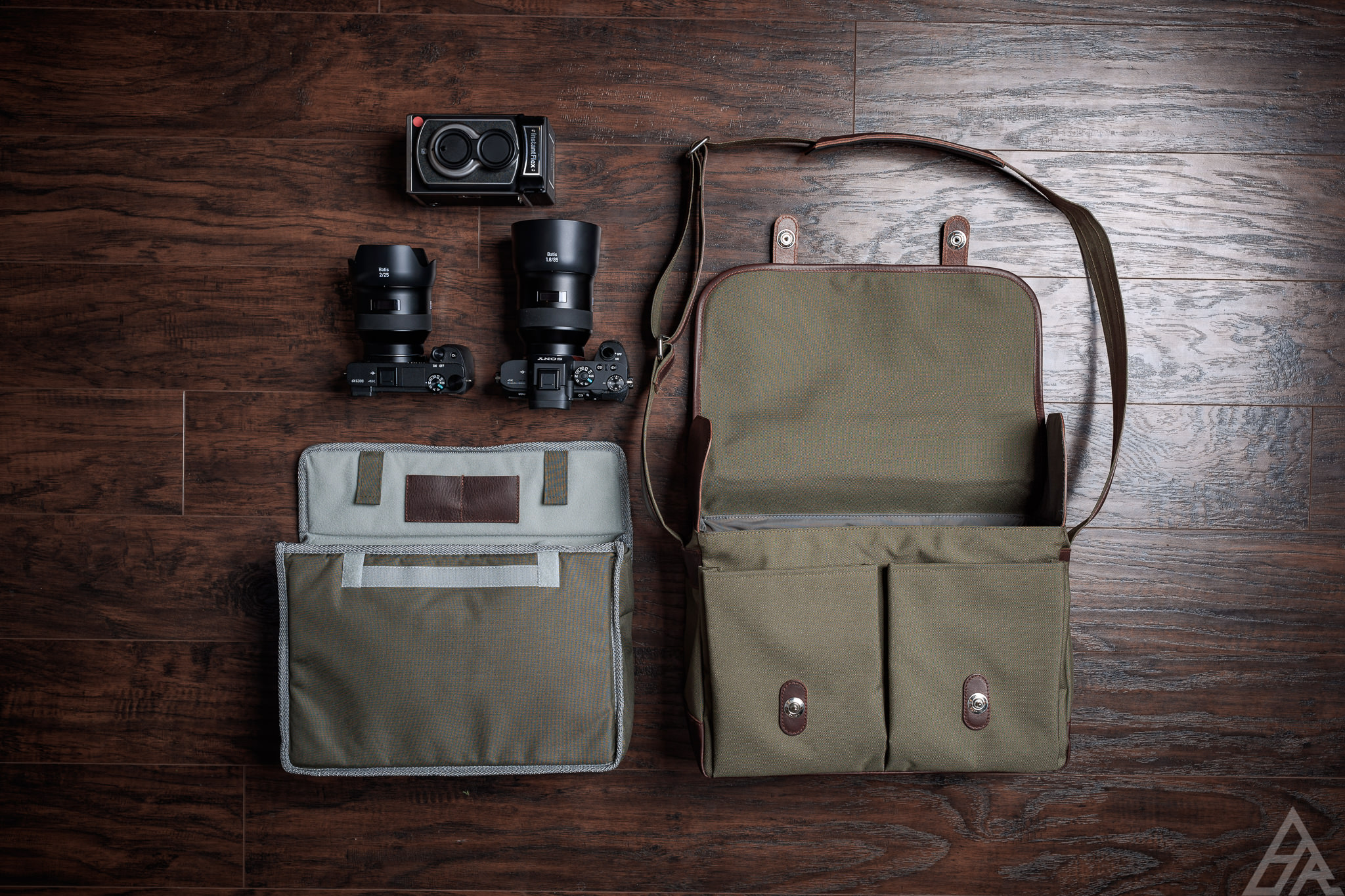 What does the Oberwerth Munchen hold?
Oberwerth says that this bag can be used with DSLR systems, and don't get me wrong, it can. However, I really think that mirrorless systems are really what the Oberwerth Munchen is meant for. Leica, Sony, Panasonic, Olympus, and Fuji to name a few are more suited for its inner compartment size. A Canon 5D Mark IV could definitely fit, but would be pushing on the walls quite a bit, making fitting a tablet or laptop a bit of a hassle in my opinion. My Sony system paired really well with this shoulder bag, and hear is what I was routinely able to fit inside.
Oberwerth Munchen Design & Features
The Oberwerth Munchen is German engineering at its finest. Made with waterproof, oil and dirt resistant Cordura 150 and 200, full vegetable grain cow hide that is naturally tanned and dyed, air cushioned inserts, and a removable camera insert, the Oberwerth Munchen's materials really speak for themselves.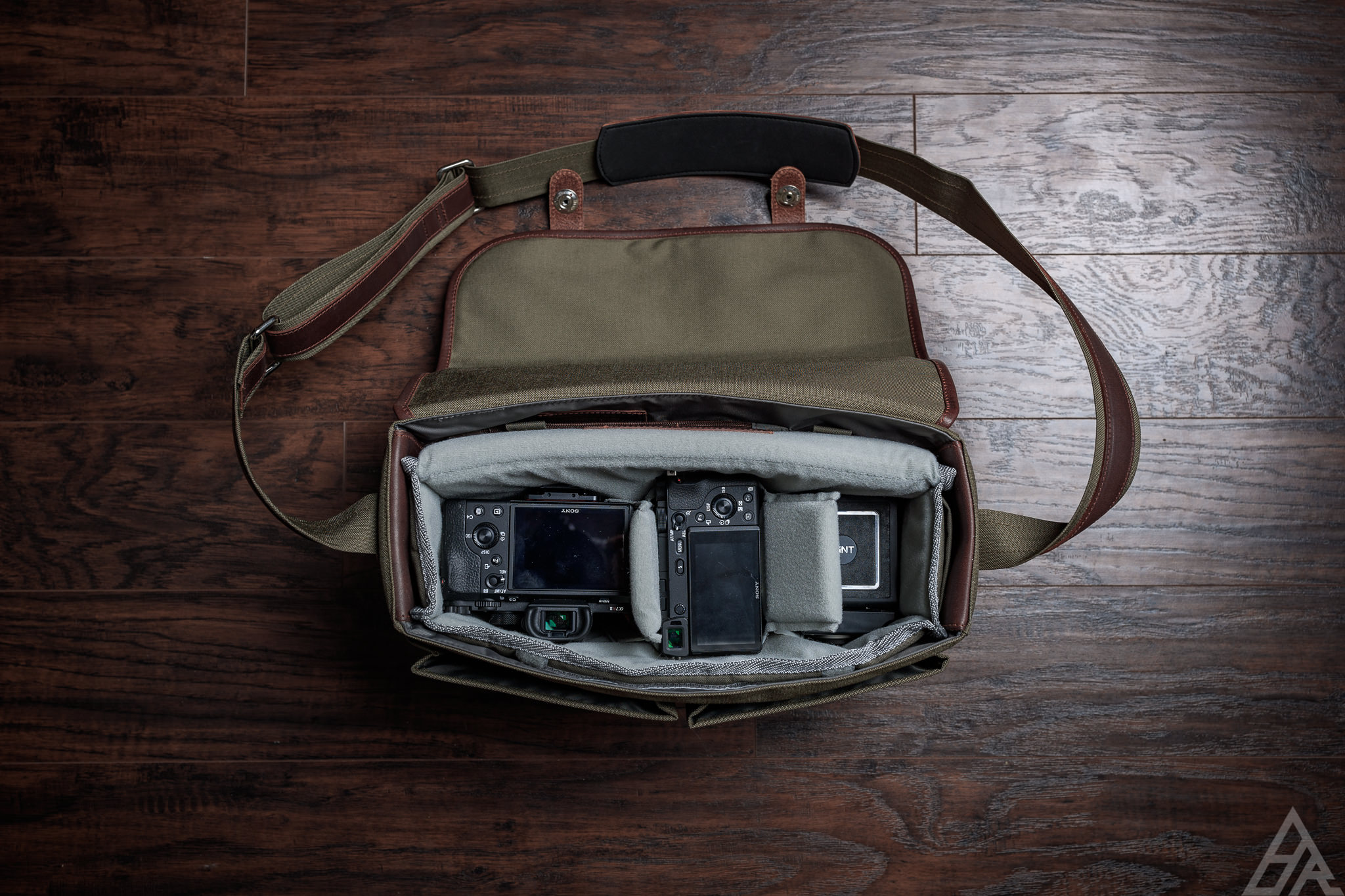 The outside of the Oberwerth Munchen features that full grain leather on the entire outer flap and top handle, as well as being Incorporated into the shoulder strap and pad. The bottom and corners also feature that same great leather. Some shoulder bags that incorporate leather claim that it is great cowhide, but it really doesn't looks great out of the box or hold up over time. The Oberwerth Munchen does not even come close to falling victim to that. Its leather is fantastic, sick, yet nimble enough to move freely. The upper handle has been designed in away and riveted so that it constantly sticks up, allowing quick access to it. All the leather seems to have a great stitching, and not a single stitch has come up in the time that I've been using a shoulder bag.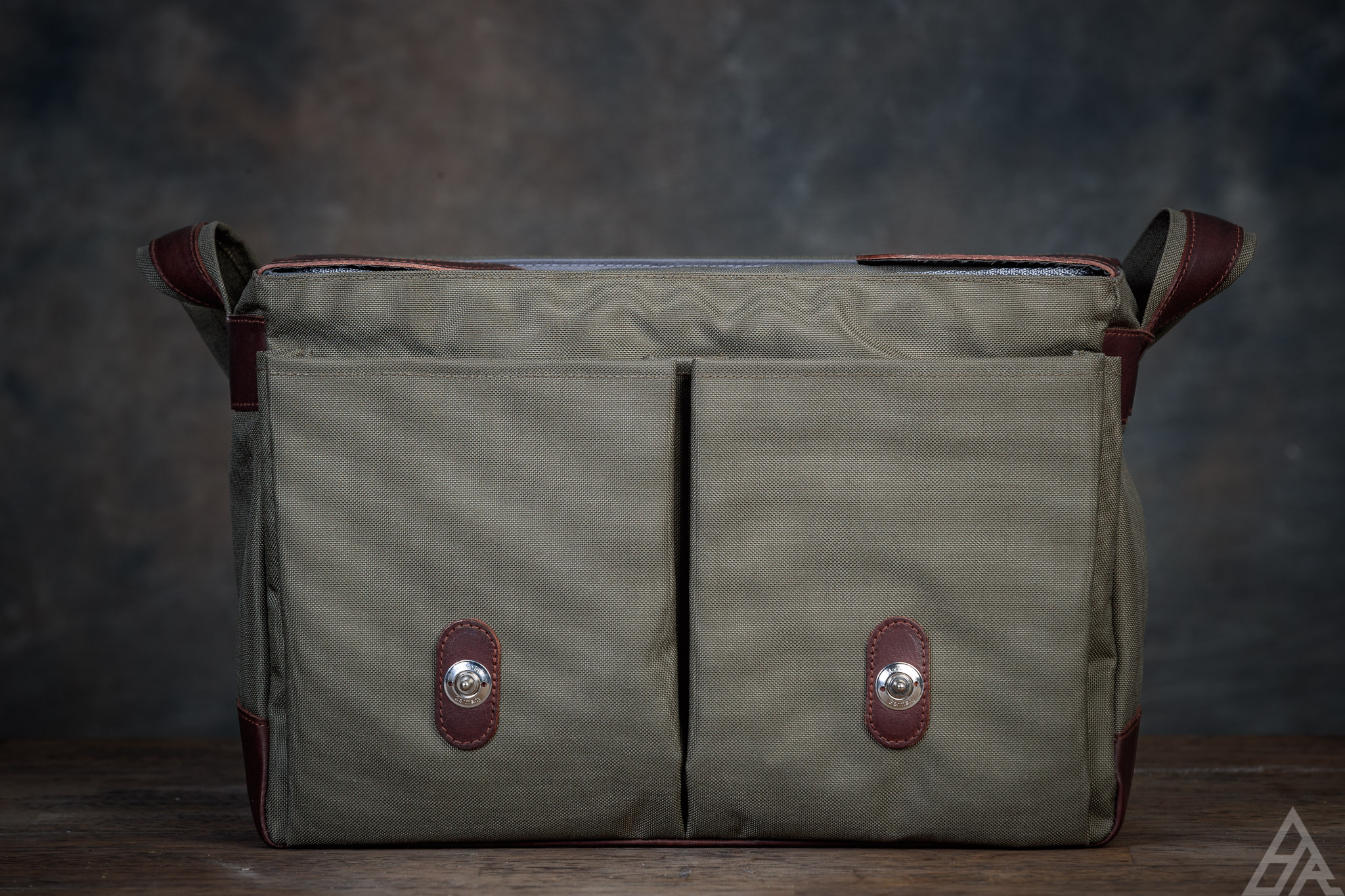 While I am not a fan of taking an expensive camera gear out in the elements just for the sake of a review, Oberwerth does clam that their CORDURA is waterproof. Now I definitely would not submerge the bag, but it does seem as if it could take a little bit of rain very easily. While it is water resistant, it is actually really nimble and isn't too rigid, which I really like. The outer flap is secured by two buttons that have a quick-release pull on them, which I think it is engineered really well. All too often, shoulder bags have a buckle system that is a pain to get undone when you are trying to get into the bag quickly. That's not the case with the Oberwerth Munchen. Two quick pulls and you are right into the bag, and able to quickly get your gear out.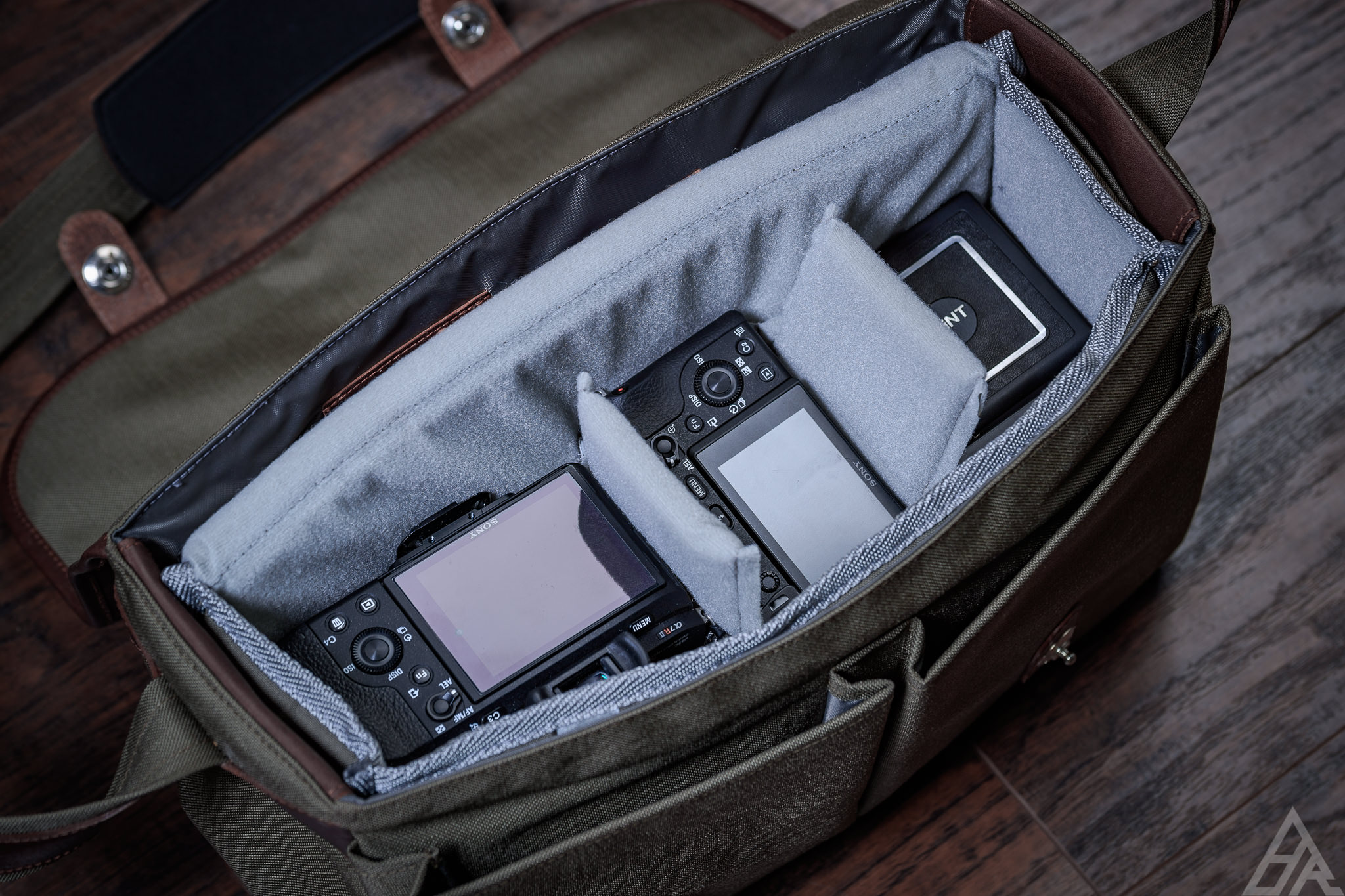 Without the camera insert in the, is can easily double as a work shoulder bag, which is really cool since the bag costs this much. Inside is a little pouch that would be great for hey phones, and a zippered pocket for contents like a wallet. For items that are a little larger but that you don't want on the inside of the bag, the Oberwerth Munchen has to outer open pockets that can fit a lot of extras like notebooks, cables, etc. The Munchen is just wide enough that you can fit a 15 inch MacBook Pro on the inside as well, which is awesome. I am all too often disappointed at how smaller shoulder camera bags can't fit my 15 inch MacBook Pro, so being able to fit it in the bag as well is definitely an added plus.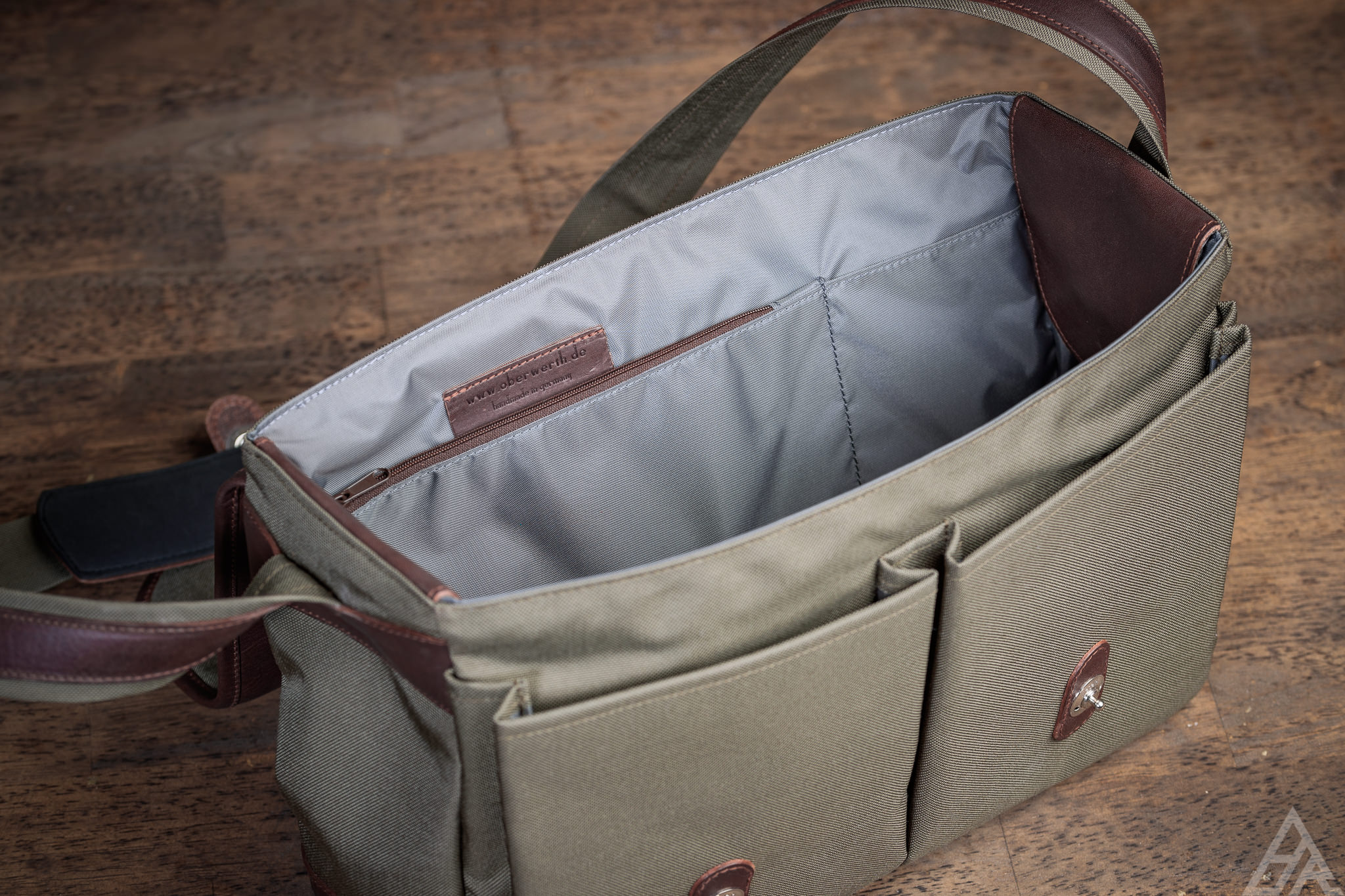 Another weird thing that you don't really think about with other bags the Oberwerth Munchen forces you to realize that other bags don't make an effort to secure the removable camera insert very often. This bag has a Velcro strip on the outside of the insert, in the inside of the front of the bag that secure the insert inside the shoulder bag. It isn't a huge deal, but once again these added features really show that the Oberwerth Munchen is well-thought-out, and helps increase the value in a bag priced this high.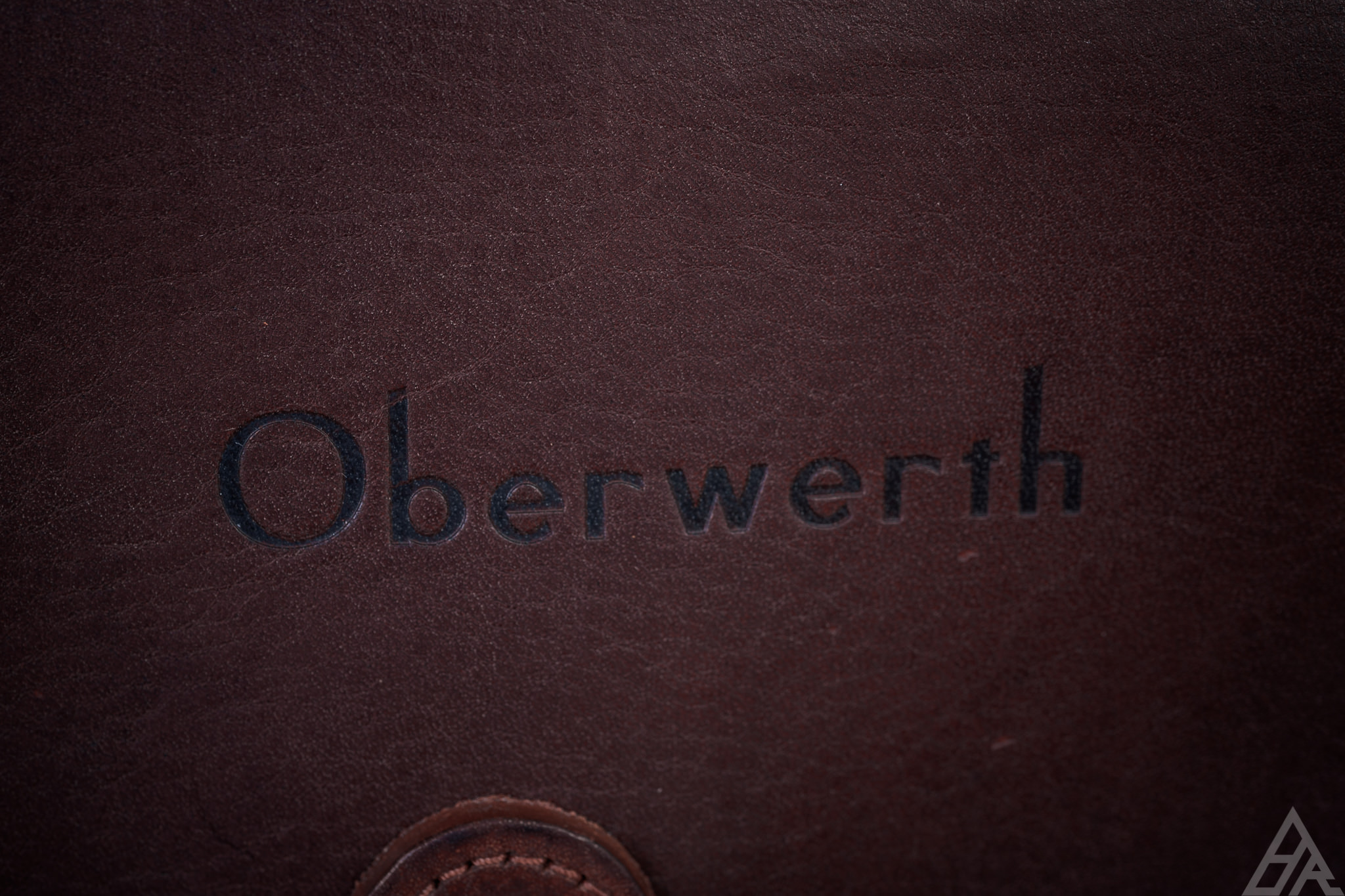 The interior of the removable insert is very simple. Included are a couple dividers. They are designed really well, and provide ample protection for the gear that they are dividing up. The walls are made of the same grade divider material, can provide way more than enough protection for your gear as well. The top flap of the insert has two leather pockets for memory cards, and two Velcro straps that can actually allow you to Velcro the insert closed, giving you added security if you work to need it.
Oberwerth Munchen Comfort
Because you aren't lugging around a ton of gear, wearing the Oberwerth Munchen comfortably is really easy. While not overly padded, the pad on the strap does provide enough padding and can be easily slid up and down on the strap to move it where you need it.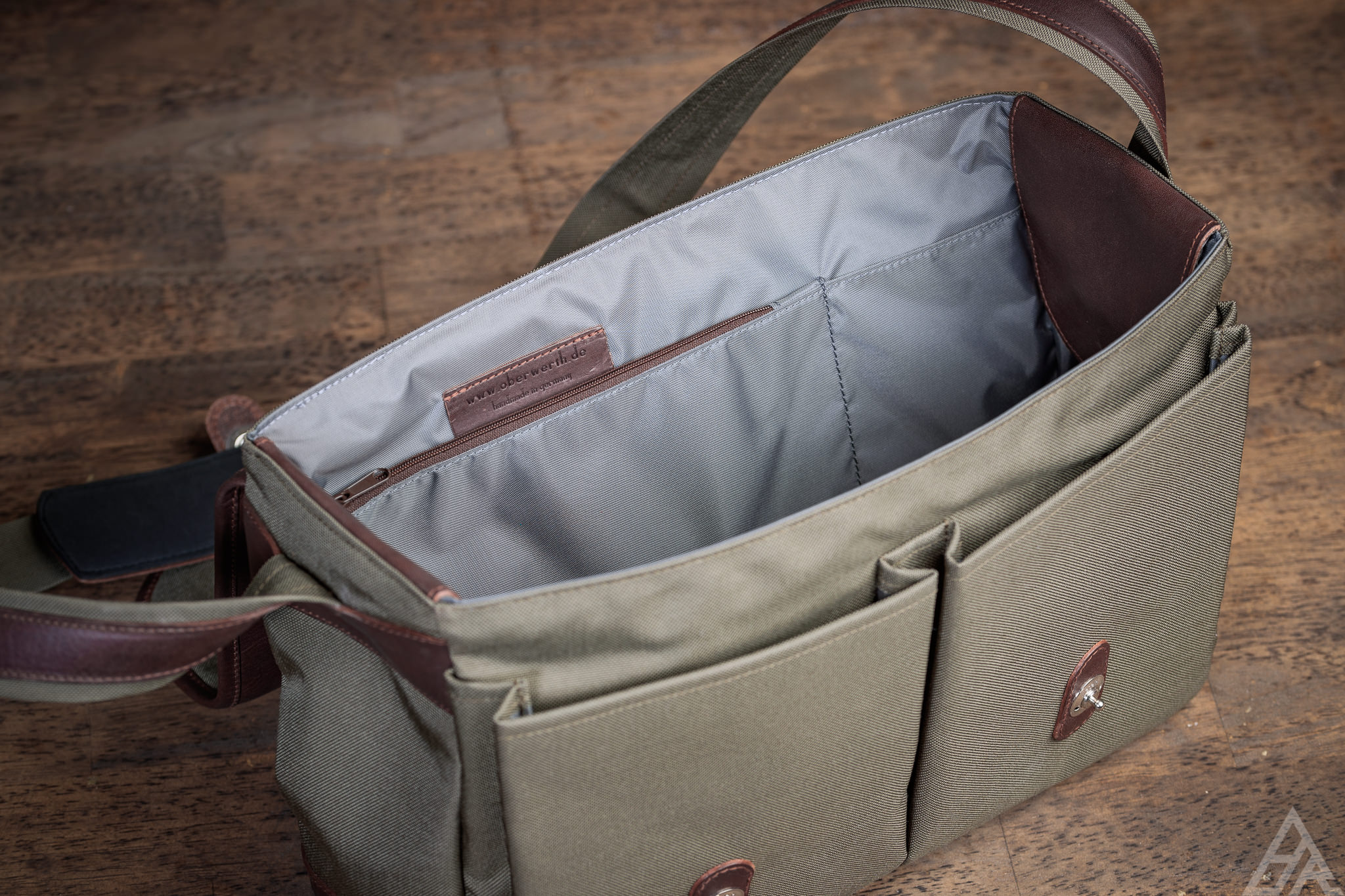 One of my favorite features of the Oberwerth Munchen is that they didn't include straps on the bottom of the bag for securing a tripod. Yes, you heard that correctly. Since I am using the Sony system, I can usually shoot hand held up to at least half a second in certain situations. Unless I am doing a long exposure shot, I really don't need a tripod, which is really a benefit of certain mirrorless systems. On the other bags, the bottom straps can end up just getting in the way.
I have really been trying to think of a few cons of the Oberwerth Munchen, because no bag is perfect. I would say that one of my biggest gripes is with the two leather flaps that halfway go over the insert. I understand that they are there for added protection against the elements, but I sometimes wish they weren't, and most of the time I end up tucking them down so that they don't get in the way. Didn't up being a lot easier to get to my gear when they aren't there. But once again, they are an added touch on a luxury bag that costs a ton. That brings us back to price. Price will always be the elephant in the room when it comes to luxury camera bags, and it is no different with the Oberwerth Munchen. Oberwerth definitely knows their Target market well, and those people don't mind spending it time on a bag. I waver back and forth on calling the price a con, because I fully expect the Munchen to last decades, and look better and better over time. You just have to realize what is important to you. If extreme quality and craftsmanship are at the top of your list, then dropping that amount of cash on a bag for your mirrorless system definitely isn't a con. I can't speak for you, but I find myself buying higher quality items like the Oberwerth Munchen in an effort to buy something once.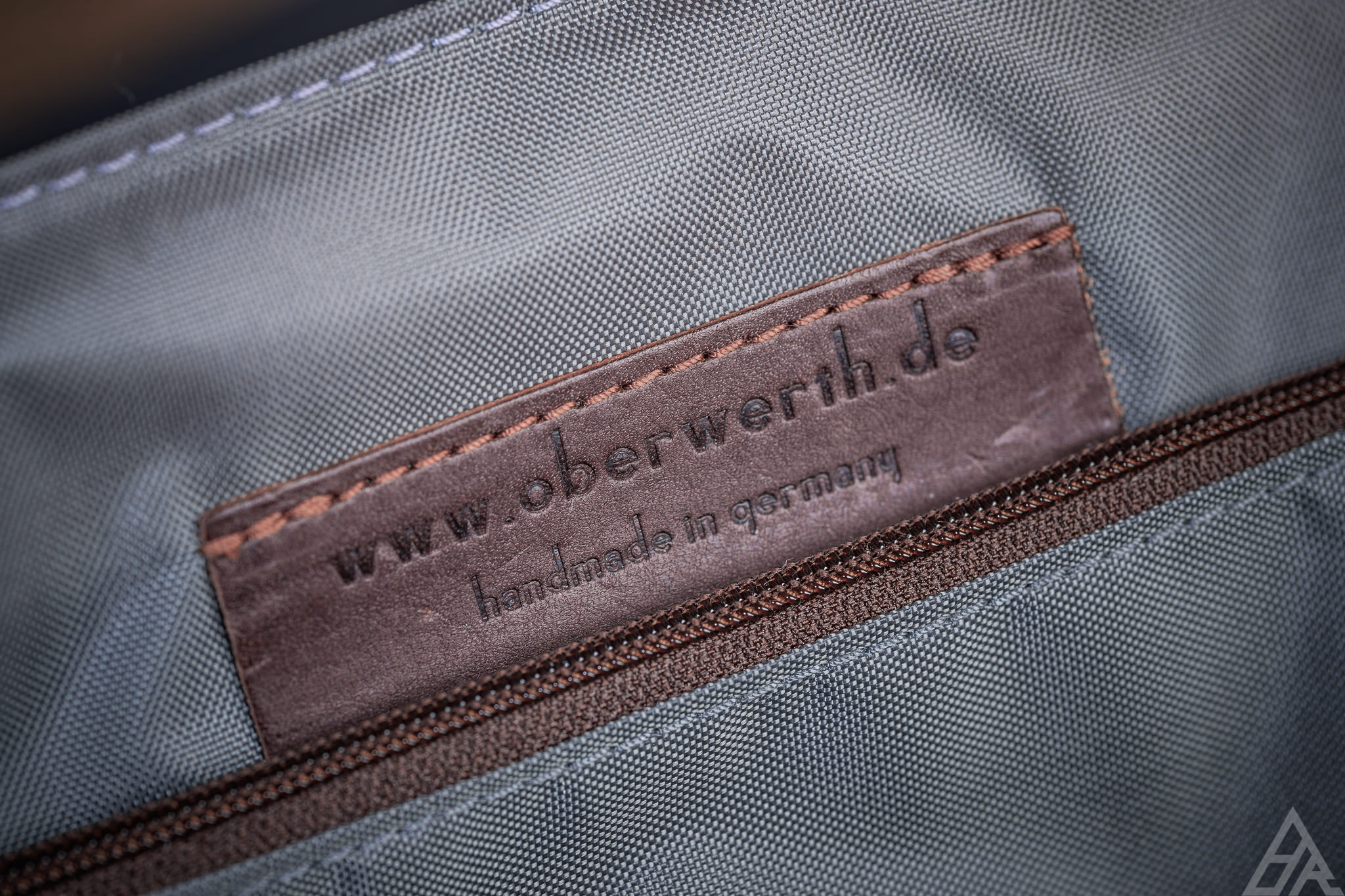 Oberwerth offers the Munchen in a variety of color schemes, so if you're interested in this luxury shoulder camera bag, and have an affinity for leather, there will be a combination for you. It is a very aesthetically pleasing bag, and I think it can be worn in all four seasons with pretty much any outfit. The ability to remove the insert gives you even more use out of it, and that may even sway you into making it your everyday bag. Definitely give Oberwerth a look, as they have many other designs that might catch your eye also.
If you'd like to purchase the Oberwerth Munchen, please click on our links to do so. You also throw us a few pennies off every dollar when you use our links, and it helps us keep putting out great content that keeps your informed about new gear. We thank you in advance.
Oberwerth Munchen
The Oberwerth Munchen is for the photographer carrying a mirrorless setup, wants a shoulder bag, and values great design and craftsmanship.





German Luxury