Peak Design Does It Again
When I heard that Peak Design was sending me their Travel Line, oh boy was I stoked. Not only is Peak Design one of my all time favorite companies because of their design, usefulness, and overall awesomeness, but because I just genuinely enjoy their bags. I have several of their accessories, as well as the Everyday Backpack in 20L and 30L sizes. Peak Design, in my opinion, is the Apple of accessories and gear catered towards the traveling creative.
Let's get right into it, as there is a ton of items to go over in this line. Peak Design sent me out the following items.
45L Travel Backpack in Black (my favorite Peak Design color)
Medium camera cube
Small packing cube
Tech pouch
Wash pouch
Shoe pouch
Rain fly
PROS
AMAZING design. They thought of everything
Literally everything is useful about each item
Tech pouch is a 10/10
Wash pouch is perfect.
Backpack still has side access
Pretty comfortable
Love how the laptop won't hit the ground when set down
Medium camera cube carries nice amount of gear
Dividers are the best I've ever used
Legit strap stowage space to become a duffel
CONS
May be a bit expensive for some people (just invest in it)
Limited colorways
I'm 100% mirrorless now, and therefore have a little more room in my bag for gear. That's a welcome change for me, as I love over packing and mirrorless affords me a bit more space. The Peak Design Travel Line was announced, and I knew that it would be perfect for my newly minted mirrorless ways, as well as other tech that cram into my bag. When I want to go minimal, this new bag also promises to allow me to carry less gear and more clothing.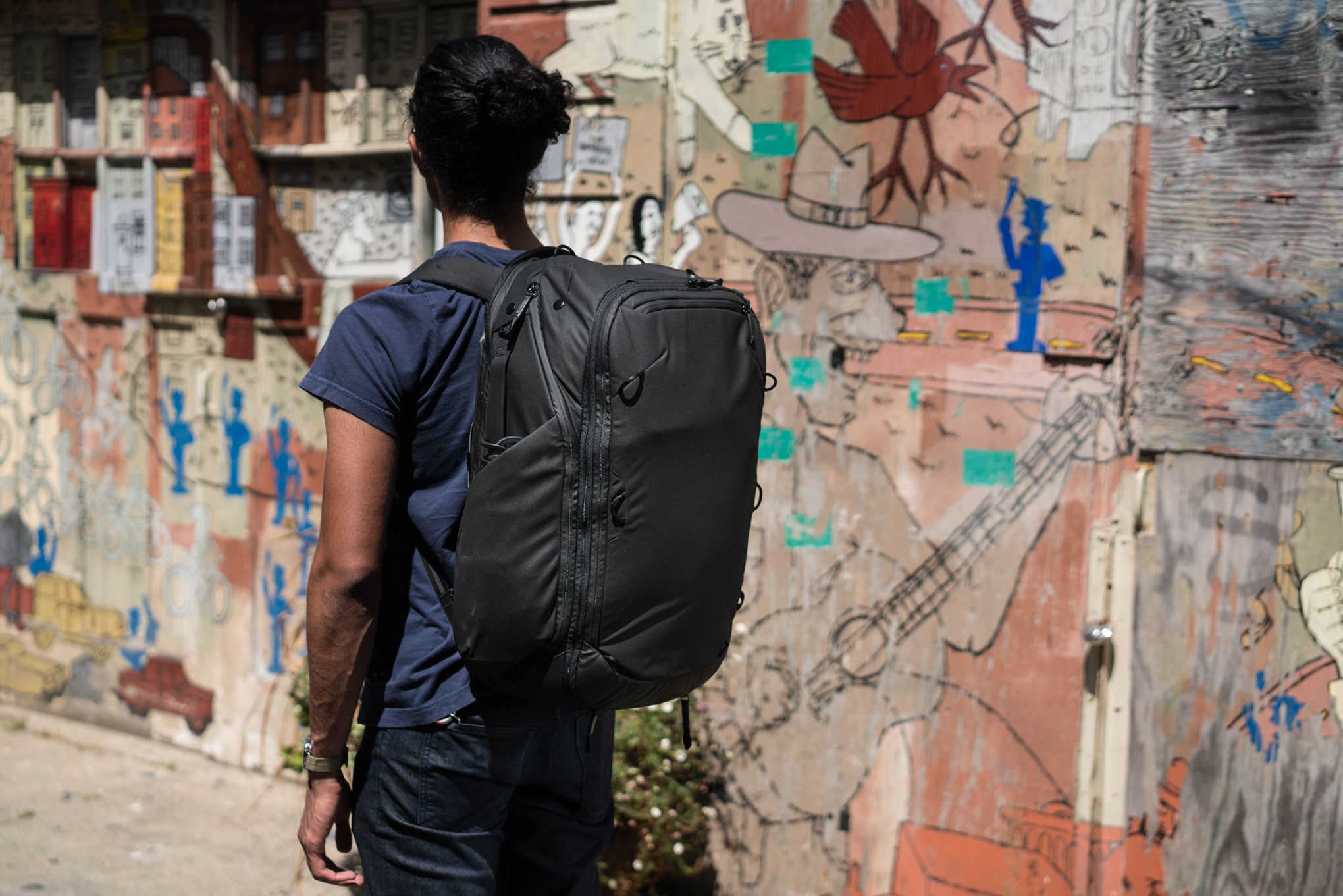 What The Peak Design Travel Line Actually Carried For Me
Daily Photography Carry
Sony A7RIII w/16-35mm GM
Sony Zeiss 35mm f/1.4
Rode VideoMic Pro
Rocket blower
Strap
Loaded out Tech Pouch
MacBook Pro & charger
Joby GorillaPod
DJI Ronin-S
Casual Travel Kit
Sony A7RIII w/16-35mm GM
Rode VideoMic Pro
Rocket blower
Strap
Loaded out Tech Pouch
MacBook Pro & charger
Wash Pouch
Small Packing Cube (all I own is athletic clothing)
Get the Peak Design Travel Line HERE.
In my time with the Travel Line those were my two most often used scenarios. Not only does the bag handle these scenarios easily, but it was still very comfortable while carrying. Keep in mind that I don't think this bag is meant to be loaded out with gear 100% of the time. I think the way Peak Design intended its use was to get your gear to the desired location, then repack of it if you want to go out. The Travel Backpack 45L is large enough to handle these tasks, but also small enough to carry around during the day if you decide to repack.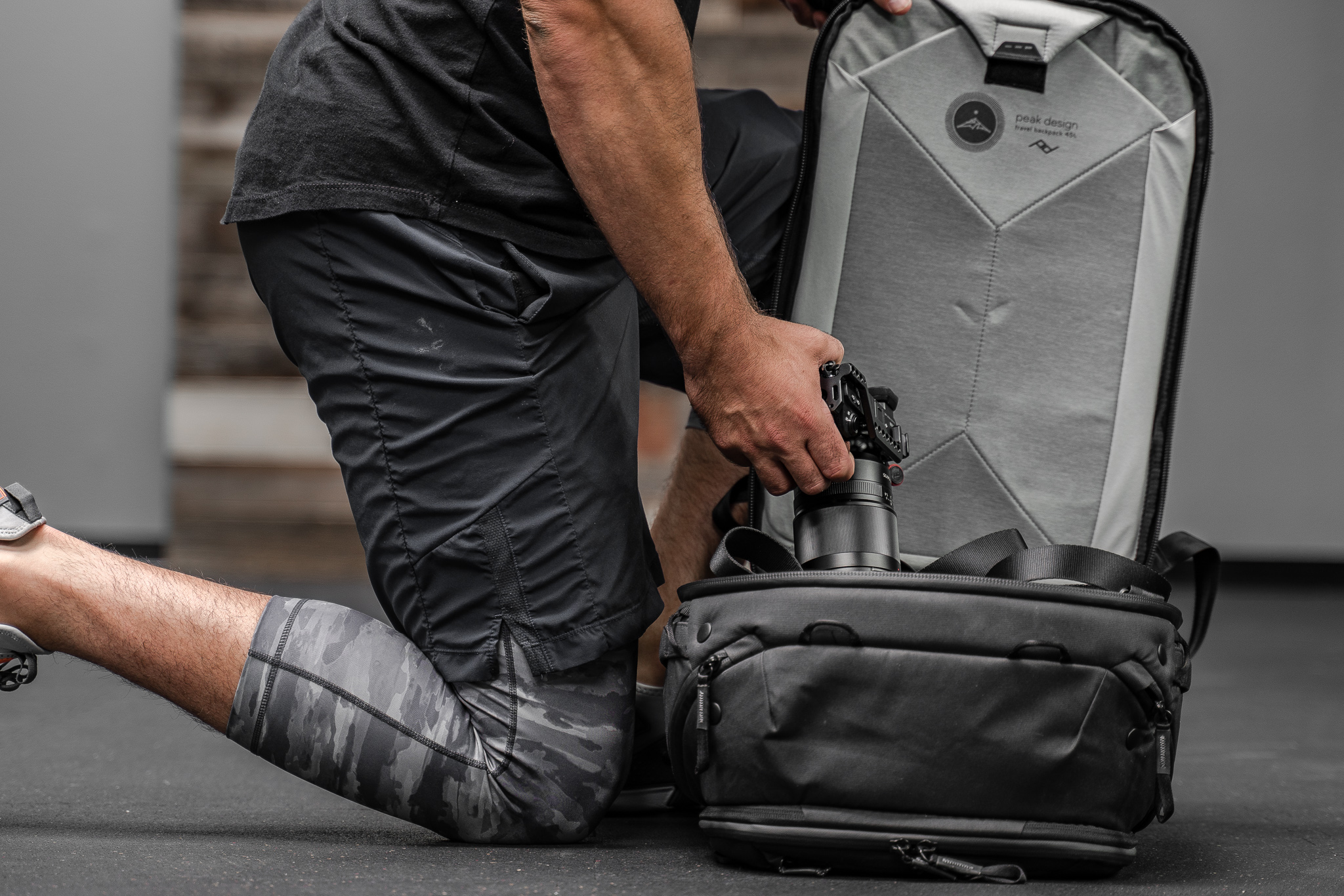 The Nitty-Gritty Details of The Peak Design Travel Line
Tech Pouch
The Peak Design Tech Pouch isn't exclusively meant for use with the Peak Design Travel Line, but it is a great addition to it. The tech pouch is an origami-style pouch meant to protect and organize all your tech gear. It features weatherproof nylon canvas, handles, and a total of 21 pockets in a small amount of space. 21 pockets may give you the impression that these would be small or not large enough to really hold anything, but that couldn't be further from the truth.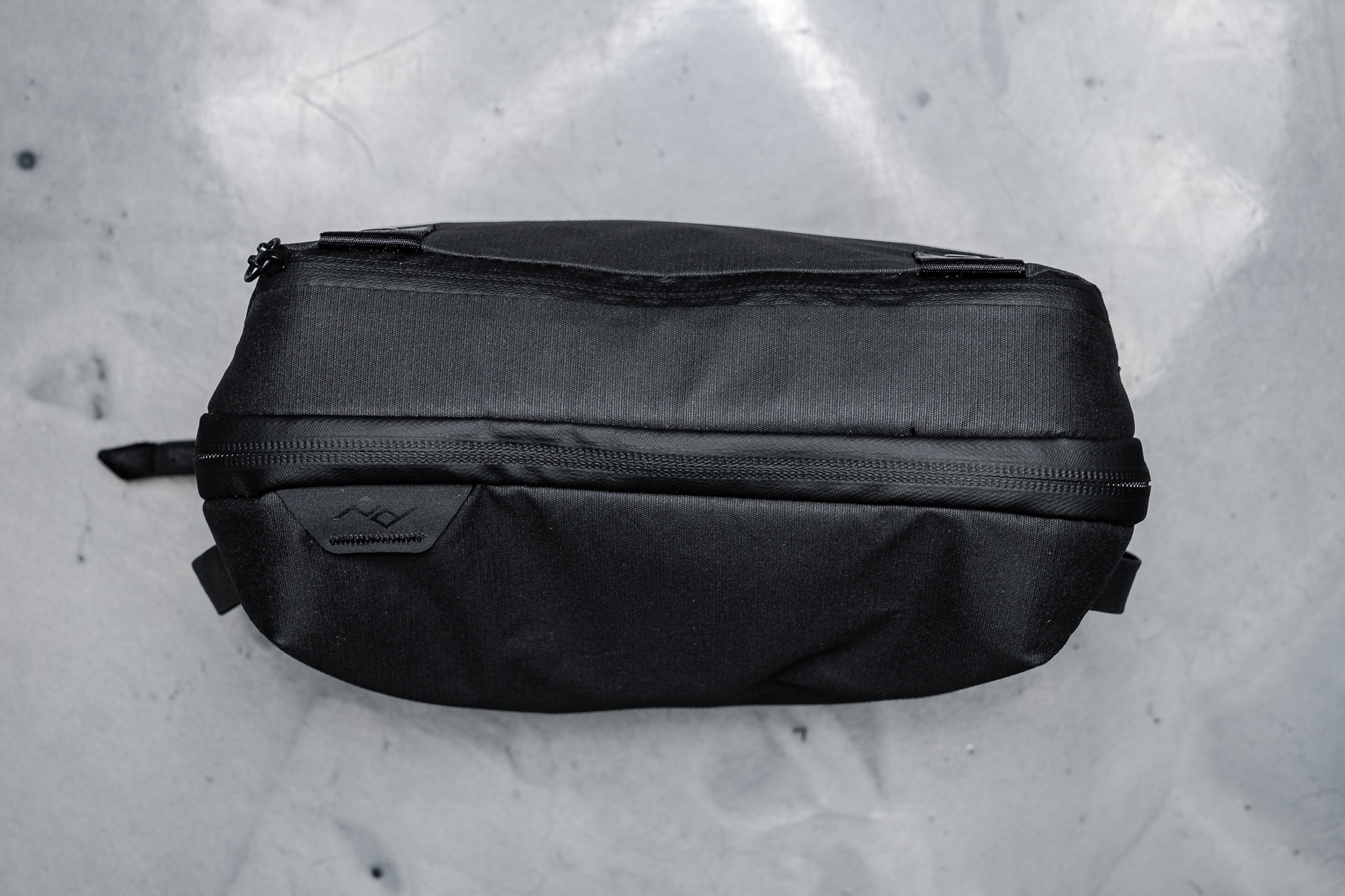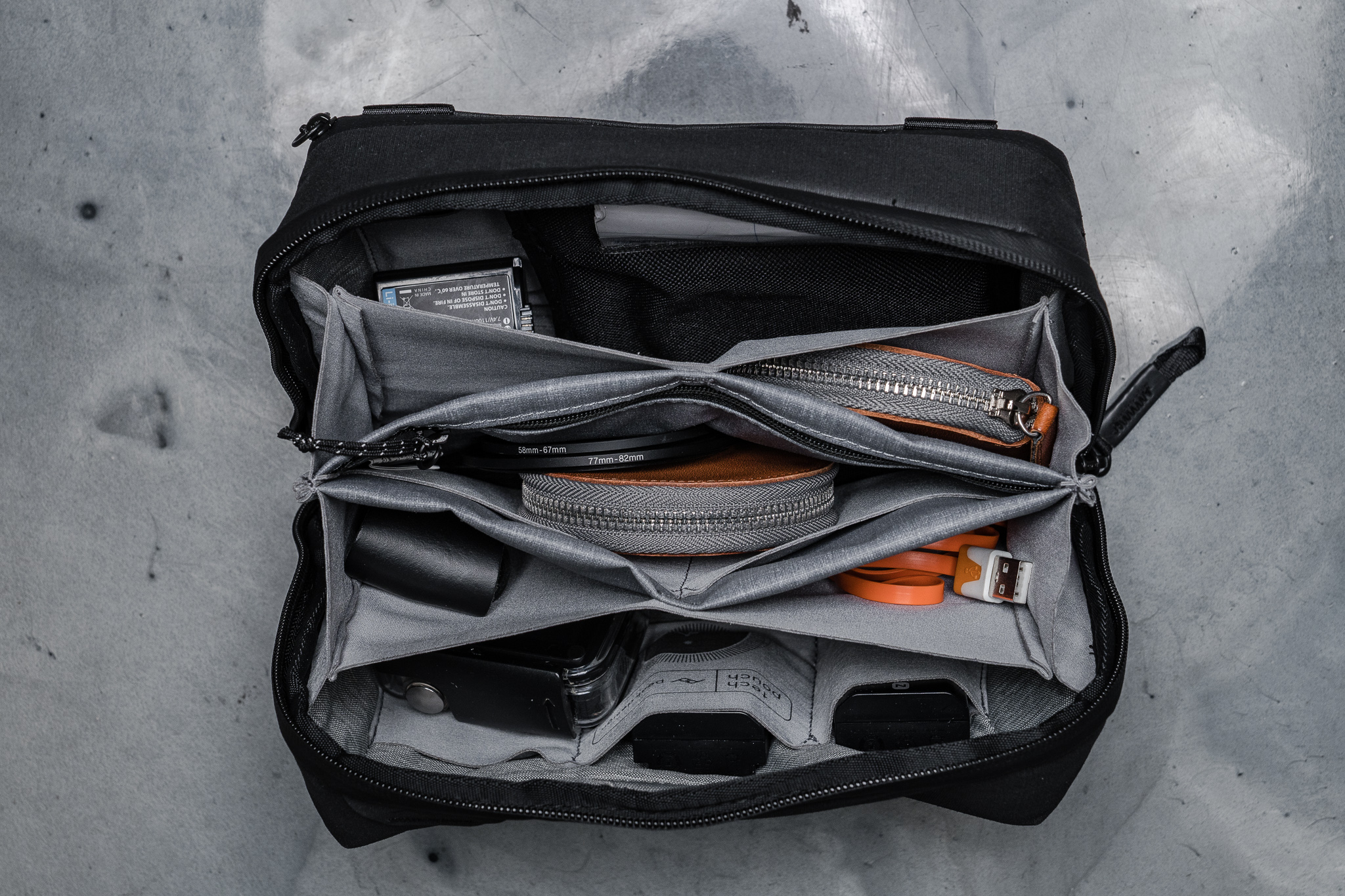 A single zip opens the entire Tech Pouch, displaying all of the pockets in all its glory. Here is what I carry in mine.
3 ND filters
4 Sony Z batteries
3 Sony W batteries
Yi 4K+ action camera in waterproof housing
Lumu Power light meter
Micro USB cable
ND filter step up rings
2 external battery packs
As you can see, that is a ton of gear to carry. Truth be said, they can probably carry more comfortably. I don't have to really fiddle with the zippers in order to get the pouch closed. In my opinion, this is the single greatest non-camera invention that design has come up with today. No longer will you have to find places in your backpack to stash all of these items. Now you get one central location with easy access. With a little organization, I could fit much more in the Tech Pouch. It is a wonderful piece of gear.
Wash Pouch
The Wash Pouch is a little larger than the Tech Pouch, and much more simple in its design. The pouch is split down the middle with a divider. In the divider you can put a razor, and also some other items a zippered compartment inside of it. On both sides there are smaller open pockets for small travel sized items. There's a ton of room. If you're a guy and can't fit your wash kit inside this pouch, you're carrying too much!

Small Packing Cube
I own a gym, and pretty much live in fitness clothing. Tights, shorts, t-shirts, socks, shoes, and a hat is my daily attire. The small packing cube easily holds a few days worth of clothing: 2 tights, 2 shirts, 2 pairs of shorts, and socks easily fit. There are even a couple of interesting features on the packing cubes. There's a tab on one end of the cube, allowing you to actually tear it open without having to use the zippers. The cube can also expand if you want to carry more gear. They are extremely lightweight, resistance to smell, easy to open and close, and fit extremely well in Travel Backpack.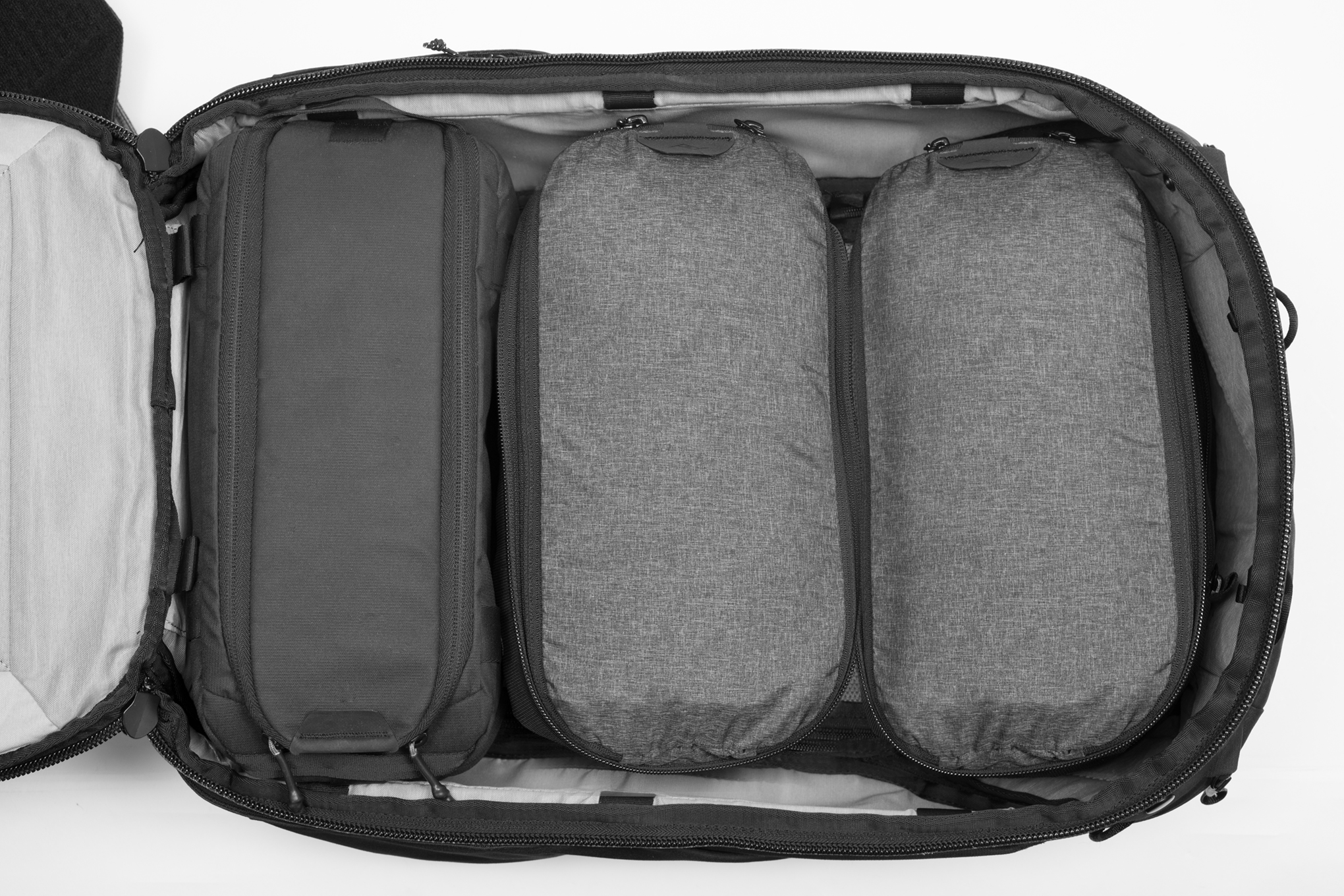 Get the Peak Design Travel Line HERE.
Shoe Pouch
The Shoe Pouch is pretty straightforward. It's a pouch that starts tiny and unfolds into a pretty large pouch. I wear size 13 shoes. The Shoe Pouch easily holds my athletic shoes. The 70D materials also seems really easy clean if need be.
Medium Camera Cube
I listed my daily carry above, but here is what the Medium Camera Cube is fully capable of:
Sony A7RIII w/16-35mm GM
Sony A6500 (not pictured)
Sony Zeiss 35mm f/1.4
Tamron 28-75mm f/2.8
Zeiss Batis 25mm
Zeiss Batis 85mm
Rode Filmmaker Kit (wireless lav)
Rode VideoMic Pro
Rocket blower
Chargers for cameras
Obviously you can carry a lot in this kit. Two cameras, five lenses, and other audio accessories is a more than enough more most outings, trips, or content creation. What's even better is that there's still room in the bag outside of the medium camera cube. (Let it be known that the large cube takes up the whole pack, and the small cube should hold about half of this.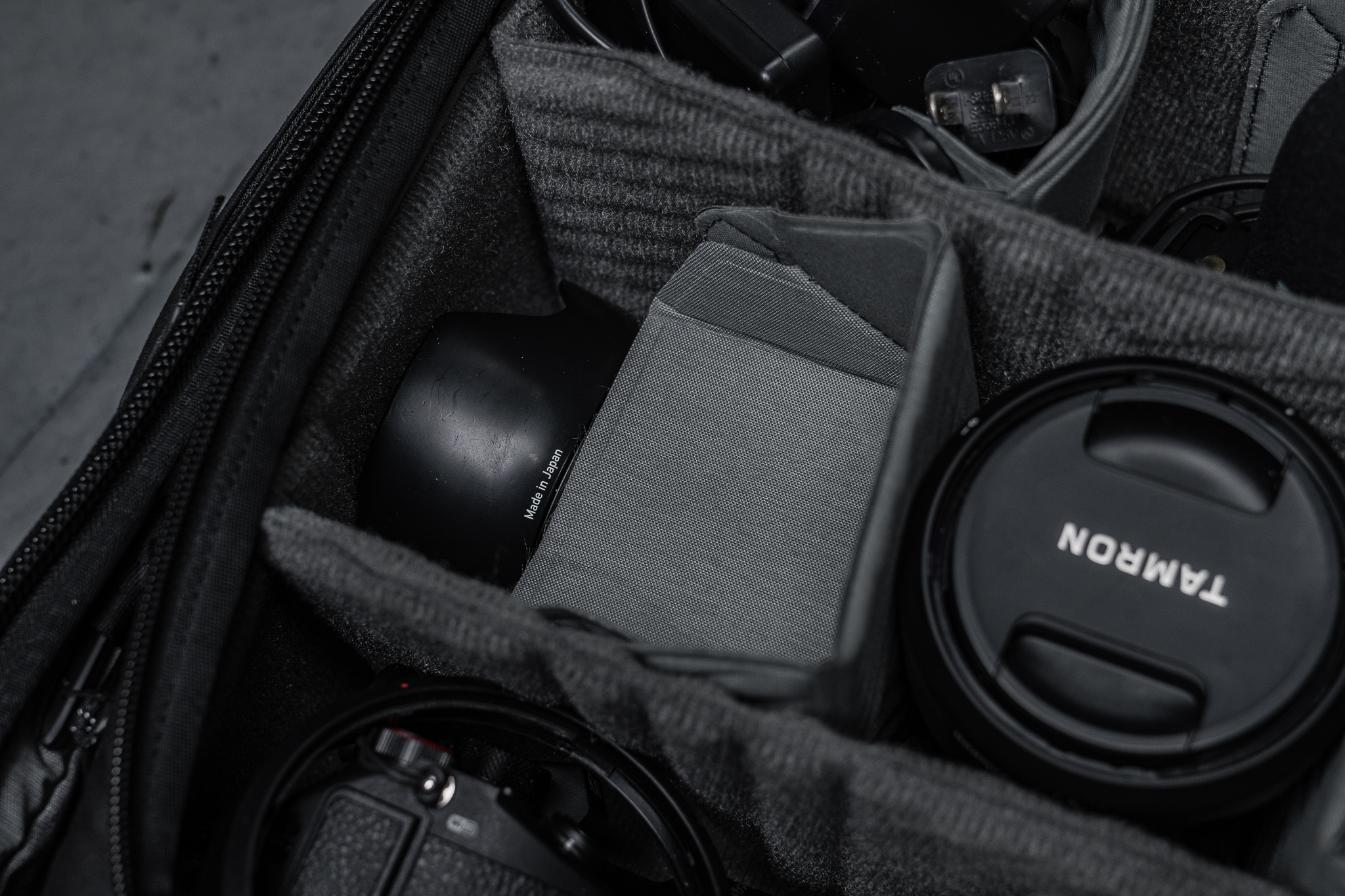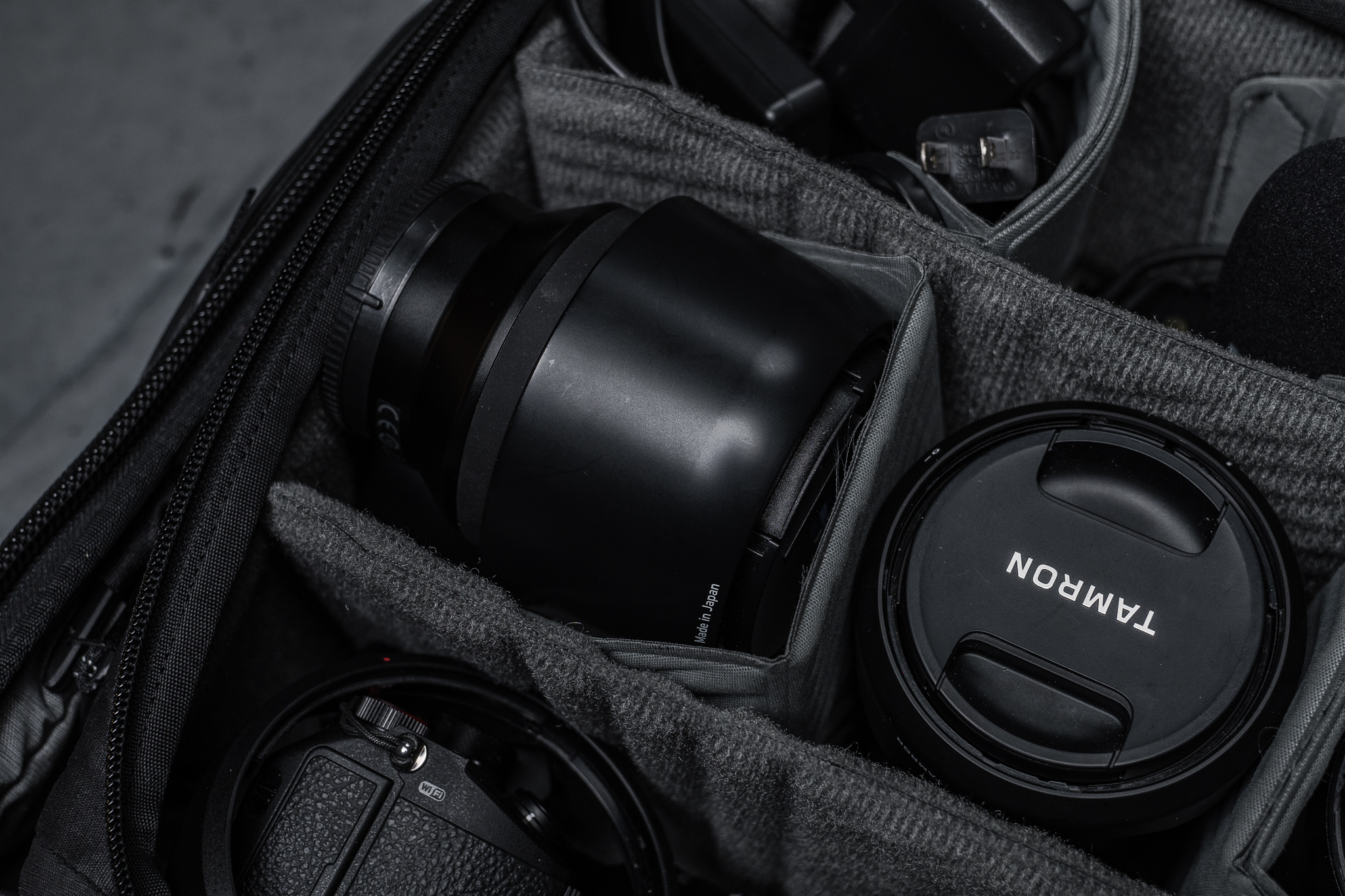 Another thing worth noting is the divider system that comes included with the camera cube. First, they provide more than enough dividers. Second, the dividers are the best I've ever used. They are easy to put in and remove, don't shuffle around inside the bag when they shouldn't, and are equipped with a great half shelf feature that allows you to stack shorter items, making the camera cube much more versatile.
Outside the cube one can pack the wash and tech pouch, but I actually love to carry my drone in the 5L sling that Peak Design sells. It's the perfect size for my Autel EVO drone, 3 batteries, controller, ND filters, cables, etc. If I'm on a trip as well, I can carry a camera on my hip or on a strap of the sling. It's a sweet run and gun setup.
From a carrying standpoint, the Travel Backpack is really comfy. The straps are small, but don't hurt the shoulders. The laptop sleeve sits up high so that my backpack doesn't hit the ground when sliding it in, or when standing the backpack up.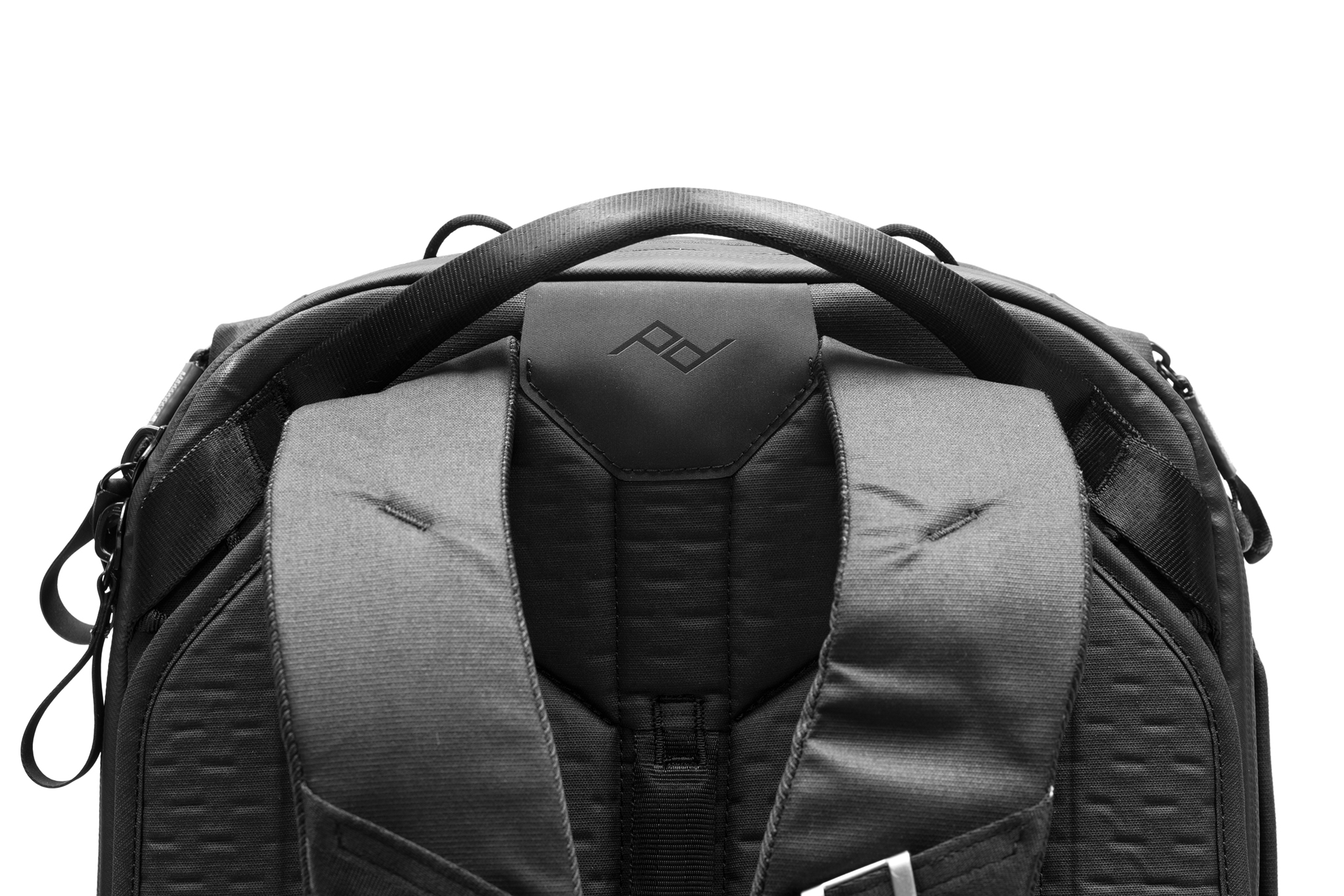 The Travel Backpack isn't a 45L backpack out of the box. In its compact state, it is around 35L. The backpack can expand if traveling and a carryon size isn't needed, making it a true 45L. This feature is really nice if you're traveling by car, and also need to pack more clothing in addition to your camera gear.
My experience has been limited with the Peak Design Travel Line, but I'm very happy that I enjoyed this bag. I'm not surprised though, as Peak Design makes some of the best bags around, and I've enjoyed every bag before this. Remember, the Peak Design Travel Line can also be used without the camera cube. That won't ever be my experience though, and if you're reading this, I bet it won't be yours either!
UPDATE: The Peak Design Travel Line was fully funded on Kickstarter, raising of $5 million! For the entire kit, it'll run several hundred dollars. I think this is worth it if you're in the market for a travel kit though, and Peak Design may also have more travel items coming down the line to round out the kit. My advice is to definitely pick it up.
Get the Peak Design Travel Line HERE.
Peak Design Travel Line Review
The Peak Design Travel Line is well designed, functional, and looks amazing.
PROS
AMAZING design. They thought of everything
Literally everything is useful about each item
Tech pouch is a 10/10
Wash pouch is perfect.
Backpack still has side access
Comfortable
Love how the laptop won't hit the ground when set down
Medium camera cube carries nice amount of gear
Dividers are the best I've ever used
Legit strap stowage space to become a duffel
CONS
May be a bit expensive for some people (just invest in it)
Limited colorways





Peak Design Does It Again