Portable Powerhouse
Don't let anyone tell you that you can't do something. We live in the 21st century, the most technologically advanced period that the world has ever seen. Tools are at our fingertips that no one imagined would exist even fifty years ago. If you want to do something, chances are that there are ways to accomplish that goal.
Take this example. Whether it was video or audio creation, there was a set way to do things for many years. With regard to video, you had to aspire to work for a large-scale production company, advertising agency, or become an independent filmmaker. Even the latter required very expensive equipment that probably wasn't at your fingertips. If you wanted to create music, the barriers to entry were also extremely tough. When it came to audio content, terrestrial radio was king for many years. Breaking into the industry required internships, working for free at a radio station. Getting onto the air was extremely rare.
Today, film equipment has never been better or inexpensive for the masses. Kids are making music on their laptops, and terrestrial radio doesn't rule the audio landscape anymore. If you want to make a podcast, the tools are right at your fingertips. You really have the ability to create content with your iPhone and headphones, or free audio recording software on your laptop. It's a wondrous landscape to live in.
For those seriously considering making quality audio content, great gear at affordable prices is also available. The first thing that I'd recommend is a nice microphone. Until recently, there weren't many options for small, portable microphones that came close to matching a larger podcasting mic. If the goal is to create an audio or video podcast, but you want to be on the go, there is now a podcasting mic that fits the bill, with nice quality to boot. That podcasting mic is the Raspberry from Blue Microphones.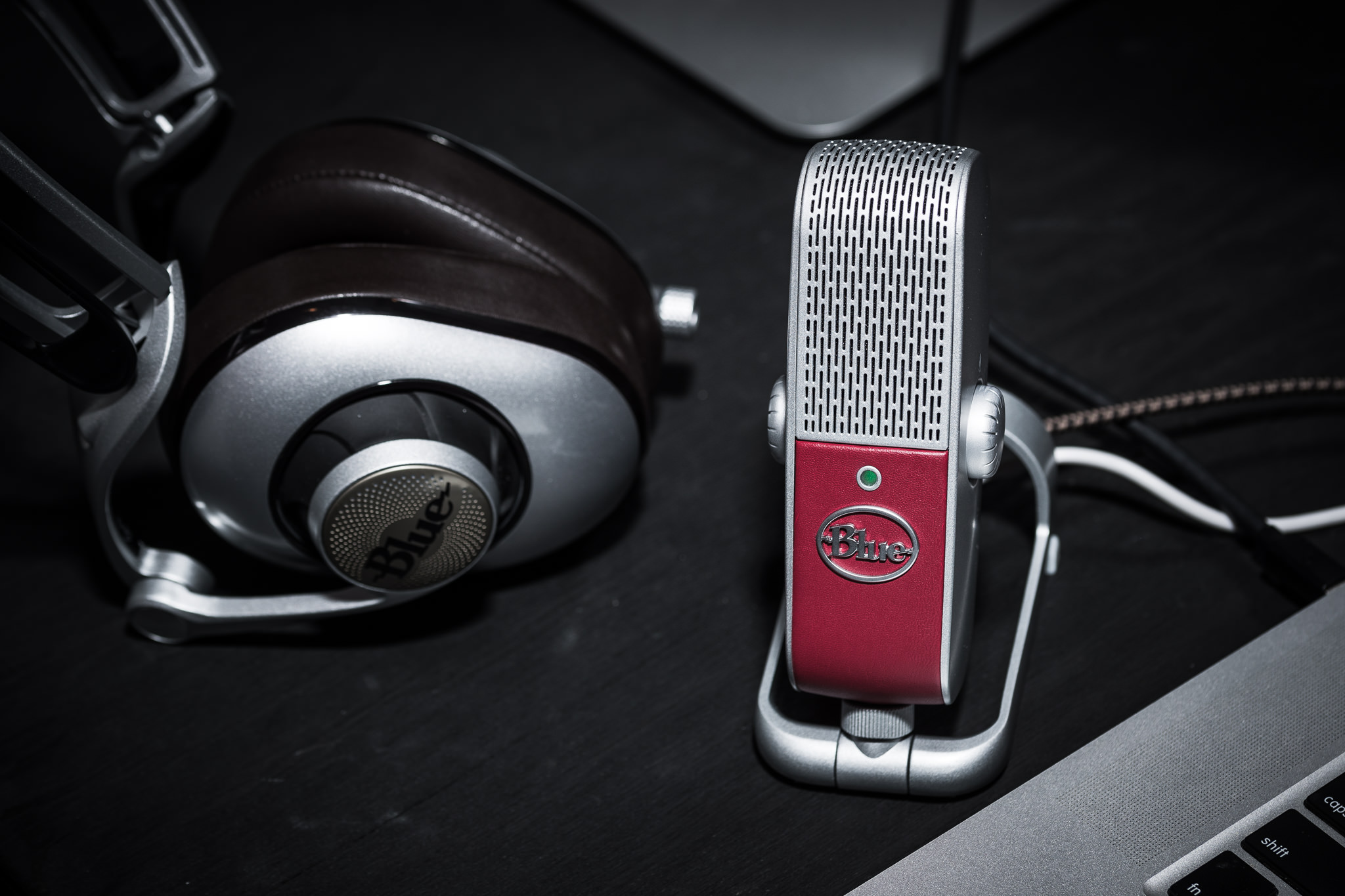 The podcasting mic known as the Raspberry is a premium mobile USB microphone that is compatible with PC, Mac, iPhone, and iPad. I call it a podcasting mic, but understand that it is much more. The Raspberry is aimed at becoming the ultimate mic for mobile recording for podcasts, voice-over, streaming, and music recording. Let's get into why that is.
Blue Raspberry – Size, Materials, and Build
First, the Raspberry is tiny. It is much smaller than your typical studio condenser microphone, and is dwarfed by its big brother, the Yeti. This podcasting mic almost fits in the palm of your hand, stand and all. The mic itself is less than 5 inches long and two inches wide. The Blue Raspberry also comes with a sturdy little metal stand, with rubber shock absorber feet, giving better grip to the desk on which it is set and also helps isolate the mic from any vibration that may come into effect. Not included in their marketing material though is the ability to stand the Raspberry up on the stand, making the mic reach a little taller if needed. That's an added bonus.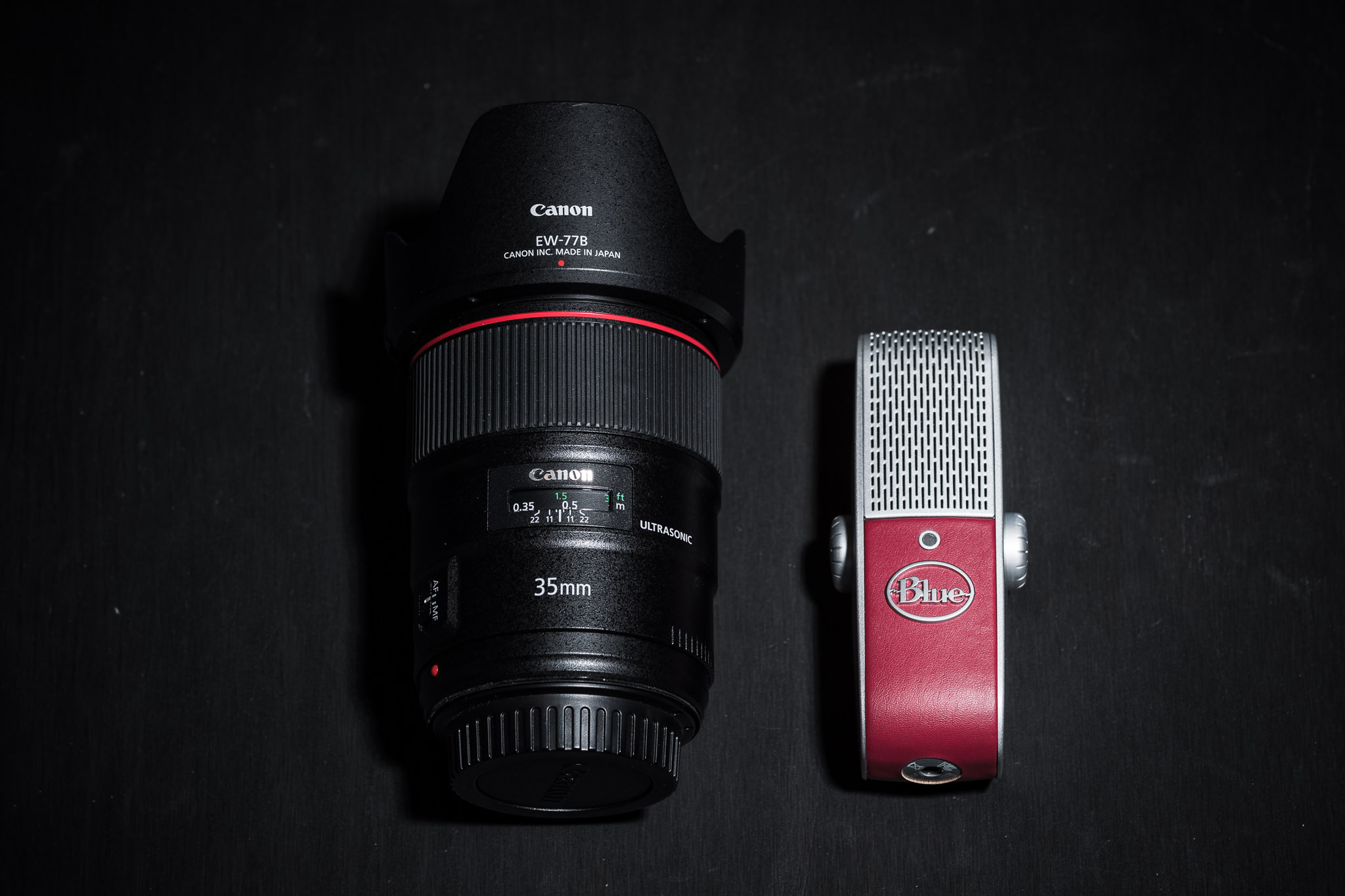 The Raspberry is tiny. Check it out compared to the Canon 35mm f/1.4L II.
The Blue Raspberry podcasting mic feels like it is made out of metal, a composite plastic, and a nice synthetic leather material. The materials feel very solid. I would describe the construction of the Raspberry as "robust". In no way does the mic or stand feel cheap.
Blue Raspberry – Features and Specs
This podcasting mic classic look features a few key components, and nothing more to get in the way. On either side of the podcasting mic you'll see a headphone volume knob and a gain knob. Press the gain knob in and it'll mute the input altogether. The back has a micro USB in port and a headphone jack. The headphone jack has zero latency (the sound isn't delayed), so monitoring audio in real time can be done.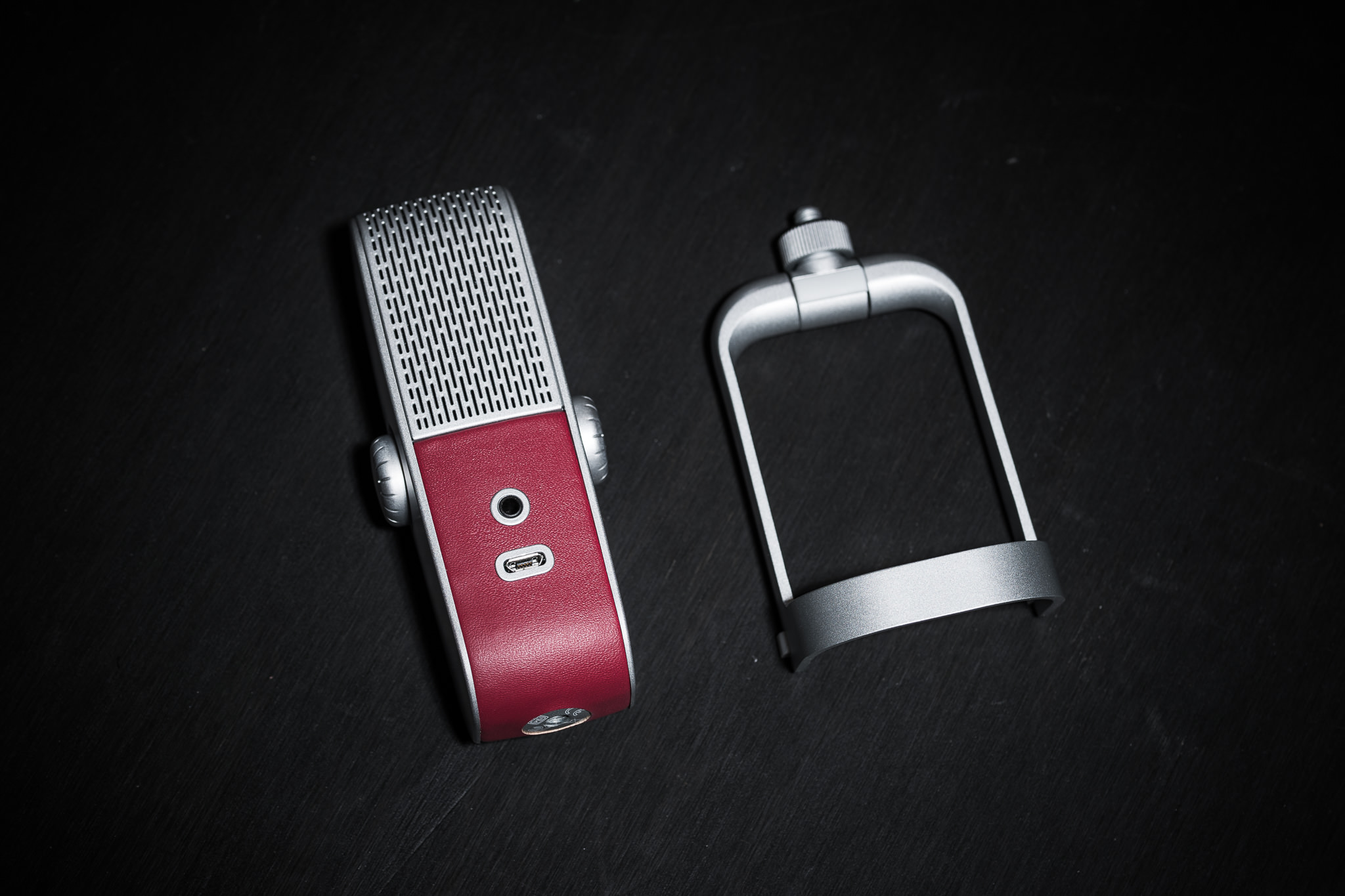 The Raspberry has a cardioid polar pattern and a recording bit depth of 24-bits, so the recordings are very high quality. Cardioid means that the microphone will be most sensitive in the front, and least sensitive in the back, and it also isolates from unwanted ambient noise. That, paired with what Blue is calling their Internal Acoustic Diffuser (IAD), focuses your voice or instrument, and helps minimize ambient noise in the room.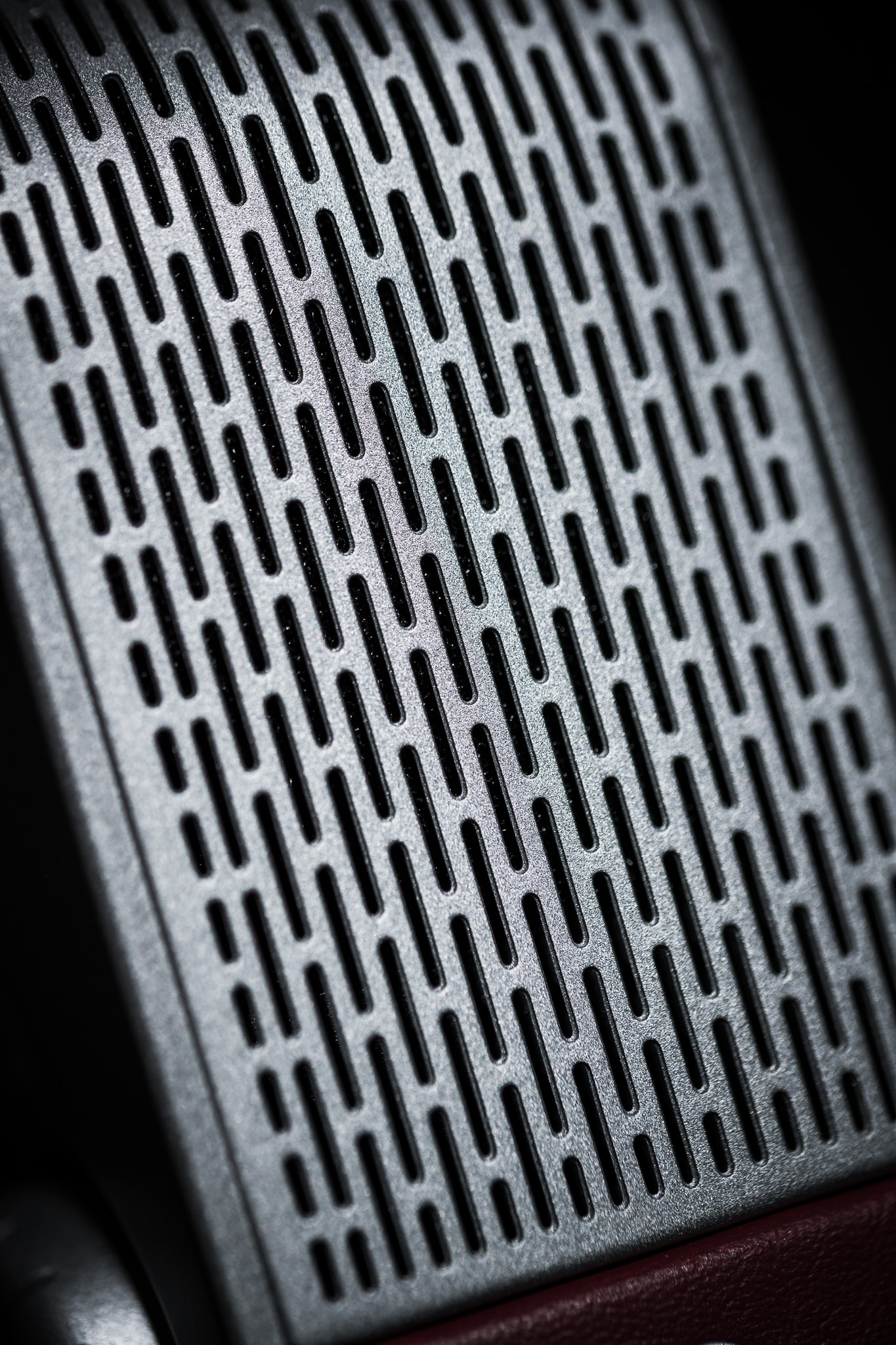 The mounting features of the Raspberry are great, yet simple. You can use the integrated stand most of the time. I've found that this is great when on the go. You may not have a suspension boom with you in those situations. In situations that you do have other mounting options, such as in a studio or office, the stand can be removed, to reveal a standard ¼-20 thread. Blue also includes another stand adapter as well. I find myself using the ¼-20 thread most of the time, and mounting it to a Manfrotto Magic Arm when I'm in the office, recording voice-over for a video.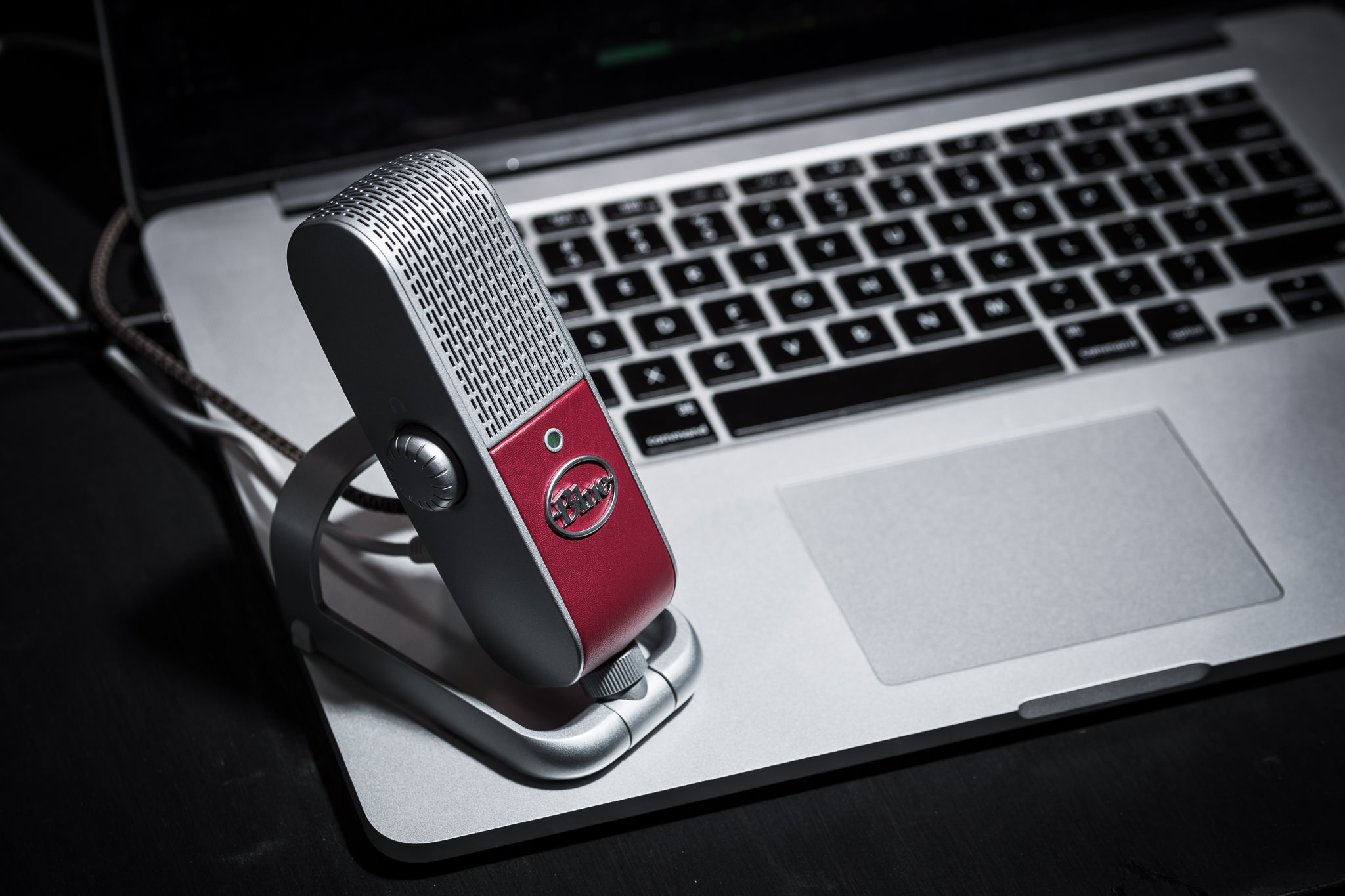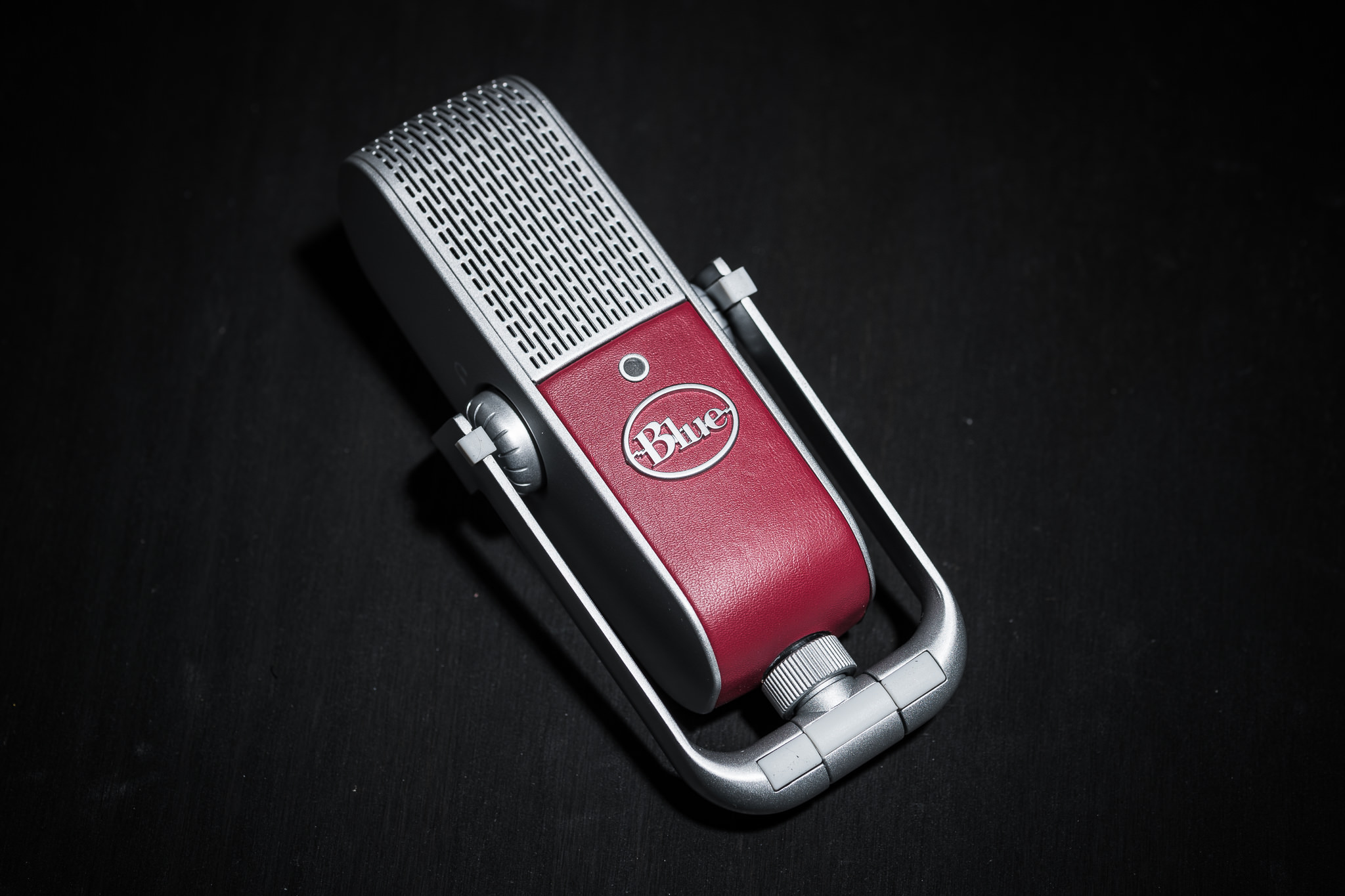 Blue Raspberry – Thoughts
Specs, features, and the build are awesome, but how does this YouTube, music, voice-over, and podcasting mic perform? Overall, I'm extremely happy with the Raspberry. The sound produced by this tiny microphone rivals that of much larger microphones I've used before in video production (voice-over and YouTube sound). Because the Raspberry is so short compared to microphones like the Yeti, if it is sitting at desk level, you'll need to increase the gain a little more than if it were boomed up to your mouth. The gain knob on the side of the Raspberry makes it very easy to accomplish that. The other feature that allows the recorder to dial in their levels is the headphone jack on the back. I don't always wear headphones, especially when shooting myself in a video. However, if I need to monitor my voice quickly I can throw them on and see how the levels are doing.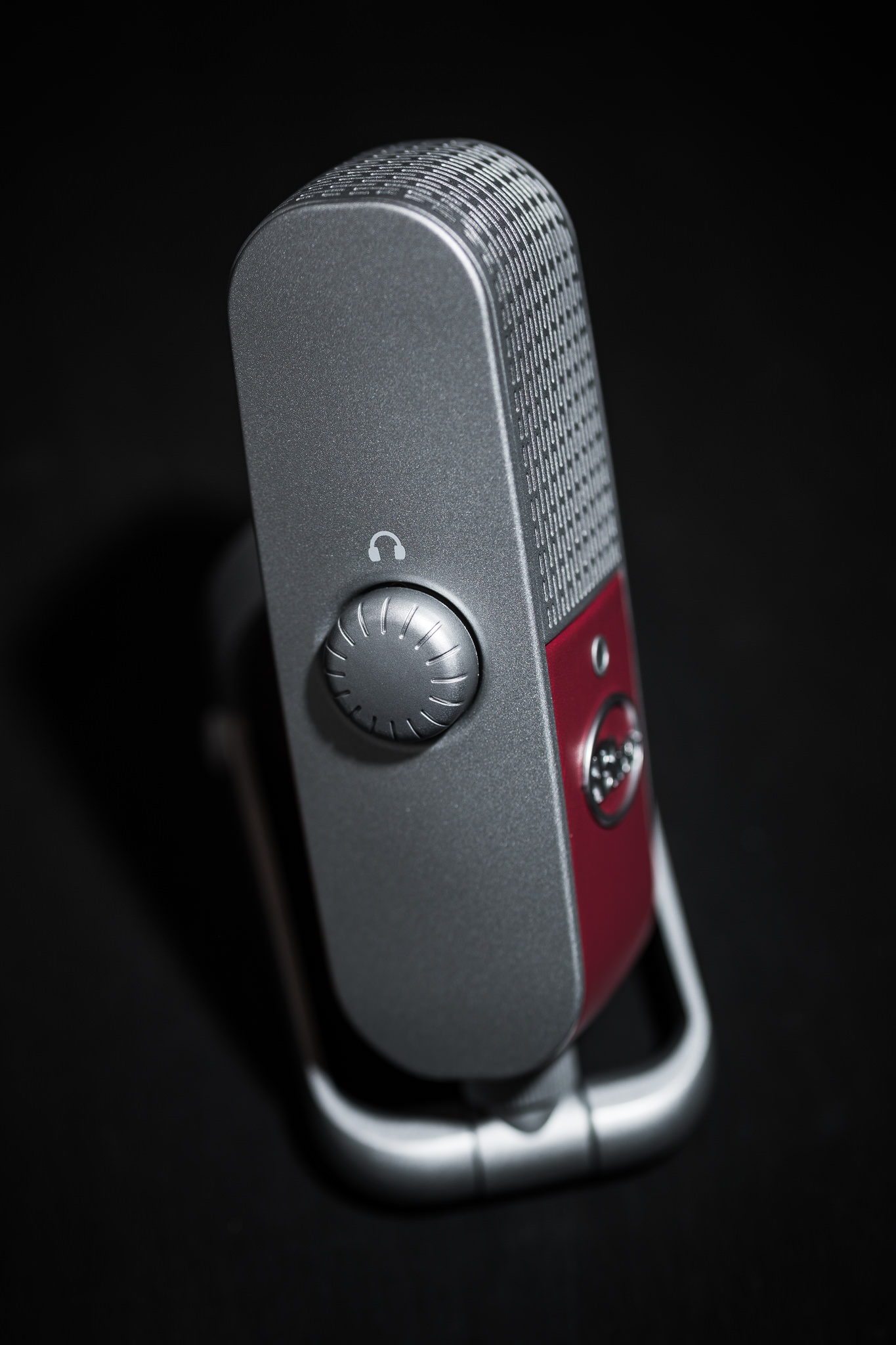 Blue has employed as much tech in this tiny podcasting mic as they possibly can, and plosive sounds are kept to a minimum without needed a pop filter. You still will get those plosive "P" sounds if you decide to speak too close to the mic, so having the option to monitor your audio through your headphones is very nice in that situation as well.
A feature that may be easily overlooked is that the Raspberry has phantom power. There is nothing worse than being at a location, without backup batteries, and having your microphone die because you forgot to turn it off in your bag. Phantom power is a great feature for me because of that.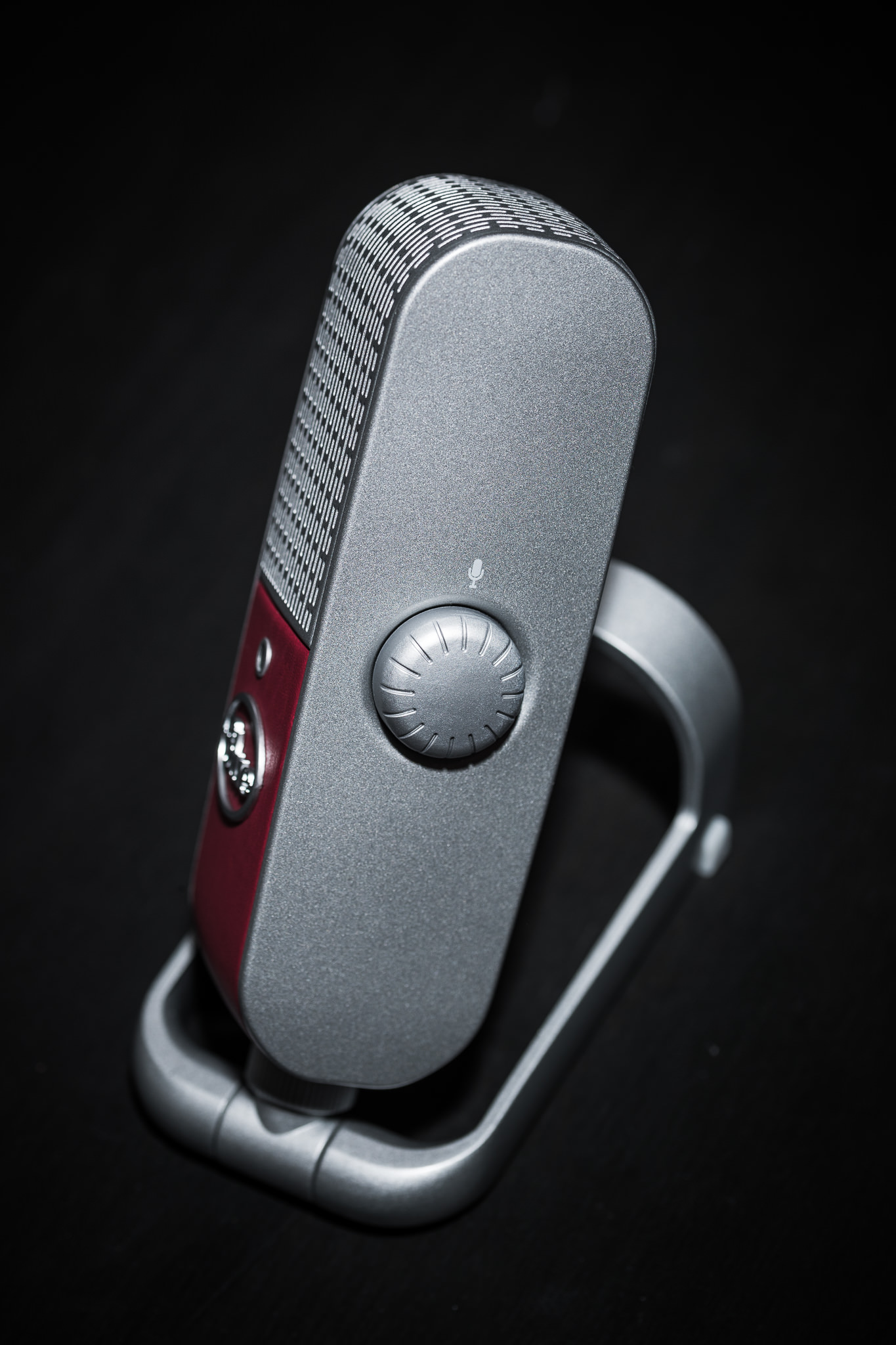 Where the Raspberry really shines is in its tiny, mobile package. It still packs a great audio punch, but takes up less space than one of my lenses, even with the stand and cords. Blue included a great cinch travel pouch, and I find myself using it often, both for travel and storage. If mobile recording is your thing, the included lightning cable could be extremely handy if recording to your iPhone.
I don't have many cons or wishes for these mics. For their size, they really over-perform. One thing I'd love though is the rubber shock absorber feet to be added to the back of the stand. I find that in situations where I want the mic to be closer to my mouth, I can actually stand up the stand vertically, adding a good six inches to the height of the mic. The rubber feet seem to do a great job absorbing any shock when on my desk, so adding more of them for this use would be great. Another thing is, while the clean look of the recording level dial looks great, I'd love to have some numbers on the dial so I can see how high the recording is set to. Something like 1-10 would be fantastic. I think that the numbers could be very small and inconspicuous, and wouldn't take away from the beautiful look of the Raspberry. I don't have any major wants with the design or features of the Raspberry; these are just my little wants.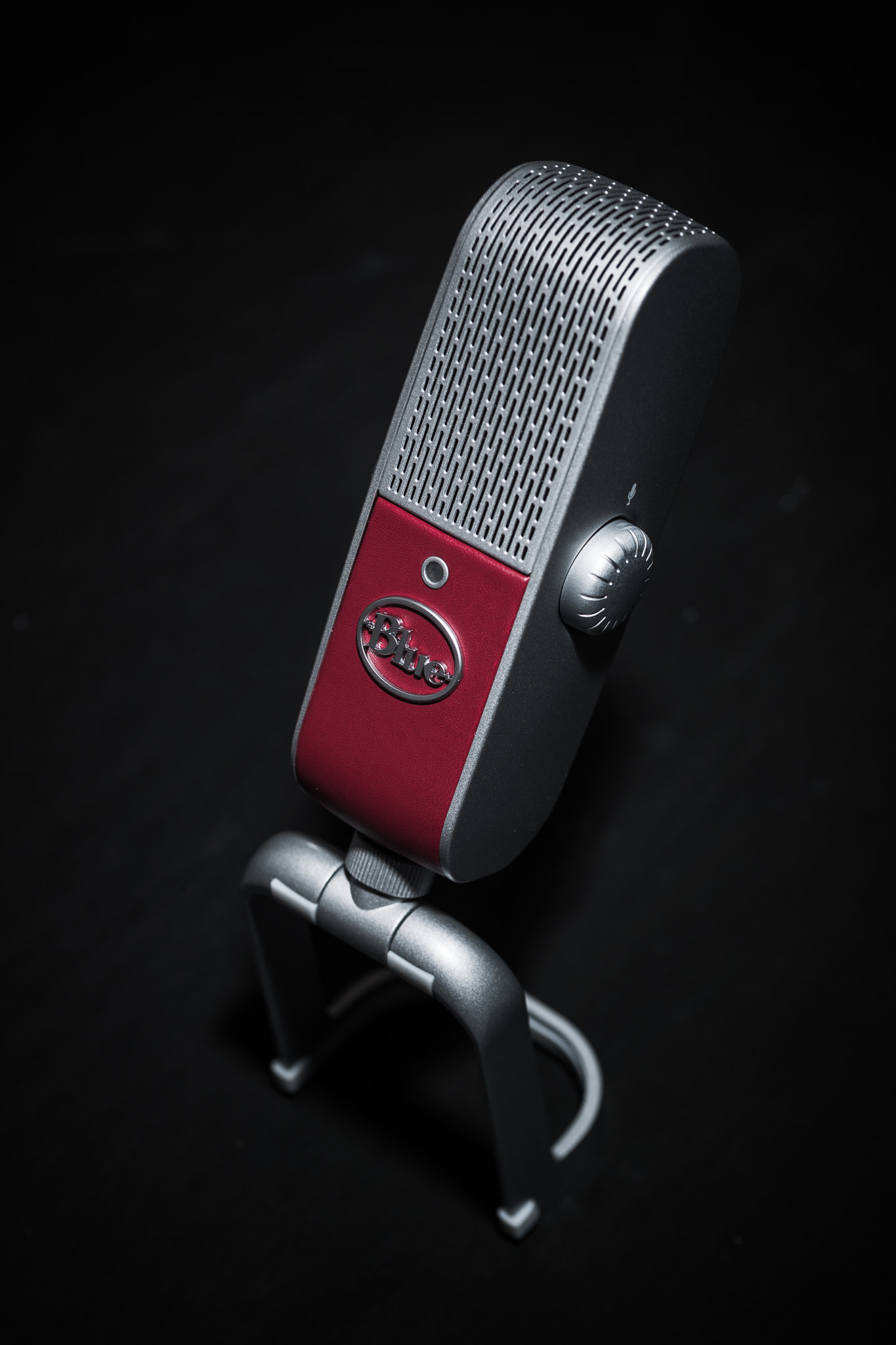 If you're looking to use the Raspberry as a podcasting mic, I really recommend purchasing two of them. At the time of writing this review, Amazon has the mic for $199, which is a great price. Consider that a nice shotgun mic will run you around $250. Because of its build and the track record of Blue Microphones products, I really believe that these will last many years, making it a worthwhile investment.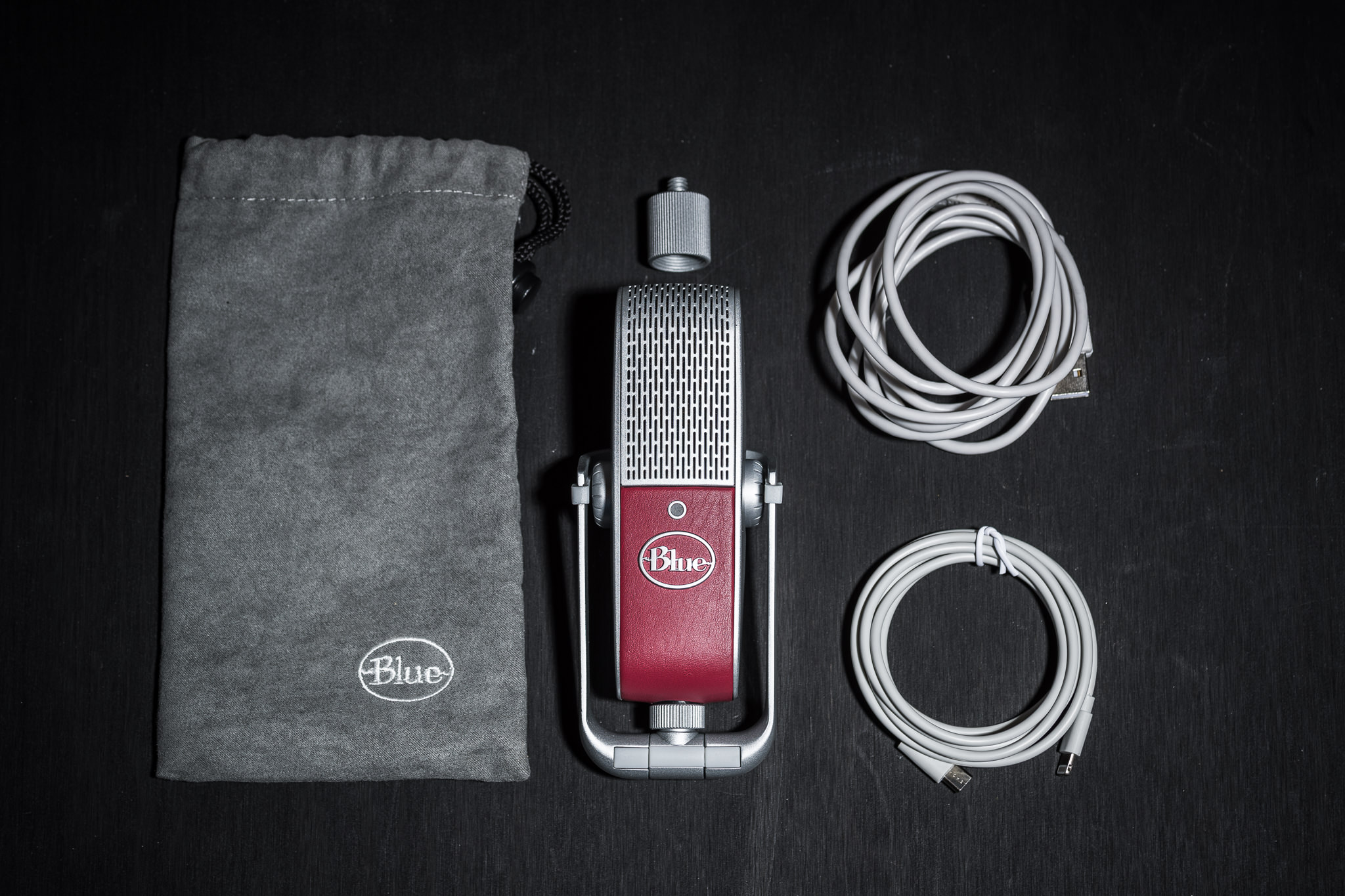 Stay tuned for a future article where I'll be explaining in depth my recording process for interviews. I'll also be explaining how to setup two Raspberry microphones into your laptop. One mic will be used as a host microphone, and the other for the person being interviewed. I'll also explain what software I use for the process. It'll be fun, and I'm looking forward to sharing that information with you.
In conclusion, I'm more than happy with my experience with the Raspberry microphone. Where it really shines is in its portability and size, and it looks great too. Blue has packed great recording quality into this mic, and I couldn't be happier with it.
If you'd like to purchase one or two Raspberry microphones, please use our affiliate links below. It costs you nothing, and helps support The Brotographer make content like this.
Blue Microphones Raspberry Review
The Blue Raspberry is a tiny USB microphone. Don't let its size fool you though. Its a formidable beast of a mic.
PROS
Super small
Portable
Great included stand
Built very well
Great sound
Included wires and mic stand adapter
Phantom power
CONS
No rubber shock absorbers when standing vertical on stand
Wish recording dial had numbers for reference





Portable Powerhouse