Pure Quality
In the age of cheaply made trinkets, well-designed and high quality products stand out. I've openly said that HoldFast Gear is my favorite bag maker, and bags like the Roamographer are exactly why that true. I've previously reviewed the beautiful Sightseer Backpack and Roamographer Small. The Roamographer regular leather camera bag is the pinnacle of duffle/doctor's style camera bags in my opinion.
Pros
Beautiful Design
Will last a lifetime/durable
Great materials
Holds a full wedding or event kit
Can be used as a regular bag as well
Gear is easy to access if straps are unbuckled
Integrates with the MoneyMaker system
You'll look like a boss entering the even or job
New version holds even more accessories
Also holds a tripod on bottom of bag
Cons
Gear can be hard to access if straps are buckled
May be expensive for some
What It Holds | HoldFast Gear Roamographer Leather Camera Bag
Keep in mind that the updated version of the HoldFast Gear Roamographer has an exterior pocket that has been added, so even more accessories or small bodies can easily be added.
1-2 full-size DSLR bodies or 2-3 mirrorless bodies
5-6 lenses or 3-4 lenses and a few flashes
Basic accessories (batteries, memory cards, etc.)
15 inch MacBook Pro or iPad.
With regard to what fits in the HoldFast Gear Roamographer, the regular size is meant more so for a DSLR setup, or a ton or mirrorless gear.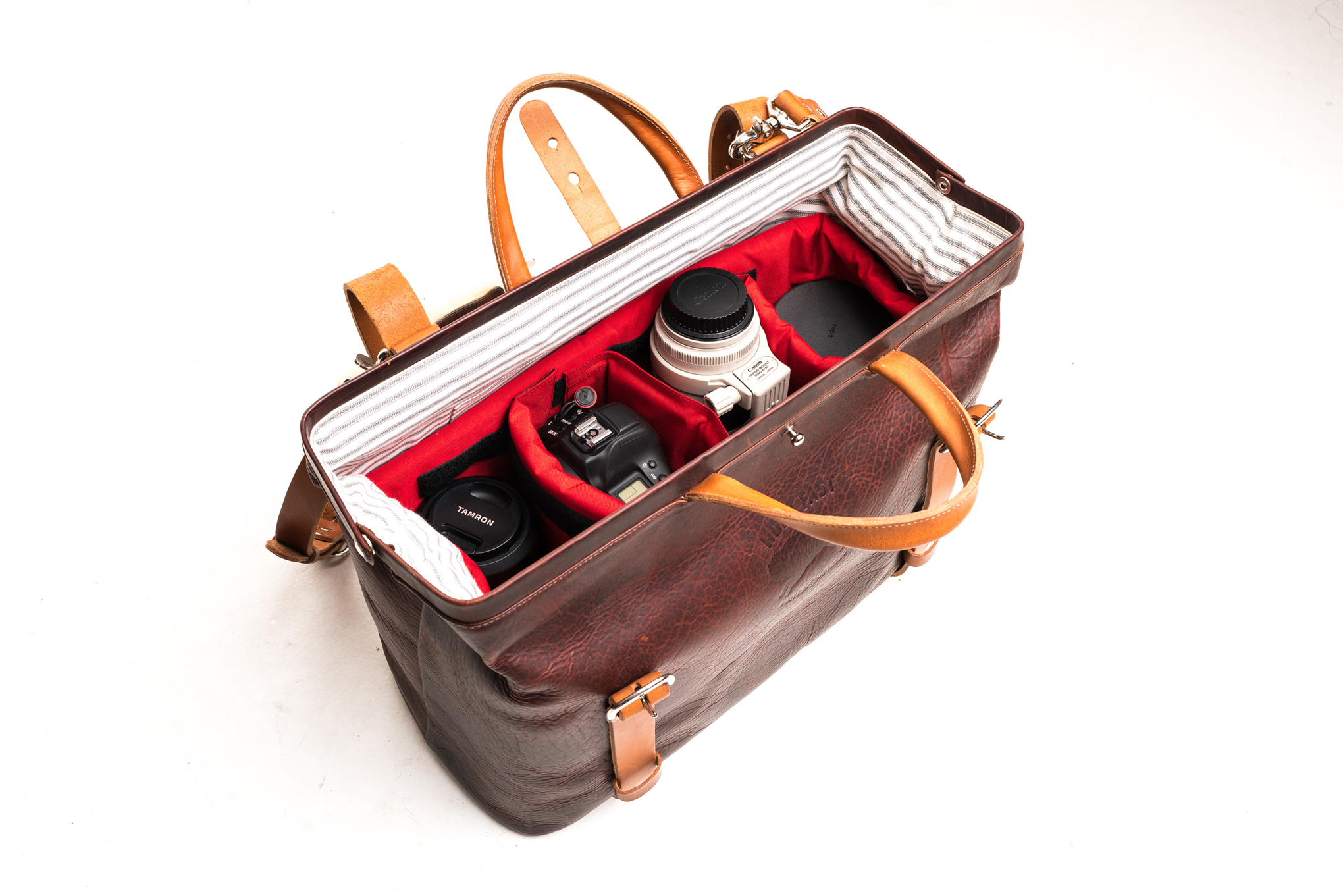 Design and Features | HoldFast Gear Roamographer Leather Camera Bag
The HoldFast Gear Roamographer is a simply designed bag, much like its smaller sister, but its beauty is in its craftsmanship and durability, which I'll get to later. Made with a classic top opening doctor's style design, the outside of the bag is crafted from amazing American Bison leather. This leather camera bag is only seamed at the top, bottom and sides of the bag, so the HoldFast Gear Roamographer feels as though it is crafted from a single piece of leather. This gives the bag an immediate sense of character and patina, and it comes out of the box with a classic look already.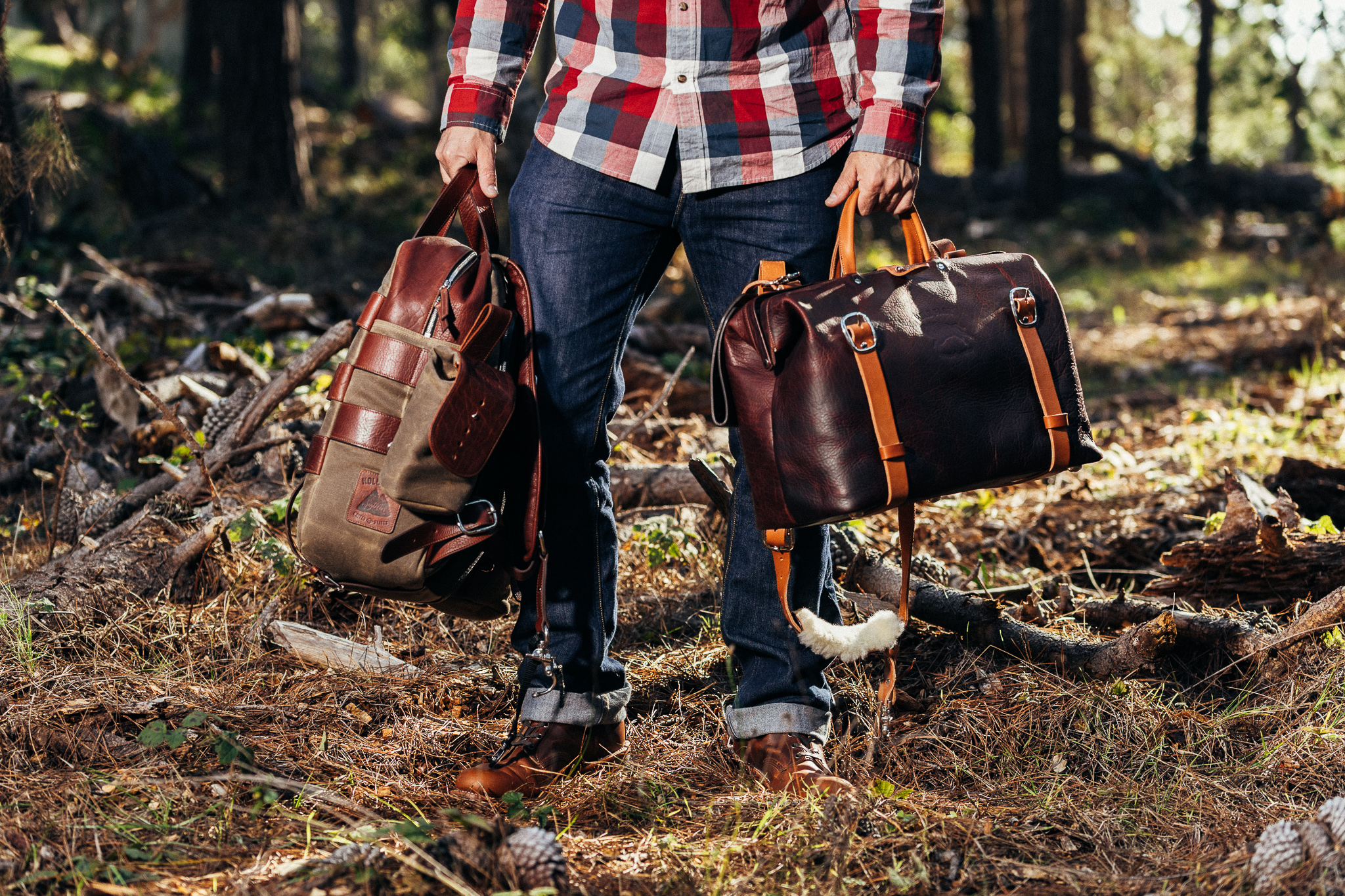 The only design on the entire leather section of the outer is the HoldFast Gear stamp on the front. This stamp really adds to the look in my opinion. It is subtle, but has a buffalo imprinted under the HoldFast logo. I really feel like this bag looks like you could have stumbled on it in your grandfather's attic, and begged him to let it be part of your early inheritance. I know I would have done that.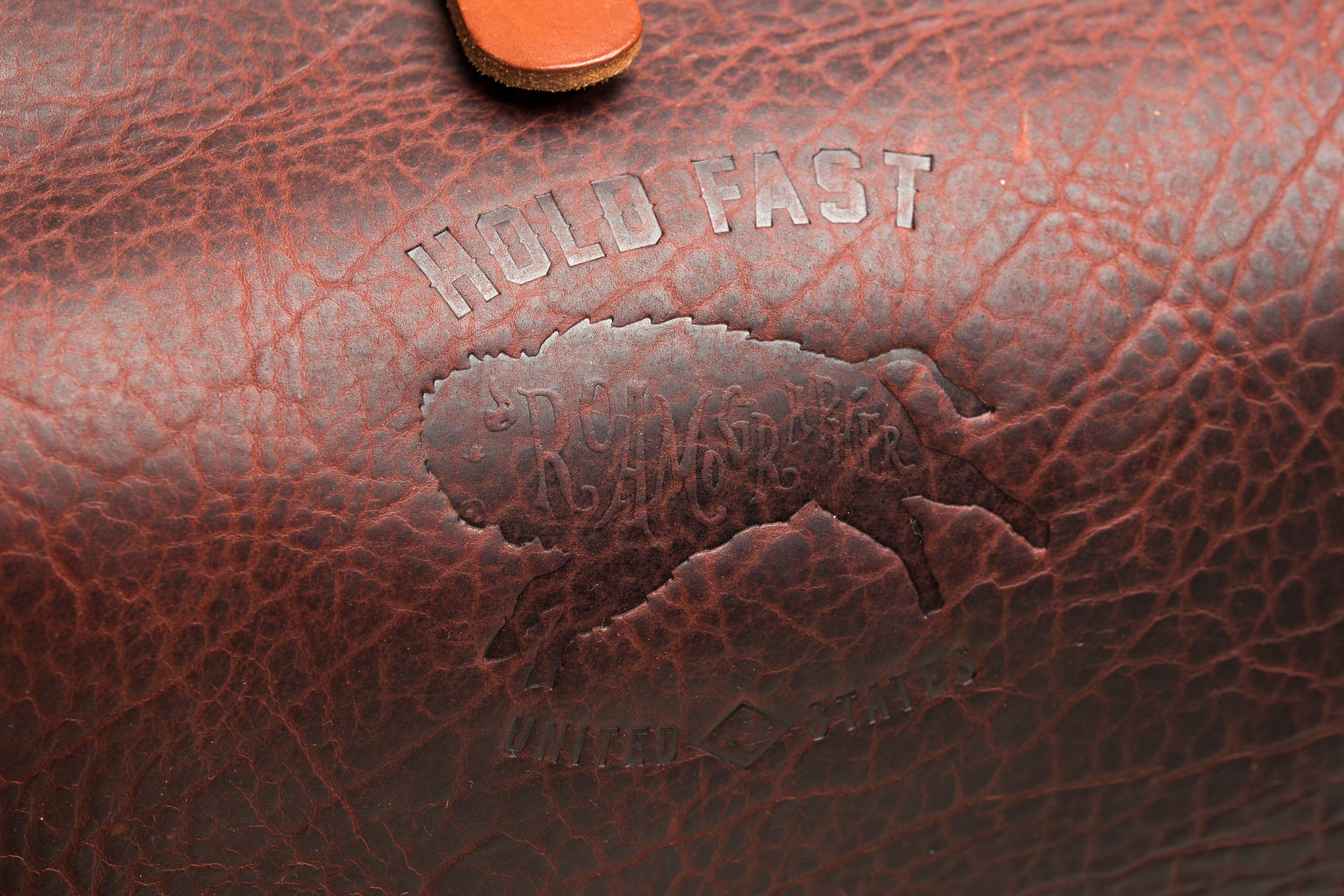 The opening of this leather camera bag is secured by two leather belt style straps and a top stud enclosure, exactly like the small Roamographer. I usually have the straps secured open most of the time though, unless I really need to secure my gear inside the bag for a longer period of time. The bottom of the bag has metallic studs that protect the leather a little bit. You can also secure a tripod to the bottom of the bag. On top of the bag are too well crafted handles. These handles are my main means of carrying that bag. If you don't want to hand carry the HoldFast Gear Roamographer though, a fantastic strap is included. This shoulder strap is made of the same great leather as the straps, comes with a beautiful sheerling lined shoulder pad, and also has a camera slider on it in case you'd like quick access while carrying your gear. And awesome design feature that HoldFast Gear built into the Roamographer is it's dual was to carry it. If you own one of their MoneyMaker dual camera straps, you can remove the Roamographer shoulder strap and attach the MoneyMaker to the D-rings. This will allow you to carry the MoneyMaker behind your back, and free up your hands of they are needed. Need I mention that it also makes you look like a boss when slinging the HoldFast system this way.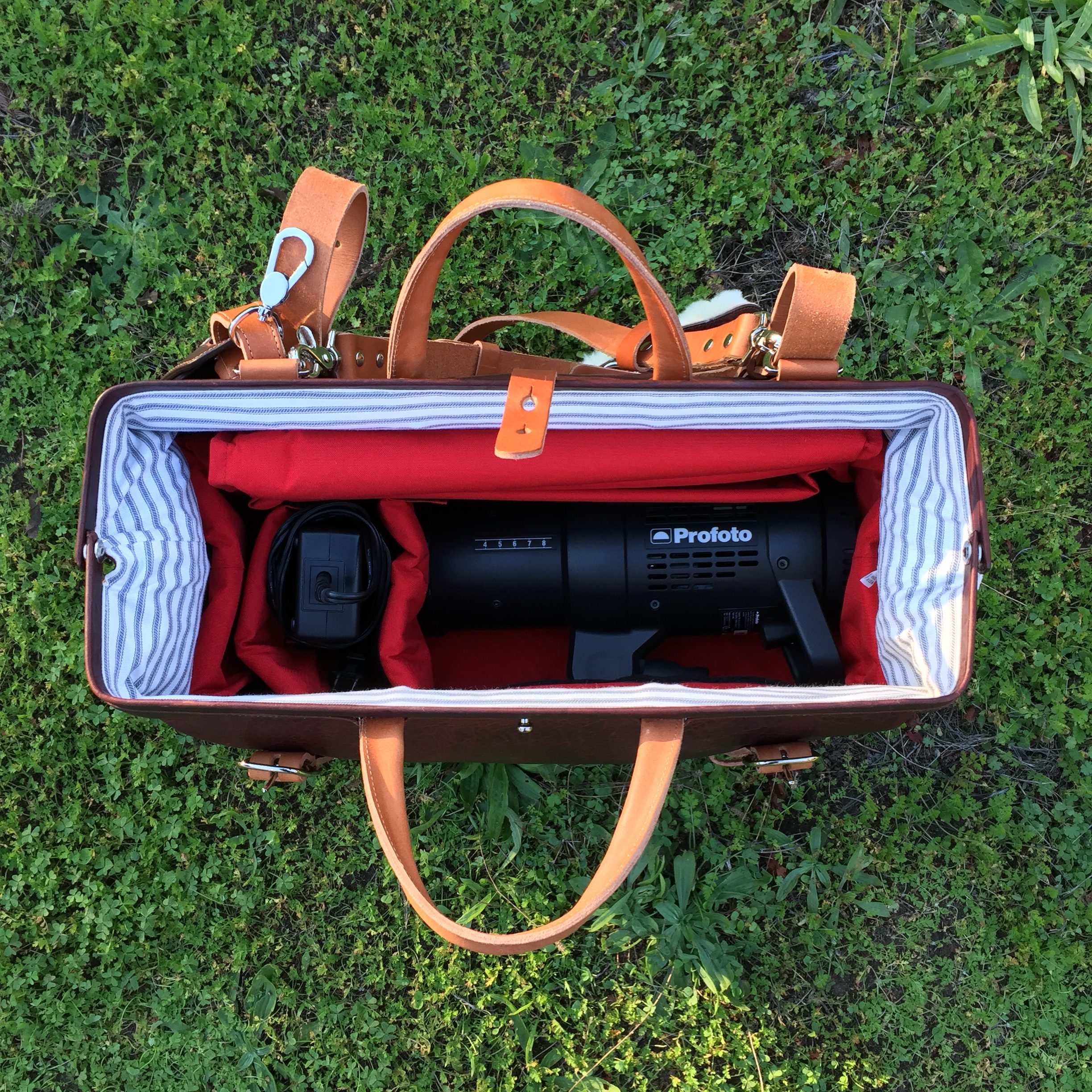 The interior of the HoldFast Gear Roamographer isn't patted in and of itself, but includes a fantastic removable camera insert. This insert is bright red, and easily let's you find your gear inside. One of the biggest features for me on the HoldFast Gear Roamographer leather camera bag is how deep the bag is. There is nothing worse then needing to carry a 70-200mm f/2.8 lens and not having enough depth to stand it up inside a bag. You then are forced to lay it down, taking up valuable real estate. Because of its depth, the Roamographer allows for a 70-200mm f/2.8 to stand up, which makes all the difference in the world. I am not a wedding photographer, but I can imagine that this is an issue for many who are. The insert is the perfect width for a full-sized DSLR like my Canon 1DX Mark II. As I mentioned above, you can also fit 4-5 lenses in the bag with a few accessories as well. As an event or wedding photographer, you could easily fit two camera bodies, two zooms, and two primes.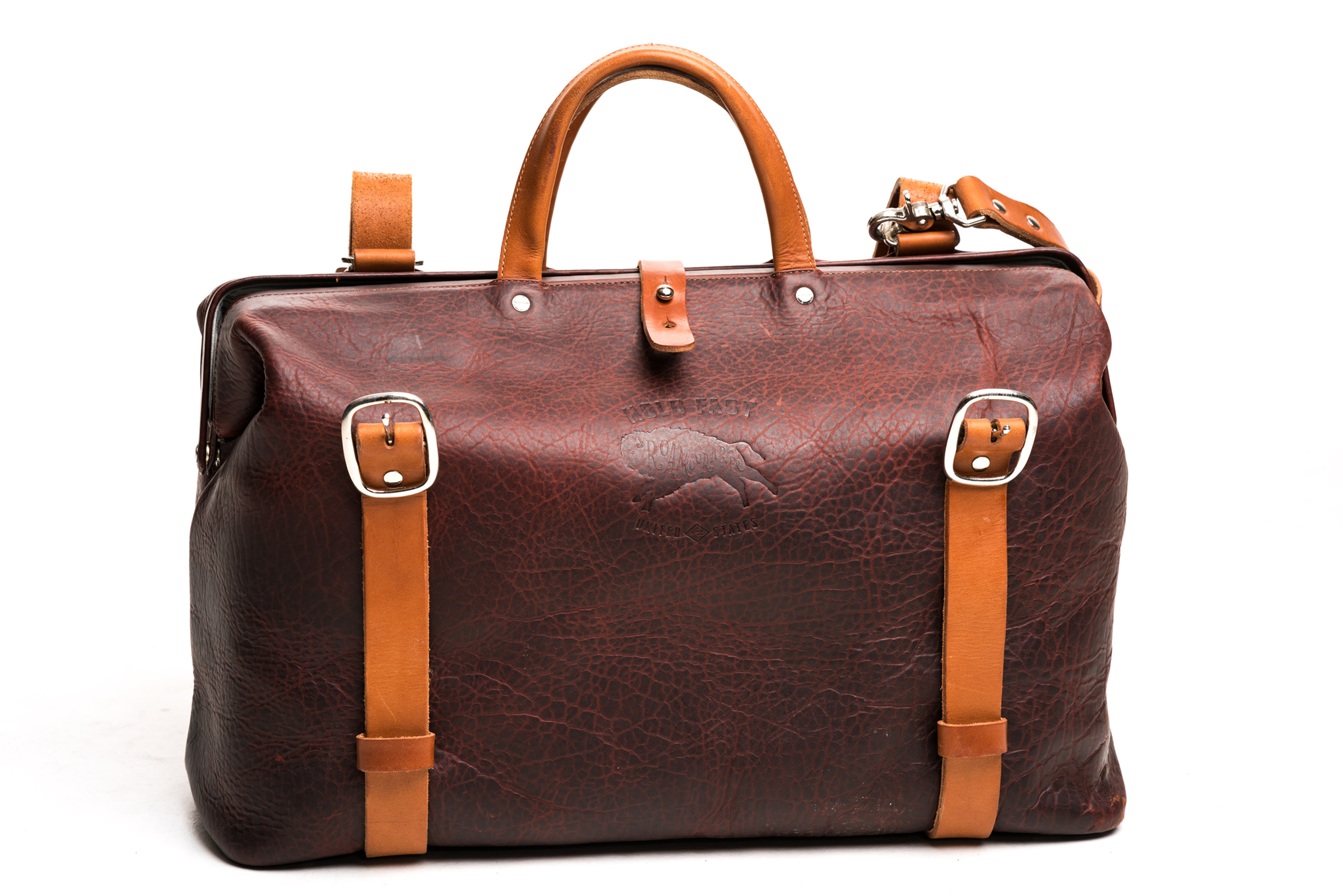 A cool feature of the camera insert is that you can actually flip over its flap, which is typically folded underneath it. If you aren't carrying extremely tall lenses, you can then add something to the top of the bag like the MoneyMaker without scratching your lenses. It's a nice touch. Another nice touch on the camera insert is that it also has two outer pockets, which I usually put my keys in. If you were to take out the camera insert, the bare exterior has two interior pockets, but nothing other than that. Honestly that is one of the best features on the HoldFast Gear Roamographer, the fact that you can use it as a regular bag as well. I have taken it on several weekend trips, and it is large enough to hold a couple days worth of clothing and toiletries. This versatility makes me use it even more, which I love having an excuse for.
Overall in terms of the design of the HoldFast Gear Roamographer, it is classic. This bag isn't going to wow you with engineering or features, but it is a bag that I want to pass down to my children. That means something to me. I hope that they one day will appreciate this bag as much as I do. Its classic design will stand the test of time. I'm sure of that.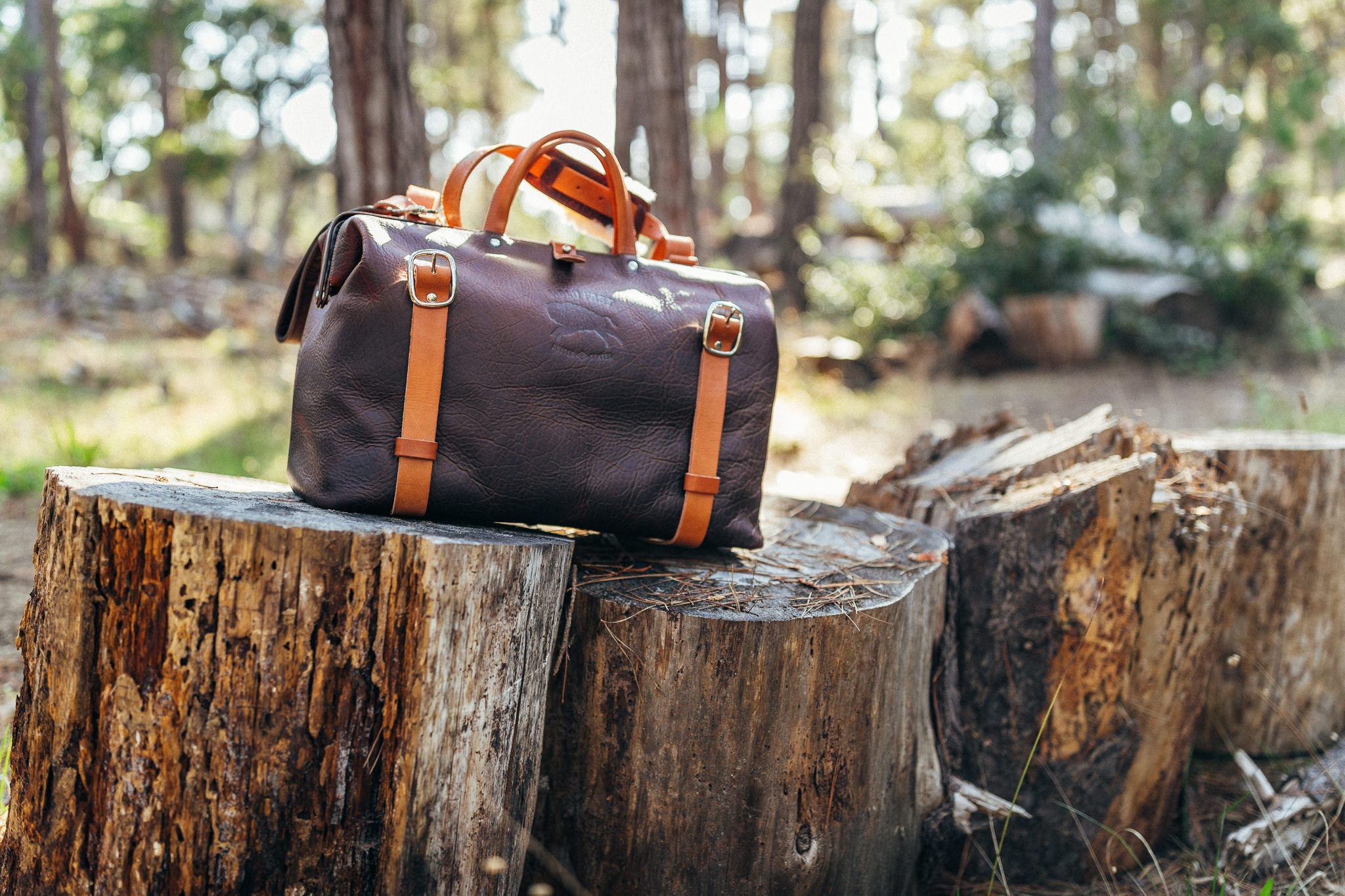 Build and Durability | HoldFast Gear Roamographer Leather Camera Bag
From a durability standpoint, the HoldFast Gear Roamographer is perfect. While not being completely waterproof as it is a leather product, I fully expect this bag to last a lifetime. It is built to last, and the quality of the product and ensuing durability are clearly evident. From its rivets to quality of leather to its metal accents, the HoldFast Gear Roamographer is built to last.
What I find amazing about bags of this caliber is that the more they are beat up, the better they look. Not only did the Roamographer have a nice patina out of the package, but it has only looked better with time. I am excited to see how it looks after several years of use.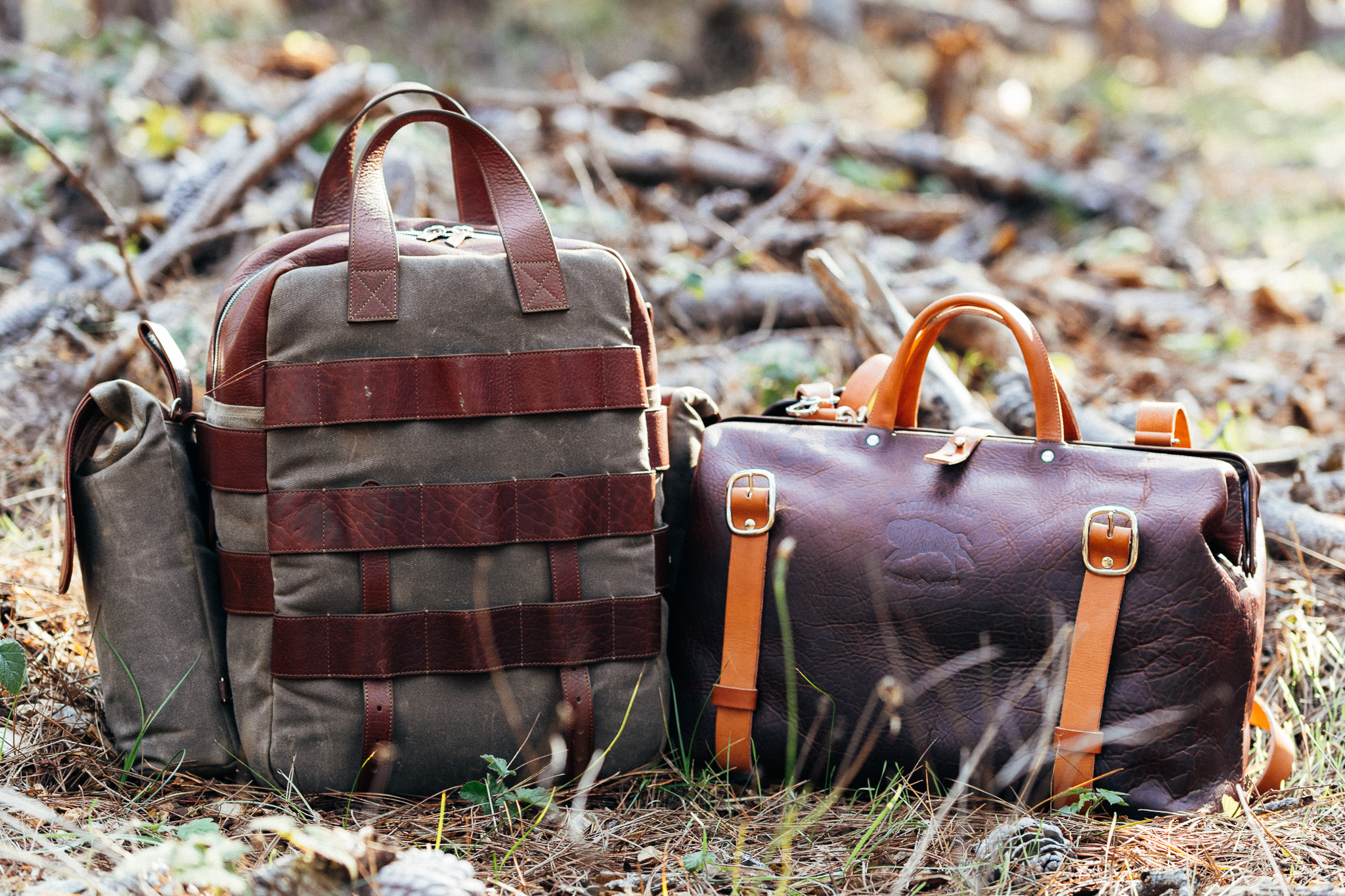 Value | HoldFast Gear Roamographer Leather Camera Bag
I have come to realize that it is very hard to describe the value of a certain product. Every person has a different pain point when it comes to price, and therefore the value will be assessed on a person-by-person basis. The HoldFast Gear Roamographer comes in at a whopping $760. At first glance, that is a lot of money. However, if you enjoy a leather camera bag, are in the creative fields, and buy a single bag instead of several over a long period of time, its value really makes sense. I make the same argument with a laptop all the time. Sure, a PC is less expensive for the same specs. In my experience, a MacBook Pro will last two or three times longer than a comparable PC. Is it considerably more expensive? Simply put, yes. However, its value is worth it to me, because I personally value longevity and quality over inexpensive and spec'd out.
Conclusion | HoldFast Gear Roamographer Leather Camera Bag
Not to get sentimental, but as I get older I realize that I want to hand down things to my children. A bag may not seem like an item that fits that build, but it is for me. The HoldFast Gear Roamographer leather camera bag not only helps me get gear to a job, but carries clothing on a trip. It is a simple, yet versatile bag. It is something that screams quality, but looks good too. This premium leather camera bag is one that you should strive for. If you've been looking at it for a while, don't hesitate to pull the trigger. At $760, it is expensive, but I guarantee that you won't buy another camera duffle again.
If you'd like to purchase the HoldFast Gear website, head over to HoldFast Gear's website below.
HoldFast Gear Roamographer (Regular) Review
The HoldFast Gear Roamographer is an exceptional bag. It's quality and durability will last a lifetime.
PROS
Beautiful Design
Will last a lifetime/durable
Great materials
Holds a full wedding or event kit
Can be used as a regular bag as well
Gear is easy to access if straps are unbuckled
Integrates with the MoneyMaker system
You'll look like a boss entering the even or job
New version holds even more accessories
Also holds a tripod on bottom of bag
CONS
Gear can be hard to access if straps are buckled
May be expensive for some





Pure Quality