In addition to the fantastic HoldFast Gear Roamographer bag that I've been using for the last few months, I've also had my hands on the Sightseer Lens Bag from HoldFast Gear. Made right in the heart of the USA, the Sightseer lens bag comes in three distinct colorways: olive, navy, and black. The Sightseer Lens Bag is part of a large collection of Sightseer bags, pouches, and a strap. Each piece in the Sightseer collection can be used alone or in conjunction with the other pieces, which makes the entire collection very cohesive. The entire line is fashioned out of waxed canvas, American Bison leather and is lined in Aztec flannel fleece. If you're interested in seeing the entire Sightseer collection, please visit this LINK.
Sightseer Lens Bag: Design and Features
Matt from HoldFast Gear really took the entire line into consideration when designing this bag. I appreciate that. Good design considers everything, even the future. He has designed the Sightseer collection with that in mind. The Sightseer Lens Bag, right out-of-the-box, looked like everything I have been wanting in a lens bag. I have purchased other bags before to be used for changing lenses while shooting, but most of the time I end up disappointed because of some design flaw. Right off the bat, the Sightseer Lens Bag fixed one of the biggest design flaws in other bags, the outer messenger bag style flap. HoldFast Gear opted instead for a top zippered opening. Matt could have made this zippered opening a single zipper pull design, but since the Sightseer Lens Bag is also designed to be used with the MoneyMaker behind your back, the dual zipper design works out perfectly. If you choose to use this bag with a single camera set up, it works just as well. Something to keep in mind is that that uses high quality metal zippers on HoldFast Gear products, so when putting lenses in and out, I prefer to keep the lens hood on as to not scratch the from element.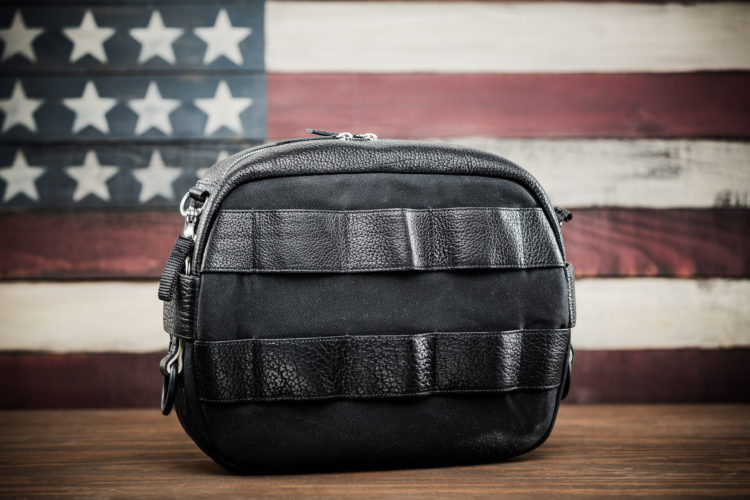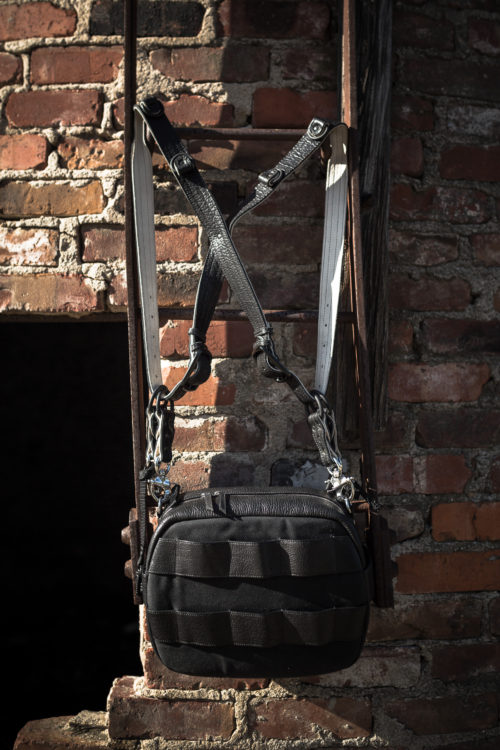 I want to take a minute and talk about the overall design of the Sightseer Lens Bag and how it is meant to be used. Matt has basically created a new way to carry your gear that you need readily accessible while shooting. Let us use portrait or wedding photographers as an example of people who also use the MoneyMaker. With its included sliders, the Sightseer Lens Bag can be attached to the back of the MoneyMaker, carrying a couple lenses as well as a flash. I love using the MoneyMaker with a 35mm on one hip and a 85mm on the other. However sometimes I might need the extra reach of a 70-200mm lens. With the Sightseer Lens Bag, I can easily reach behind my back and pull out the 70-200 without the need to kneel down or headback to my camera backpack on the ground. It really makes for a seamless transition of lenses in the field, and it is something that I've not seen before. The only other lens changing systems that I've seen have been shoulder bags that are ugly or are meant to be carried with only one camera. That brings us to the next design point.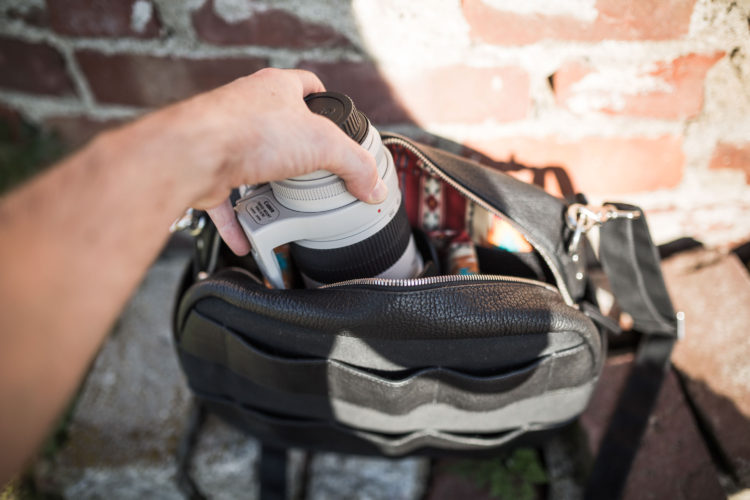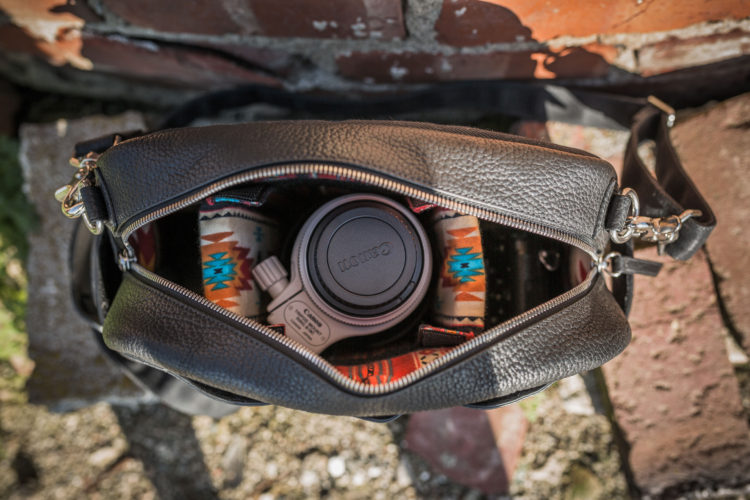 The Sightseer Lens Bag is not a large bag, but it is tall enough to fit a 70-200 vertically. That has been a big issue for me when I was using other "lens changing" bags, as not many of those bags are tall enough for the 70-200. The ones that were tall enough were also massive, and were also pretty ugly to be honest. The Sightseer Lens Bag is seriously one of the most functional pieces of gear that I have ever used, and it doesn't hurt that it looks amazing. The Sightseer Lens Bag's weight is also distributed very evenly when holding heavy lenses because of the weight distribution of the MoneyMaker. In terms of design, I give the Sightseer Lens Bag 5/5.
The top of the bag, as well as the zipper pulls and outer straps, is made from American bison leather. The rest of the outer is made of waxed canvas. The inside of the Sightseer Lens Bag has a very dense, padded divider system with an Aztec print on it. You will either love or hate the Aztec, but I am a fan of it. As with any leather product, the Sightseer Lens Bag is not the most weatherproof bag out there. However, it can definitely take a little abuse.
There's one additional part to the design of the Sightseer Lens Bag that I'd like to discuss, and that is its aesthetic appeal. Just like I talked about with the HoldFast Gear Roamographer, the Sightseer Lens Bag hits it out of the park aesthetically. Whenever I am wearing a product from HoldFast Gear, rarely is there not a comment about how good it looks. The Sightseer Lens Bag looks Great in both a casual setting or on a wedding assignment. Also, I have found that the black Sightseer Lens Bag looks good tethered to both a brown or a black MoneyMaker.
The Sightseer Lens Bag not only can be used in a portrait or wedding shoot, but also in other situations. These days, because of the more readily available video features on camera bodies, photographers are also jumping into shooting video. With available space for a mic pack or shotgun mic, ND filters, and headphones, the Sightseer Lens Bag may be a nifty option for you if you are this type of shooter. As mentioned before, with its nice distribution on the back of the MoneyMaker, the Sightseer Lens Bag will give you a light option for carrying that extra gear without the need to go back to your larger bag.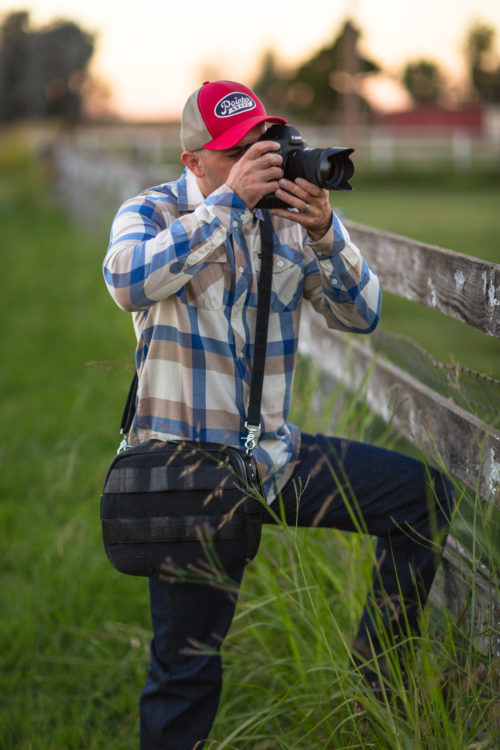 Sightseer Lens Bag: What Fits
The following pieces of gear are what fit inside the bag, not with the optional expansion pockets and lens pouches. These items are not the only things that can fit in the bag, but they are what I like to carry, and it should give you a nice view of how you can use the Sightseer Lens Bag.
Standalone Bag – Without MoneyMaker and Shooting with camera outside the bag
Inside the Sightseer Lens Bag
Setup #2 – With the MoneyMaker holding 2 cameras
Inside the Sightseer Lens Bag
Water bottle (stay hydrated)
Setup #3 – Awesome optional video setup
Inside the Sightseer Lens Bag – if you need to shoot video
Batteries and accessories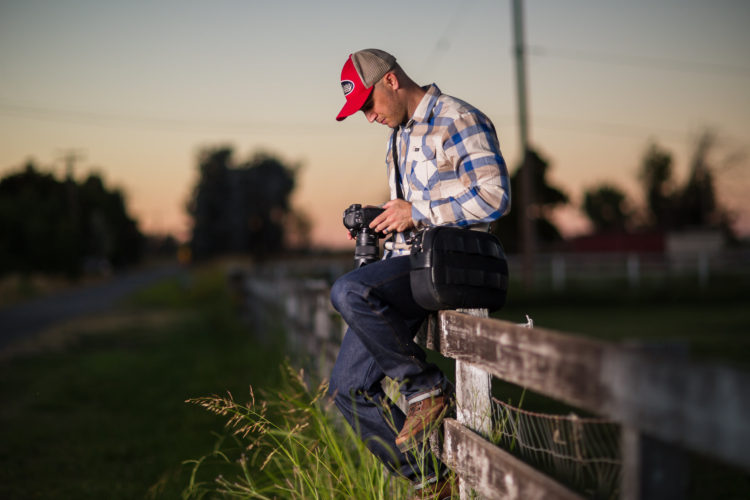 Sightseer Lens Bag: Quality
In each of my HoldFast Gear reviews, the quality section is going to basically be the same. HoldFast Gear Products are made from the finest materials, have the finest design and stitching, and generally have a certain density to them that some other bags don't have. The Sightseer Lens Bag is definitely a premium product, but if you are already invested in the Money Maker, then this may be worth investing in as well. I truly believe that HoldFast Gear products are made to last a lifetime.
Sightseer Lens Bag: Value
If you're shopping for a premium product intended to last decades, you should expect to pay a premium for it. The Sightseer Lens Bag will run you $425. That may be a tough pill to swallow for a lens bag. However, if you're a professional and are shooting 10 to 12 hour weddings over the course of the entire wedding season, getting into a full dual strap and lens bag system for under $1000 is definitely worth it.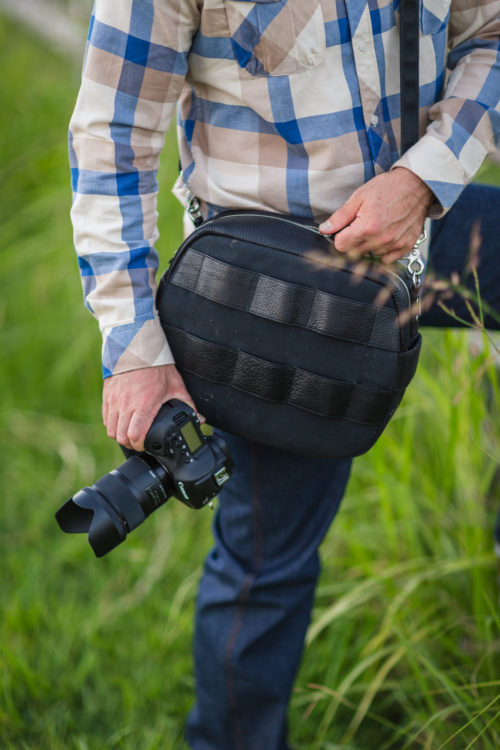 Conclusion
The Sightseer Lens Bag is another timeless peace from HoldFast Gear. Used in conjunction with their MoneyMaker, the Sightseer Lens Bag will save you time going back and forth to your larger bag, give you added versatility, and save your shoulders on a long shoot day. If you need a little added space, HoldFast Gear also makes additional lens pouches that can be added to the outside leather straps, expanding the bag's potential even further. Head over to HoldFastGear.com today and check out the lineup, and tell them that The Brotographer sent you.
HoldFast Gear Sightseer
Whether you're using the MoneyMaker system or not, the Sightseer Lens Bag from HoldFast gear is a well thought out, durable piece for your kit.
BROS
Works great with or without the MoneyMaker System
Will last forever
Makes me feel like Davy Crockett
Well padded interior
Expandable with Sightseer pouches
CONS
Not extremely weather resistant
Expensive, but you get what you pay for (quality costs $$$)