Portable Motion Control Powerhouse
In this review, I'll be taking a look at the small Syrp Genie Mini, and letting you know why it may be a fantastic tool for your kit. I recently reviewed the Syrp Genie, which you can check out HERE. The Genie is a great piece of kit, and is extremely versatile. Some of the downsides though are that it may be too expensive for some users, and it also is a little bit on the larger side. Don't fret though, as Syrp has another product for you to solve both of those issues, the Genie Mini.
Specs:
Panning Load: 8.8lbs
Tilting Load: 6.6lbs
Maximum Speed: 360° in 33 seconds
Size: 3.6" x 1.6: (92mm x 40mm)
Battery in timelapse mode: 48 hours
Battery in video mode: 5 hours
Mounts: 3/8" on bottom and ¼" on top
Bluetooth

Controllable via the iPhone/Android App
The Syrp Genie Mini is a pocketable motion controller that can add a large amount of production value to your films for a relatively low cost. Unlike the Genie, the Syrp Genie Mini packs its hardware into the device, and leaves the controls to a fantastic iPhone or android app. In this day and age, most users are very used to controlling devices this way, and I am a huge fan of it. I downloaded the app and was quickly reassured that Syrp designed the app with the same great simplicity of the Genie's UI. Connect the link cable to your camera, press the Bluetooth button, connect your phone's Bluetooth, and you're good to go. Firmware updates can also be made from the iPhone app, as long as your phone is near the Syrp Genie Mini. Updating its firmware is by far the easiest and most seamless firmware update of any product I have ever used.
Features of the Syrp Genie Mini
What boggles my mind is that the Syrp Genie Mini has essentially the same features of the larger Syrp Genie, minus the sliding ability of its big brother in conjunction with sliders. To get all that functionality in a package that is both $500 less and around a quarter of the size is astounding. Natively, without any additional hardware, you get both timelapse and video modes with a programmable panning distance, speed, and direction.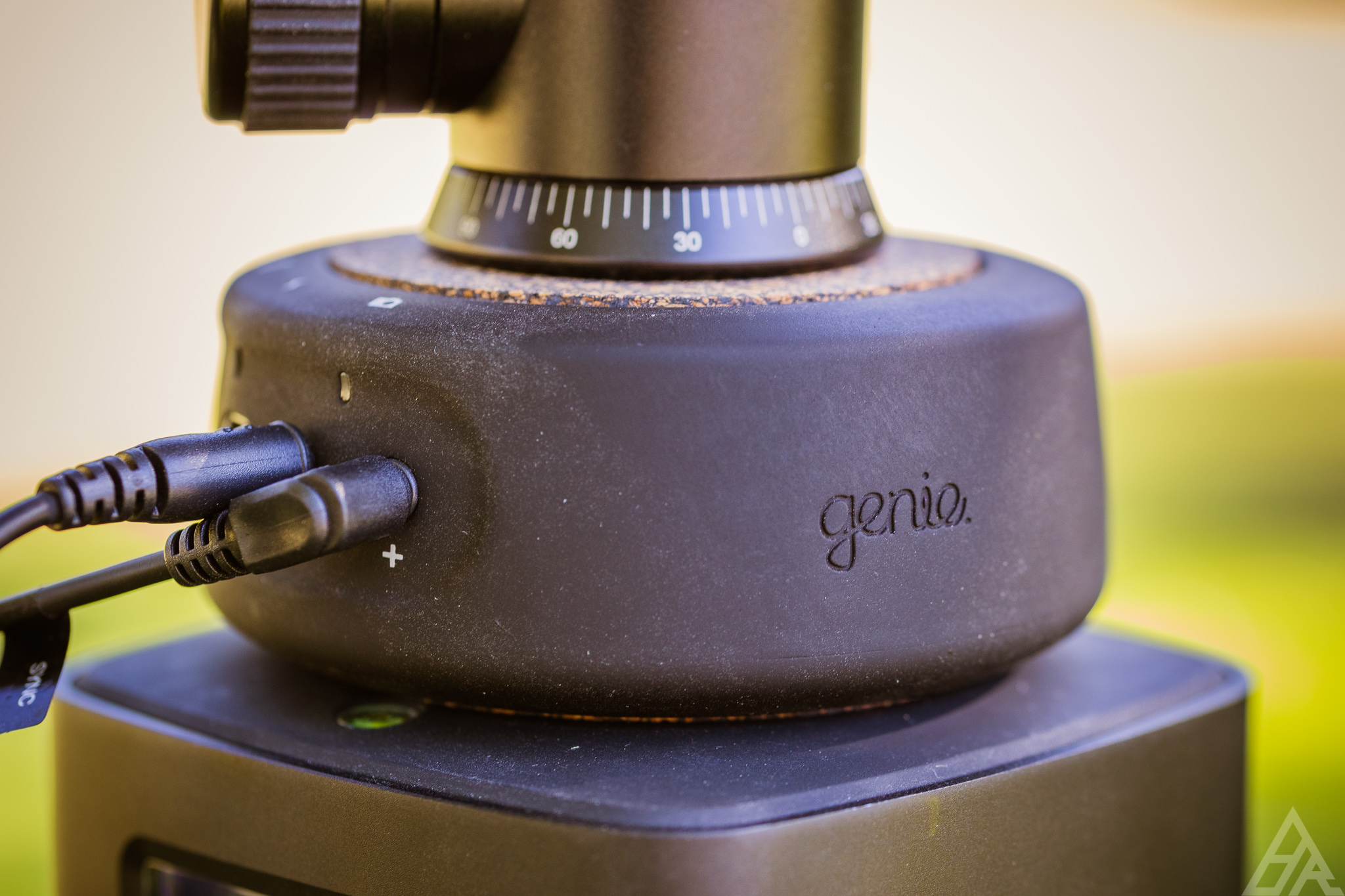 Just like the Syrp Genie, the Genie Mini also comes with preset modes for both time lapse and video. Time lapse presets come set for people, clouds, stars, night traffic, and also for shooting people and clouds with a GoPro camera. Video presets are for fast and slow panning movement. Of course all motion can be customized as well.
When using smaller cameras the Syrp Genie Mini can also be set vertically in order to achieve a tilting movement, which is awesome. Movements like this are especially great if you are shooting far above your subject or landscape, revealing more of it as the camera tilts upwards.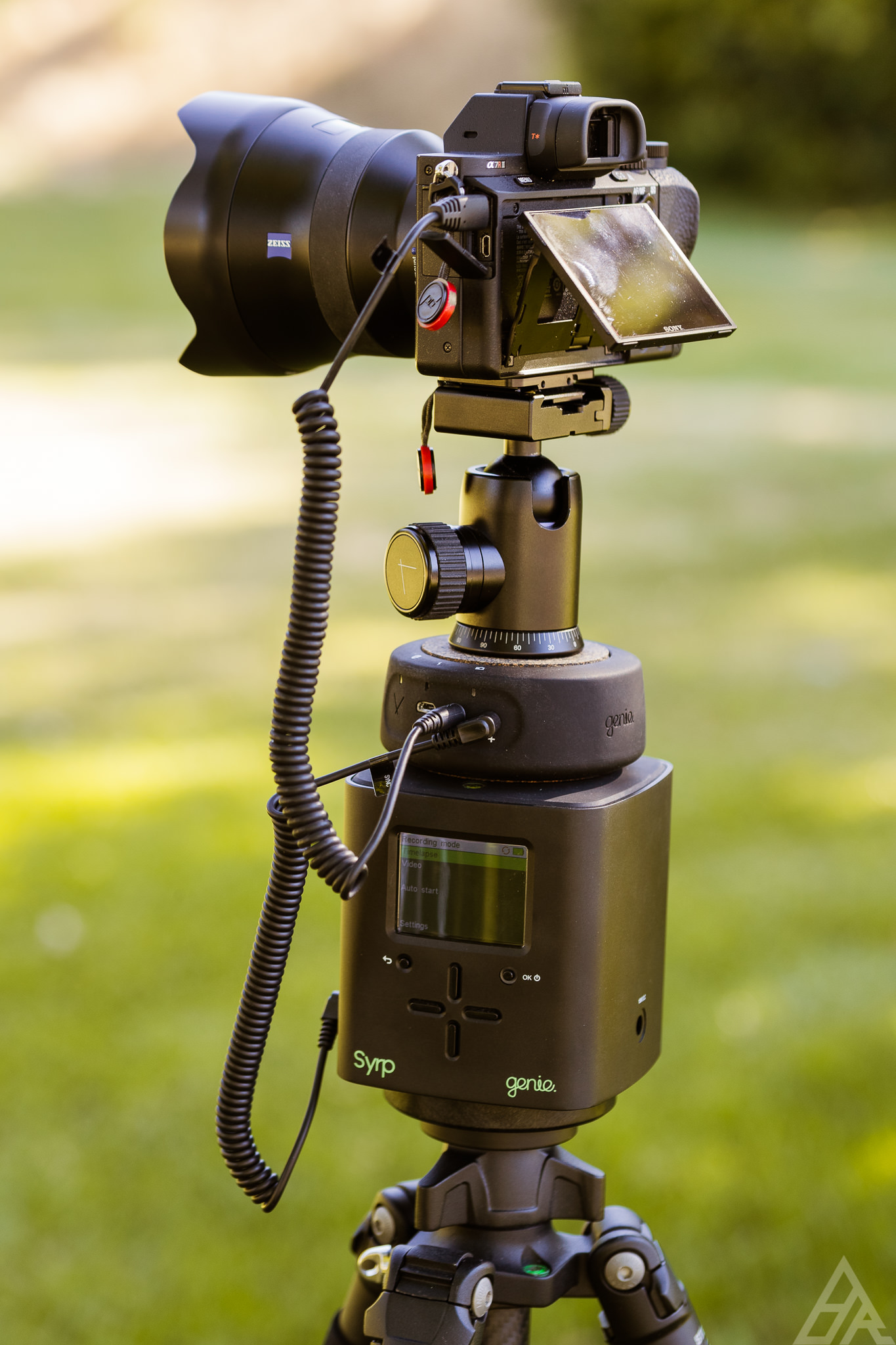 You wouldn't use them like this. Just a size comparison between the Genie and Genie Mini
Combine a slider with the Syrp Genie Mini as well as the Genie and you'll get 2-axis timelapse or video motion, significantly adding production value to your content. These two pieces of gear seem to be made for each other. One of the coolest motions in the video in my opinion is a parallax movement, which can easily be achieved with the Syrp Genie Mini and Genie working together on a slider. While your clients might not be able to pinpoint exactly why your content looks so good, your interviews will be brought to the next level when camera movement is added.
Syrp Genie Mini Design and Build
Around the size of a hockey puck or small sprinkled donut, the Syrp Genie Mini is very simple in its design. The bottom has a female 3/8″ thread hole and the top has a male ¼-20 thread. Both of these threads can be interchanged with the use of an included accessory, making them either larger or smaller depending on the needed mount. The outside has a black rubberized matte surface, and the top and bottom have a cork surface, made to withstand objects being tightened against it. The outside has a power/Bluetooth button, Micro HDMI charging port, camera connect port, and a link port for connecting to the larger Genie.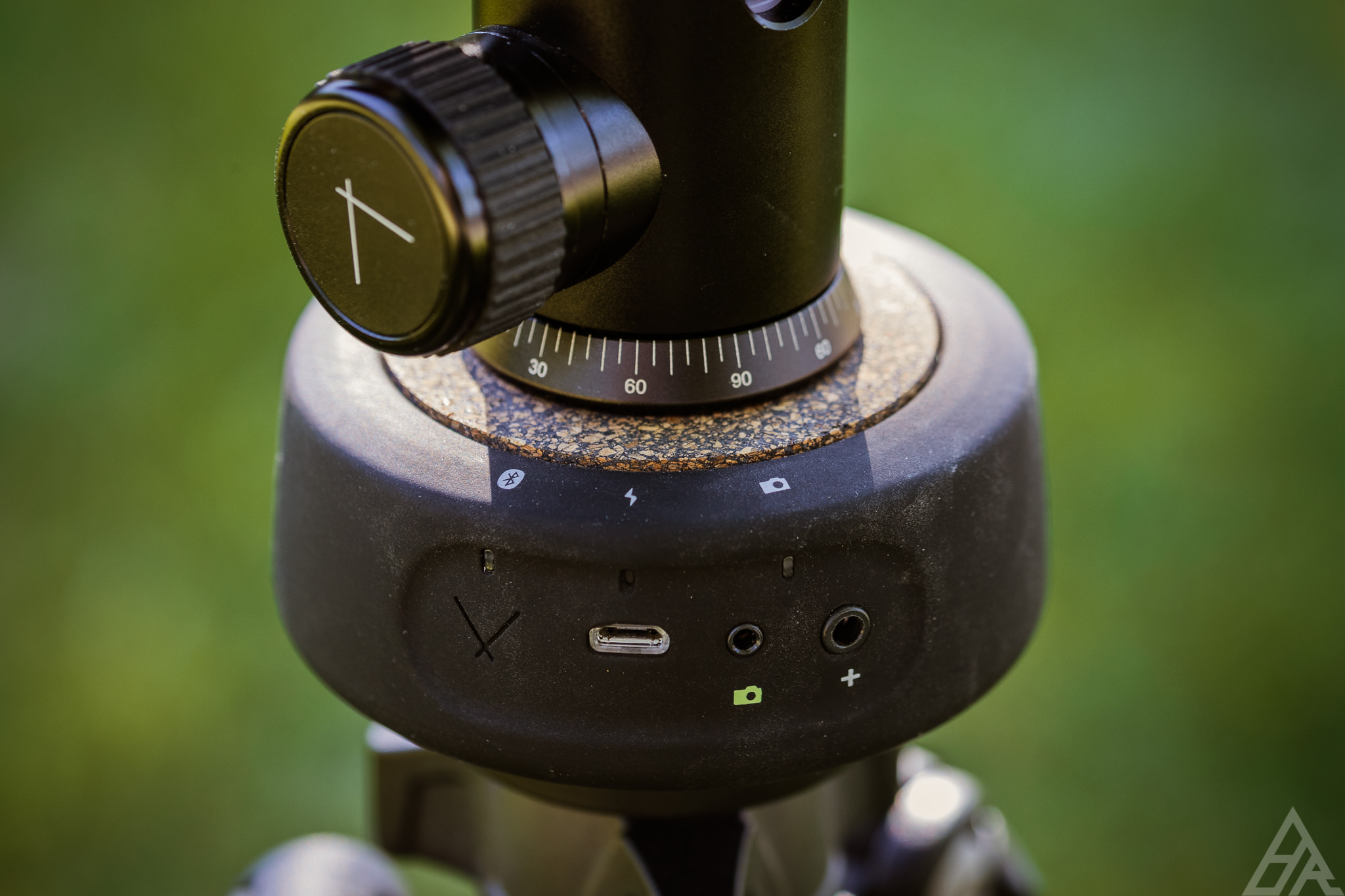 The build of the Syrp Genie Mini is great. Since all the motors are packed into this small package, it has a somewhat dense feel about it. The outer rubberized surface makes it really easy to grip as well. I've thrown it in my bag in a couple times, and I really don't have any reservations about dropping it on a slightly padded surface like the inside of a bag. All in all, the build is nice. While I haven't ran across any issues with the cork surfaces yet, I do wonder if they will dry out and flake over extended periods of time in the sun. Like I said, this has not happened to me, but I would be curious to see if Syrp has plans for updating that material in a future version.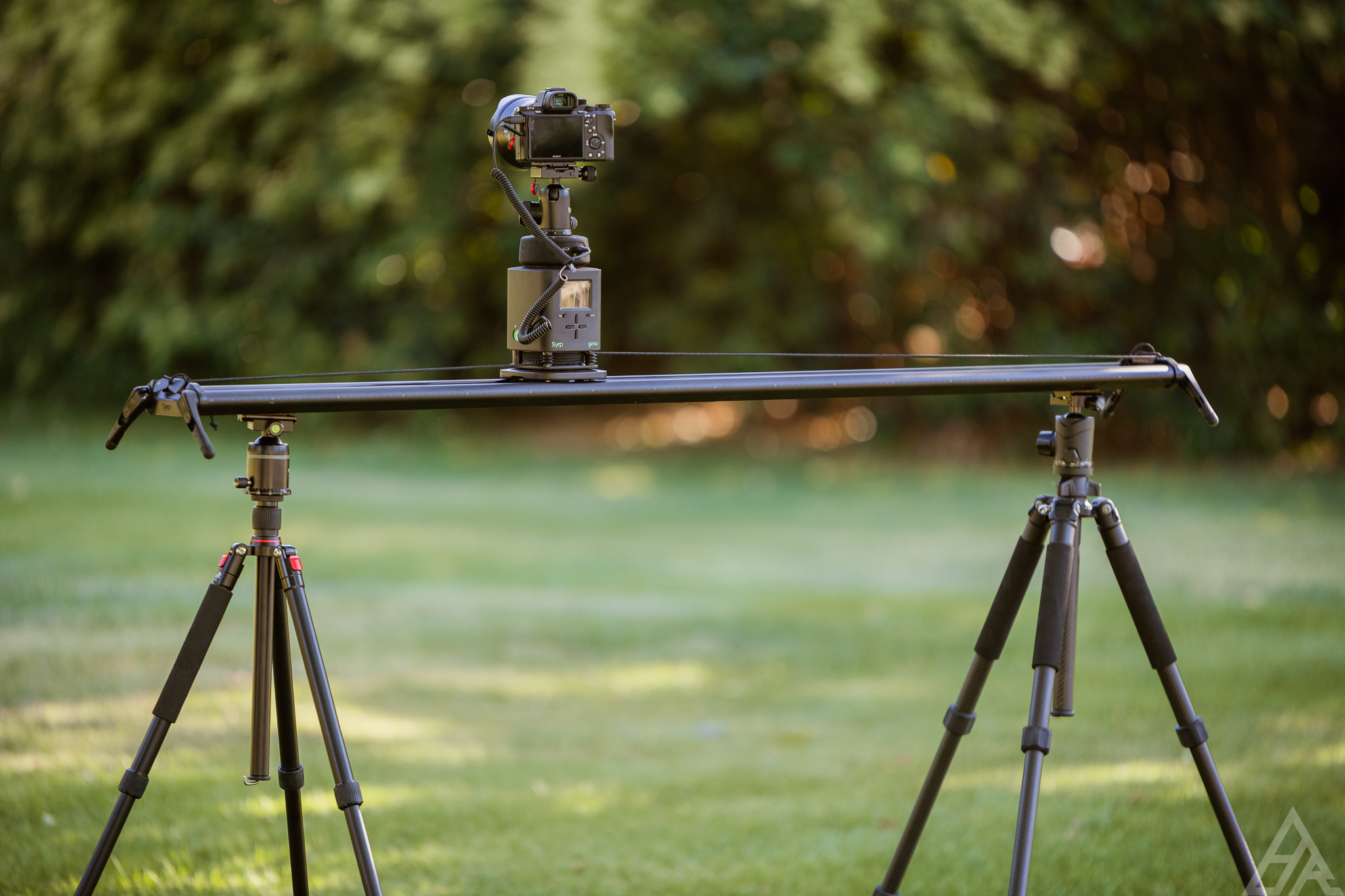 Syrp Genie Mini Value
I really think that $250 is an absolute steal for what you're getting out of the Syrp Genie Mini in terms of features and portability. There really aren't any other products on the market quite liked it that work as well as it does for the price. All of that, in addition to the fact that it can be paired with the Genie make its value skyrocket.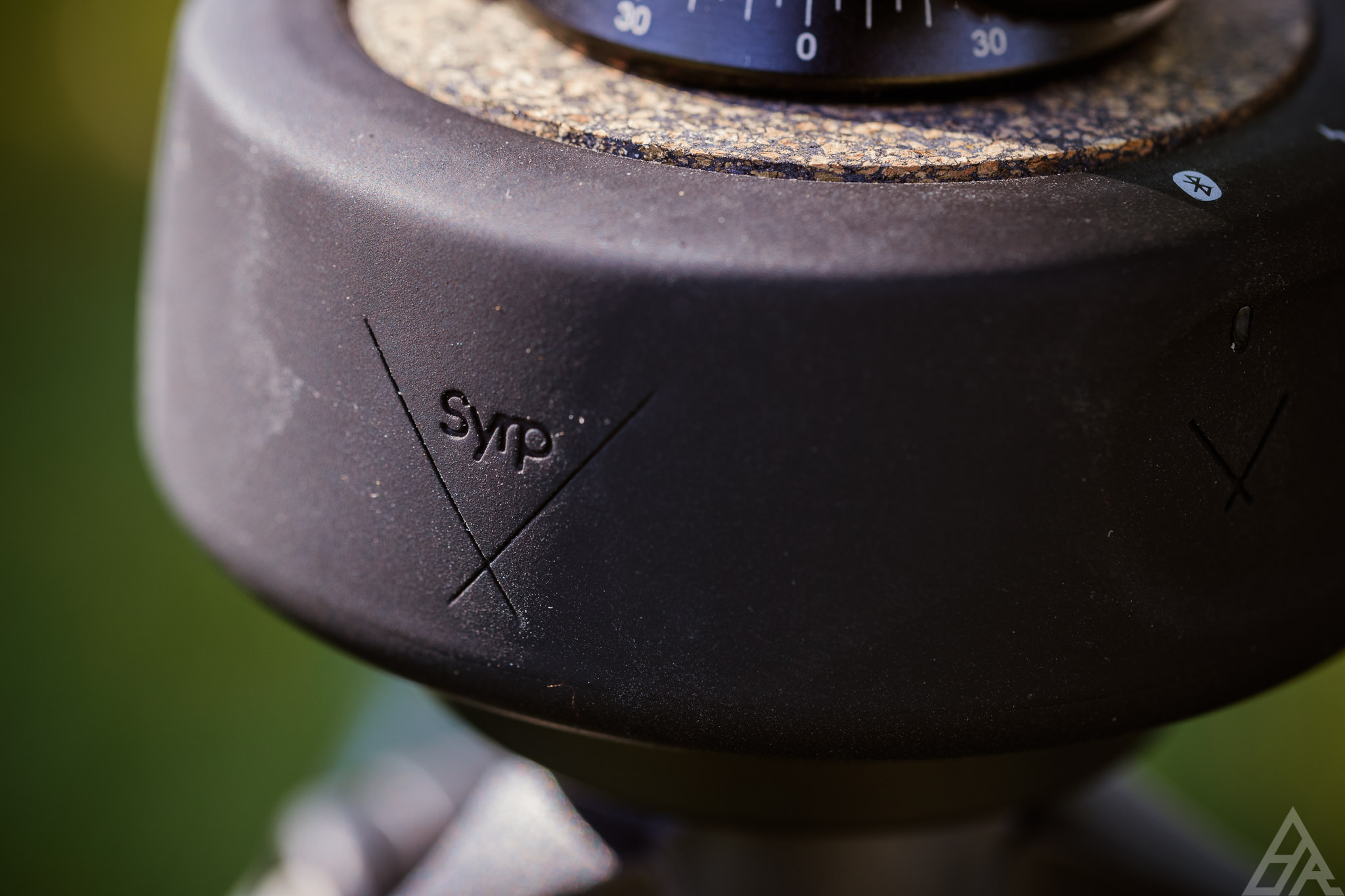 Conclusion
It is safe to say that the Syrp Genie Mini is build well, packs in great functionality and features, and is priced to sell. It is really worth it even if you only need a few of its features. If you would like to expand on its functionality, you can always add the larger Genie and a slider to the mix, making for much higher production value. Camera movement can really take your production to the next level, and the Syrp Genie Mini can be the ticket to get you there. I highly recommend it, and don't think you'll be disappointed.
If you'd like to purchase the Syrp Genie Mini, please use our affiliate links below. It costs you nothing, and helps The Brotographer make content like this.
Syrp Genie Mini Review
The Genie Mini should be in every timelapse photographer and videographer's kit.
PROS
Small
Packs a ton of features
Simple to understand and use
Fantastic mobile app
Pairs well with the Syrp Genie
CONS
Cork material could degrade over time





Portable Motion Control Powerhouse