Fantastic Mid Sized Backpack
I'm excited to bring to you a collaboration with Tamrac. Over the next few weeks, I'll be releasing several reviews on TheBrotographer.com, and also our new YouTube channel. It is my goal to give these bags a thorough round of objective testing, and do my best to give you an honest opinion as to the quality, size, build, and value of these bags. In the interest of full disclosure, I was given these bags by Tamrac, but I am under no obligation to state anything that is not true, or that is not based in my own opinion.
The Brotographer's Tamrac Camera Bag Series: Anvil Slim 11
Part two of the Tamrac Series here at TheBrotographer.com is going to be a review of the Anvil Slim 11. The first review featured the Anvil 27, designed for professionals, with the ability to carry gripped bodies, and the whole kit along with you. The Anvil Slim 11 encompasses the other side of photographers and their gear. If you are carrying a non-gripped or mirrorless body and several lenses, or perhaps want a smaller backpack, this bag may be better suited for you.
You can also check out the video review below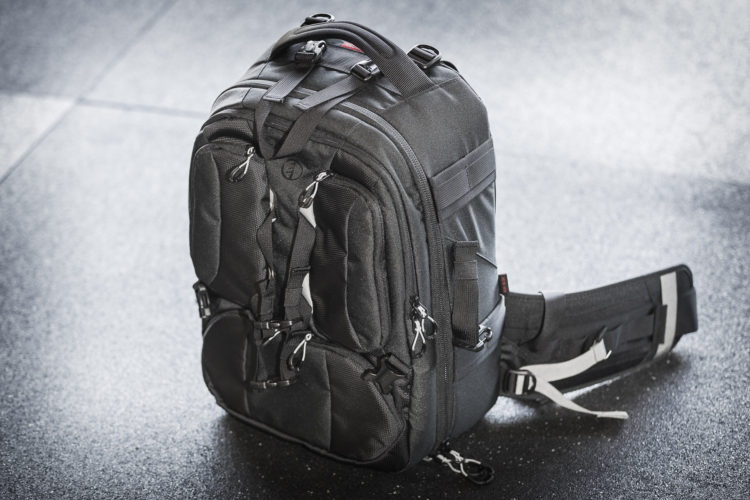 As a guy, I may not want to admit it, but weight becomes a factor when lugging around camera equipment. There are times when I feel perfectly fine carrying around a Canon 1DX Mark II with 70-200mm. However, there are other times when I only want to carry a Sony A6300 with Zeiss 25mm F/2. It all depends on what and where I am shooting, and the situation I am shooting in. For those times that I don't need to lug around my entire kit, I also don't need a bag that is just going to waste space. It's nice to have the option of using a smaller bag with a smaller footprint.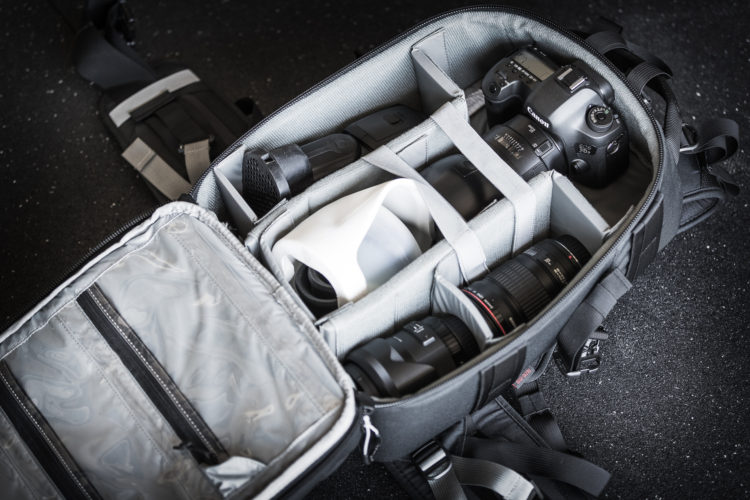 That slimmer, smaller footprint is definitely what Tamrac was going for when they designed the Anvil Slim 11. Basically the baby brother to the Anvil 27, this DSLR or mirrorless camera bag has all the same features in a smaller package.
Build
Built basically the same as its larger brother, the Slim 11 from Tamrac features 500D Cordura, and 840D fabric as well, making it very durable. It's handles are built well, far exceeding the amount of gear that could possibly be stuffed into this bag. The outer Shell of the bag is slightly rigid, which forces the bag to keep its shape even when it is not filled. Personally, that is the way I like my bags, so that they do not collapse and look misshapen when gear is not pressing on the outer edges. This DSLR or mirrorless camera bag also has great YKK zippers with an added pulley tab, and nice thick buckles that scream durability and high quality.
Fit
Because of its smaller size, the Anvil Slim 11 fits a little different, and maybe just a tab bit more awkward than the full sized Anvil 27. However, because of the nature of the gear that you'll pack inside, the backpack still has a nice fit. The fit became a lot better for me when I loosened up the shoulder straps a little bit, allowing for the backpack to shift slightly downward about an inch. While the bag comes with a fantastic waist strap, you may not need it. Tamrac got it right when they designed the Anvil Slim 11 to have a removeable waist strap.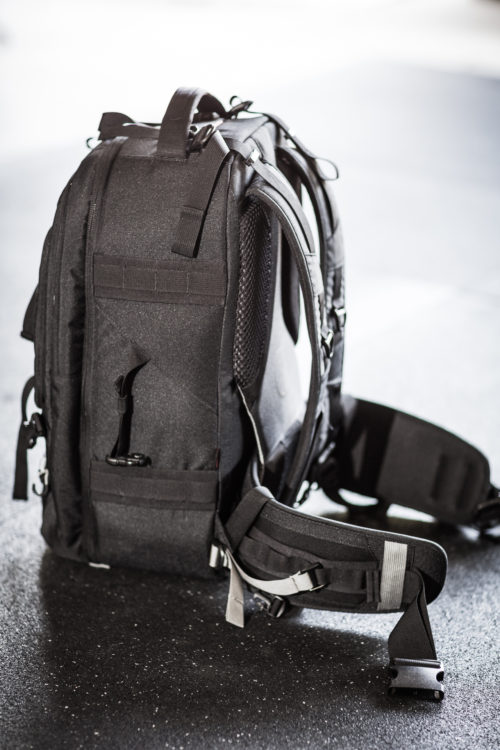 Features
This DSLR or mirrorless backpack is packed full of the same great features that the Anvil series of bags has. The outside comes with a weather protective rain fly, M.O.L.L.E. compatible side handles and waist belt, 3 front zippered pouches and tripod straps, a great top handle, fantastic back padding, and removeable waist belt,. The inside features a large camera gear compartment with moveable Velcro dividers, 3 zippered clear pouches for accessories, 15 inch MacBook Pro Sleeve, and generally more room that I thought was going to be in it. The feature that I applaud Tamrac for including the most is the laptop sleeve. In a backpack of this size, manufacturers sometimes leave out this feature, which forces me to bring an extra bag. That can get annoying if you are attempting to travel light or are taking it through an airport.
Value
At $189, I say that this bag is worth every penny. For the features that it provides, and the expectation that this bag we'll be around for many years, it is a great value. These days, many photographers are leaving the DSLR world and are in need of a mirrorless camera bag. The Anvil 11 Slim fits both of those needs, and you won't have to get a new bag if you make that switch.
Some of my favorite uses of the Anvil 11 Slim
Mixture of DSLR and mirrorless
Canon 5Ds
Canon 85mm F/1.2L II
Canon 135mm F/2L
2x Canon 600EX-RT Speedlite
Sony a6300
Zeiss Batis 25mm F/2
Light stand and umbrella
Chargers
Accessories
Video "Run-&-Gun
Sony a6300
Zeiss Batis 25mm F/2
Induro Carbon Fiber Tripod
RODE Filmmaker Kit
RODE VideoMic Pro
Aputure FineHD VS-2 Monitor
Chargers
Accessories
Conclusion
Whether you are in the market for a mirrorless camera back, or are a DSLR shooter looking for a backpack with a small profile, I really think that the Anvil 11 Slim could be a nice option for you. It's built well, fits a good amount of gear (especially mirrorless), and won't break the bank. I highly recommend it.
Tamrac Anvil 11 Slim Backpack
If you don't use a gripped body, or have a mirrorless kit, the Anvil 11 Slim is a great choice.
BROS
Great mirrorless or non-gripped bag
Comfortable
Clear inner pockets
Good Value
CONS
Wish it came in more colors
Fantastic Mid Sized Backpack