I'm excited to bring to you a collaboration with Tamrac. Over the next few weeks, I'll be releasing several reviews on TheBrotographer.com in the Tamrac Camera Bag Series, and also our new YouTube channel. It is my goal to give these bags a thorough round of objective testing, and do my best to give you an honest opinion as to the quality, size, build, and value of these bags. In the interest of full disclosure, I was given these bags by Tamrac, but I am under no obligation to state anything that is not true, or that is not based in my own opinion.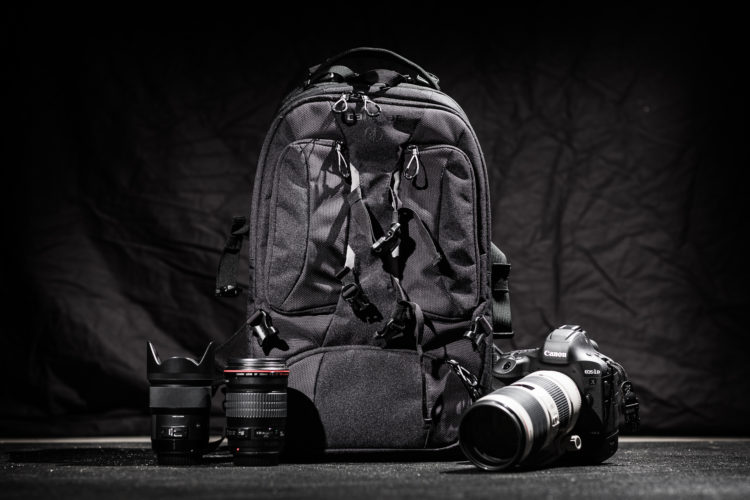 You can also check out the video review below
Tamrac Anvil 27 Camera Backpack
There are times when I only need to bring one or two bodies with me with a few lenses, and there are times when I need to bring my entire kit. For times like that, there's a Tamrac camera bag called the Anvil 27 that will fit the bill…and all your gear.
Designed with the serious amateur and professional photographer in mind, this Tamrac camera bag needs to be serisouly considered if you are looking to provide protection for your entire professional kit, accessories, and laptop, without sacrificing comfort. I've been really pleased with the Anvil 27 over the last several weeks. Let me break down why.
Build
Build is one of the most important criteria for a backpack intended to carry your hard earned equipment. When traveling in an airport, or hiking the wilderness, photographers need a piece of mind that the many thousands of dollars that they've invested in their craft will be taken care of. That is a big task for one bag. This Tamrac camera bag features a front opening, large main compartment that holds pro-sized DSLR cameras and lenses. The outside of the backpack isn't hard, but in my experience it has provided more than enough protection for the gear on the outer section of the bag. The Anvil 27 features 500D Cordura, and 840D fabric as well, making it very durable. While this fabric seems extremely durable, it also isn't too hard or rigid to the touch, which I find important. Sometimes bags are a little too tough, and it makes opening the zippered compartments harder. The Anvil 27 also has a thick top handle, which is a must when carrying this amount of gear. I need that handle to feel like it isn't going to ever break. So far, I've been very confident with the sewing, handles, and straps of the backpack, and feel like the build is top of the line.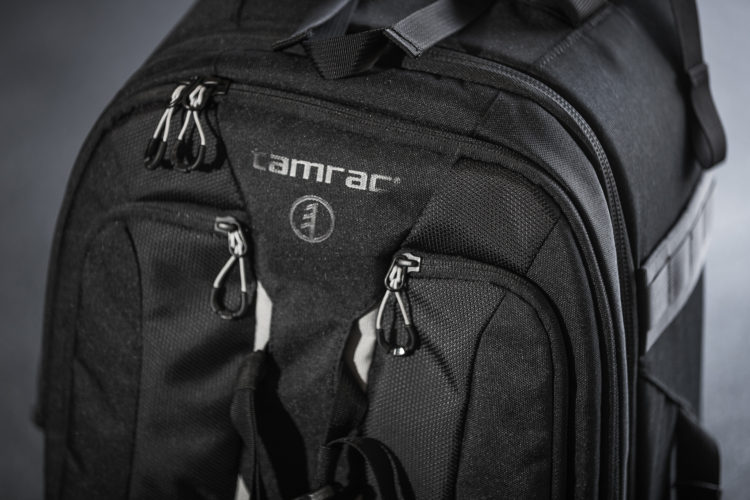 Fit
Overall, the fit of the Anvil 27 Tamrac camera bag is fantastic. I was pleasantly surprised by how comfortable it was when fully loaded. At full capacity, without a tripod attached, had 32lbs of gear in the bag. This included two pro bodies, 4 lenses, 2 flashes, a 15 inch MacBook Pro, and tons of other accessories. Not only were the shoulder straps comfortable, but the waist strap really alleviated a lot of the weight. Because of the design of the removable Arc and M.O.L.L.E. compatible belt system, the waist belt protrudes a little into the small of my back. That provides a fit that conforms exactly to my back, and didn't put extra weight on my back. When carrying that much gear, trust me, little things like that really help. When the bag is lightened up a big to around 20lbs, I barely even notice that it is on.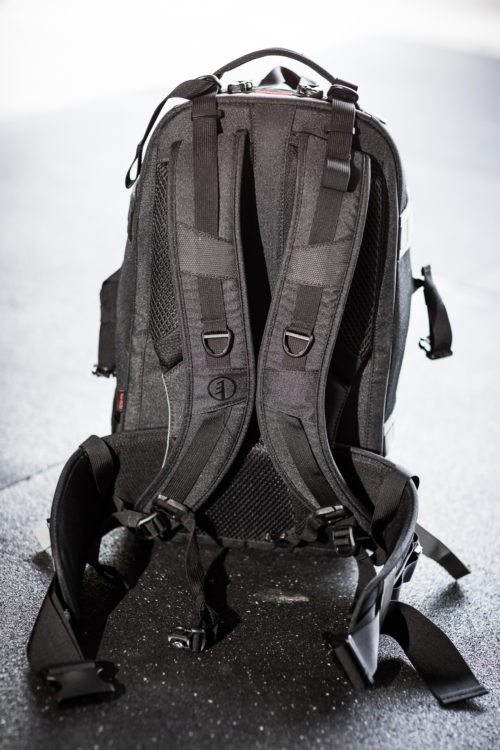 Features
The Tamrac Anvil 27 is a feature rich, adventure/utilitarian bag. Along with the large main compartment, it weighs only 4.8lbs when empty. That is pretty light for a bag of this size. As with many other bags of this caliber, it comes with a weather protective rain fly that can be put around the bag when weather becomes too crazy for your liking. Both sides of the back can accommodate Tamrac's like of accessories, and is also M.O.L.L.E. compatible. The front of the bag also has two butterfly pouches and a zippered compartment near the front bottom of the backpack. I personally put microfiber cloths, or other small items into these pouches. The bottom compartment can be unzipped, and a tripod legs can be put into it, and the top of the tripod can be attached to the front with the used of included straps. The other large front compartment holds has a sleeve that can hold up to a 15 inch laptop, and also has room for other items, such as notebooks, or a few folded pieces of clothing.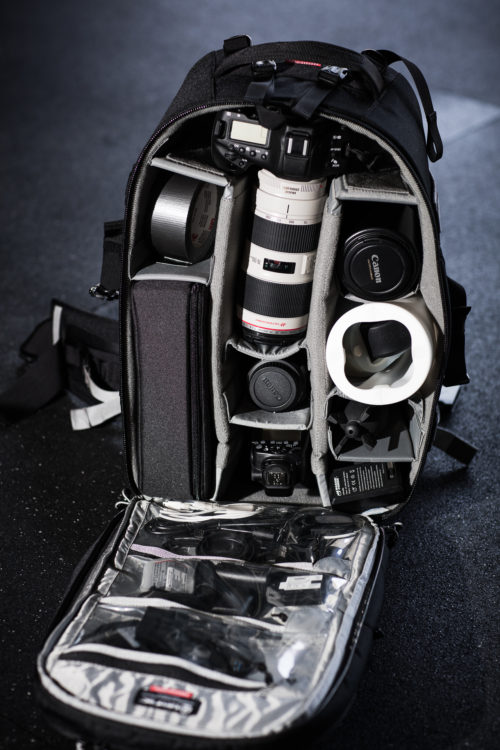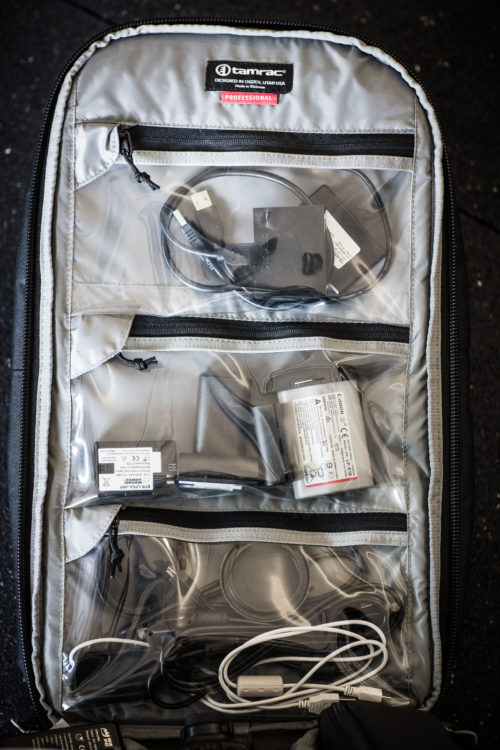 The inner divider section of the bag is deep enough to fit pro DSLR cameras. That is extremely important to a bag like this. I have to be able to carry around my Canon 1DX Mark II, and simply can't do in in a ton of bags, because of their depth. If you have gripped bodies, you'll be fine with the Anvil 27 Tamrac camera bag.
Here's a little added feature that I appreciate. The 3 zippered pouches on the inside of the bag are clear! I can finally see what I've put inside, and it is way easier to stay organized. Many times, companies put that foggy glass styled plastic into this section of the backpack, and I really appreciate the fact that I don't have to open the pocket to see what is inside.
Value
At $289 this Tamrac camera bag provides exceptional space, protection, and durability for the amount of expensive gear that you'll be carrying in it. There is no getting around it, camera bags designed for professional photographers can be expensive. However, Tamrac gives you a fantastic option for what is, in my opinion, a great combination of performance, space, design, and features in a bag that is sub $300. Great job Tamrac.
Bros
Holds my whole kit
Very comfortable
Clear inner pockets
Great value for the money
Cons
Wish it came in more colors
Conclusion
To sum it up, I don't think that you can really go wrong with this bag. If you're looking for a professional grade backpack for your gripped bodies, it will definitely do the trick. It provides enough room to carry an entire kit, and Tamrac really designed the Anvil 27 to be worn over long periods of time without messing with your back. I'm a big fan of this backpack for its solid design and utilitarian purpose, and will definitely be keeping it for a long time.
Tamrac Anvil 27 Backpack
Sometimes you need a backpack that ticks pretty much every box. The Anvil 27 is definitely worth checking out.
BROS
Holds my whole kit
Very comfortable
Clear inner pockets
Great value for the money
CONS
Wish it came in more colors