Tamrac Corona 20 – backpack or sling camera bag
In their day to day, most photographers don't need to carry their entire kit of gear. So while very large bags are definitely needed in a photographer's arsenal, a small backpack or sling camera bag can get more use overall. Finding the right bag for everyday use can be a tough task because there are so many bags out there, but when you find it, the feeling is glorious.
Most photographers don't carry a camera with a battery grip in their day to day shooting, so this allows for the bag to be a little slimmer then there large bag designed for an entire kit. Today I want to bring to you a look at the Tamrac Corona 20, which may be a good option depending on what you are looking for.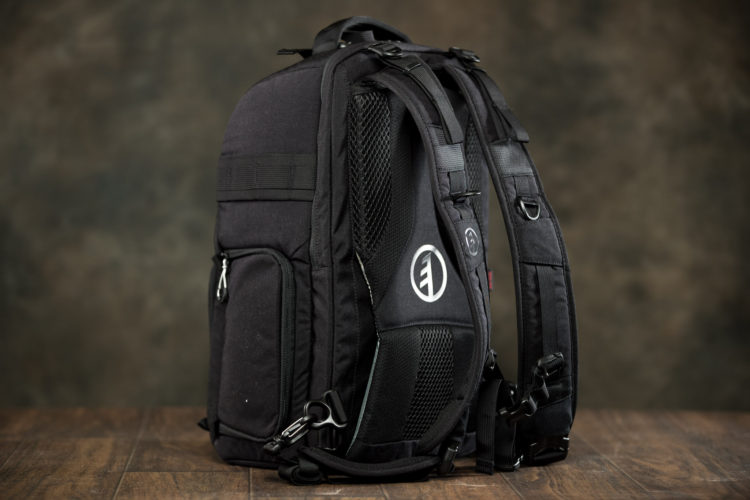 I previously brought to you a review of the Anvil 11 Slim, which is a great bag if you are carrying a DSLR with no battery grip, but still need to carry a few lenses and accessories. The Corona 20 is designed to be a little bit smaller, but give you multiple options for carrying your gear.
Read the Anvil 11 Slim review
Build
Taking inspiration from many of the other Tamrac Lines of bags, the Corona 20 is built very well. Designed to be worn as a day bag, it definitely needs to take the right boxes when it comes to toughness and durability. It has the same semi hard outer shell as the Anvil series of bags, and the straps are very similar as well. Hey robust top handle allows you to carry anything fairly easily. The material on the outer portion of the bag is also weather resistant, but just in case the weather gets too crazy Tamrac also provides a rain cover. The outer shell and zippers are built like tanks, and I would expect nothing less from Tamrac.
Also check out the video review!
Fit (and what fits)
Seeing as the Corona 20 is a pretty small bag and you won't be able to load this up with gear that is too heavy, it is really comfortable to wear. The padding on the back of the bag is nice and robust, and the shoulder straps are padded just enough for this size bag. I do feel as if the Corona 20 where's a little bit better as a sling than a backpack for my body type. As an added plus, that makes it a little bit easier to reach my gear as well. I could easily load this bag to its absolute brim with the heaviest gear possible, and wear it all day. I'm not sure if that is because I am used to wearing heavier bags, but I would not be worried about the weight of this bag.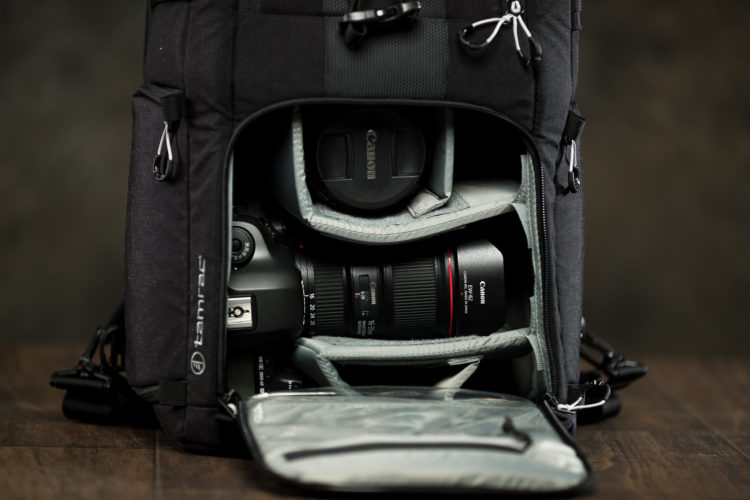 Features
The Corona 20 Sports a three-way access system in order to make it easier to get your gear in or out for quick shooting. I love bags that use this feature. Went out for the day, I don't need everything to be locked tight add out of my reach, because quick shooting is more important to me. Because the Corona 20 can be converted into a sling camera bag, shooting is quick and easy. Simply slide the bag around, unzip one of the side access panels, and pull out your camera with lens attached. That leads me into what can fit into this bag. If you are a mirrorless shooter, you could easily fit a camera with two more lenses, flash, and your charger. If you are DSLR shooter, you can fit a 5Ds/5D Mark III with a 70-200mm F/2.8L IS II attached, smaller lens, and a few accessories. When I put the 70-200 attached to the body in the bag, it did squish some of the other compartments, so be aware of that. However, lenses with hey smaller diameter will do great without pushing on the other compartments.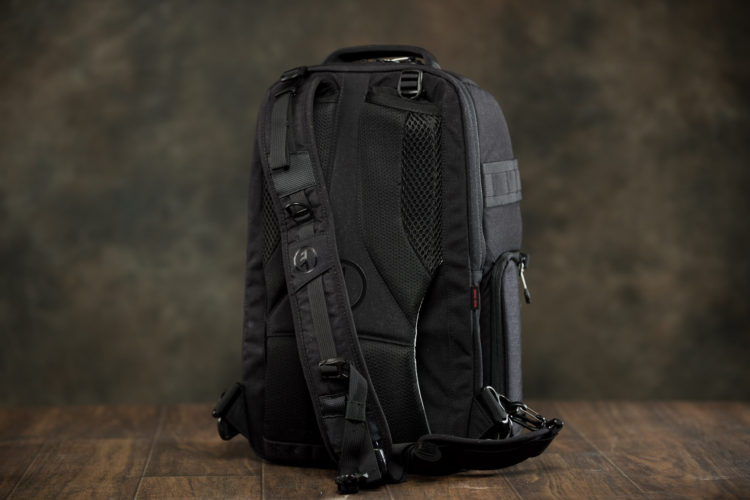 Just as with their other professional bags, Tamrac includes straps for a tripod. That's an added plus, because I think that this bag could suit a landscape photographer very well. He or she could easily pack a full frame camera with one lens attached and one or two other lenses. A tripod can be secured to the front of the bag. In addition to these areas for carrying gear, There is an additional pocket on the top of the bag that can easily carry water, snacks, or more accessories (Syrp timelapse gear). Wow I typically don't carry a laptop on a day trip, having the option is always a plus. You can fit up to a 15 inch laptop in the Corona 20, but I heavily recommend a slimmer laptop like the MacBook Pro. I think that this sling camera bag is a fantastic option because of that.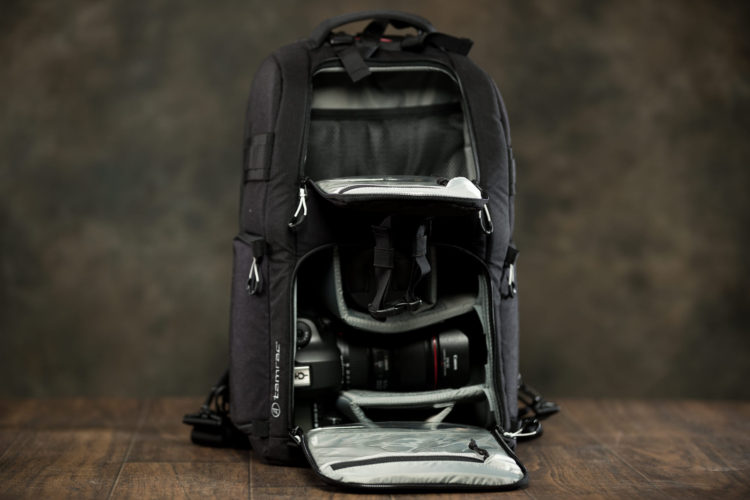 Value
The Corona 20 runs about $175. With its professional build quality, just the right amount of space, and versatility with the straps and three-way access system, I think that is a fair price. While you can't carry cameras with groups, I don't think that is a downside.
Conclusion
If you're a photographer out for the day, a landscape photographer without a large kit, or are an amateur with your first Rebel camera and want a sling camera bag that can stick around for years, the Corona 20 could be a great option for you. Please check out the current pricing at the top of this article or just below. If you have any questions about the bag, Feel free to leave a comment below or use the contact page to send me a message.