Versatile zoom at a great price
Let's get this out of the way. The Tamron 28-75 for Sony E-Mount is easily the best bang for your buck on the market if you're a Sony E-Mount shooter, and that is by a long shot. If you want an f/2.8 aperture, good autofocus, a small package with a $799 price tag. There's nothing else like it.
We're at a tipping point in the evolution of mirrorless cameras and lenses. No longer are the bodies wildly expensive across the board, and the lenses are more diverse than ever at more affordable prices. Until the Tamron 28-75 came along though, I don't think that anyone thought that a professional f/2.8 zoom was attainable for $799. Let's dive into my thoughts on this little powerhouse.
Pros
Small and compact for f/2.8 zoom
Perfect all-in-one lens IMHO
Very sharp
Good autofocus in photo and video
Well priced
Light
Cons
Build not as good as Sony 24-70 GM
I question the weather sealing just a bit
Tamron 28-75: Build Quality & Ergonomics
Ergonomically, the Tamron 28-75 is fantastic, and is even smaller than the beastly Sony 24-70 GM. Because of its widest focal length starting at 28mm, Tamron has said that they have been able to make this lens much smaller than typical 24-70mm lenses. If 24mm isn't needed, you'll love the size savings that the Tamron 28-75 has to offer.

The Tamron 28-75 comes in at 1.21lbs, and the Sony 24-70 GM at 1.95lbs. The weight savings are surely helped by its use of lighter plastic, which leads us to its build. Compared to the $2200 price tag of the Sony, we knew that we would have to give up some areas in order to hit that magical $799 price point. Build it definitely feels like that area. While not built poorly, the Tamron 28-75 build quality is definitely not as good as its Sony counterpart. That's okay though. At such a stark contrast in price, I think it is fairly obvious that most people are willing to give-and-take in a few areas. While the build quality is definitely lesser than the Sony GM, it isn't bad. It's finishes still feel great, and compared to some other Tamron lenses, it seems to be much more scratch resistant, and that includes the hood.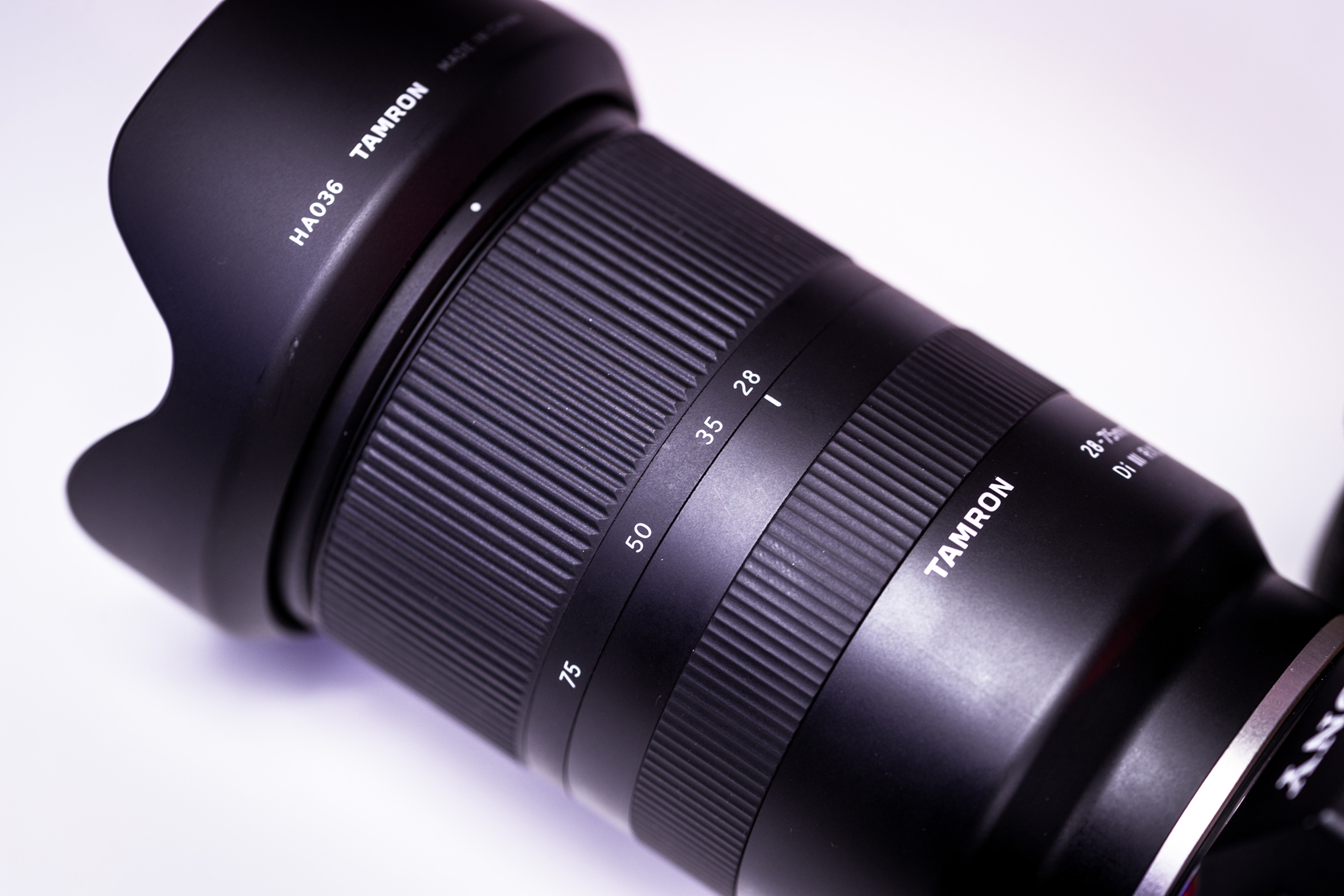 Tamron has long employed a reverse zoom and manual focus ring, with the zoom ring being in the front of the lens. On longer lenses made for DSLR cameras, it has taken me quite a while to get used to. However, because this lens is so small it doesn't seem to affect me as much as I thought it would. Comparing the placement of the zoom ring on the Tamron versus the rear zoom ring on the Sony, the Tamron's zoom ring is only about an inch further forward. The Tamron 28-75 is also a focus by wire lens, so the manual focus ring does not affect the focus even if it is turned. That being said, the zoom ring shouldn't confuse you at all on this particular lens. The resistance on the zoom ring is good, and a little easier to turn than the Sony 24-70 GM. I love using this lens on a gimbal, so being able to zoom in without messing with the gimbal's motors is fantastic. There is still enough resistance to where it doesn't creep at all though.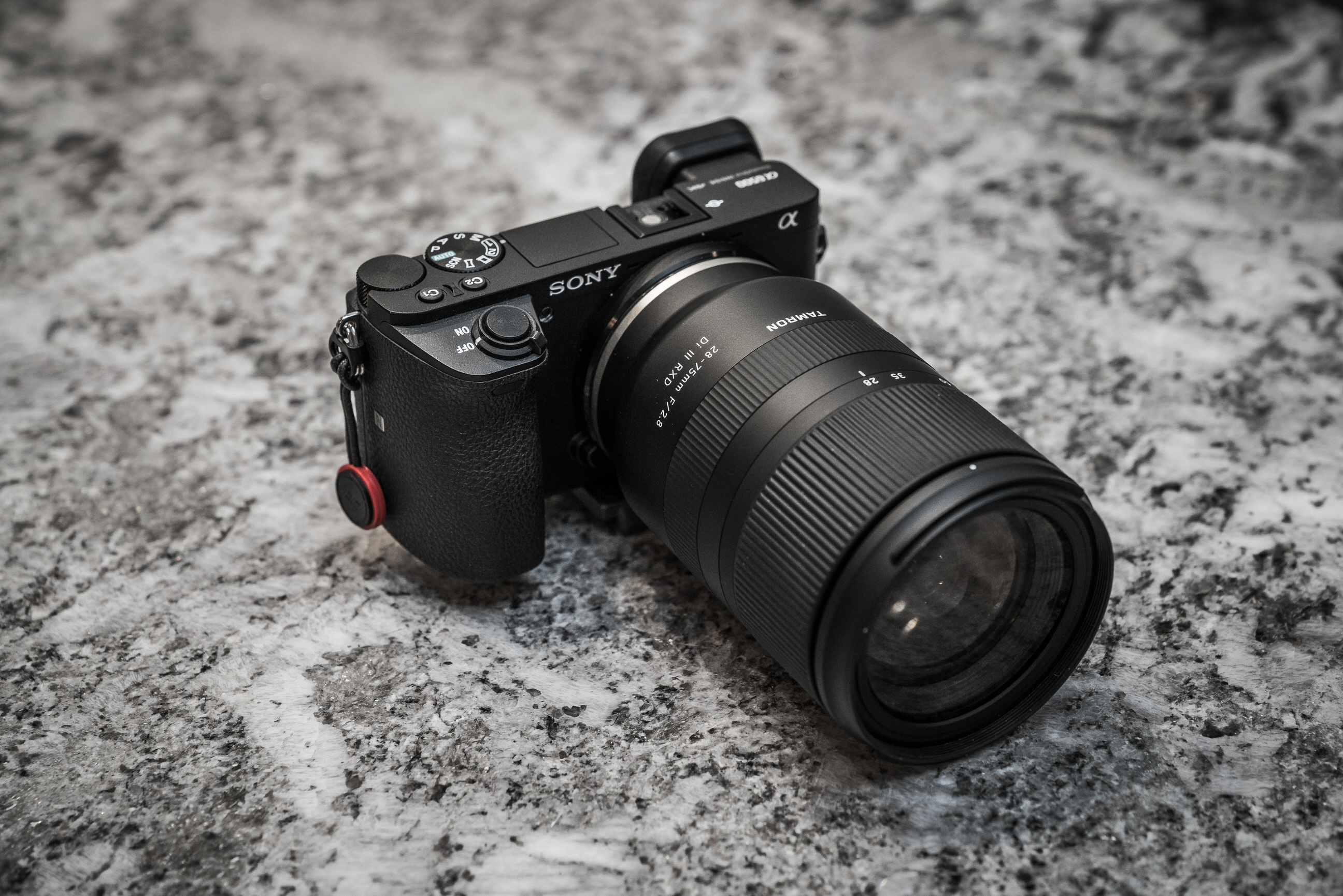 It even balances well on the Sony A6500
The front filter thread is 67mm on the Tamron 28-75, which makes using ND filters fairly inexpensive. My advice is to buy the largest filter possible and use step up rings. This will save you a ton of money in the long run.
Ergonomically, the Tamron 28-75 is perfect in my opinion. It is light enough without making the camera front heavy, and hefty enough where it feels good in the hand. The zoom ring is placed well even though it is at the front of the lens. If I had to choose one single lens to take out me, and size and weight needed to be considered, this would be the lens I would choose every time.
Tamron 28-75: Performance
I have been blown away by the image quality coming out of this $799 dollars lens. Not only is the autofocus fantastic, but in conjunction with Sony's eye autofocus it nails focused quite often.
Autofocus
The autofocus on the Tamron 28-75 had the Internet buzzing for a little bit when the first lenses were released. I'm happy to say that after a quick firmware upgrade, I haven't experienced any adverse autofocus issues at all. While shooting photos, the Tamron 28-75 is snappy and accurate. I would say that it is about 95% as fast as the Sony 24-70 GM. The Sony grabs eye autofocus possibly a little faster, but it is barely noticeable.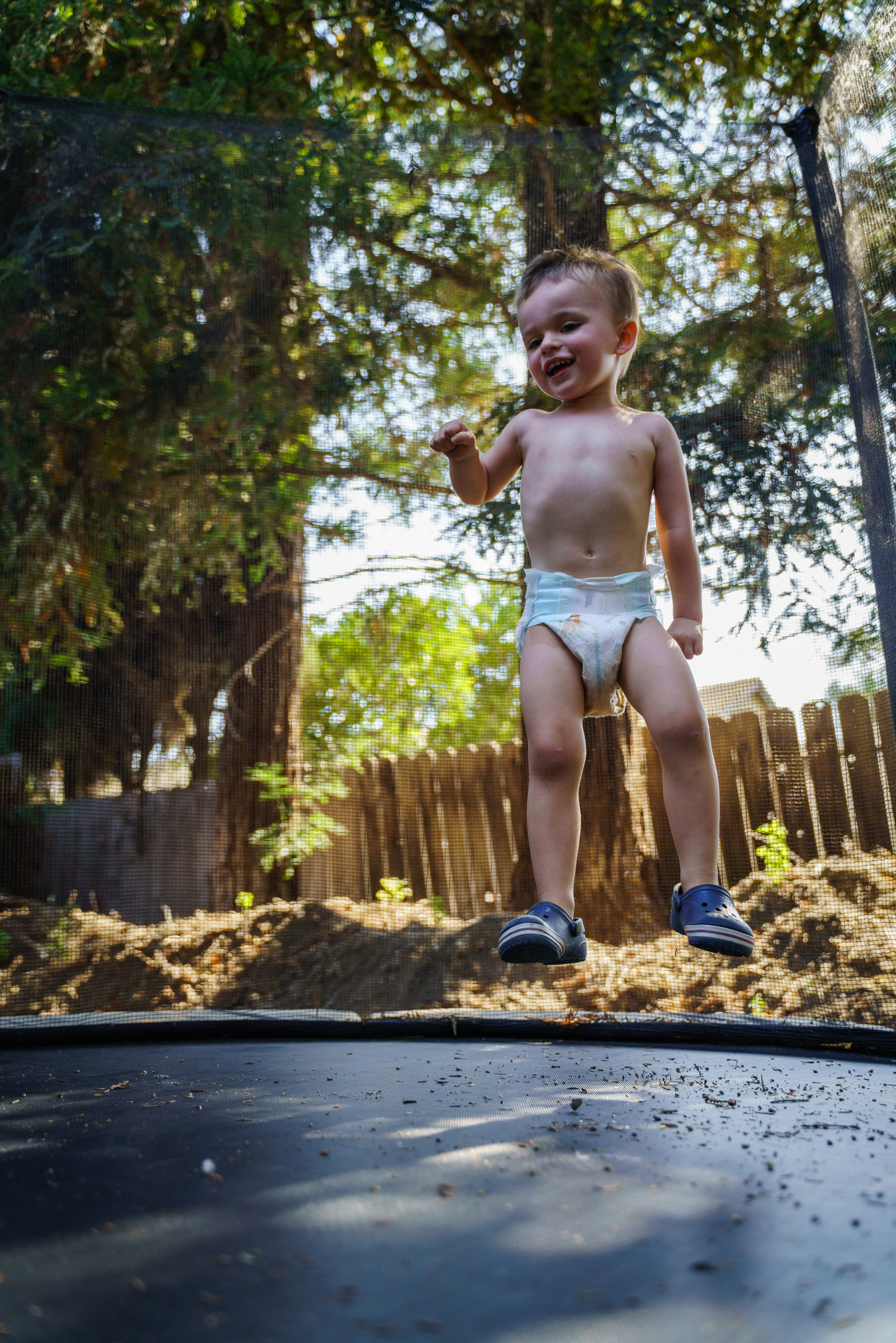 Autofocus on theTamron 28-75 tracks subjects easily.
Autofocus when shooting video had me pleasantly surprised after the firmware update. I have found that I can rely on the Tamron 28-75 just as much as on a native Sony lens, and in some instances even more. Autofocus grabs faces easily throughout the entire zoom range. Once again, if 24mm isn't needed, this may be the perfect gimbal lens.
The Tamron 28-75 is a great gimbal lens.
I've found the bokeh, contrast, colors, and chromatic aberration to be pretty good as well. One area where the Tamron 28-75 struggles is in its distortion at wider focal lengths. 28mm shows some fairly significant distortion. This can easily be corrected when shooting photos, but could be a bigger issue if close to your subjects when shooting video. Both can be corrected, but it is more time consuming when shooting video.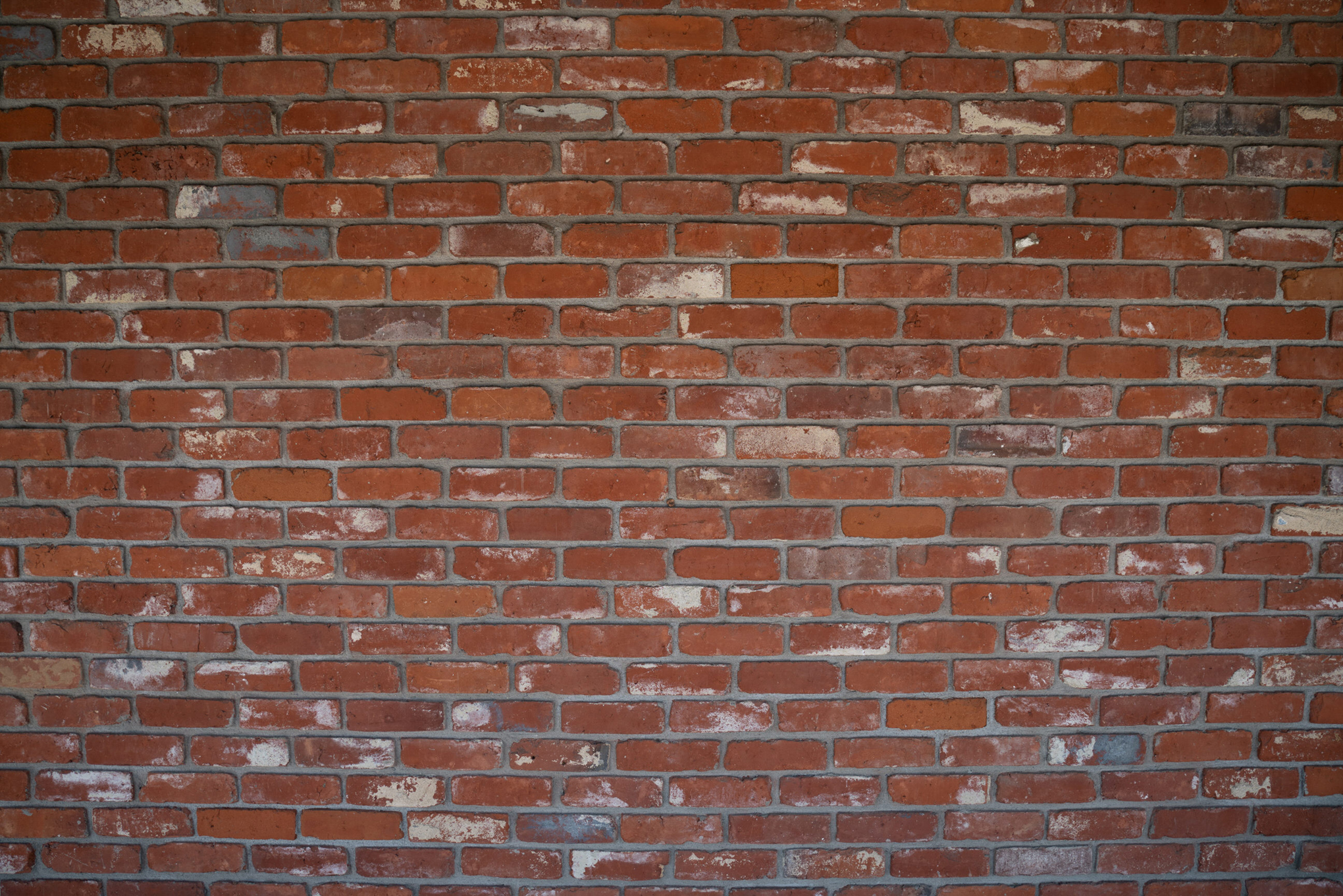 28mm distorion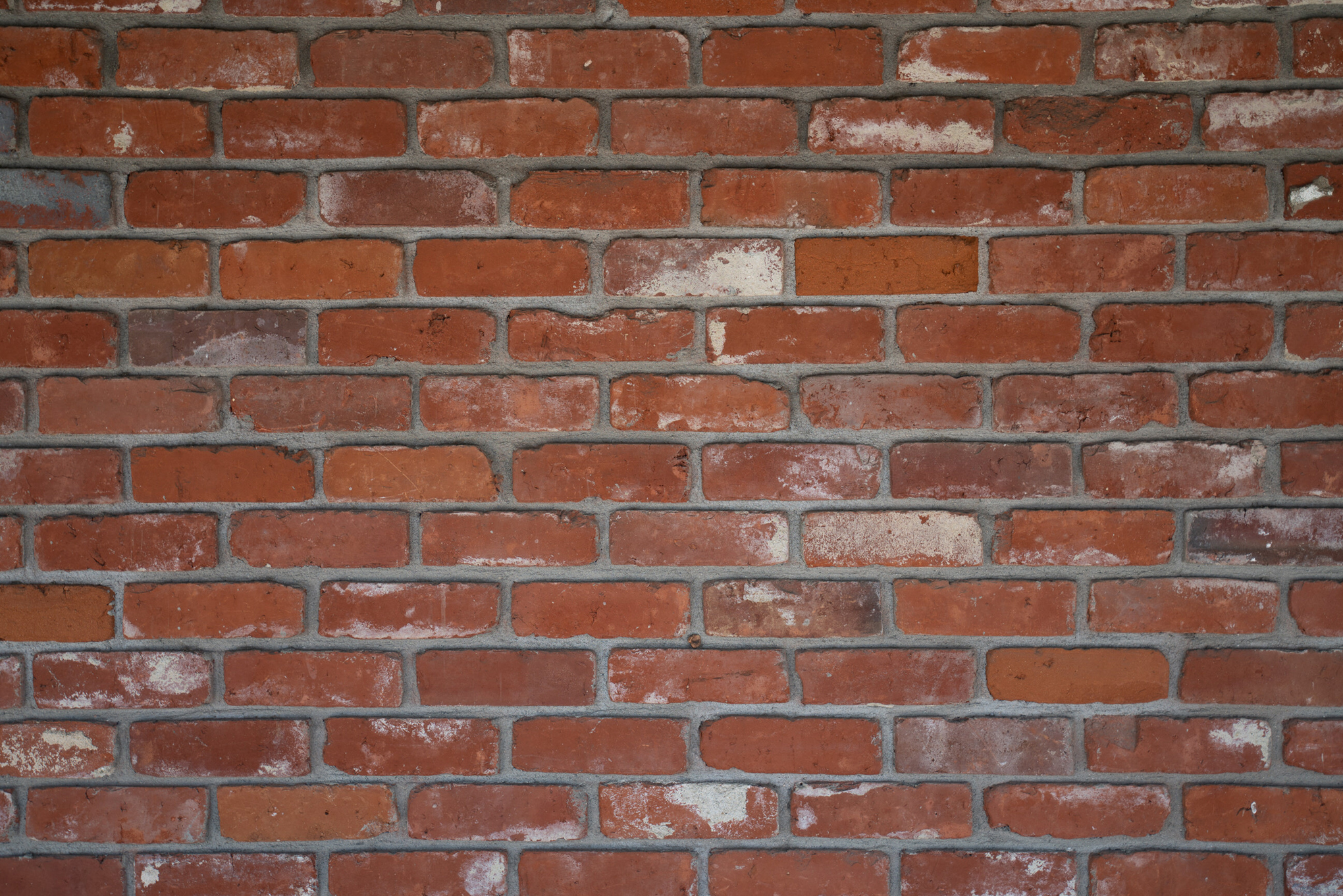 50mm distortion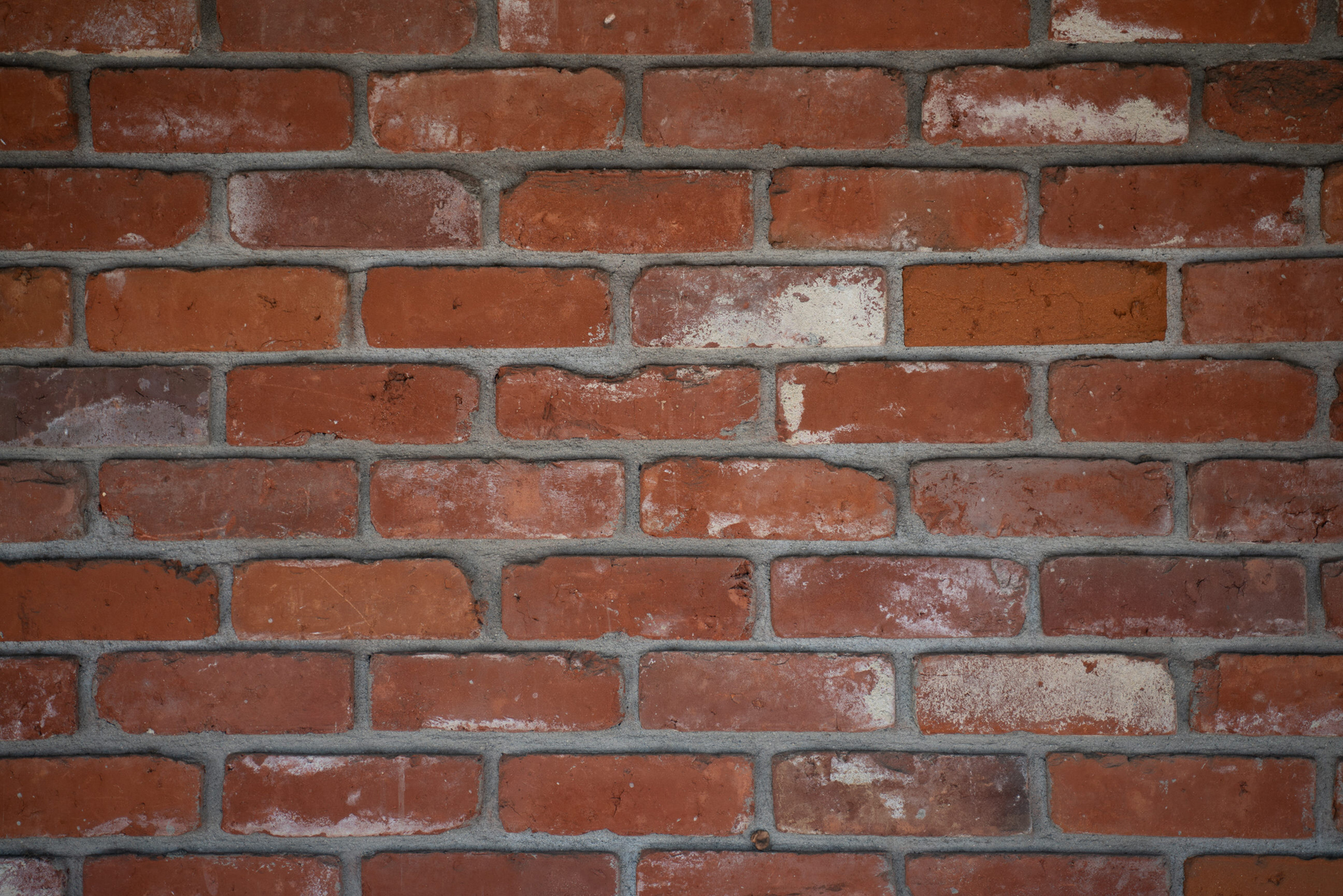 75mm distortion
The bokeh is pretty good, and much better that the Sigma lenses I've tested. The smoothness resembles the Sony lenses much more, and is very managed. Chromatic aberrations are also managed very well, and you should feel confident shooting into contrasty situations.
TheTamron 28-75 shows nice colors and contrast.
Sharpness
The sharpness of the Tamron 28-75 is fantastic. While the edges of the frame, especially at 28mm show a much sharper falloff in resolution, the center of the frame holds strong against the Sony 24-70 GM at most focal lengths. I do feel that the GM gives a much more even image, but honestly one has to really be looking to notice. Your clients most likely won't notice this, and is well worth the $1400 in savings in my opinion. Once again, unless you're using 24mm, the Tamron is a better choice. 24mm is considerably wider, so if you're a vacation landscape photographer or vlogger who likes a tighter focal range, 24mm would be sorely missed. At 75mm the Tamron 28-75 is extremely sharp, and 75mm is encroaching on a nice portrait length. Pair that with Sony's eye autofocus, and it's a fantastic combination.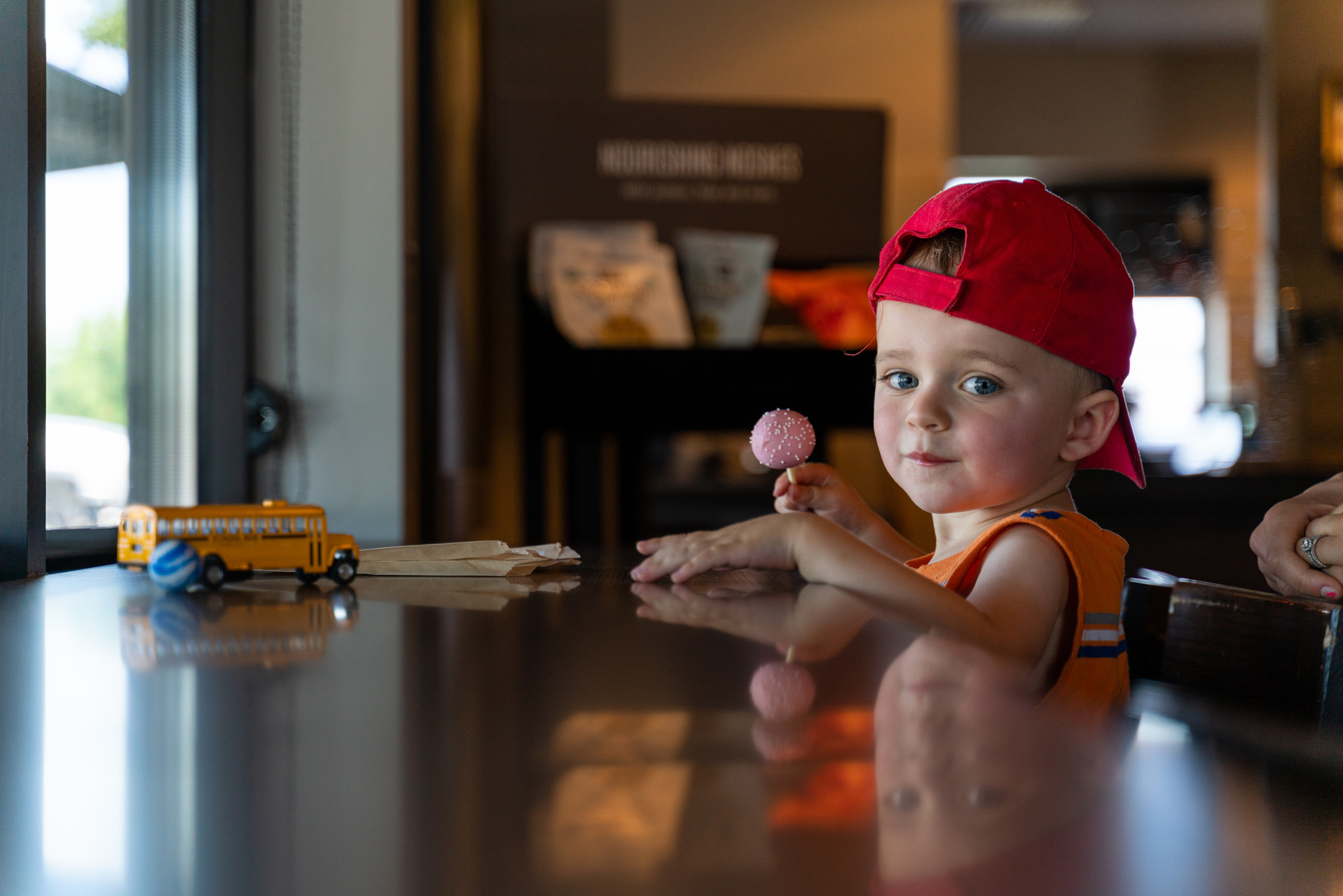 The Tamron 28-75 nails eye autofocus.

Tamron 28-75: Other Cons
Cons on the Tamron 28-75 are few and far between, but here are a few that I found while shooting with this lens. First, when shooting video I have found it to be extremely helpful to have the customizable button that Sony's G Master lenses have. I like to use that button as a focus hold. I get the lens out of focus, hold the button, then let go and let the auto focus of the lens rack into focus. It's a nice effect that is harder to achieve without that button. There also isn't an AF/MF switch, making you head into the menu custom buttons on the camera itself to switch modes.
Tamron 28-75: Overall Experience & Conclusion
If I had to pick one lens under $1000 for the Sony E-Mount system, I'd pick the Tamron 28-75 most of the time. No, it isn't a f/1.4 prime, but it does a fantastic job in many areas. It is a joy to film with on a gimbal with its excellent autofocus. Images coming out of the Tamron 28-75 are sharp, contrasty, and have nice colors. It comes in only $799. Yes, there are a few drawbacks, but at $1400 cheaper than its nearest competitor, those drawbacks are perfectly okay.
If I'm recommending one camera body and the one lens to someone in 2018, it's going to be the Sony A7III and Tamron 28-75 every time. This combination covers so many different shooting situations, and will deliver professional results for a total under $3,000. The Tamron 28-75 is in such high demand that it is hard to get ahold of as I'm writing this review in August 2018, proving its quality. Buy this lens and keep it in your kit. You'll be happy that you did.

Tamron 28-75 f/2.8
The Tamron 28-75 f/2.8 is easily the best wide to normal length zoom for Sony E-Mount. It is sharp with great AF. Shut up and take my money!
PROS
Small and compact for f/2.8 zoom
Perfect all-in-one lens
Very sharp
Good AF in photo and video
Well priced
Very light and well balanced
CONS
Build not as good as Sony 24-70 GM
I question the weather sealing





Versatile zoom at a great price