Extremely sharp
Tamron has been doing big things lately with their SP G2 line of lenses. I recently reviewed their new 70-200mm f/2.8 Di VC G2 lens and also their 150-600mm f/5-6.3 Di VC G2. For me, those lenses have taken Tamron to a new level. I believe that they're doing very well right now because they are making high quality glass at affordable prices.
Another G2 style lens that I've actually been using longer than the other two is the Tamron 90mm SP f/2.8 Di VC Macro. I've shot almost every blog product on this website with this lens, and it is my go-to product photography lens. Since I've been shooting with it for over a year, I figured it was time for a proper review. I hope you enjoy, and are as pleasantly surprised as I was.
Tamron 90mm f/2.8 Macro
Pros
Extremely sharp
Great build quality
Weather sealed
Great image stabilization
Nice manual focus ring
Renders colors pleasantly
Priced well compared to the Canon 100mm f/2.8L Macro
Cons
Slower AF performance at close distances and in continuous AF
Build Quality and Ergonomics – Tamron 90mm f/2.8 Macro
Keeping in line with the rest of their SP G2 lenses, the Tamron 90mm macro also features a nice quality build and ergonomic feel. Unlike many other luxury lenses, this lens is made of mostly metal and high-quality materials, but remains relatively light at the same time. As with other Tamron lenses, I wish they made the lens hood out of a different material, as the plastic is prone to marks and scratches, unlike the rest of the lens. Coming in at 1.34 pounds, it easily beats other portrait lenses in weight. Handholding this lens is no issue all. Its filter size is very small at 62mm, and using a step-up filter for your existing filters should be a breeze.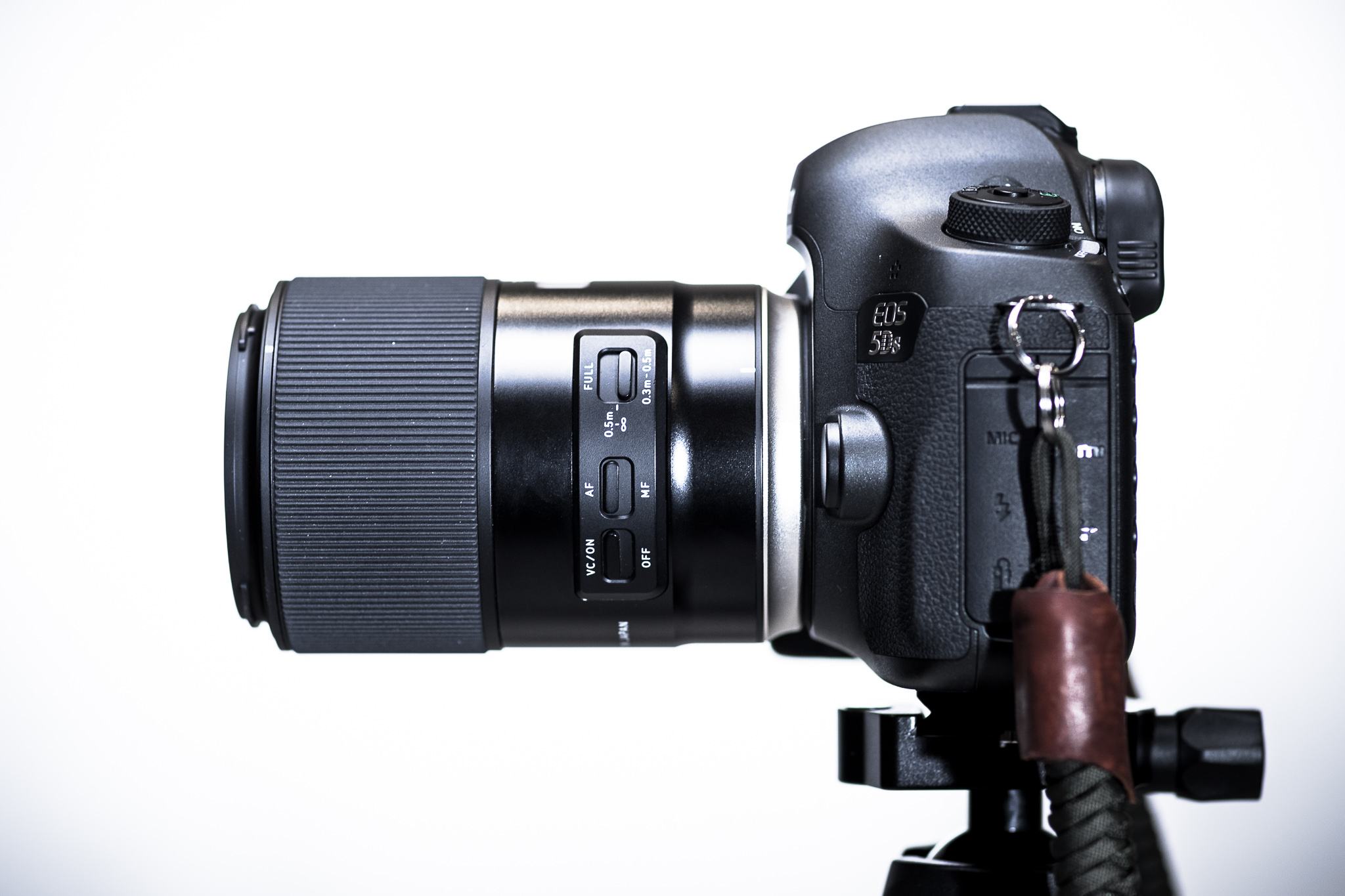 Tamron 90mm f/2.8 Macro ||

USA

||

CANADA

||

UK

||

ADORAMA
Weather sealing has also been added to the Tamron 90mm macro, which makes it pretty versatile. There are situations during the winter when I want to use my Canon 85mm f/1.2L outdoors, but the weather is just too wet to risk it. It is nice to know that I can throw the Tamron 90mm macro on my 1DX Mark II and not worry about it getting a little wet, since it also functions as another portrait prime lens, albeit with a more narrow aperture.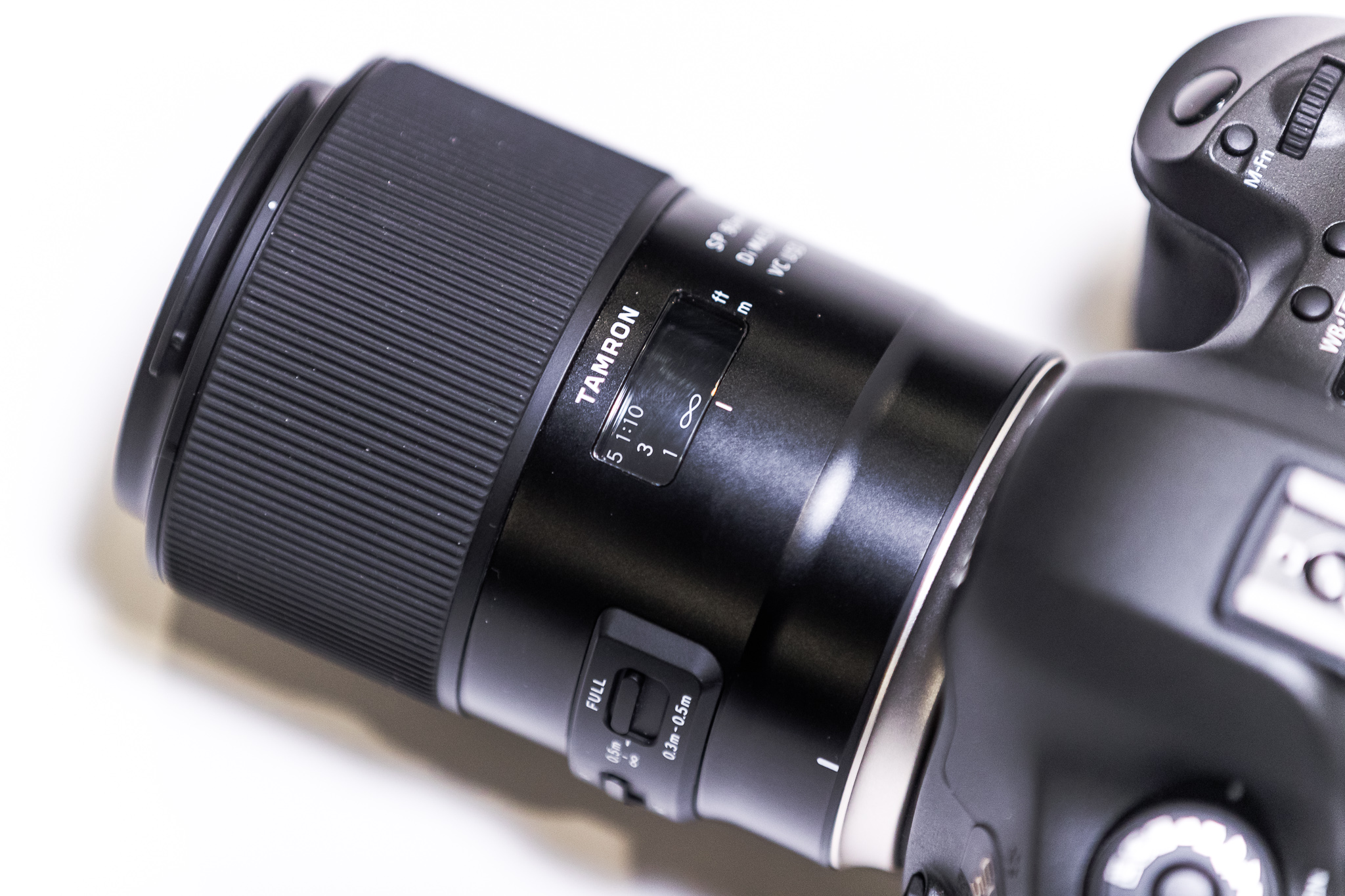 The focus ring on the Tamron 90mm macro is extremely well dampened, as any focus ring on a macro lens should be. In certain situations, especially when adapted to my Sony A7rII, I'd rather use manual focus. It's nice to be able to nail manual focus with a smooth manual focus ring and the camera's manual focus assist features. It is wide, grips nicely, has a good amount of travel to it, and is just easy to use.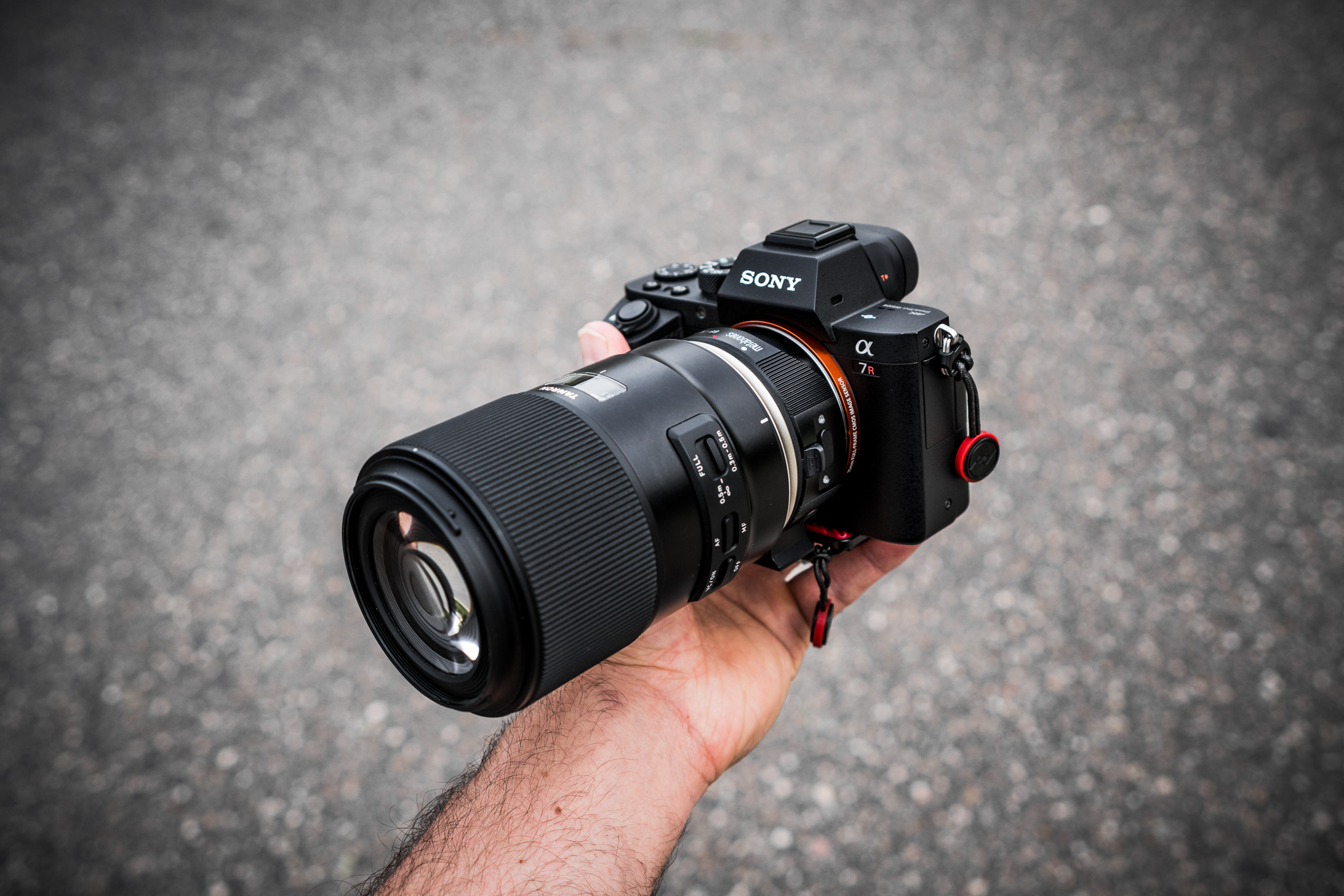 Tamron 90mm f/2.8 Macro – Features
The lens has an aperture range of f/2.8-32, which is an extremely narrow aperture on the small end. With any lens, you'll see diffraction at those apertures, so focus stacking if you're shooting macro would be a better option to get the entire image in focus. Tamron has put three switches on this lens. The first is their vibration compensation on/off switch, which is typical for their recent round of G2 lenses. The second switch is for autofocus/manual focus. The third is a focus-limiting switch, which is the most important switch on the Tamron 90mm macro. This switch allows for much faster focus time when shooting macro.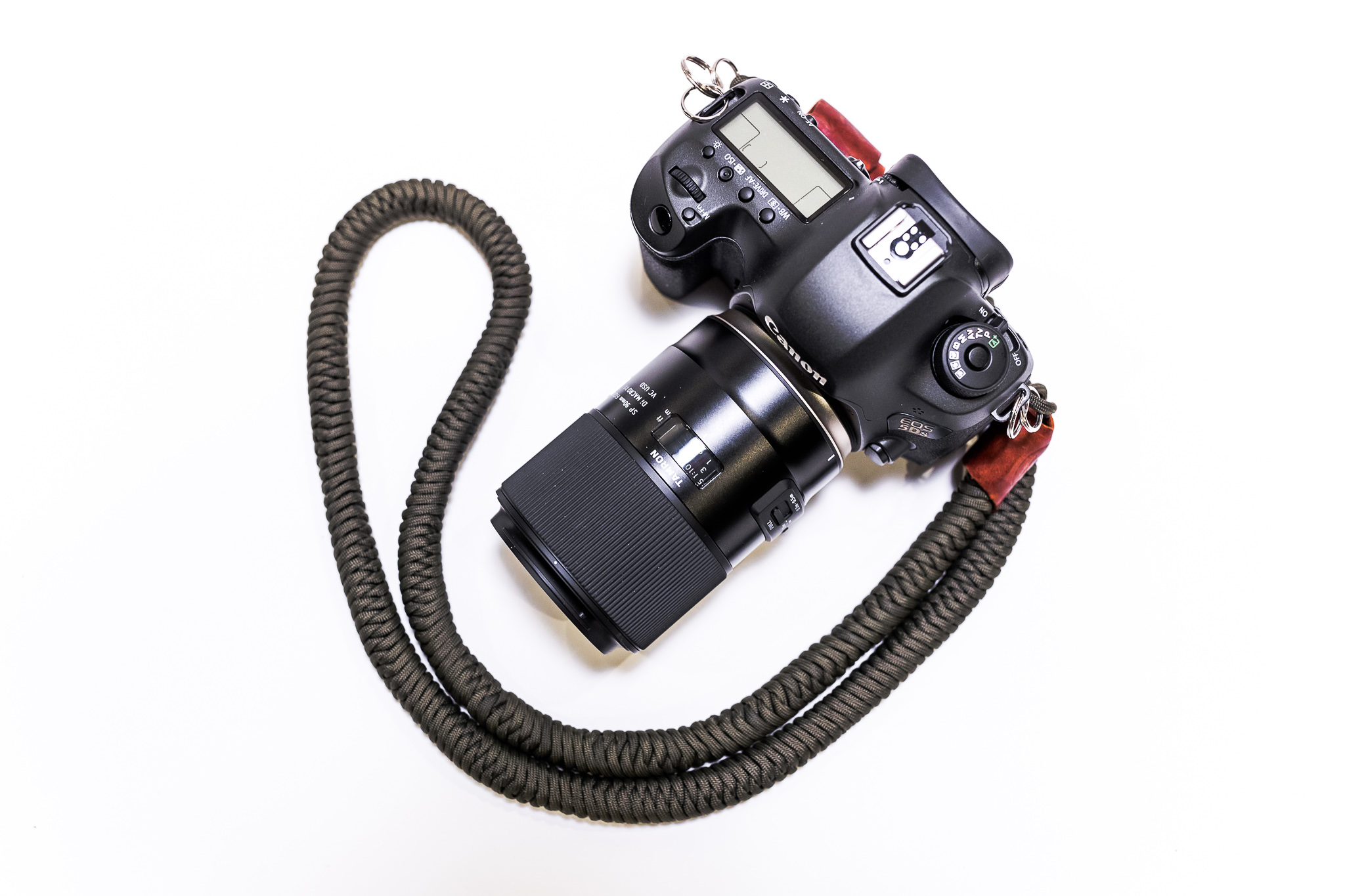 I would highly encourage you to not even consider a macro lens that does not have some form of image stabilization. Tamron's vibration compensation is some of the best image stabilization in the business. While this lens only opens its aperture up to f/2.8, when shooting subjects at such a close distance the depth of field is going to be thinner than any telephoto lens at a wider aperture. Hand shake will also be extremely prevalent, hence the need for great image stabilization. I find it very easy to hand hold macro shots with the Tamron 90mm macro lens, which is a testament to their fantastic vibration compensation technology. Having such great stabilization allows for maximum detail and sharpness to be achieved.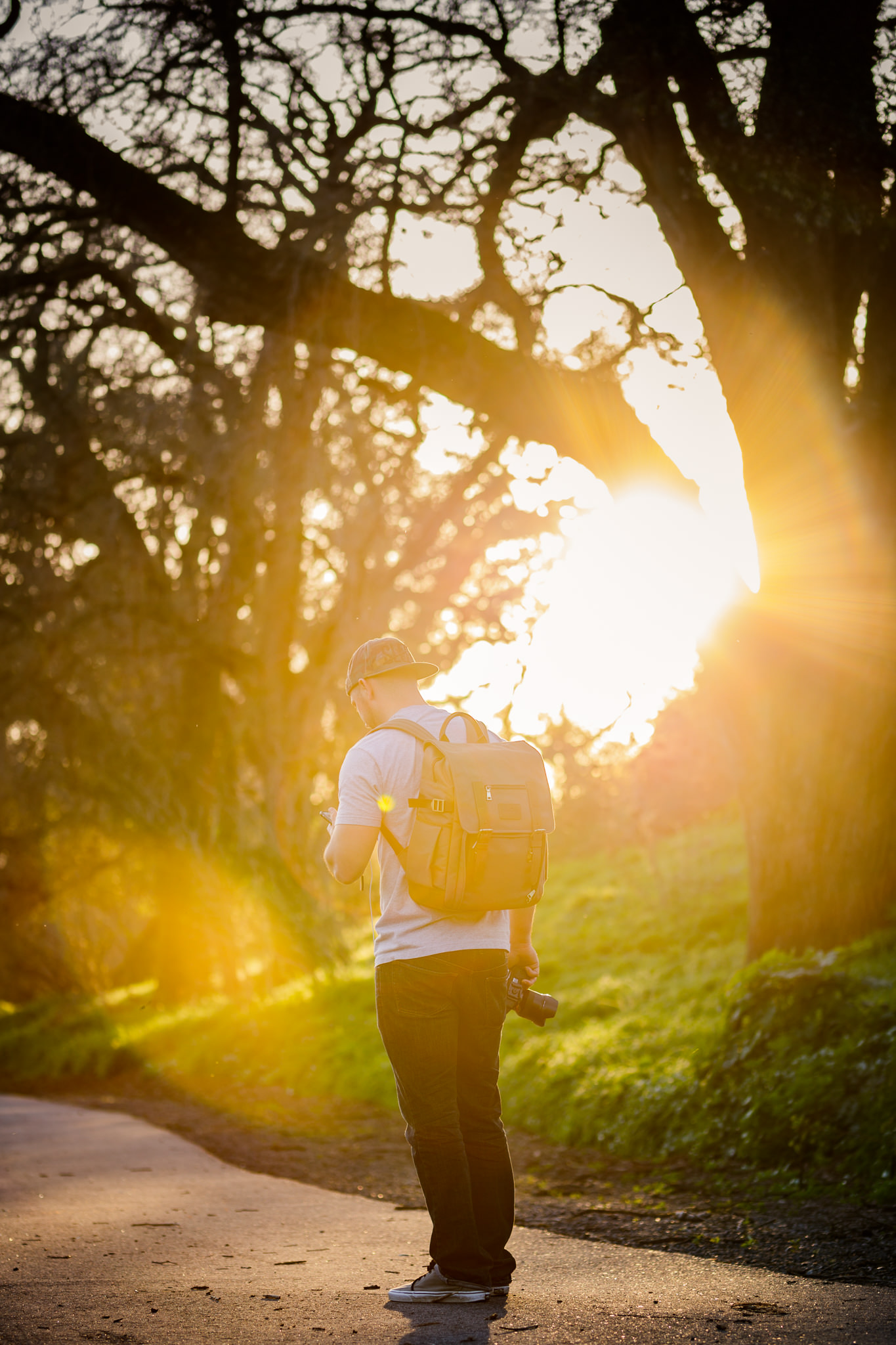 Tamron 90mm f/2.8 Macro – Performance
Sharpness
The features and ergonomics are great, but a macro lens needs to perform. Macro lenses have long been known for their sharpness, and the Tamron 90mm macro is no different. The sharpness coming out of this lens, especially for its $650 price, is unreal. I own a slew of Canon L series lenses, and the Tamron 90mm macro is easily on par with their top performers in this focal range. As a macro lens I would put it up against the Canon 100mm f/2.8L any day and feel good about it. It is an astonishingly sharp lens, one that you will be pleasantly surprised by. If product photography is what you will be shooting with it, you will be glad you made the purchase, especially at this price range.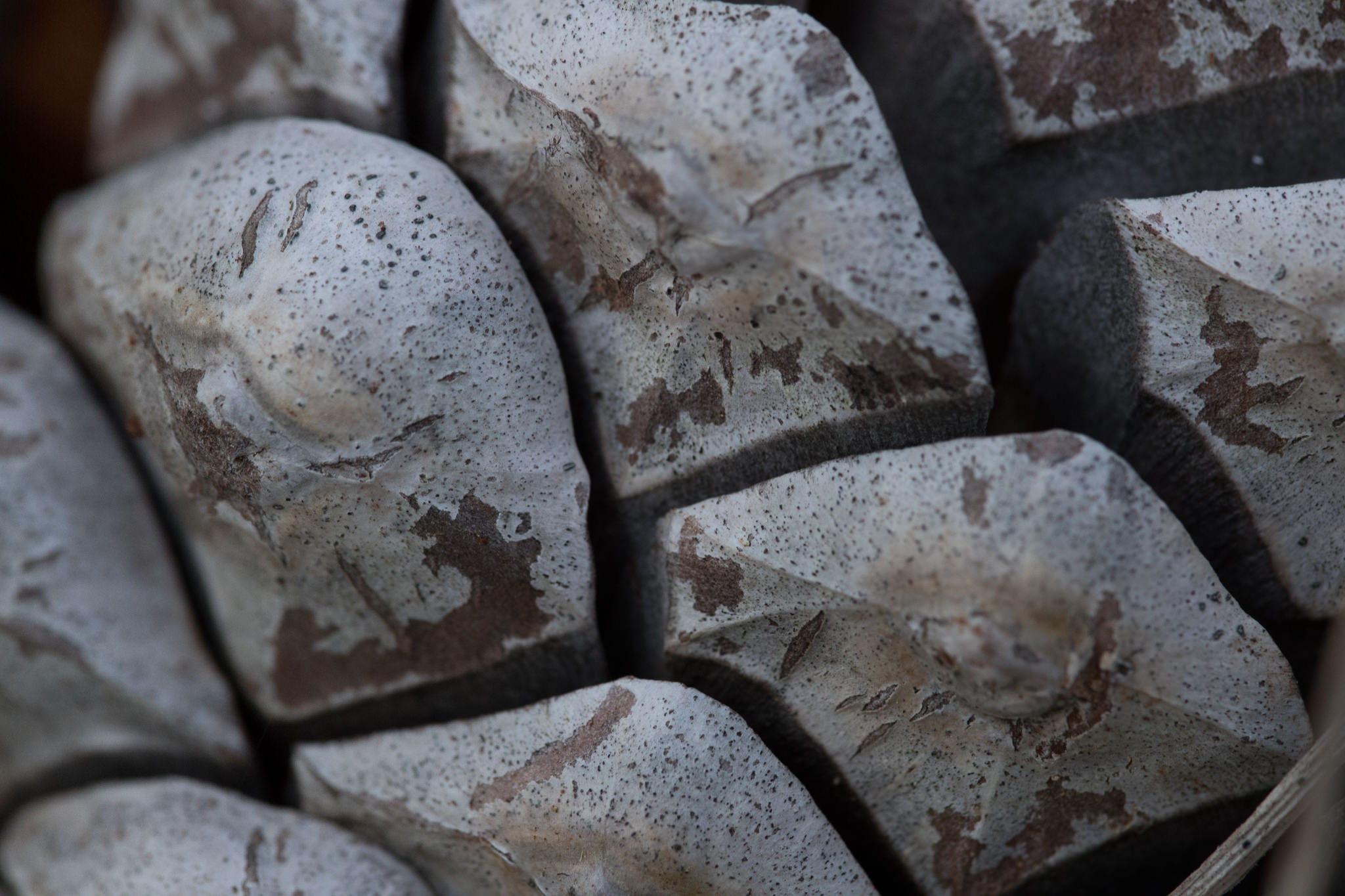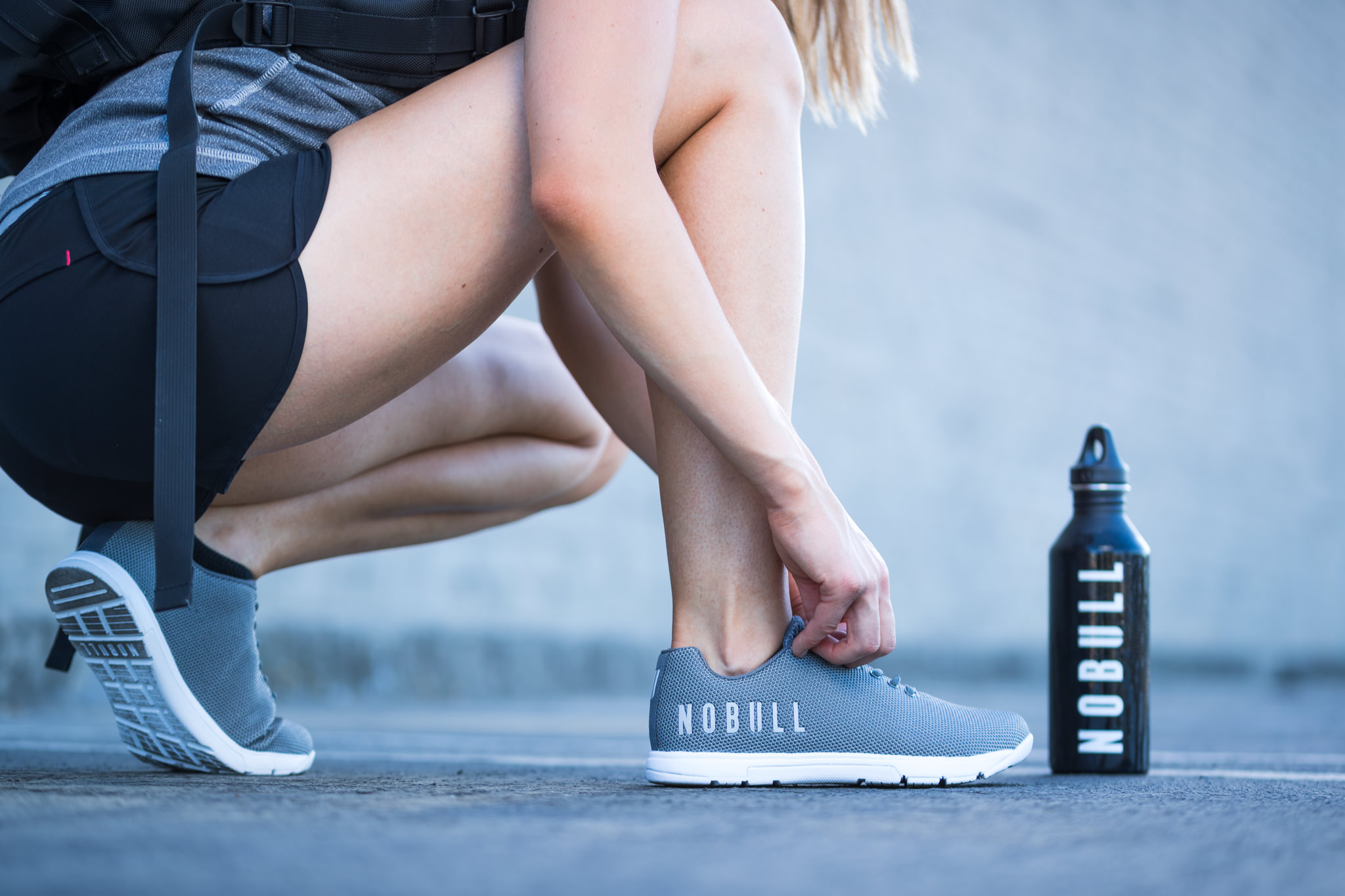 Autofocus
It isn't really fair to judge the autofocus performance of a macro lens the same as other lenses in the same focal range. Macro lenses have a tough job of needing to focus at almost microscopic as well as typical distances. If you set the focus limiter switch to full, and want to shoot a moving subject in continuous autofocus, you are going to have issues. That is not what this lens was designed to do. You will get a jerky, jumpy autofocus in that scenario. However, if you are using it as a macro lens, the autofocus will be perfect four the still subjects you're trying to shoot. As portrait lens, autofocus speeds will be average. The Tamron 90mm macro wasn't meant to be a sports lens, so don't use it like one. Its sharpness is astonishing and autofocus is decent if you use it for its intended purpose.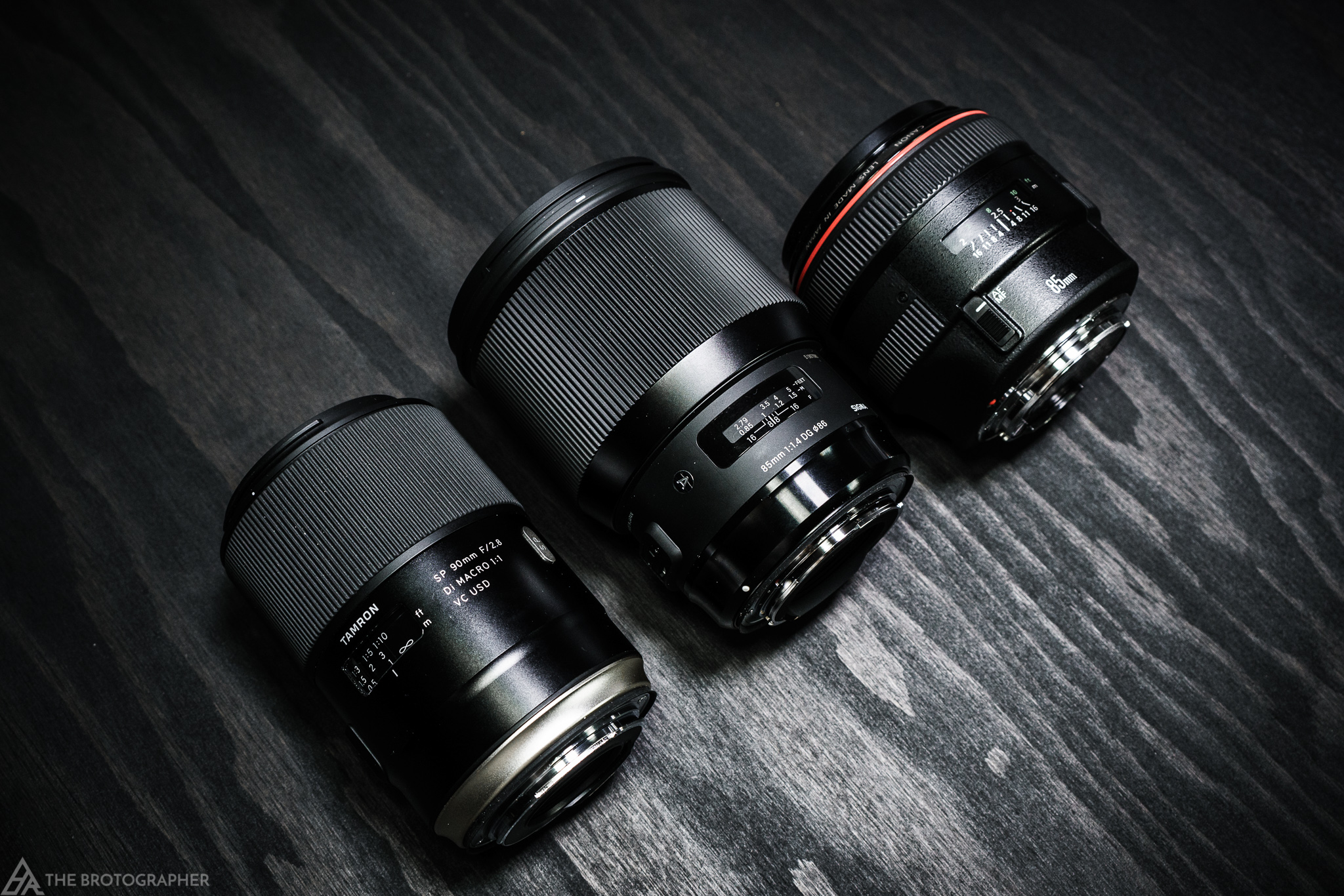 Tamron 90mm f/2.8 Macro ||

USA

||

CANADA

||

UK

||

ADORAMA
As a video lens, its autofocus performance has a little bit different. I highly recommend keeping the focus limiter switch off the "full" designation, as I have found that performance is worst in that position. If you were shooting macro video, keeping the limiting switch in the shortest range is key. Anything other than that, and I would recommend setting it to the .5m-infinite position. When limiting focus in this way, the autofocus performance while shooting video isn't half bad, especially when paired with Canon's dual pixel autofocus.
Bokeh
When shooting macro subjects, the bokeh that can be achieved with this lens is astonishing, even at an f/2.8 aperture. As you may know, the closer you are to your subject, the more out of focus be background will appear. Since you're able to achieve an extremely short minimum focus distance, backgrounds will literally disappear into nothing. As a portrait lens, the bokeh is pleasing and smooth, but you won't be able to achieve the blur that would with an f/1.4 lens at the same distance. Overall, the bokeh on the Tamron 90mm macro is smooth and uniform.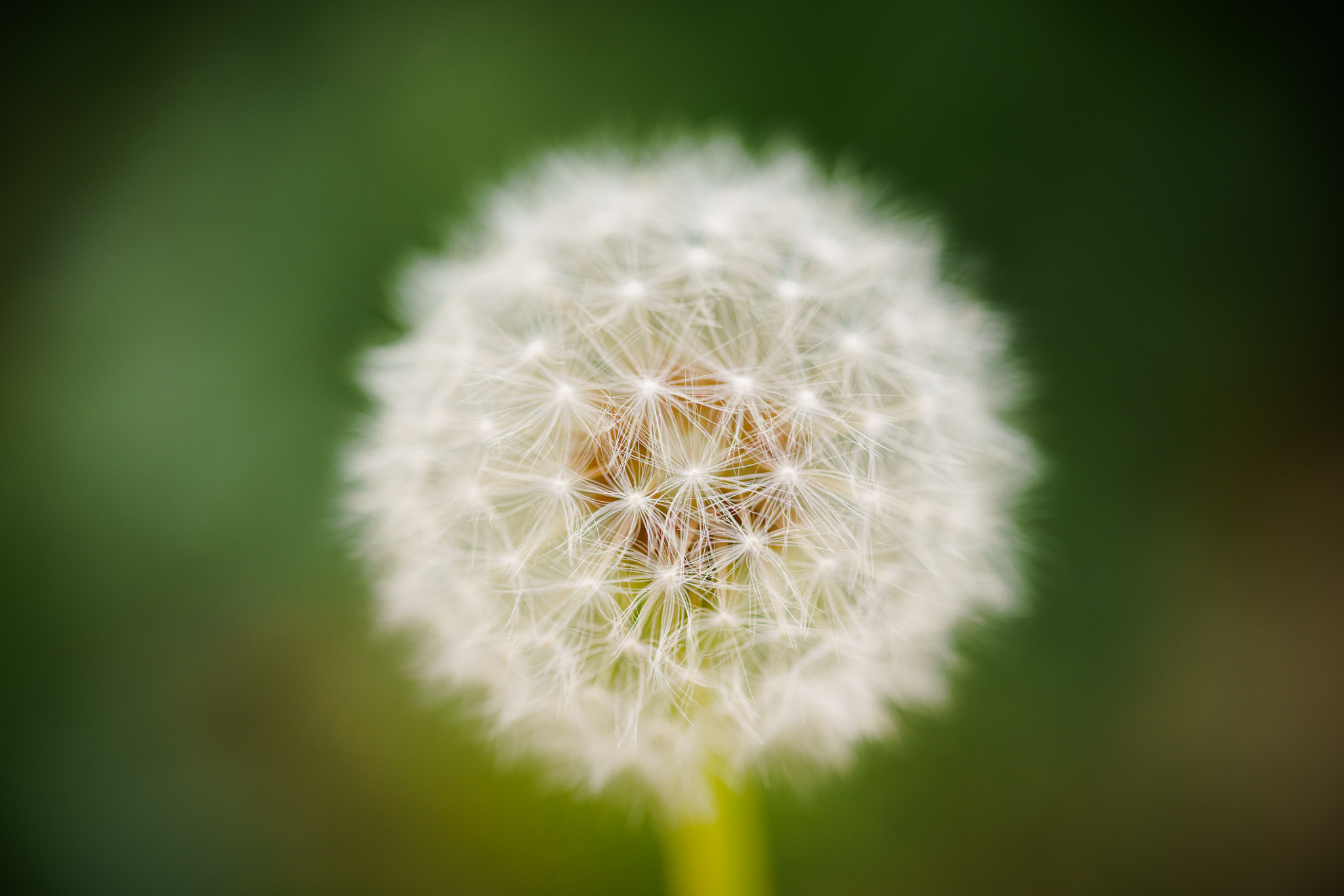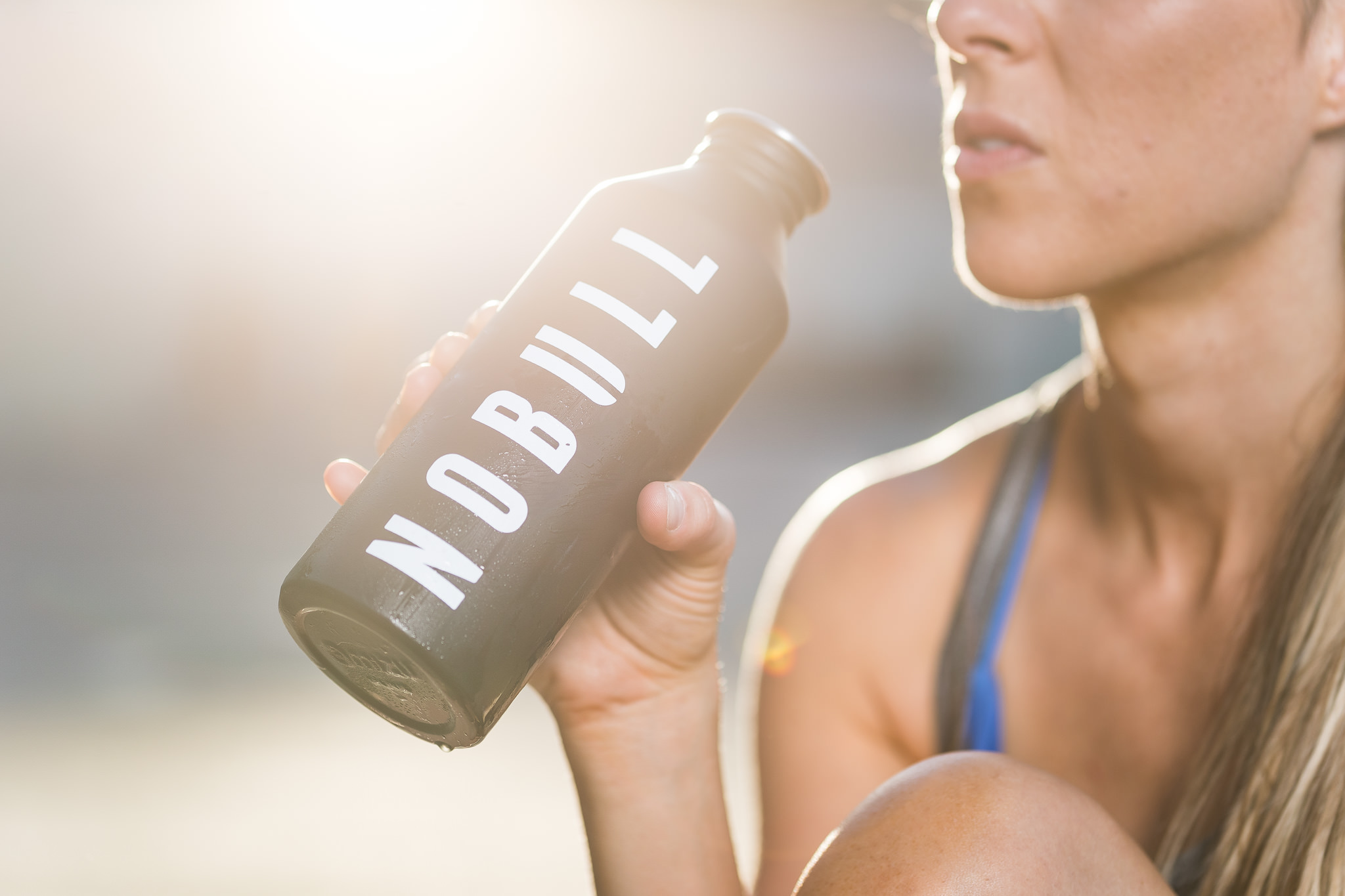 Value
As a macro lens, the value of the Tamron 90mm is exceptional. At $650, the amount of sharpness and detail that can be resolved with this lens is astonishing. I highly recommend it as an easy purchase for anyone needing to shoot products or ring shots at weddings for example. Static subjects will shine, and you will see more detail than you have ever seen before. As a portrait lens though, I would steer you in a different direction, as that is not the primary purpose of this lens. In a pinch, the Tamron 90mm macro can easily do the trick, but I believe there are better tools for that job. Knock yourself out though if you're a macro shooter.
Conclusion
I have used the Tamron 90mm macro for a while now and in a variety of ways. It is a lens that I don't use every day, but is nonetheless an extremely valuable lens in my kit. I would not be able to achieve certain shots without it. I highly recommend the Tamron 90mm macro for any commercial, macro, or wedding photographers. This lens needs to be in your kit if that is what you primarily shoot. Overall, this is another great lens from Tamron, and one that matches the Canon L series in quality and sharpness, which is a great feat.
If you'd like to purchase the Tamron 90mm f/2.8 Macro, please consider using our affiliate links below. We make a few dollars when you use our links, and it helps The Brotographer make more content like this.
Tamron 90mm f/2.8 Macro ||

USA

||

CANADA

||

UK

||

ADORAMA
Tamron 90mm f/2.8 Macro Review
The Tamron 90mm f/2.8 macro lens is a must have for wedding shooters, commercial photographers, or product photographers. It's also an excellent value lens at $650.
Pros
Extremely sharp
Great build quality
Weather sealed
Great image stabilization
Nice manual focus ring
Renders colors pleasantly
Priced well compared to the Canon 100mm f/2.8L Macro
Cons
Slower AF performance at close distances and in continuous AF





Extremely sharp