Tenba DNA 15 Messenger Bag
Amazing on-the-go camera bag
Stylish
Hold a ton of gear
Top zipper is engenius
Shoulder strap could be a tiny bit more comfortable
9.5
Editor's Choice for Messenger Bags
I absolutely love camera bags, as you can tell with the other camera bag reviews on The Brotographer. Most amateur and hobbyist photographers typically purchase one bag, which lasts them for years. I, however, love using different bags for different purposes.
When I say "camera bag", I typically mean any type of bag, backpack, or case that can carry a camera or related gear. I have had the pleasure of owning several bags in my time as a photographer, and I have enjoyed a lot of them, and downright disliked some of them. While I must say that I do in fact think that my opinion is pretty well thought out on these matters, I must say that some bags which I think are do not work for me, may work for others, and visa versa.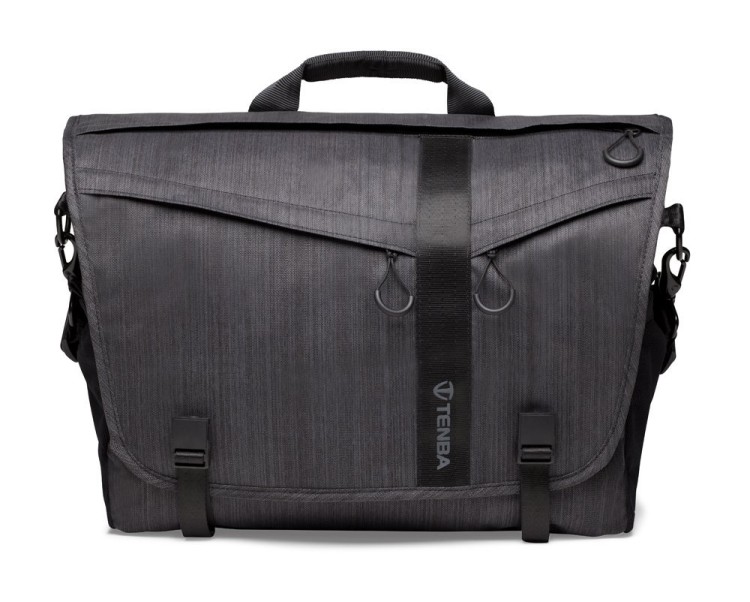 The bag which I am reviewing today is the Tenba DNA Messenger 15. I was looking for a bag that could function as both my daily carry bag for my Macbook Pro Retina 15 inch, and also a location bag for a my 5D Mark III, and a few lenses. To be honest, the main reason for buying this bag was for the daily carry aspect of it. I was sick of messenger bags, from reputable companies, falling apart after mild use for about a year or possibly less. I needed a bag that wasn't going to have the handle rip off, like my previous bag. One that securely held my precious, extremely expensive, Macbook Pro. It needed to be a bag that felt comfortable on my shoulder. It also needed to be a bag that I could use on a shoot if need be. After a ton of research, I opted for the Tenba DNA Messenger 15.
First Impressions
The Tenba DNA 15 surprised me when I first took it out of the box. It just looked clean and made of high quality materials. I really liked the grey color, as it had a bit of "heather" to it. The front latches have an awesome design, where they magnetically snap to the bag, and require you to slide them off. This design makes it so that you can't bump it loose. The flap that needs to open to expose your gear is also held in place with some nice Velcro. It seems, that after several months of owning the bag, the Velcro has become just a tiny bit less sticky, but the aforementioned latches really help with that, and I really don't have any complaints about the latches or flap. Continuing with the outside of the bag, let's talk about the pockets. The front flap has two pockets, which you can't fit much in. I have found that I like to use the large back pocket for little knickknacks, usb drives, pens, and other things, even though it is quite large and could hold more. The back of the bag also has a Velcro enclosed strap, which lets you strap this bag to the top of your roller luggage. The bottom of the bag is very durable, and I believe is extremely water resistant. The strap is also pretty comfortable. It also has a little clip that allows you to snap it around your back (think Black Rapid Sport strap), which makes walking around when you know you won't be using it even more comfortable. The Tenba DNA 15 also comes with a rain cover, which is a nice feature.
Inside The Bag (without camera insert)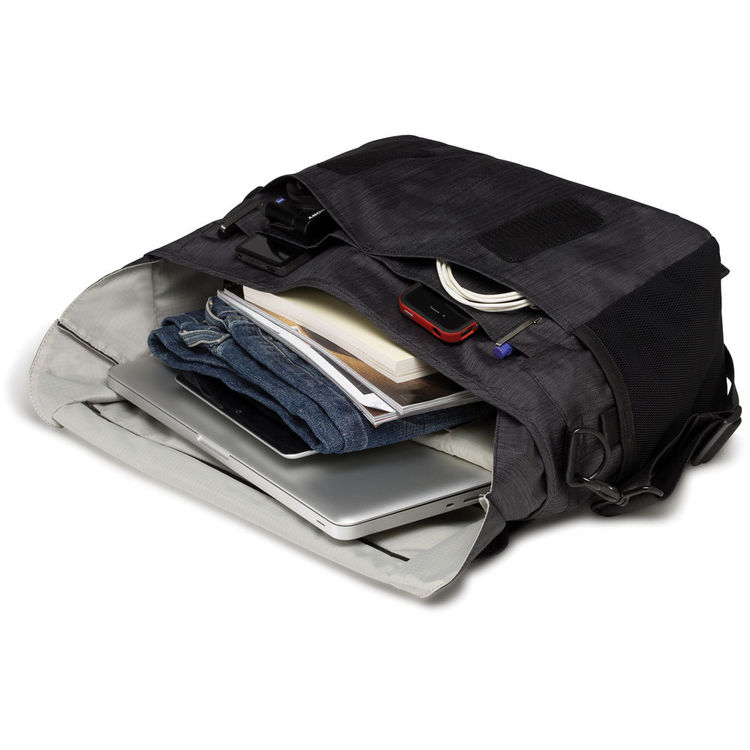 Let's move into the inside of the bag. Let's assume that you have the camera insert taken out. My 15 inch Macbook Pro fits great in the laptop compartment. I was hoping that my Wacom Intuos Pro small would fit into the tablet compartment, but alas, it sticks out too far, and won't work in that pocket. The inside also has two little pockets, which I usually keep several SSD's in. The most versatile pocket on the inside of the bag is a zippered pocket that is extremely deep, and can be a catch all for a ton of gear. Even with all this in the bag, the main compartment still has enough room for several notebooks, a tablet, or a bunch of other items. It's roomy.
Inside The Bag (with camera insert)
With the camera insert set into the bag, it gets much less roomy for extra notebooks and such. You can still fit several SSD's and other gear into the bag though, as well as the laptop still. The camera insert, compared to others I've used, seems to be one that is of really high quality construction. It has a nice, rigid, boxed construction that gives instant structure to the bag. The outside of the insert is coated with some type of vinyl material (think of a super heavy windbreaker) which makes sliding the insert in and out of the messenger bag a breeze. An added touch on the outside of the insert is four pockets, two on the front, and one on either end. Since you're losing a little space inside the bag, these really help get some of it back. The insert is deep. Think 5D Mark III with a 70-200 2.8 deep. That is super nice. It comes with two full height dividers that also fold down a bit at the top, and a few Velcro dividers that go up about 80% of the height. It took be a while to realize, but the two shorter dividers allow me to fold the full length dividers over a bit to the left and right, and I can have an easily accessible camera with lens on it. The folding over of the center flaps catches the camera, and even if you had a short 50mm lens attached, the camera would sit right at the top of the bag, which is super nice. In addition to the center camera with 70-200 attached, the other two spacious areas are more than large enough to hold at least two more moderately sized lenses, like a 50mm f1.2L, and a 135 f2L , as well as a flash and a few small accessories.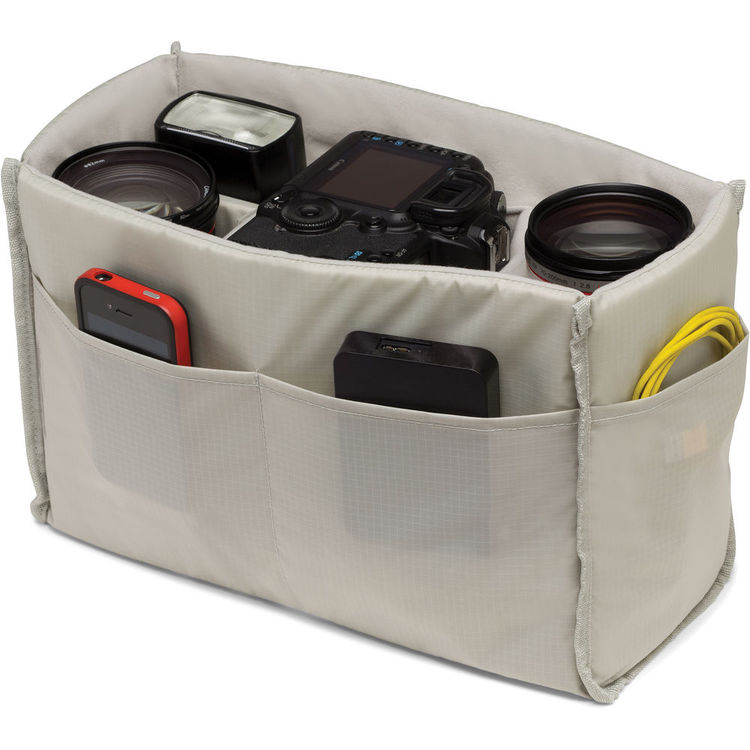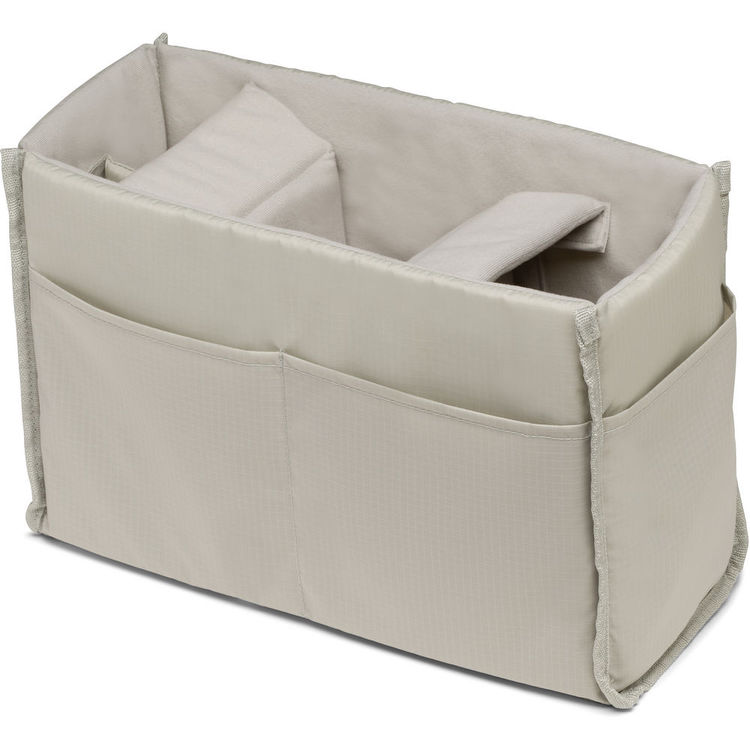 The Best Part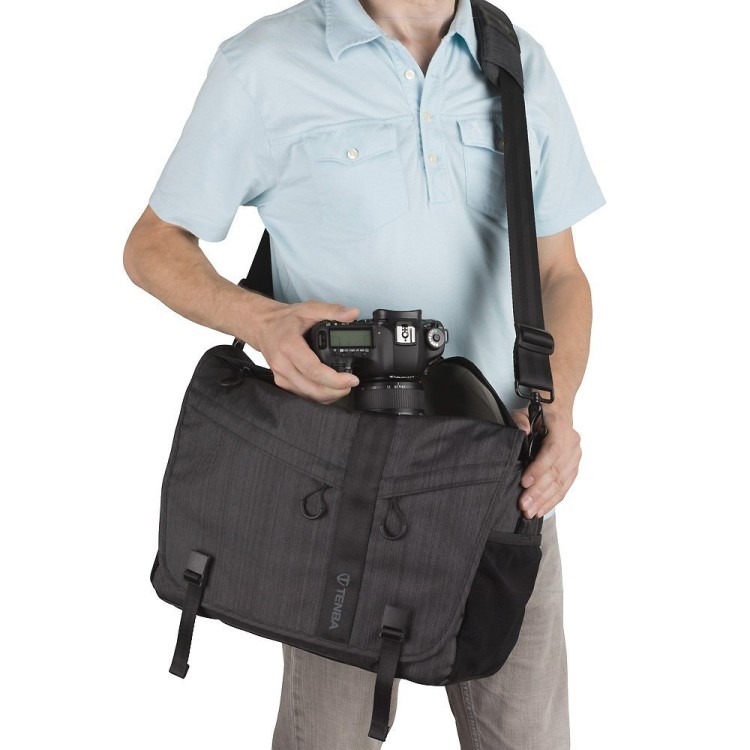 This may seem a bit strange, but after all these great things about this messenger, I've saved the best for last. First is the zippers. The YKK "looped" are a pleasure to open and close. They glide smoothly and never catch. The best part of this bag, however, and the one thing that makes it jump from a good bag, to a great bag, is the top zipper. Even with the front flap closed, Velcro sealed, and latches in place, you can still unzip the very top of the bag (technically the outer flap) and access your camera. This can be done without opening the bag the traditional way. Without this zipper it would still be a great bag. Seriously though, with it, it becomes amazing. Great design idea from Tenba.
Conclusion
While I usually only review bags that I like at least moderately, I truly enjoy using this bag. It's on my shoulder at least 5 times per week, and I just plain trust it. And whenever I want a more casual outing and just want some to take gear with me without bringing my Hold Fast Money Maker or larger backpack, this is the bag I use. While this review might already have you sold, you may need to consider that the Tenba DNA 15 comes with a price tag of around $160. In my mind though, it's totally worth it, but for you it may not be. They do make a few smaller versions if you own a 13 inch laptop or even 11 inch tablet, and don't want the extra room for tons of gear, and those bags are cheaper. It was absolutely worth it for me though, and I highly recommend it to you.
Check the bag out at Amazon