Some of my favorite things on earth are fitness and fashion. When I say fashion, I don't mean Paris fashion week. I mean all things related to bro fashion. For many of you out there, you know exactly what this fitness fashion is. Fitted t-shirts, shorts, bright socks, awesome shoes, backwards hat, and possibly the most important of all, a daily backpack. As a photographer who is also into fitness, marrying both worlds would be ideal. However, most backpacks for photographers don't fit that mold. Don't get me wrong, most backpacks are fine. They can look nice, serve the purpose for which they are intended, and be durable as well. But the search for that official "bro" backpack has taken a while, and by golly, I think I've found it.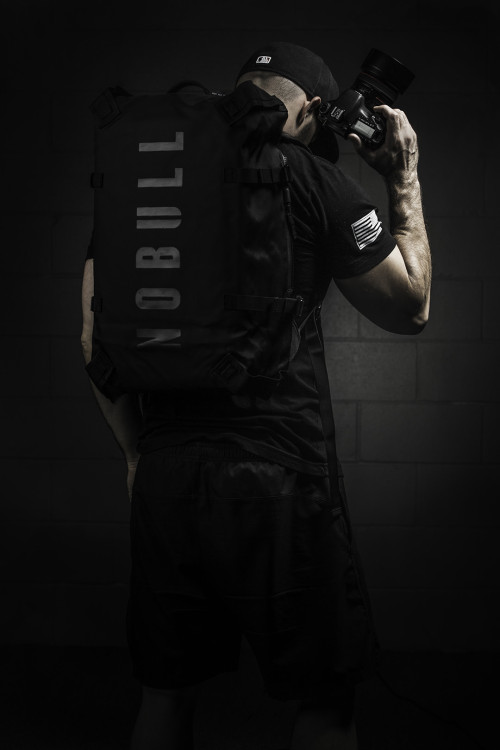 Enter NOBULL. As stated on their website, "NOBULL is a footwear, apparel and accessory brand for people who train hard and don't believe in excuses." They're based out of Hingham, MA, and have several Crossfit athletes who endorse their products. The brand, in my opinion, brings something different to the table than other large Crossfit brands. They bring grit. Their athletes are hardcore, and I mean that in a 100% great way. They work hard. Their core beliefs seem to line up with how I see my life. Hard work, no excuses, no bull. I'm a big fan of that mentality.
NOBULL has a great line of apparel and some awesome athletic shoes, but the item that I noticed was their Duffleback. It's a backpack/duffle bag combination, with a ton of handles on it, all in a clean, crisp design. I immediately was interested. Also, another photographer (Caleb Kerr) had said that he liked to add a Pelican 1510 insert to his and make it a camera bag. Loving the look of the brand, being a huge fitness fanatic, and wanting an review the best camera bags, I reached out to NOBULL, and they were kind enough to send out the Duffleback.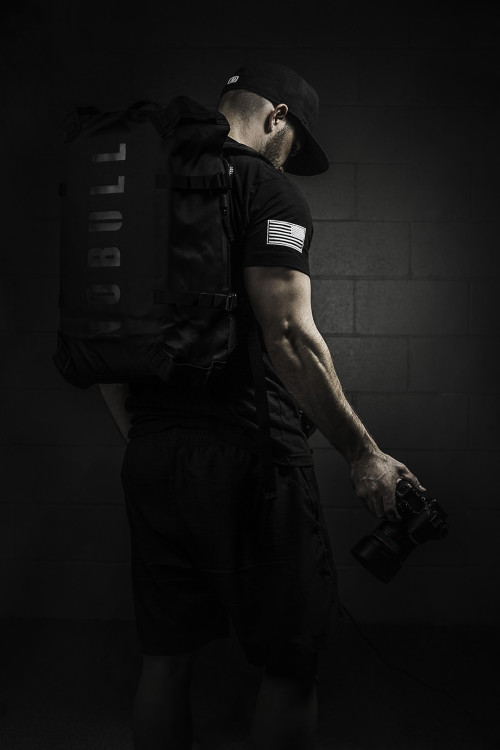 Fit
By now, I'm sure you're wondering what the bag is like, so here it goes. It's awesome. If you want a summary, there it is. I'm pretty particular with backpacks. Personally, I hate when they hang too low, especially when the backpack is holding camera gear. The Duffleback not only rides high, but it stays there when loaded full of gear as well. In addition to the awesome "high ride", the Duffleback also has nice padded straps that get the job done. The chest strap provides a little added security when you know that you won't be having to take off the bag for a while. The back of the bag has a breathable padded material that feels great on your back, and doesn't dig into it. Another interesting thing about the Duffleback. It doesn't come with a waist strap. Most bags that are able to carry a lot of gear, whether they be military bags, hiking bags, or camera bags, usually come with a waist strap. I'm really happy that the Duffleback does not though. Because of the "high ride" that the bag has, I would find myself wanting to take off the waist strap anyways. Kudos to NOBULL on leaving that off the bag. I'm a really big fan of dufflebags, and I'll admit, I've worn them like backpacks in the past. This bag is a refreshing twist on a backpack.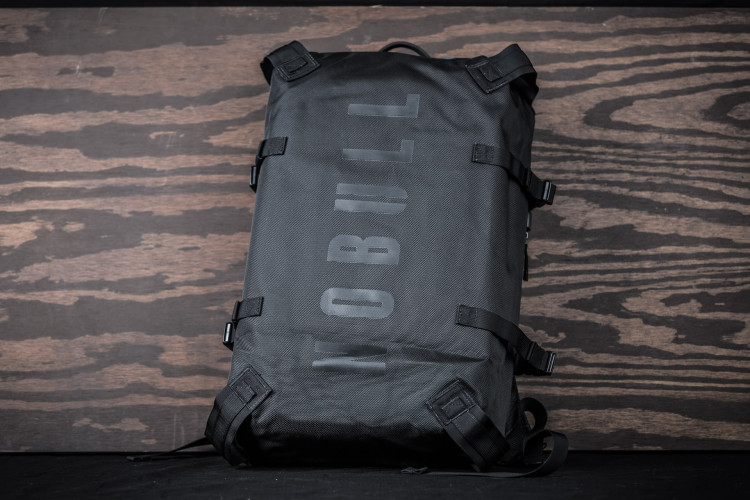 Build
I've owned a lot of tactical bags in my day, and the NOBULL Duffleback is built just as well, if not better, than those other bags I've owned. The ballistic nylon extereror shell feels and looks awesome. The handles on the bag feel like they can handle cinderblocks inside the bag. The interior of the bag comes with MOLLE compatible modular design with waterproof lining, and padded laptop and tablet compartment. My 15 inch Macbook Pro is a little snug, but it definitely fits. When I'm going to a location where I want to shoot, I prefer to leave the laptop out, because it can get quite heavy with all the gear, plus an added laptop. Another plus of this bag is its weight, or lack thereof. With some bags, I like them to have some heft. However, since this bag is built so well, I'm amazed that it weighs so little. I suppose that not having several interior pockets with lots of added material really helps. This bag doesn't need that; it's part dufflebag after all! I really do feel like it holds up just as well as my heavier bags though.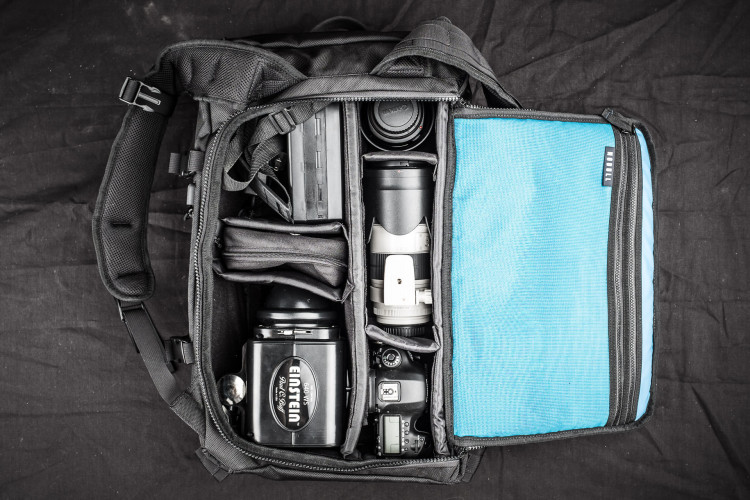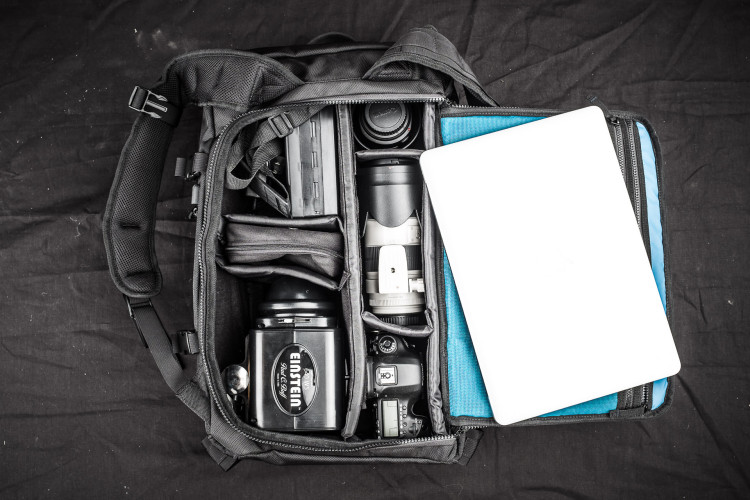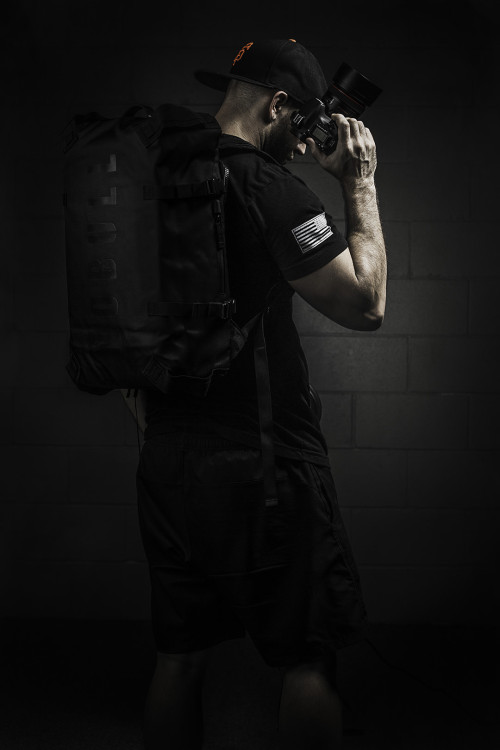 What fits inside the Duffleback?
I'll be releasing an entirely different post specifically catered towards this setup, but here is what the NOBULL Duffleback can easily fit inside the bag with the help of the Pelican 1510 insert. Currently, my favorite setup is to have my 5D Mark III, 70-200 f/2.8, 50mm f/1.2L, Paul C Buff Einstein and VML, and accessories. The back also has two cinch straps on the sides of the bags, and I can carry a light stand on one side, and a tripoid on the other. I typically like to shoot without a tripod though, as not carrying it makes the setup a little bit lighter. If I choose not to take the Einstein along, I can fit my 5D Mark III, 70-200, 50L, 135L, accessories, and a ton of other gear. The Duffleback fits a lot of gear, and you won't be disappointed with what you are able to carry. The exterior smaller pockets are big enough to fit my iPhone 6+, which is really nice. I'm all too familiar with not being able to fit that phone inside "phone" pockets in other backpacks.
Pros:
Built extremely well
Lots of handles
Unique design
Light
Fits a lot of gear
Comfortable
Can also be used as a day bag
Cons:
A bit expensive when you add the Pelican insert
Conclusion
If you're looking for a camera bag that definitely does not look like a camera bag, looks great, is built well, is comfortable, and is just plain cool, then the NOBULL Duffleback is the bag for you. Whether you're on a day trip, or a portrait or fitness photo shoot, this bag can fulfill your need in both design and function.
Go check out this great company at NOBULLPROJECT.com
You can also purchase the Pelican camera insert for the Duffleback here.
The Brotographer reviews the NOBULL Duffleback
Built well
Lots of handles
Unique design
Light
Fits a lot of gear
Comfortable
Dual purpose as a day bag
A bit expensive when Pelican insert is added