Review by Alessandra Arendt Photography for The Brotographer.
Today it is a joy to be guest reviewing the Think Tank Lily Deanne Mezzo bag for The Brotographer. This bag has already exceeded my expectations in just the short time I've had it by providing a stylish, practical, and much more streamlined alternative to the more heavy-duty Lowepro bag that usually holds my gear. Let's talk about some details!
The Lily Deanne bag, though fairly compact, actually has a surprising amount of room both inside, and in exterior pockets. There is certainly plenty of space for camera body with lens attached, a second lens, and a flash or third piece of slightly smaller gear if you'd like. I've mostly been carrying it with body/lens (Canon 6D with 50mm L), and a second lens (135mm L), and am able to access everything very comfortably. If a third piece of gear were added into the main compartment, it would make accessibility a bit more tedious, but definitely still doable – especially if, once you get on-location, you will be removing your camera body and having it on you instead of in the bag.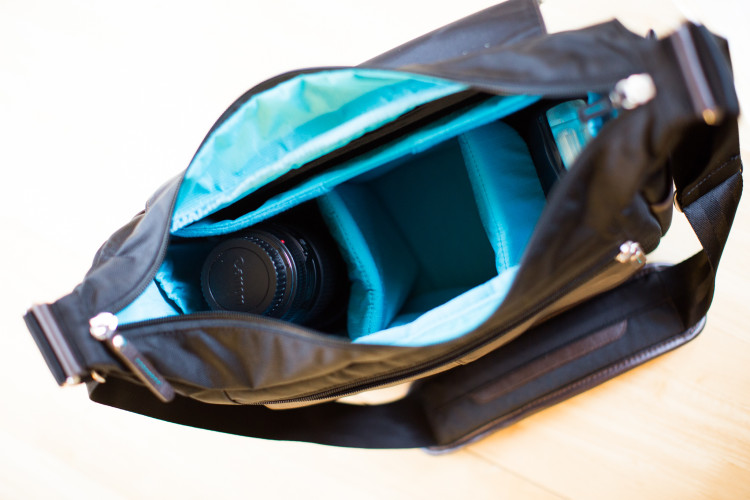 As a female photographer, I love that the exterior brown/black color matches just about anything I'm wearing. This bag doesn't immediately scream "camera bag!" – which makes it great to wear on-the-go without drawing too much attention to yourself.
When opening the interior main compartment of the bag, you are greeted with a bright and friendly blue lining that just makes my heart light up each time I see it. It's so fun to have that pop of color in the otherwise subtle and neutral-colored bag!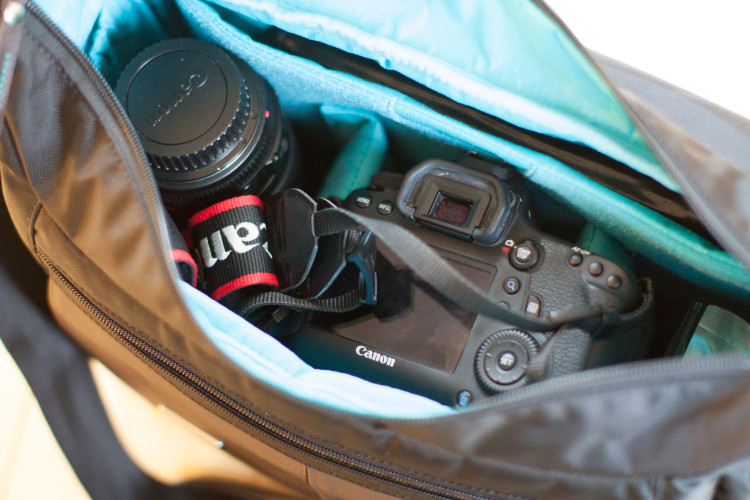 Though not excessive, there is enough padding inside the main compartment to make your gear feel secure without having too much bulk added. The interior has three adjustable divided sections for lenses/body/gear, as well as a long pocket running along the back for either an iPad, or a notebook. On the far sides of the interior there are also two smaller stretch pockets that I have found handy for tucking smaller items such as extra batteries, my phone charger, a beanie, etc. Lastly, the main interior section has a long zippered pocket opposite the iPad slot, which is an excellent space for things you may want to keep extra secure and tucked away.
As mentioned above, though this bag won't necessarily be one to hold all your gear, it's a great on-the-go size to comfortably hold your body with 1-2 lenses (and a third if you're ambitious, or a smaller piece like a flash). This will definitely be my go-to bag for sessions where I need to be more mobile and don't need as much gear, as it just feels like an extension of me rather than a big padded camera bag I need to lug around.
The main compartment is a zippered enclosure, which in my opinion, is a must-have. I grew up overseas, and having a bag that is "open" in any capacity makes it so much easier for someone to reach inside and steal something or pick-pocket you. The fact that this bag has both zippered compartments, as well as an additional magnetized flap over everything, helps keep all your precious contents a bit more sheltered from the elements, and from any curious onlookers.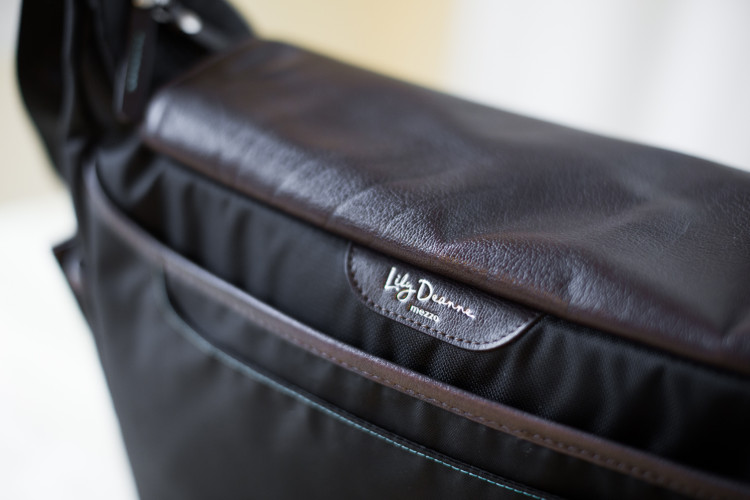 One of the things I love most about this bag are the amount of pockets and small compartments. They make keeping all your items organized extremely easy! I'm a sucker for pockets, and this bag does not disappoint. I've had this bag for a couple months now, and literally just discovered yet another pocket as I sit here looking inside. Best. Day. Ever.
On the front of the bag there is a zippered pocket across the width of the bag that is great for all the smaller items we as photographers need to carry: memory cards, batteries, etc. This longer pocket has one smaller pocket within it, as well as a loop for attaching your keys. Then, outside that longer pocket are two smaller magnetized pockets that sit side-by-side. These two smaller ones – much to my pocket-lovers' delight, have smaller pockets within them! The one on the left has a divider, and the one on the right has pen pockets, as well as some smaller slots for keeping memory cards handy. The fact that these exterior pockets are magnetized (and don't have zippers like the other two main portions) is really nice for things you need to be able to get to quickly, but still want to have concealed and protected, like your phone.
On both sides of the bag are additional open pockets for things like water bottles or an umbrella. What I particularly love about these side pockets is that they each have a snap button that makes them adjustable. It's really nice to have the option to make the pockets a bit more streamlined for slipping in a small item like your phone, but then also be able to make them larger to fit a bulkier item if needed.
The back of the bag has another slim pocket for notebooks or an easily-accessible iPad. Then, on the outside of this pocket is a very handy slot for slipping the whole bag over the handle of your carry-on or roller if you happen to be traveling a longer distance – something I always find very useful since camera gear weighs a lot, and it's nice to be able to save your shoulders whenever possible.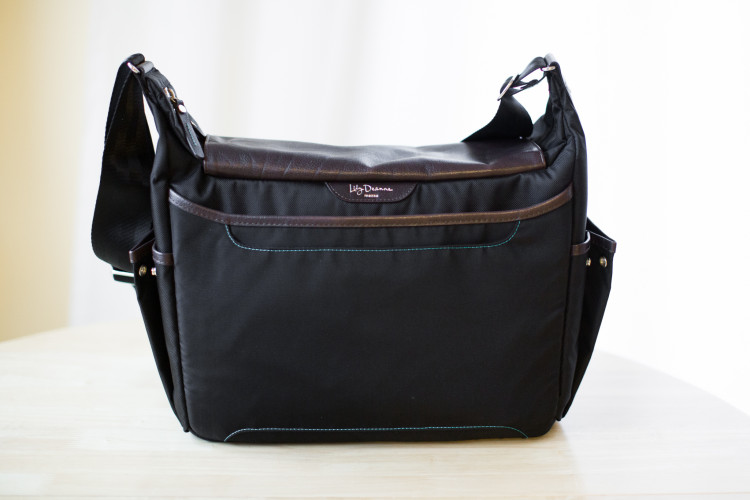 Another awesome thing about this bag is that it comes with a rain cover! Working in Seattle, this is a feature I'm especially thrilled about. The rain cover comes in a handy pouch that can either be tucked within the bag, or stored at home – which I love because I have the option to not have it with me and have a lighter bag if needed. If you find yourself not using the rain cover over the bag itself, it's also a great thing to have on-hand in a pinch if you need to provide a dry spot for a couple to sit on, or protect something from dust or the wind. I love finding ways to use items for multiple purposes, and this little rain cover is one such item that I can see myself using in various handy ways during shoots.
The cross-body shoulder strap is adjustable on both sides (which is great if you're someone who often switches which side you wear your bag on, or if you're left-handed like me. I've had bags that adjust only on one side, and it's more challenging because that side is usually made for right-handed people). On the strap there is also a well-padded shoulder rest with rubber grips on the bottom so that it doesn't slip around. I have been able to carry this bag for entire 8-hour days (while 7 months pregnant to boot!) with it feeling fairly comfortable and well-distributed, which is a major bonus.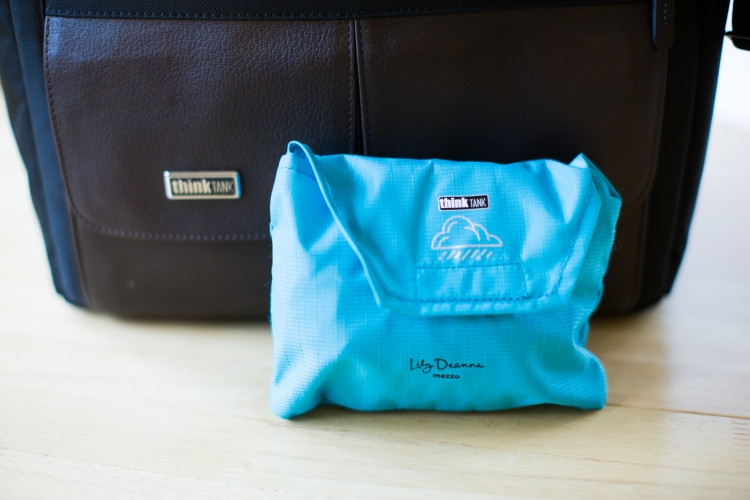 The bag seems to be built very durably, and I'm excited to continue using it and seeing how it holds up. So far it has worked like a dream! I have put it through a workout both in wearing it for whole days straight, setting it on the ground/rocks/tree stumps in several desert shoots, had it outside on rainy Seattle days, and carried it on a couple trips where it's been filled to the brim and yet has not suffered from my over-packing. I can envision the magnetic exterior flap starting to show wear more quickly than any other part of the bag, simply because it's a thinner part of the bag that is the most handled portion. However, even though having it on me almost constantly for a couple weeks straight while traveling, it has yet to show any signs of wear or even slight scuff marks. Very impressive indeed!
I highly recommend this stellar well-rounded bag. It does not lack in any of the features I look for most: durability, storage, organization, comfort, and style.  
Thank you, Think Tank, for making a bag that I feel confident and excited wearing with my precious cargo. And thank you to The Brotographer for this awesome opportunity to review a bag that has now become my go-to for many of my more lightweight shoots.
Inside the Lily Deanne Mezzo