GET THE URBAN DISGUISE 50
In my experience, Think Tank Bags offers a no-nonsense, highly functional approach to designing camera bags. They are one of a few favorite brands among traveling creative, giving plenty of space in a carry-on sized bag. Their roller bags seem to be by far, the most popular in their large line of bags, but many other bags also can offer the traveling or non-traveling creative a lot.
Urban Disguise 50 Classic – Design
Think Tank sent us out a few bags, and the Urban Disguise 50 Classic was one of them. The Urban Disguise 50 Classic is a shoulder/laptop bag that is designed to carry a gripped or non-gripped body with lens attached, up to a 70-200, another lens or flash, and up to a 15.4 inch laptop.
The Urban Disguise 50 Classic, in my opinion, was designed for working professionals with the "holy trinity" of zooms (16-35mm, 24-70mm, 70-200mm). The Urban Disguise 50 Classic has leather accents throughout, and can easily double as a bag for a professional meeting during your day job, and also as your camera bag when you clock out.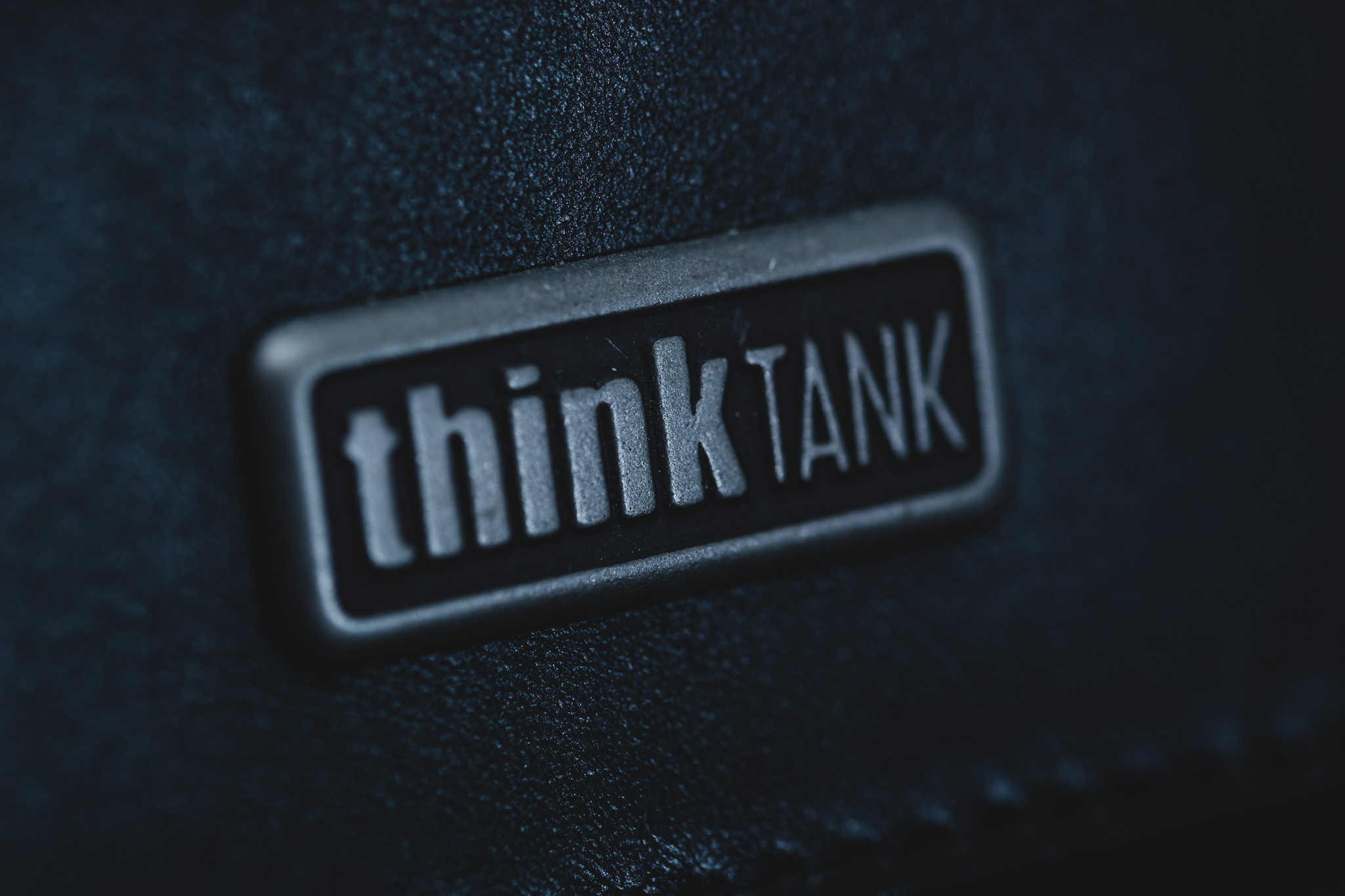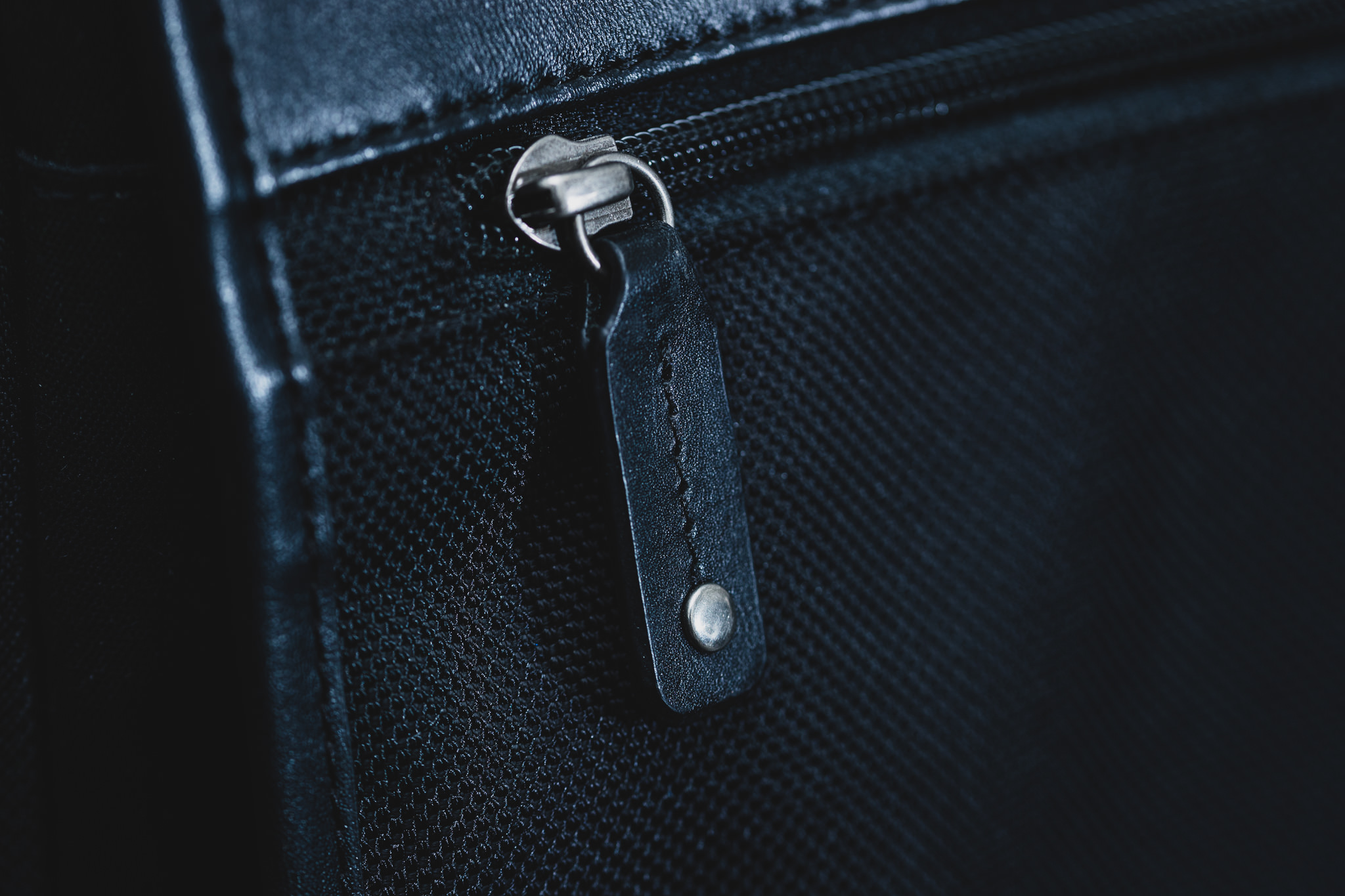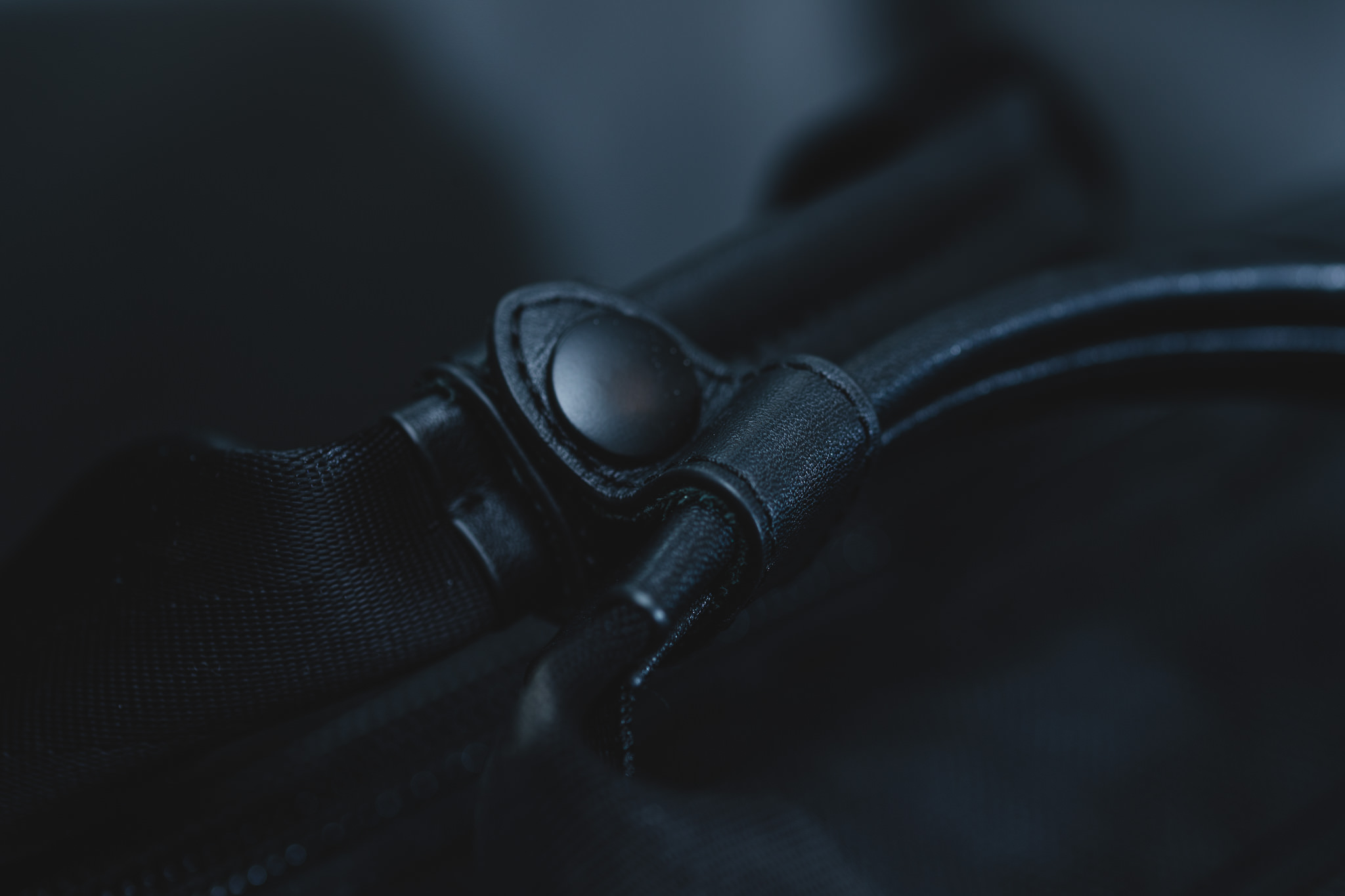 In conjunction with the black, water-repellant outer coating, leather accents on the outer flap, handles, and zippers give it its professional looking appearance. A combination of nylon, nickel-plated hardware, and ultra stretch mesh give the exterior a great amount of durability.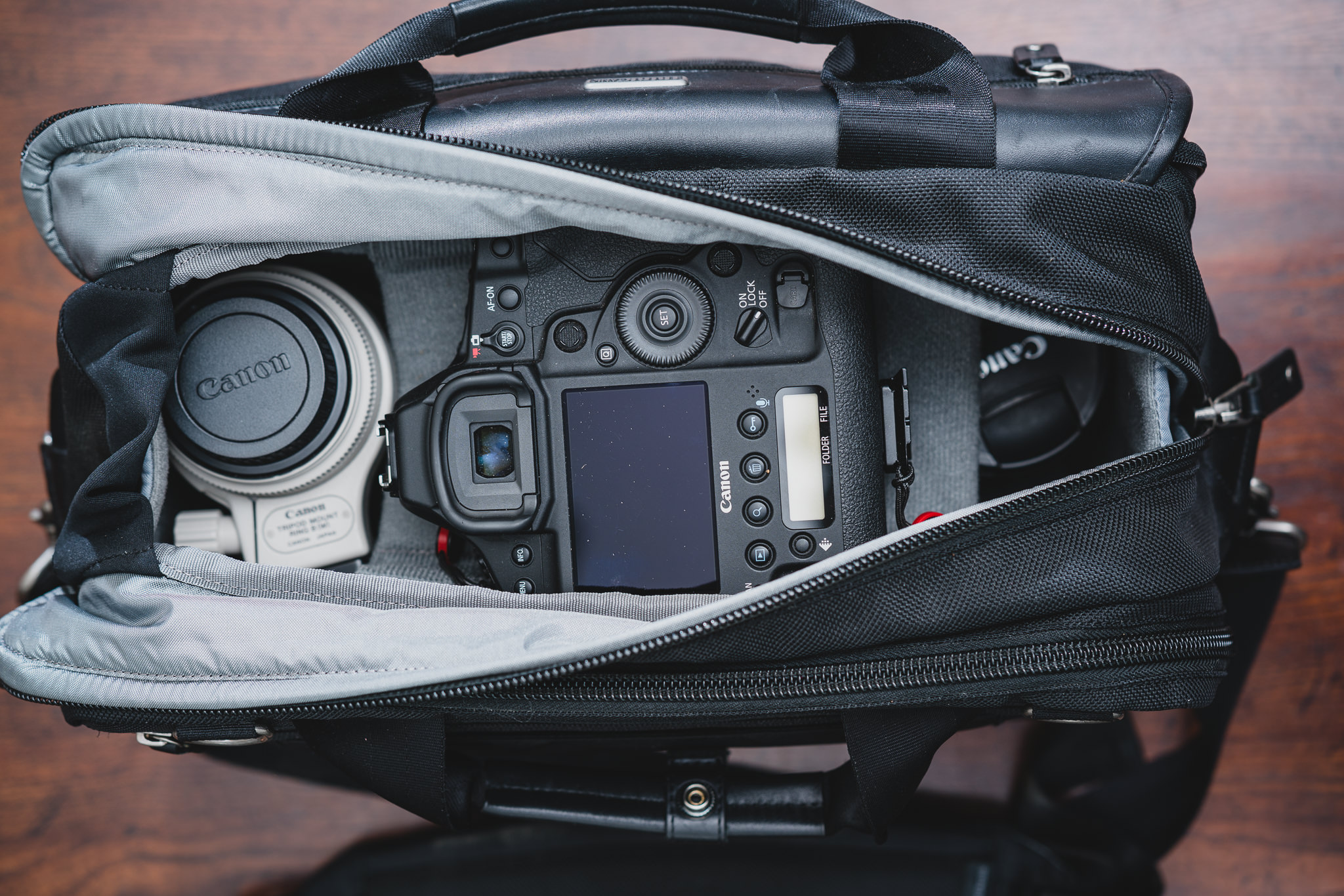 The outer flap has a zippered pocket that can hold cables or documents. Flip up the outer flap there is an extendable pocket that can hold a few extra bodies, flashes or other accessories. I wouldn't recommend putting expensive gear in these outer pockets in any bad weather or in dusty, sandy conditions though, as they are open to the air and are easily exposed to the elements. The large zippered laptop pocket sits on the back of the bag, and fits my 15 inch MacBook Pro as well as a full size tablet very nicely.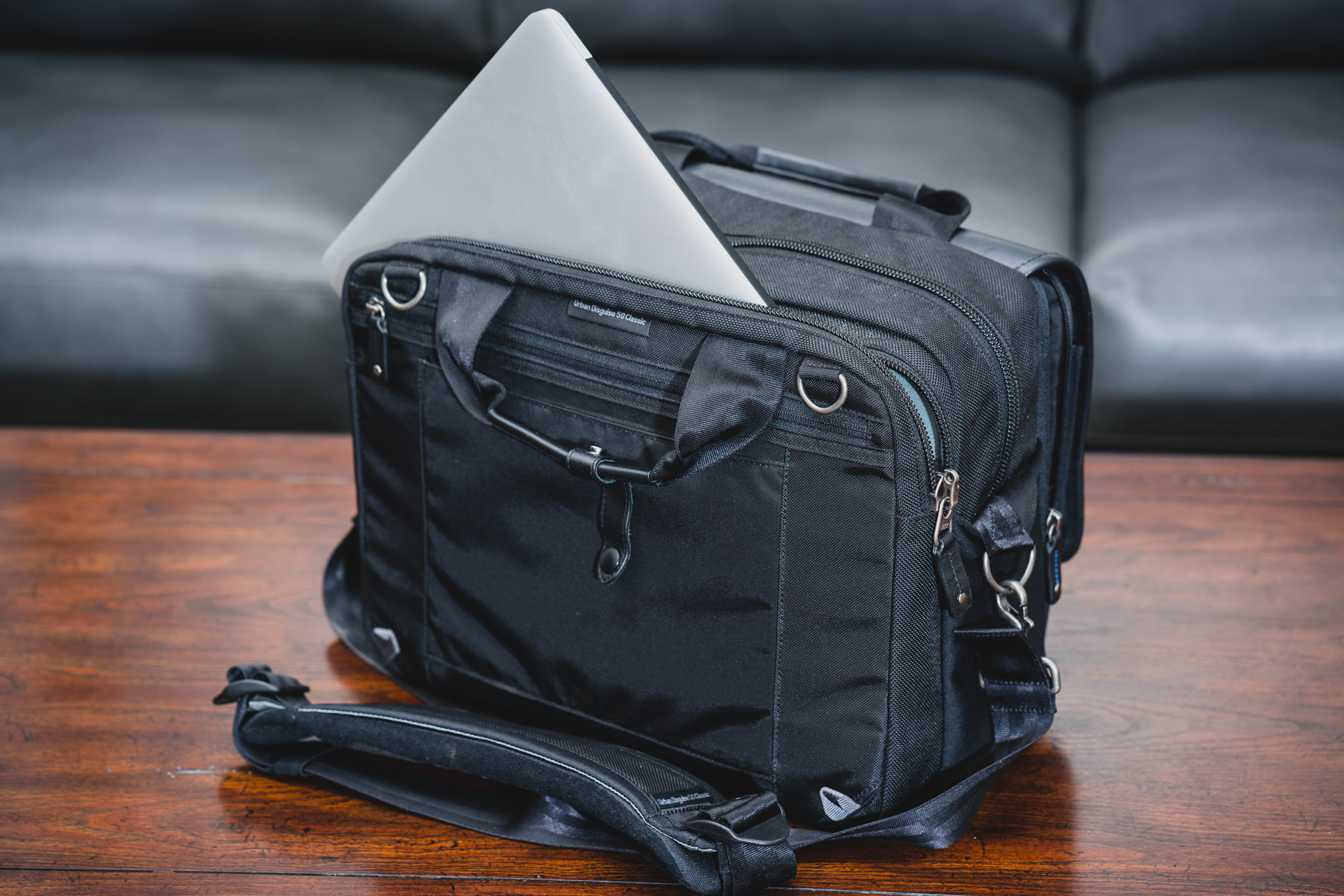 The main zippered camera gear compartment of the Urban Disguise 50 Classic is exactly as advertised. This section of the bag is super reinforced, just the way I like it, and gives the bag its rigid form. Out of the box, the Urban Disguise 50 Classic is better suited to comfortably carry a non-gripped DSLR. If you do have a gripped body, 1D series, or D5 style camera, the Urban Disguise 50 Classic has a really nifty zipper, that when unzipped gives the inner area a little more room, in order to accommodate the extra space. It's a feature that many companies overlook in their shoulder bags, but one that is really appreciated. I will mention though that when you are carrying a larger gripped body, it is a much tighter fit for your laptop, since these two sections of the bag tough each other. I'd leave your laptop behind when out shooting anyways, so this shouldn't become an issue.
Functionality and Use
Transporting gear is one thing, but using it while shooting is a whole other topic. The Urban Disguise 50 Classic excels in carrying hey bunch of gear, but doesn't do as well when shooting out in the field. This might be my own personal preference, but when shooting with a shoulder bag around my neck, I don't like it to be quite as heavy as the Urban Disguise 50 Classic is when loaded with gear. Like I said, probably just personal preference, but when I have a camera and a few lenses, I will probably be carrying a backpack. This is definitely so if I'm shooting with a DSLR, like a 1DX. I find that the weight is much more manageable with a backpack. However, if I am using the Urban Disguise 50 Classic to bring that DSLR, but set it down when I'm shooting, that weight issue isn't near the issue that it was before. If I shoot like that, I put myself in a much better situation. I brought the Urban Disguise 50 Classic along on a business trip a few months back, and because if its "business look", no one knew that the rest of my bag had camera gear, cables, and personal items in it.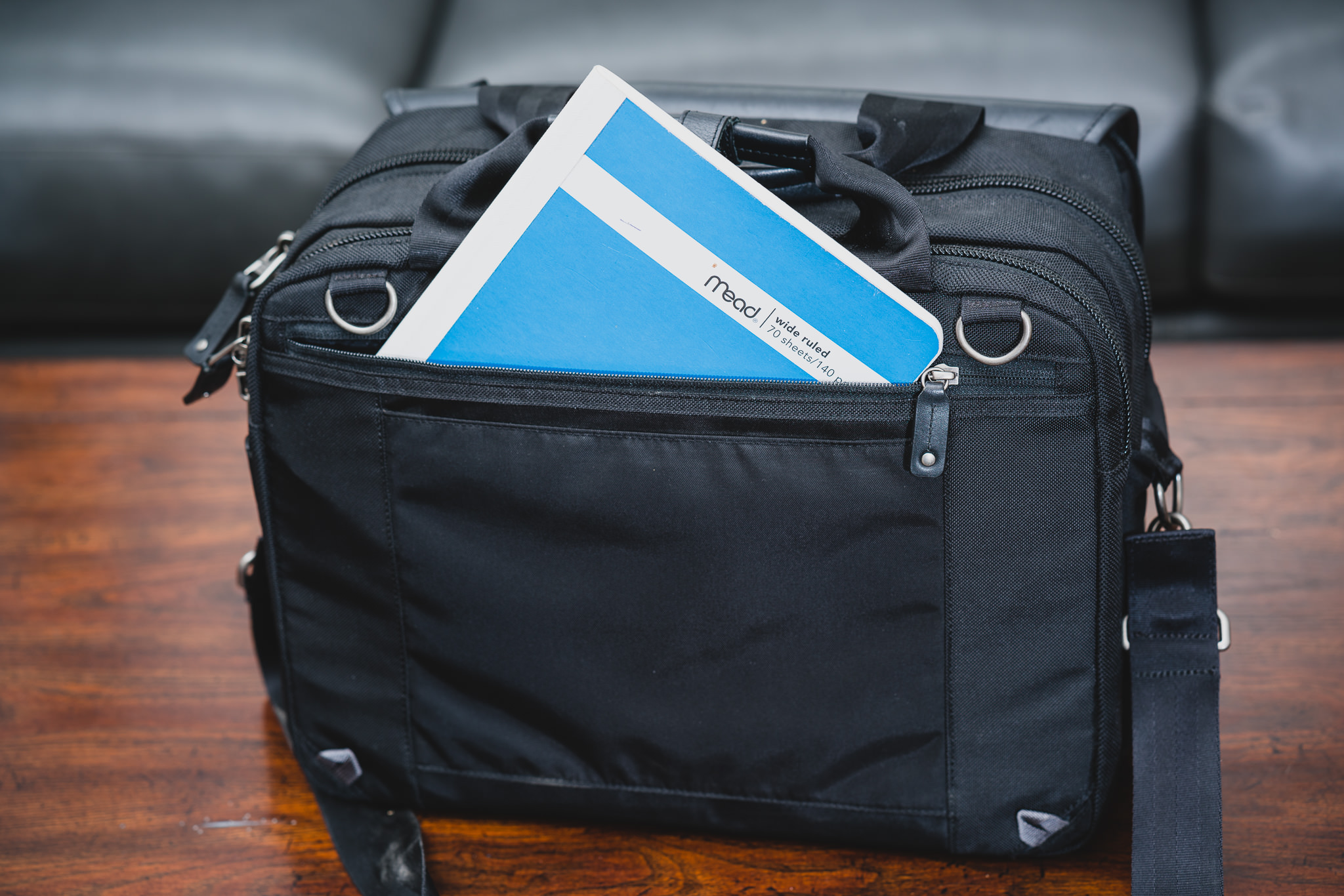 That brings up another strength of the Urban Disguise 50 Classic, which its name implies. When you were downtown in a big city that is not the time to draw attention to your gear, as robberies and other crimes like that can easily occur. A laptop bag is much less enticing to a thief send a bag that they know is filled with camera equipment. Its "business" look could really save your hide in that type of situation.
Build and Durability
The Urban Disguise 50 Classic is the type of bag that lasts several decades. It's rugged materials, strong seems, great hardware, and even the strap are all ingredients in a well made bag. After using the Urban Disguise 50 Classic for several months in both photographic and daily use, I haven't had a single build or durability related issue with it. There is no need to baby a bag like this, as it can handle pretty much anything that you throw at it.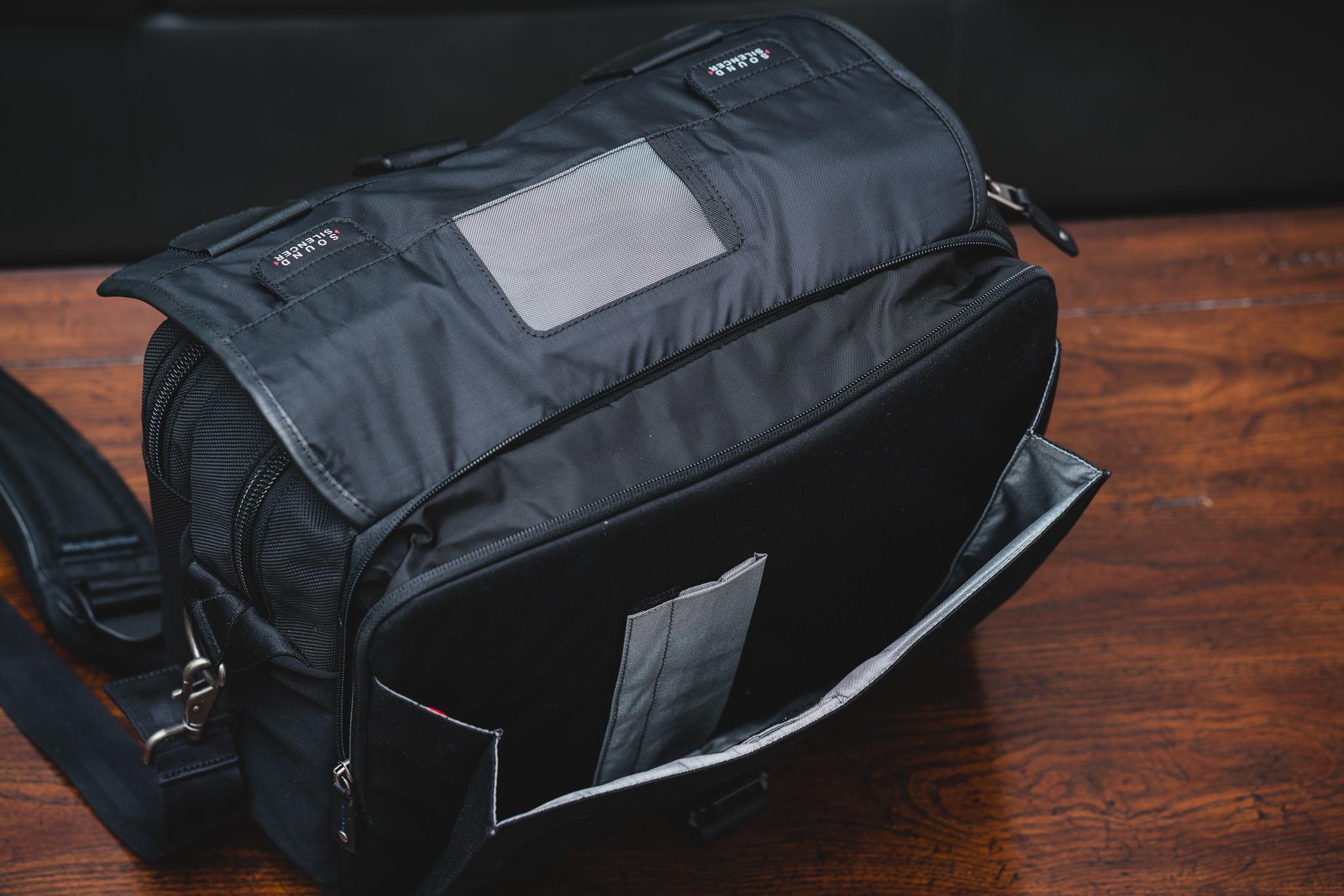 Fit and Comfort
I touched on this previously, But I think that the Urban Disguise 50 Classic excels in certain situations. It is perfectly comfortable when you use it for certain purposes, but can get cumbersome if you're carrying around a large camera kit and your laptop all day. Used to bring your gear to a shooting situation, it is definitely a valuable bag. I wouldn't be using it as my shoulder bag when shooting for a few hours though, as it is definitely the largest shoulder bag I have used. However, using the Urban Disguise 50 Classic to transport both your camera kit and laptop is where it excels, and used in a situation like that should make it a great experience.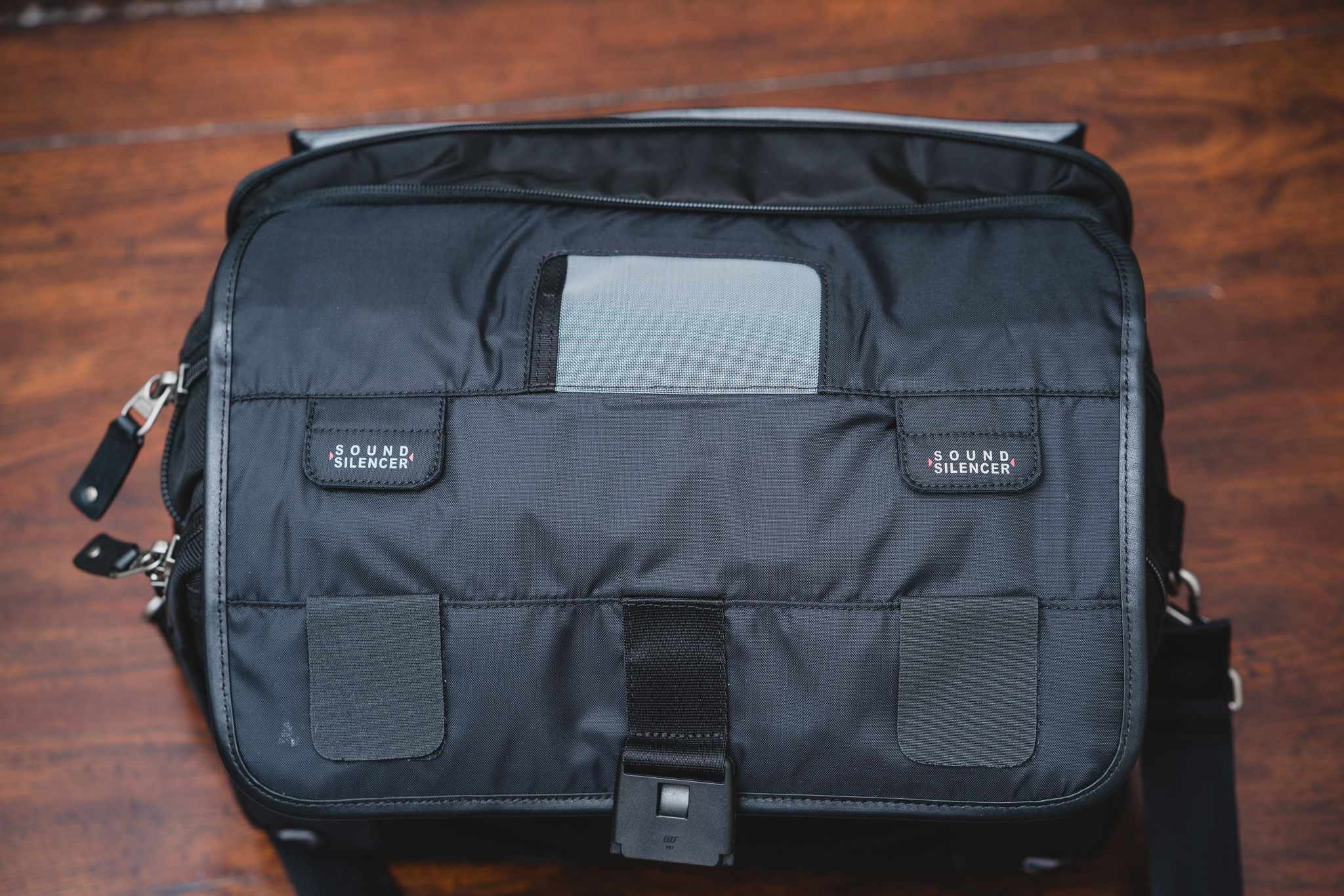 Value
At $260, the Urban Disguise 50 Classic isn't a cheap shoulder bag. However, it is pretty utilitarian and can handle a ton of different situations, from corporate to travel to shooting on the go. One side note that makes its value even more appealing to me is its use during travel. I haven't personally flown with the Urban Disguise 50 Classic yet. However, in US domestic flights, you can bring a carry-on and a personal bag as well. The Urban Disguise 50 Classic is a big version of a personal bag, and depending o may hold all your camera gear. This could allow you to not have to check any luggage, as you still have a remaining carry-on piece of luggage on most flights. If you need to be in and out of the airport quickly, and don't want to wait around at baggage claim, this bag will definitely help with that. That could make it a valuable bag for you, and well worth the $260.
Pros
Doesn't look like a camera bag
Can double as a business and camera bag
Holds a lot of gear and also a laptop
Well made
Counts as personal bag on flights
Cons
Too big to have on your shoulder while shooting most of the time
To sum it up, only you know if the Urban Disguise 50 Classic is right for you. If you are a business professional who travels a lot and wants to bring along a kit because you're serious about your photography as well, I don't really see many better options out there on the market. Depending on besides if your kit and laptop, Think Tank has a few different sizes of this bag, so make sure to check out their website. The Urban Disguise 50 Classic is built very well, and you can expect it to last for decades if you make the purchase. If being discreet is also another characteristic that you attempt to employ, this shoulder bag could be a fantastic option for you.
If you'd like to purchase the theUrban Disguise 50 Classic, please click on our links below to do so. It doesn't cost you anything, and you throw us a few pennies off every dollar when you use our links, and it helps us keep putting out great content that keeps your informed about new gear. We thank you in advance.
THINK TANK URBAN DISGUISE 50 CLASSIC
HELP SUPPORT THE BROTOGRAPHER AND BUY WITH THESE AMAZON AND

ADORAMA

LINKS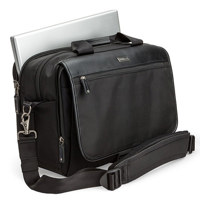 Think Tank Urban Disguise 50 Classic
The Think Tank Urban Disguise 50 Classic is great for the business traveler/photographer.
PROS
Doesn't look like a camera bag
Can double as a business and camera bag
Holds a lot of gear and a laptop
Well made
Counts as a personal bag on flights
CONS
Too big to have on your shoulder while shooting most of the time
GET THE URBAN DISGUISE 50