Solid Performer
I know I am not the only photographer out there looking for the "perfect" camera bag. Let me just say that the Rolltop gets really close to being perfect in terms of what I need. The Brevite Rolltop is one of the largest backpacks the company offers. It has an expandable compartment that allows you to have enough room to pack a couple of extra things for a weekend trip. What better way to test that out than going to the mountains of Lake Tahoe, Nevada?
When I began packing for the trip, I packed my camera essentials which were inserted in removable modular inserts that I customized to fit my camera gear. The bag was completely full with both camera gear and clothes, and I was ready to take on Lake Tahoe with its cold weather. Throughout the photoshoot, I was not really focused on the backpack. I had no issue tossing it aside or giving it a quick nudge to move it away. Not to my surprise, there was no damage on the Brevite Rolltop. Comfort wasn't an issue either. Due to the padding on the back of the bag, hiking through Tahoe's forests was very comfortable even with the Brevite Rolltop heavy with camera gear and clothes. I did not feel the need to take the bag off to rest.
What did the bag hold?
5 Sony Batteries

Pelican SD card holder
As you can see, the modular inserts can hold a good amount of gear. Keep in mind that depending on the size of your gear, you will either be able to put more or less due to the size of insert. You can customize the insert to best fit your own gear. On the top compartment, I put an extra sweater, blanket, two pairs of socks and a shirt. The bag felt very comfortable and was not being stretched due to the amount of gear and clothes the backpack contained.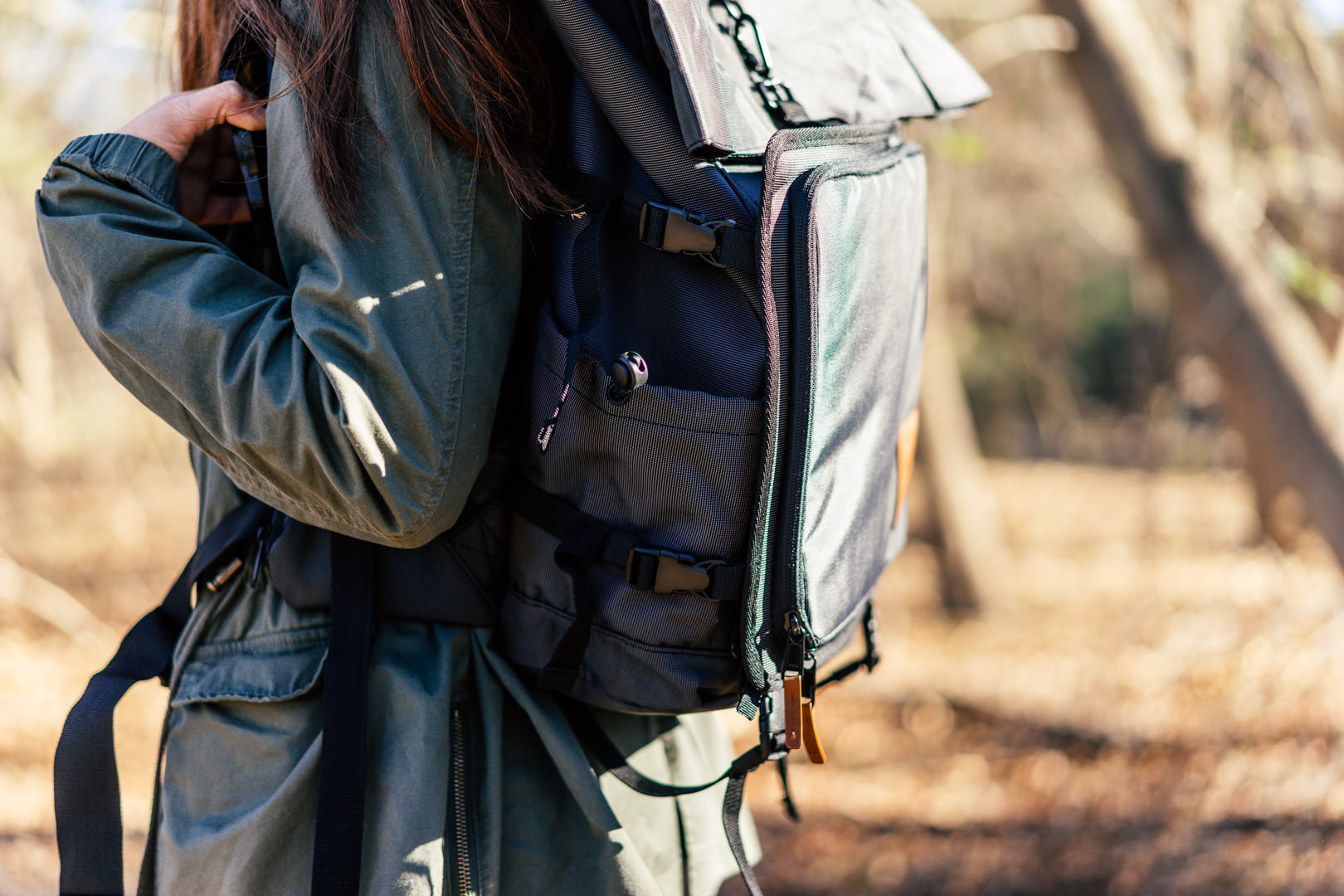 Brevite Rolltop: Design and Features
At first glance the Brevite Rolltop backpack does not look like your ordinary camera backpack. It has a look of a top quality hiking backpack. The outer layer is grand prix poly which is water resistant and designed to withstand the elements. The backpack also comes with a built in rain cover for that extra protection. The outer protection is very important but what closes the pockets is as important which is why they use YKK zippers to insure your gear with the most safety. This backpack can also fit a 15" laptop that will be well protected thanks to the padding. Not only does the Brevite Rolltop have two main access points to both the top and bottom compartment, but it also has two quick access doors on both sides. Through these doors you will be able to access the bottom compartment easily.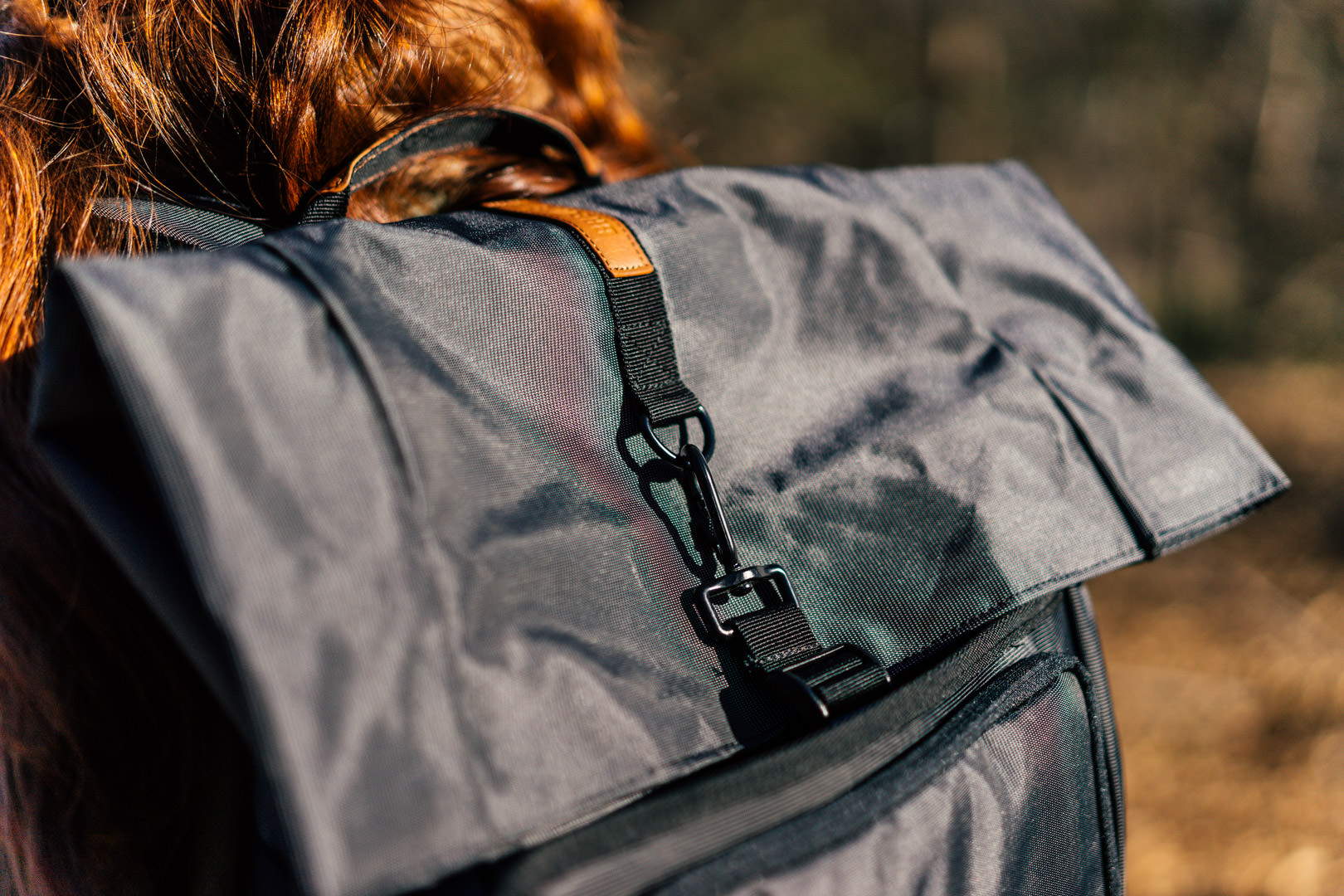 If your camera, lens or any other items are stored there, you will have access to them very conveniently and quickly. While shooting in Tahoe I kept switching my lenses so this quick access door feature truly came in handy then. I didn't miss a shot because of this. If you carry a tripod, it can also carry it on both the bottom or  the side of the backpack. If tripods are not your thing, a small blanket or sweater can be carried with the help of the straps. As I previously mentioned, the insert can be customized to whatever best fits your needs, but a cool thing is that the insert is allows you to fit a DJI Mavic Pro drone. One of the unique features and my personal favorite is the removable lens cap buckle which is located on the strap on the right. I'm constantly losing my lens caps during photoshoots so being able to place them on a secure buckle is perfect. The sizes that fits on the lens cap buckle are 52mm, 58mm and 67mm.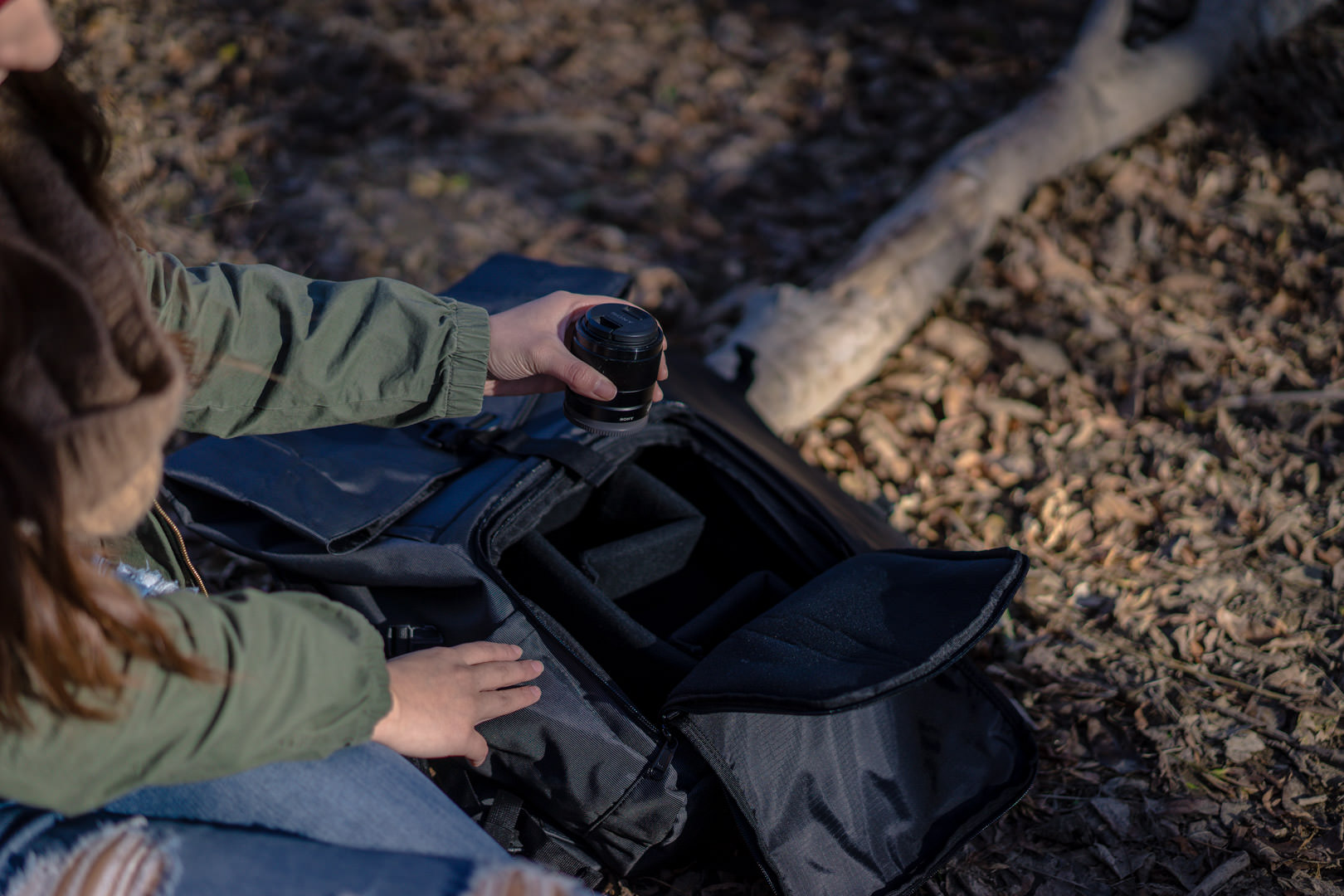 Brevite Rolltop: Build and Durability
Overall, the backpack will last you a long time thanks to the grand prix poly material that makes it not only water resistant but also very durable. I am not the best at taking care of my backpacks, as they are always being thrown around or accidentally stepped on. In this case, the backpack survived! Sure, it got a little dirty but there was not a single scratch or any other damages to the Brevite Rolltop. I wasn't surprised at how well this backpack did. I had high hopes, and it delivered.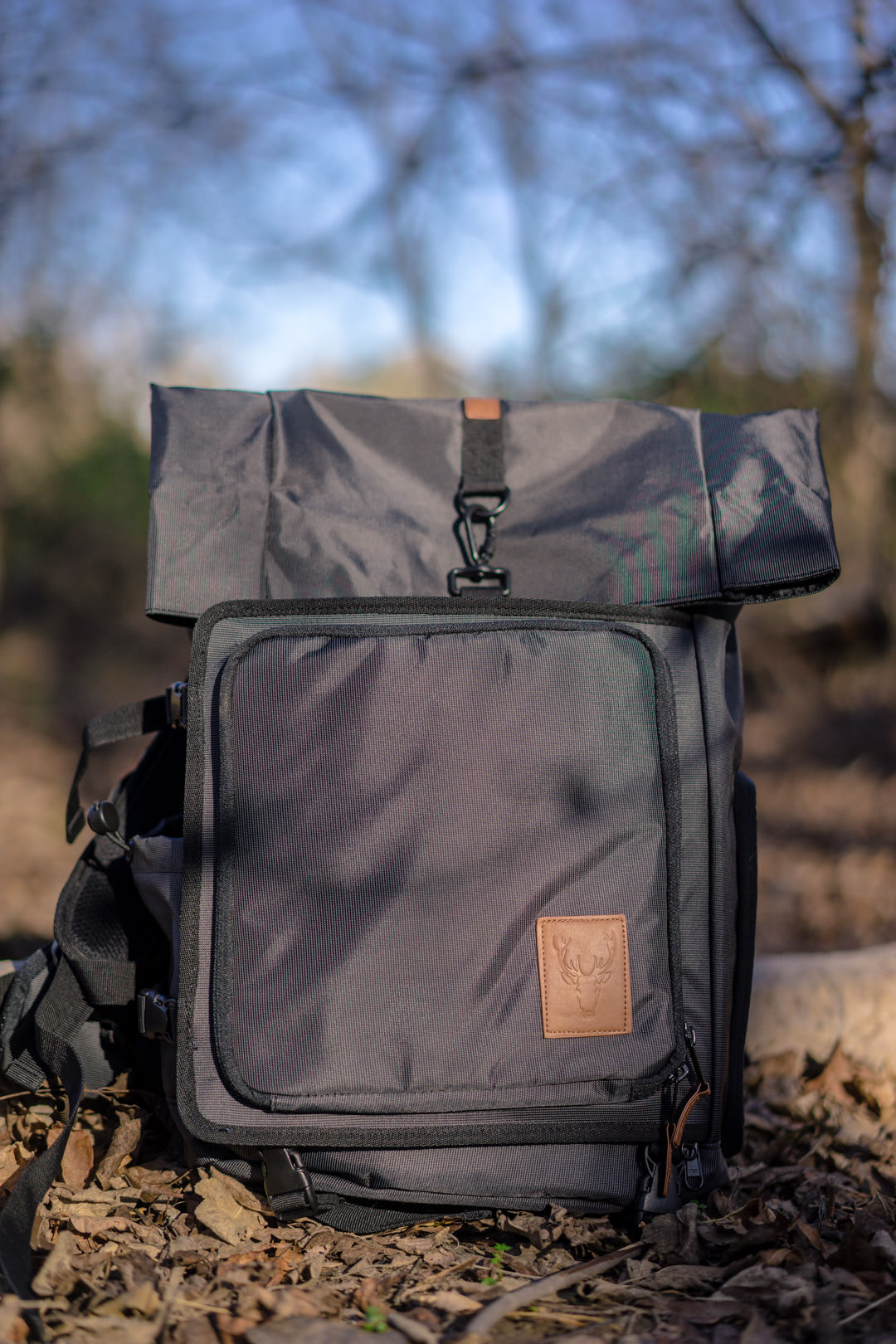 Brevite Rolltop: Value
The Brevite Rolltop comes in at $185. Having the opportunity put this backpack to the test, I do believe that the price definitely holds true to its value. I have seen other higher priced bags that don't offer as many qualities as this bag. Brevite also offers a limited lifetime warranty + 100 day trial so if you aren't happy about your purchase, you can return it in 100 days.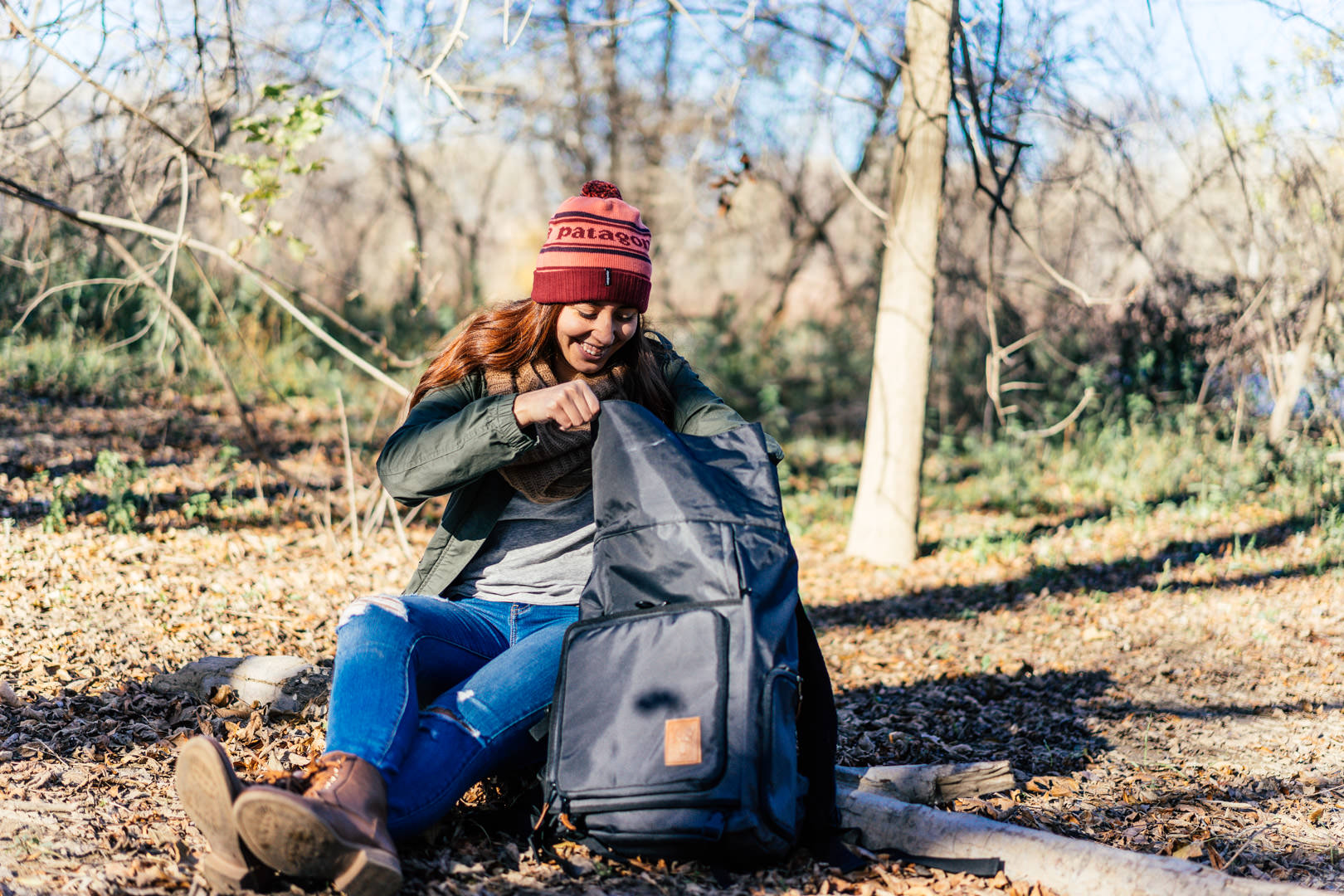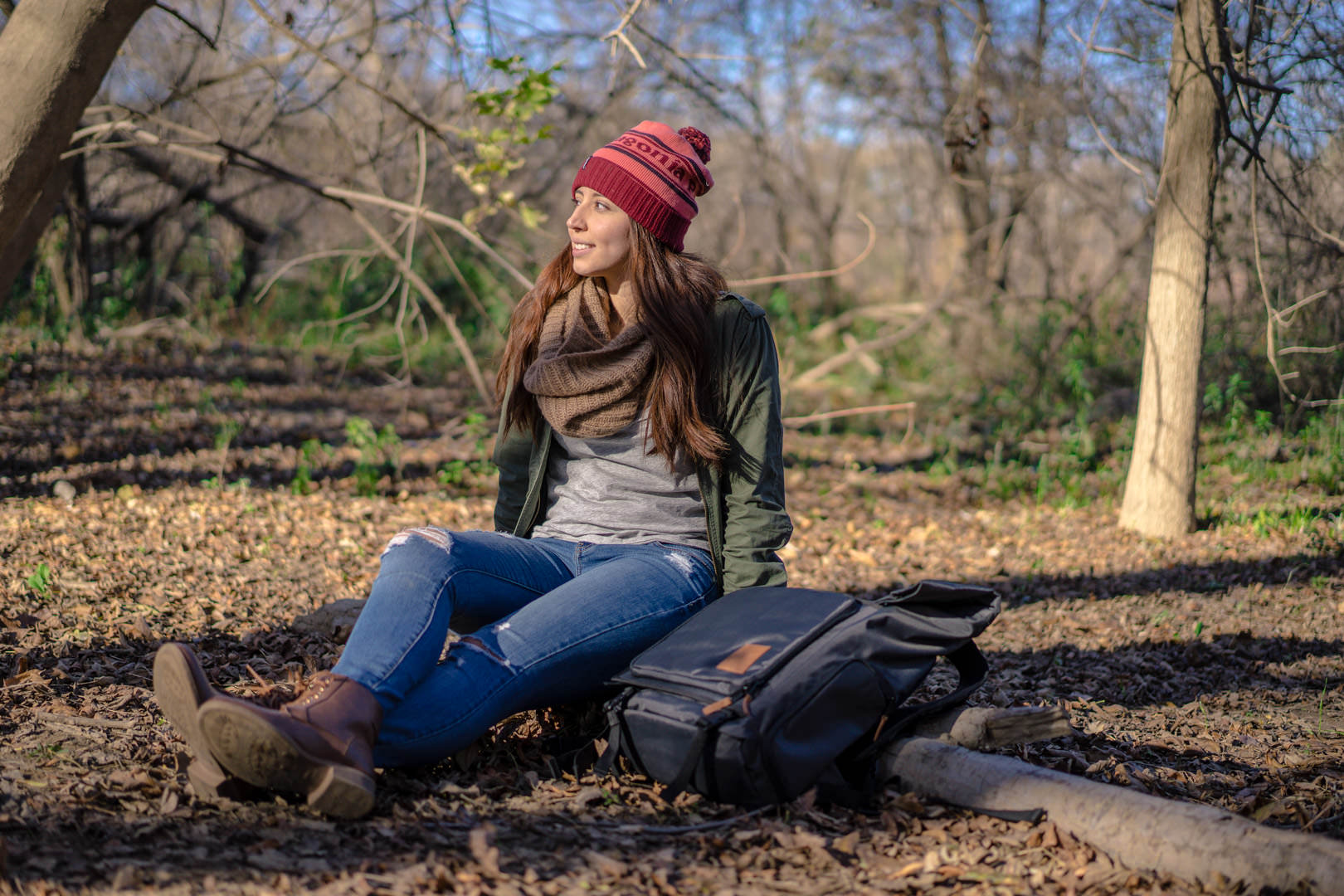 Brevite Rolltop: Fit and comfort
The Brevite Rolltop backpack was very comfortable through out my trip to and around Lake Tahoe. A major component in the backpack that helps balance the weight is the hip belt. It made carrying heavier items easier with the extra support. The hip belt also includes two pockets where you can place your SD cards or wallet. The back padding also feels great on my back! Overall, the comfort and fit of this backpack is amazing. It's also very stylish, and won't ruin your outfit.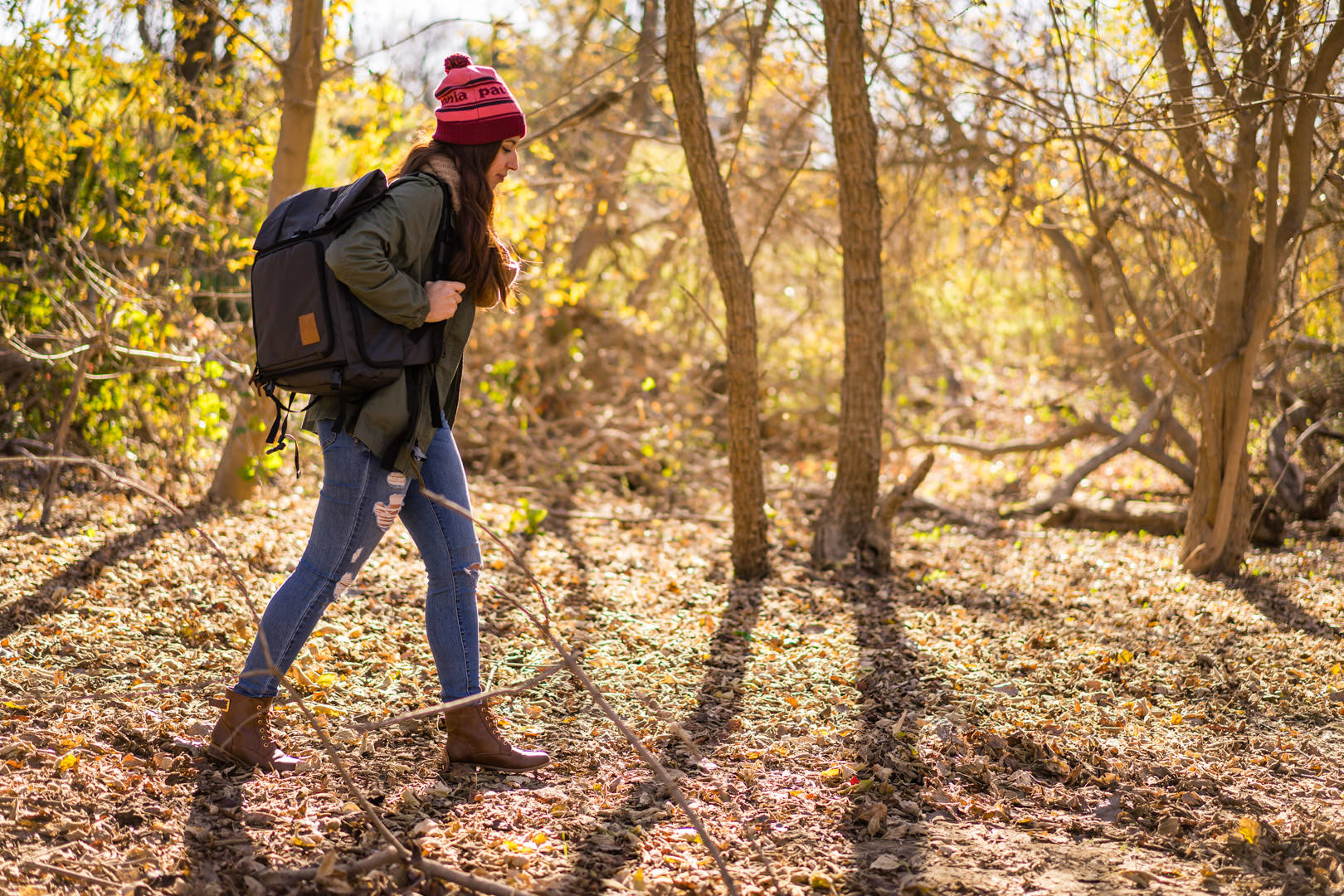 Pros:
A lot of pockets
Enough space for camera gear and other items
Very modular
Lens Cap holder
Weather Resistant
Extra layer of protection (Rain Cover)
Cons:
Hard for it to be your everyday backpack
Too big
Takes time to get your gear out
Conclusion:
I can't express how good this backpack has turned out to be. If you are a hiker or someone who likes to go on long walks through the city, the Brevite Rolltop backpack is great for you. I don't see it being an everyday backpack just because of its size though, but for $185 this backpack is a steal compared to other backpacks out there. I highly recommend this backpack to who ever is looking to get their money's from a camera backpack.
Brevite Rolltop Review
The Brevite Rolltop is a solid performing backpack, providing great value for the price.
PROS
A lot of pocket
Enough space for camera gear and other items
Very modular
Lens cap holder
Weather resistant
Extra layer of protection (Rain Cover)
CONS
Hard for it to be your everyday backpack
A little big
Takes time to get your gear out





Solid Performer