Meant for the true adventurer
The photography world has been clamoring for a brand to offer a solid adventure backpack for a while now that doesn't have any supply-chain or stock issues. Surprisingly enough, there aren't that many of these types of brands around. It seems as if most camera pack companies dabble in the adventure backpack realm, but there are very few who specialize in it. Until recently, it seems as though F-stop has owned that market. However, a new contender has arisen, and this brand deserves a serious look.
Allan Henry, one of the partners over at Atlas Packs, contacted me with an opportunity to take a look at their Adventure Pack. Atlas Packs makes two backpacks, the Adventure Pack and the Athlete Pack. The Athlete Pack is a smaller, more nimble backpack, designed to be used with a lighter load. The Adventure Pack is their larger, all encompassing hiking adventure backpack. Atlas Packs understands that 45lbs of gear and 15lbs of gear need to be carried different, thus designing two separate bags. I had the pleasure of taking the Adventure Pack with me to Maui for a week.
While in Maui, I wanted to shoot a variety of things. The main purpose of the trip was a wedding, which I would be informally shooting. This would require me to bring at least two cameras and a few lenses because even though it was a small wedding, I take my photography seriously. Next, I wanted to shoot a few landscape images with a wide angle lens, do some hiking, and take it general family photos. Lastly, I was taking a third camera in an underwater housing.
Atlas Adventure Backpack – What it fits (in 25lb carry-on weight limit)
Obviously, the Adventure Backpack holds a ton. The thing is, I could have held a lot more gear if I wasn't using the backpack as a carry-on while flying. My weight limit was 25 pounds, and this gear pretty much maxed that limit out. I'll delve into what else I think it can hold, but let's take a tour around this adventure backpack first.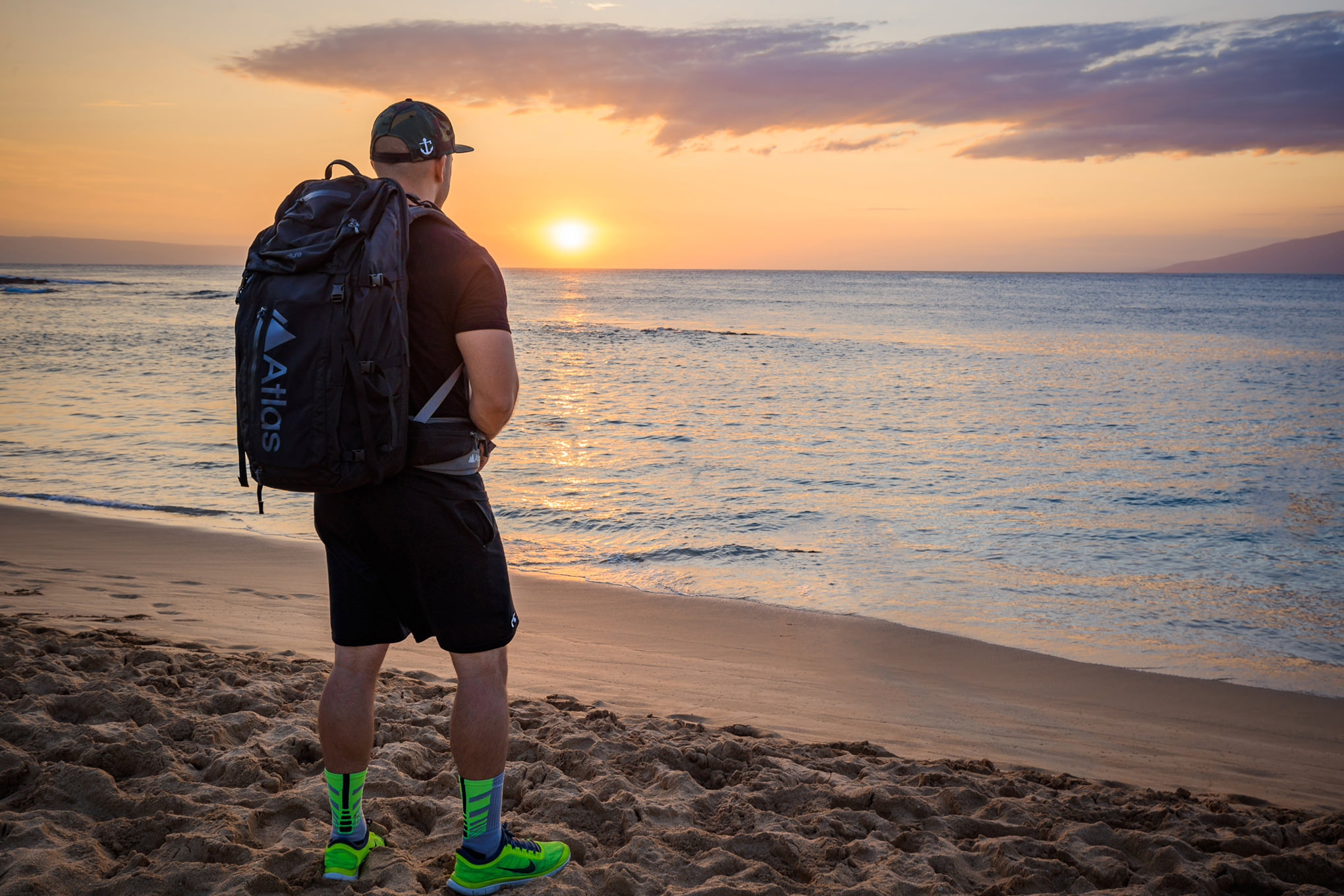 Atlas Adventure Backpack – Design and Features
From a design standpoint, one can tell that the thought put into the Adventure backpack has been vast. I appreciate that Atlas Packs has crammed as much design thought into every crevice of the Adventure backpack as possible. From the straps to the pockets to the folding Origami Camera Core, the Adventure backpack is well thought out.
The nylon outer of the Adventure backpack is extremely durable, yet light enough to not weigh you down. I love that. The top of the Adventure backpack features a weatherproof zippered pocket for quick access, great for keys or other smaller items. Also on the top of the Adventure backpack is an extremely robust handle, which can easily hold the weight of the bag when fully packed with gear. The top part of the Adventure backpack unclips via clip buckles to reveal an underside mesh pocket, and a huge cinched area. This area is outside of the internal camera unit, and is perfect for storing non-camera gear like clothing, food, etc. I'd have no problem throwing a mini cooler in this section of the backpack.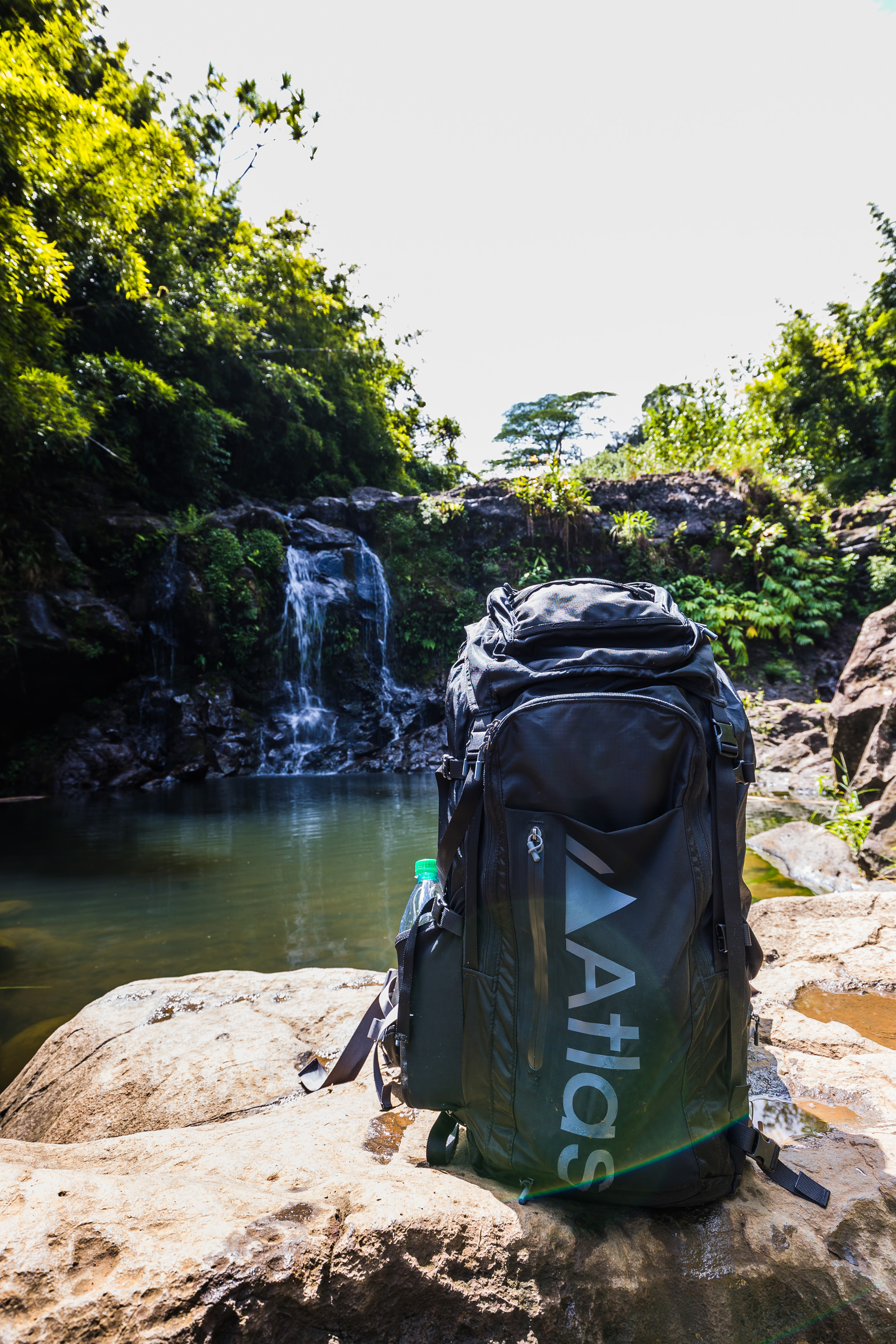 The front of the Adventure backpack has a variety of features, such as a water bladder pocket, two zippered compartments for organization, a 15-inch laptop sleeve, accessories, and much more. Keep in mind that this is the side of the bag that will be laid down on the ground when accessing camera gear, so don't chuck it onto the ground if you've decided to bring a laptop along. Other than that, this front section is very versatile, and runs all the way to the bottom of the bag.
Speaking of the bottom of the bag, this thing handles weather like a champ. I hauled it around in wet, damp conditions and rain, and it was good to go even without the rain cover. I can only imagine it also being fantastic in the snow. The Adventure backpack also comes with said included rain cover, and is a fantastic added piece if you need to bring it out. This rain cover is in its own zipped pouch near the bottom of the bag and can be accessed easily.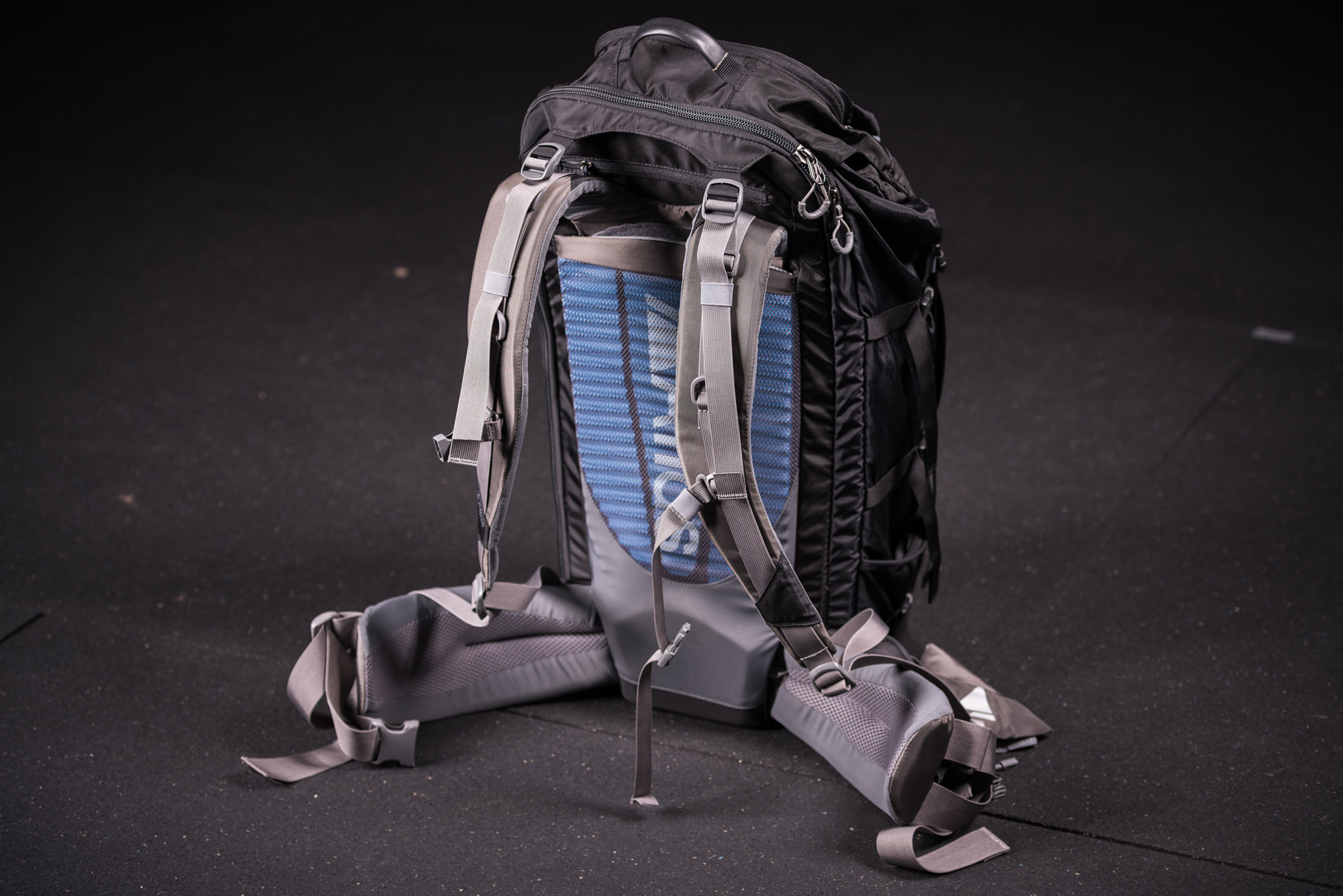 There are three clip buckled cinch straps on either side of the bag. These are great for tightening the bag, but can also cinch down light stands or tripods since there is an expandable pocket on the bottom the bag. I also used these pockets for water bottles.
The back of the Adventure backpack is equipped with a mountaineering harness style strap system. This system is really unlike any other I've used in a camera backpack. Atlas Packs offers medium and large sized harness system, depending on what size you are. This approach to sizing guarantees that you're going to get a great fit when you put the Adventure backpack on, and I wish more companies had different sized straps. I had the large, and loved it. In conjunction with the fantastic waist harness, this system takes a ton of weight off of the shoulders and transfers it to your hips. Because the Adventure backpack can hold so much gear, that is a much-needed feature. I've used other backpacks that claimed to do this, but failed in their attempt. The Adventure backpack succeeds where they have failed, and even adds to the feature set. The waist belt can be removed on smaller trips as well, and when attached includes a unique pair of pop-out pockets sewn into the sides. This way you can shoot with a camera, and carry a lens on either clip, creating the ability to be versatile with the pack still on your back. It's little features like this that help the Adventure backpack stand out from the crowd.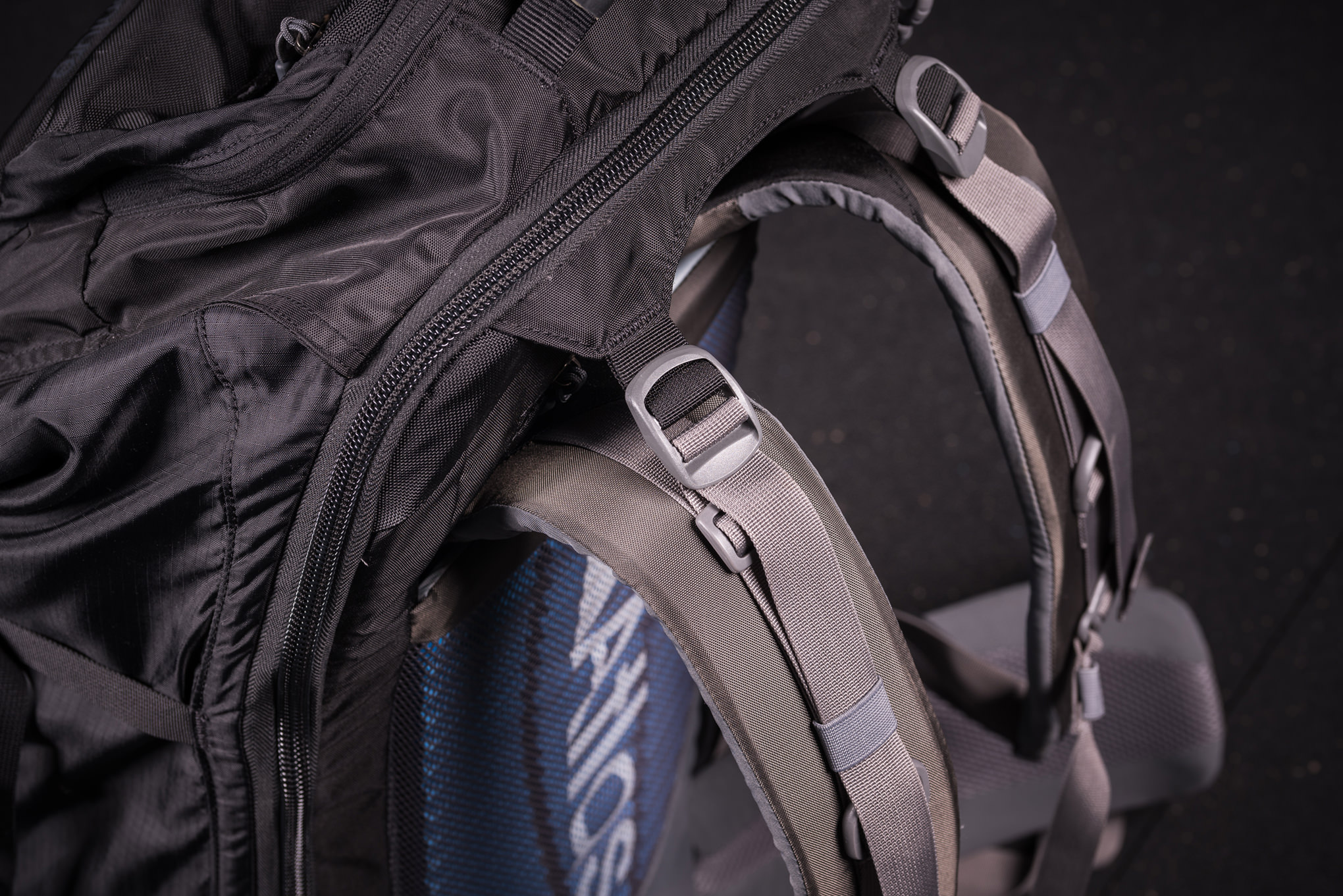 The inner portion of the Adventure backpack is simple, but it works. It has a nice divider system, with all the proper sized dividers for pretty much any configuration that one could need. These dividers are easily movable, but retain a nice amount of strength. What sets the Adventure backpack apart is the folding Origami Camera Core. The folding Origami Camera Core is an expandable section in the backpack that allows you to have either more space in the camera compartment, or in the pocket outside of the camera compartment. If no dividers are in place in this section, you expand it by pushing on it, or close it by pulling the little strap. I'm amazed that this ingenious feature hasn't been created before. Kudos to Atlas Packs for the invention, because I used it often and you will too. When folded out, the Origami Camera Core gives you about 30% more space in the camera compartment. Depending on the trip, this may be much needed space. When it isn't needed, it can be closed and that space can be recaptured elsewhere. The non-camera compartment can also be reached from the camera section of the Adventure backpack through a zipper. Once again, Atlas Packs' design and thoughtfulness are evidenced here. Without the zipper you would have to zip up the camera section and stand the bag up.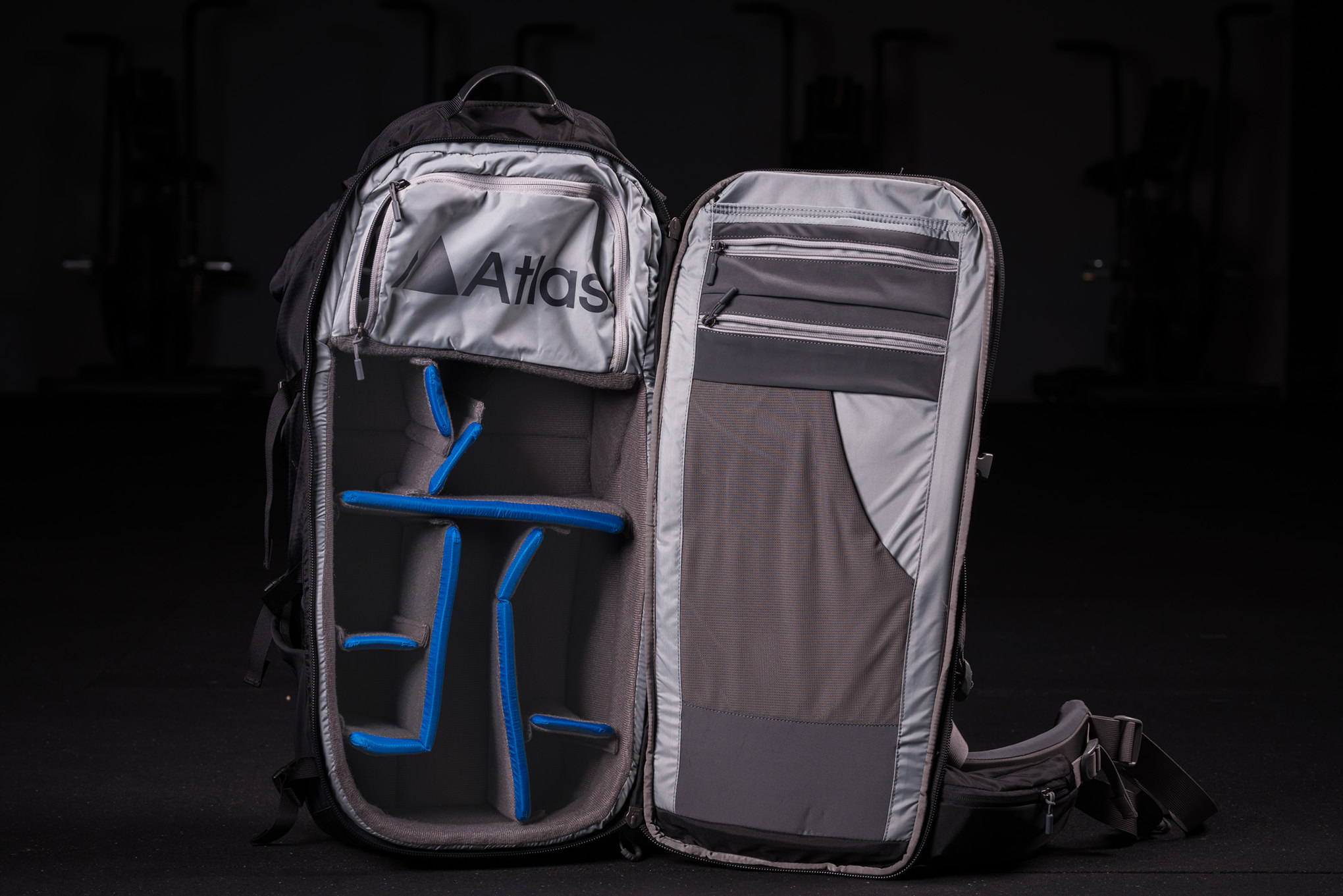 Another thing worth mentioning about the folding Origami Camera Core is that it replaces the need for any component based systems. Many adventure backpack are sold with removable ICU's (internal camera units) or sections. This both compromises the quality of the backpack and takes up unneeded space in some instances. The folding Origami Camera Core replaces the need for different sized inserts by expanding and contracting based on the person's needs. The Adventure Backpack retains it's structural integrity in either folded or unfolded position, and remains very versatile.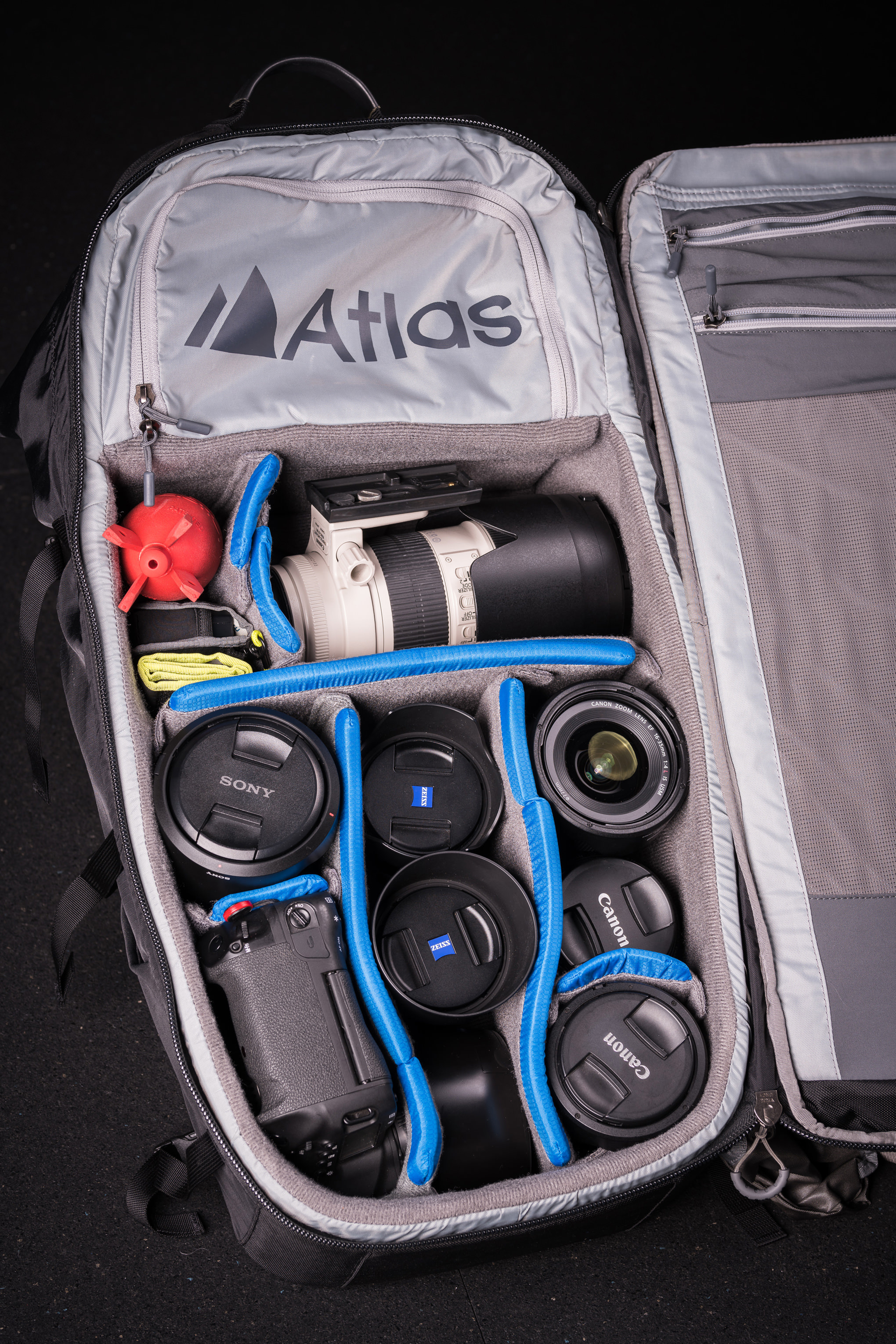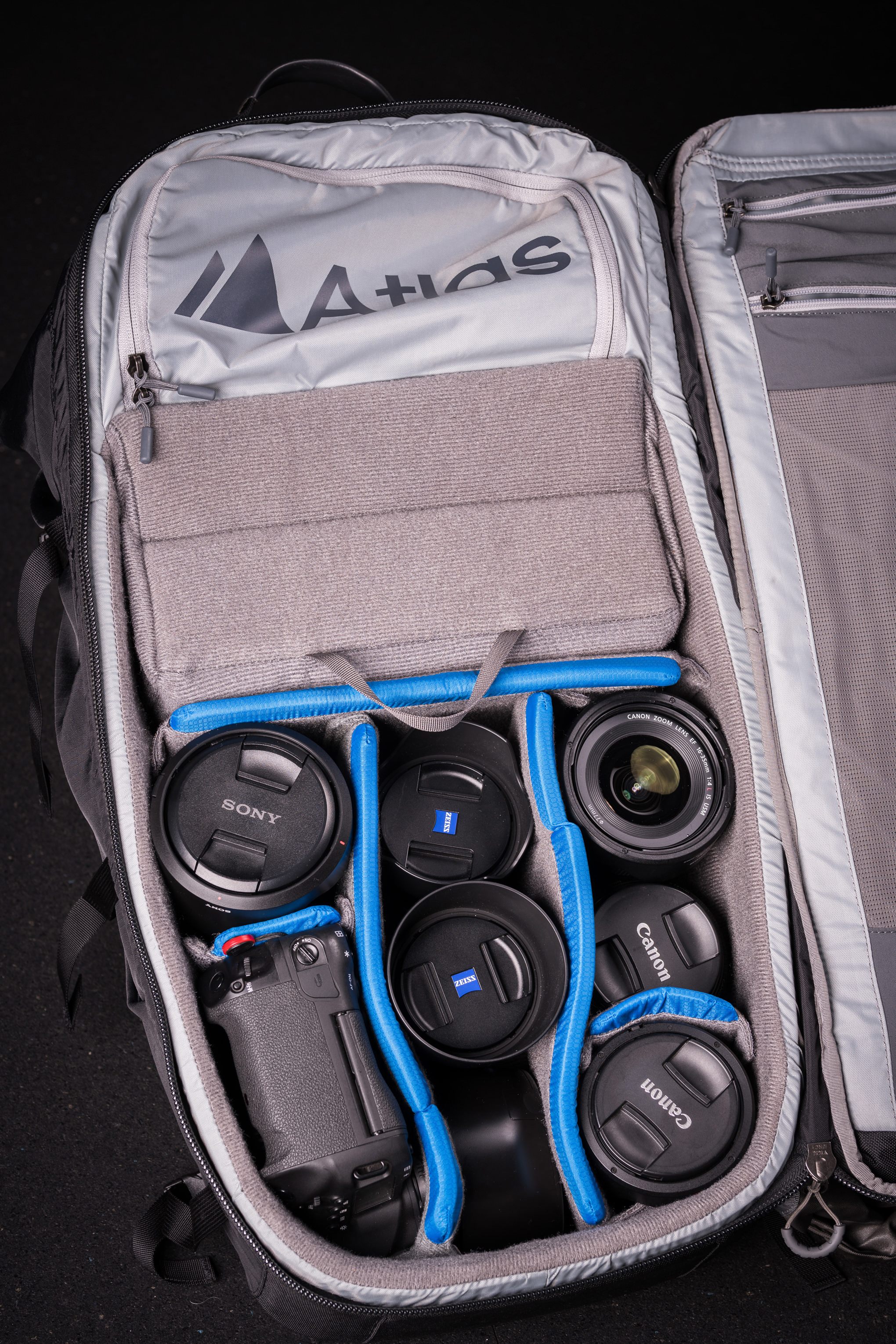 The hinge of the Adventure backpack camera compartment is also different than I've used before. Most packs flip down when opened, but the Adventure backpack flips to the side like a door would. I really don't have an opinion on whether I like or dislike this, but it is worth adding. The door also has a few pouches and pockets for small items.
The camera compartment is deep enough for gripped DSLR's . You'll be able to take a full kit, or an extreme amount if you're a mirrorless shooter. The one con I had was that it can be harder to fit lenses in the bottom corners of the bag, with its rounded design. It was pointed out to me that this design is also thought out. With a wider bottom, the zipper would get caught, making opening the bag impossible. I agreed, and because of that, the con is erased.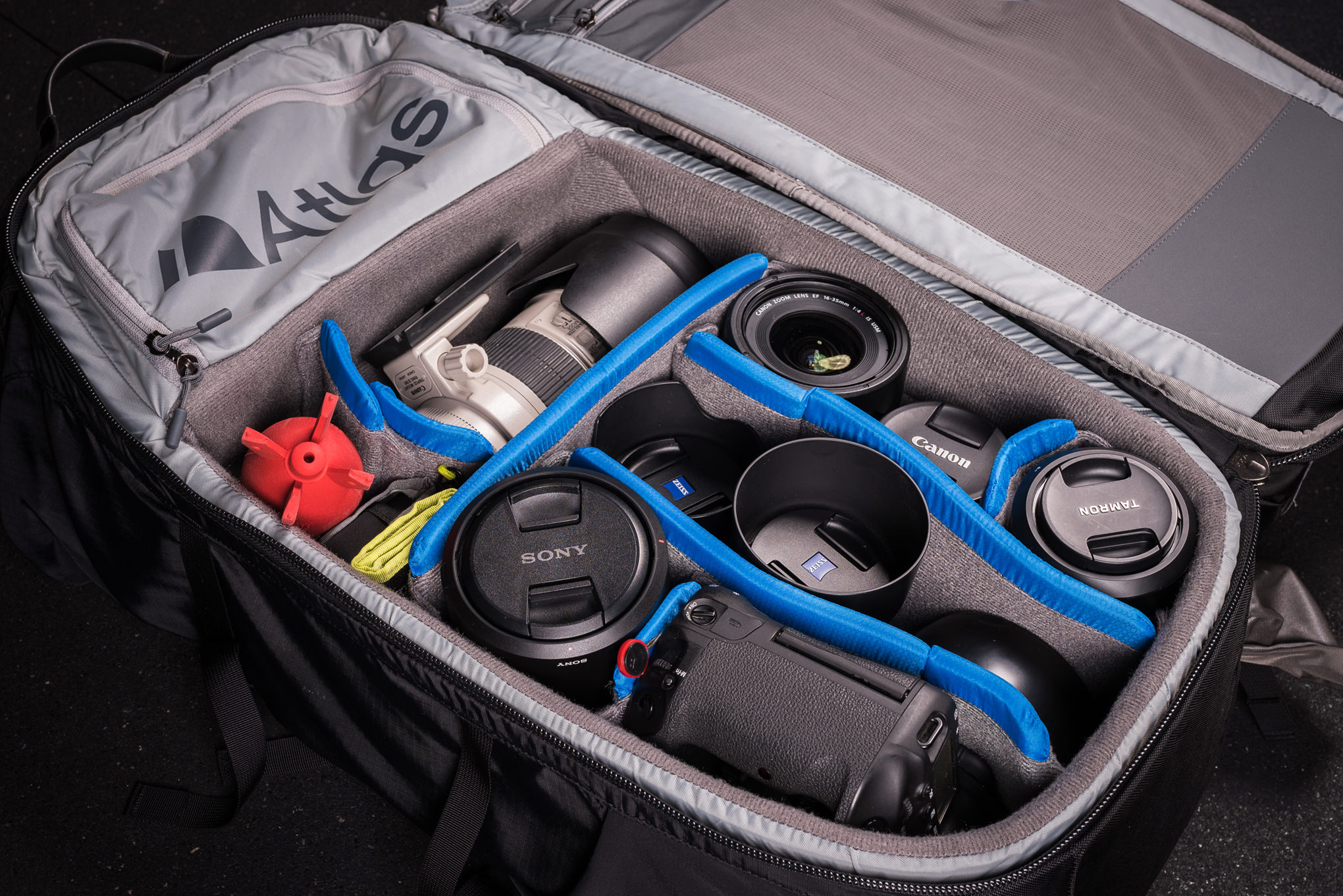 Atlas Adventure Backpack – Build and Durability
As a whole, the outer of the Adventure backpack is exceptional. In real-world use, the Adventure backpack held up very well to rigorous use in sandy and wet environments. I didn't take it easy with the Adventure backpack. I was pleasantly surprised to find no water in the bag after a rain, even without the rain cover.
Atlas Adventure Backpack – Fit and Comfort
The harness system on the Adventure backpack has been extremely comfortable in use. I trekked through the rainforest, loaded down with about 40lbs of gear, and the harness took a lot of weight off my back and transferred it to my hips. Obviously, you're going to feel the weight over hours of wearing it, but the Adventure backpack really mitigated a lot of pain. The waist strap is a Godsend, and added to the comfort. Overall, I'd give the comfort an 8.5/10.
Atlas Adventure Backpack – Value
There's no getting around that fact that durable, weatherproof adventure and expedition camera backpacks are typically an expensive proposition. At $385 though, the Atlas Adventure backpack is one of the least expensive on the market, giving great value for your dollar. Similarly featured competitors packs easily run over $500.
Another valuable decision that Atlas Packs has made is to include free overnight shipping. This service is one that no one else is doing, and really speaks to Atlas Packs emphasis on customer service in general. Allan makes it a point to take care of each and every customer, and can easily be reached via social media. This differentiation is one that should be commended. It really sets Atlas Packs part from other brands.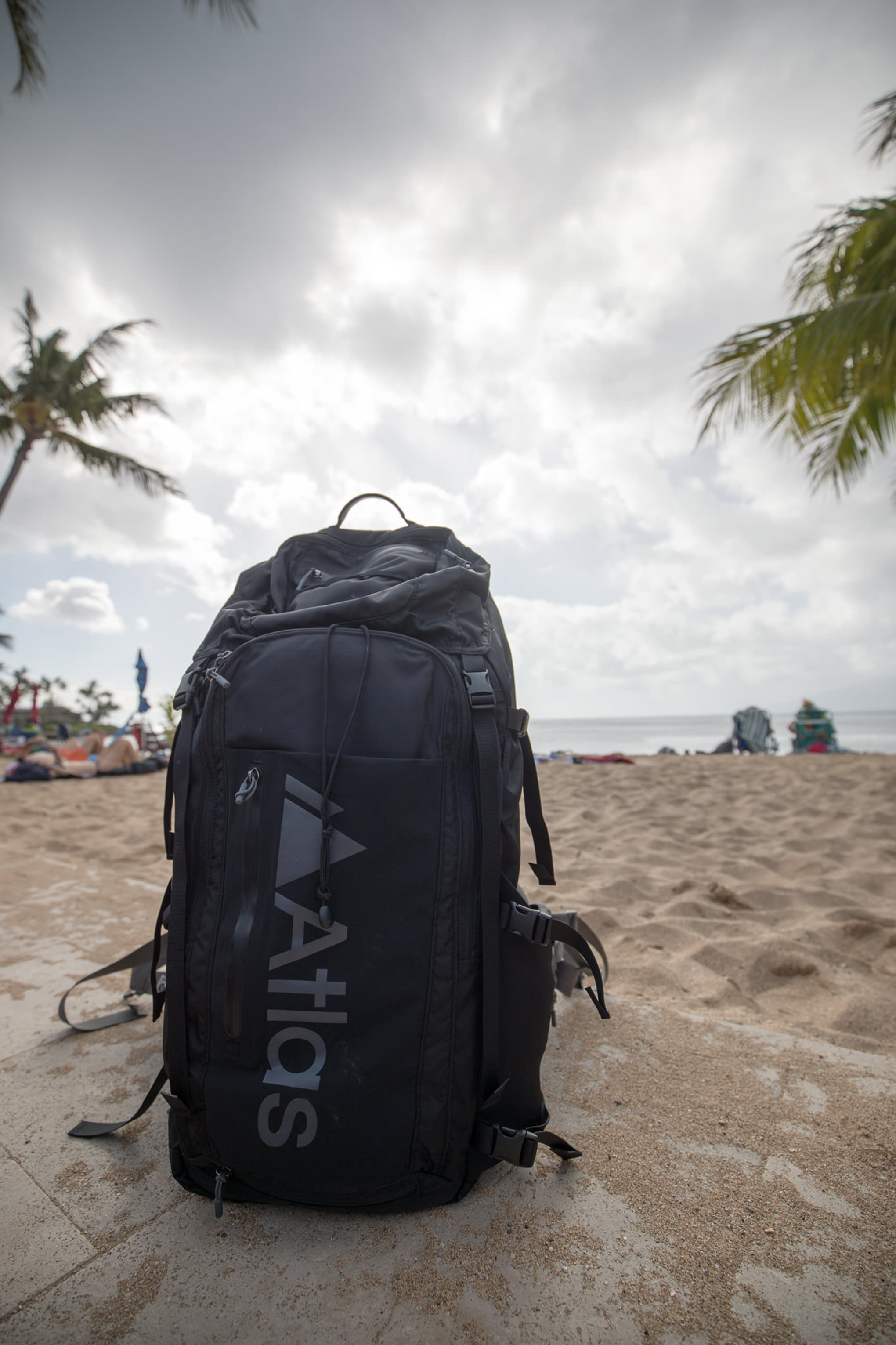 Conclusion
It is an understatement to say that the Adventure backpack is a good camera backpack. If you are a photographer or videographer in need of a pack that can weather the elements, carry your full kit, and be comfortable on your back while doing so, the Adventure backpack is the leader of the pack in my opinion. I have reviewed and used a few other high-end adventure backpacks, and this is by far the best. Also, the value for money at $385 is exceptional. Its durability and attention to detail are second to none, and I would highly recommend the Atlas Packs Adventure backpack to anyone looking for this type of backpack.
Atlas Packs also offers the Athlete Pack, so check it out as well. I hope to also review it in the near future. Both backpacks are available through their Amazon store and Instagram page.
Atlas Packs Adventure Backpack ||

Check Price
New Expedition Leader
The Atlas Packs Adventure backpack ticks all the boxes needed in an adventure backpack, and then some.





Meant for the true adventurer