Surprising Performance
Editor's note: Matt is a guest reviewer for TheBrotographer.com. He is a fantastic landscape photographer, as you'll see by his photos in this review. Check him out HERE.
A special thanks to Ross for letting me review the Tamron 17-35mm!  I used the Tamron 17-35mm on my Sony A7III with the Sigma MC-11 adapter on a 3 week road trip through various National Parks throughout Utah.  Below are my nontechnical thoughts from landscape photographer's perspective.
Variable 

aperture
Tamron 17-35mm: Build and features
Yes, the Tamron 17-35mm is made of plastic.  However it feels incredibly sturdy.  Any qualms I would have about it being plastic are negated over its size and weight.  I also brought along my old micro four-thirds system as I like to do when I travel because of the size and weight. While it was still smaller, I did not really see a benefit in having it while I had the Tamron 17-35mm slapped on my Sony A7III.  
The biggest negative, at least from a landscape photographer, is the lack of image stabilization.  In most cases this can be solved with better planning… bring along a tripod.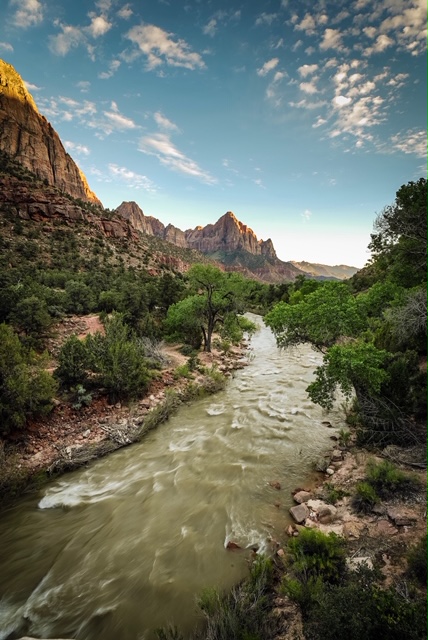 I am used to getting pretty long shots, up to half a second, with little camera shake due to dual image stabilization without a tripod.  While hiking to Kanarra Falls, the snowmelt was insane.  Most of you reading this will probably recognize the photo of the makeshift ladder from a fallen tree and a nice little waterfall.  When I was there the waterfall was gushing and water was just below my knees.  It was freezing and there was no way I could put down a tripod without it being swept away.  I decided to do the best I could and was to shoot handheld for a quarter second to try and get that nice smooth waterfall. Because of the nature of the water swirling around me, it being cold as hell, and the spray, I was trying my best to get as many shots as I could and then get out of there.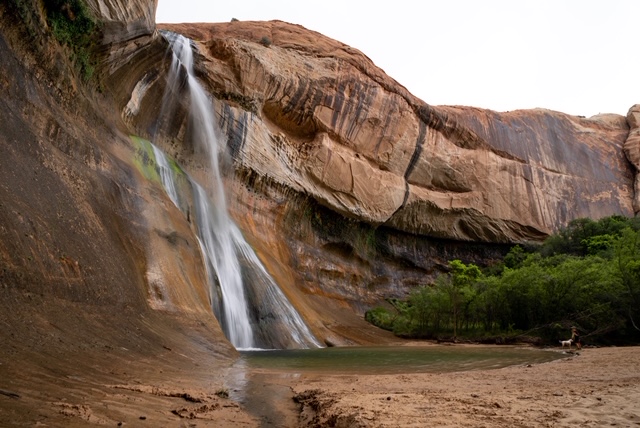 I probably took 30 different shots and was totally excited to get back to the trailer and look at them.  After it was all said and done, I had camera shake on ALL of them, except for one picture.  Could this have been solved with the lens having image stabilization that worked in concert with the Sony?  Possibly.  Conditions were pretty rough inside that slot canyon that day and I've never shot in anything as chaotic as that.  With that being said, I doubt I'll ever hike back to that waterfall and it would have been nice to have a lens on my camera that would have helped me get the shot I wanted.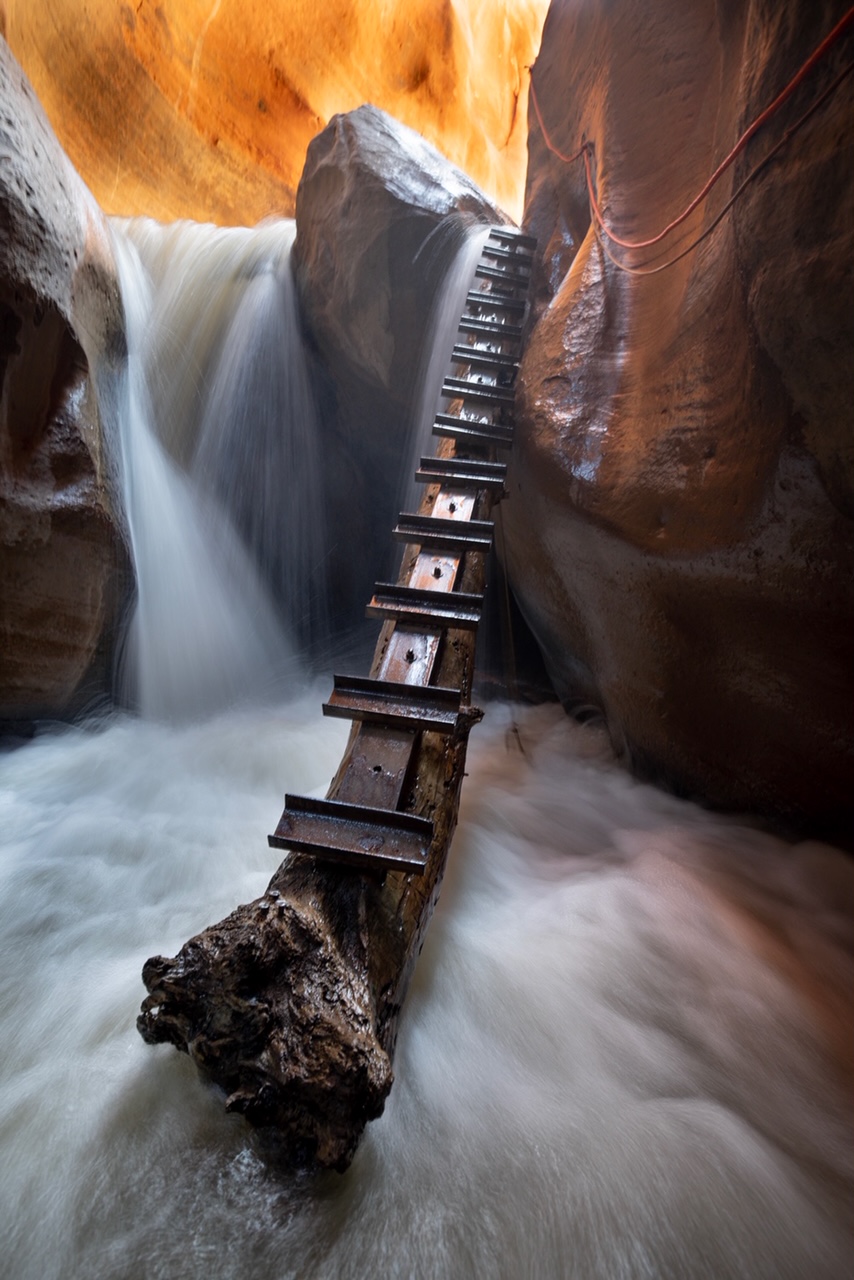 When I was in different shooting conditions with the Tamron 17-35mm, I was able to get handheld waterfall shots no problem.  
Tamron 17-35mm:
Performance
Autofocus worked quickly and smoothly on the Tamron 17-35mm.  Although most people will not use this as a portrait lens I took photos of my son in our trailer.  Nothing tests autofocus more that a 5 year old boy.  It's amazing how a little person can move so much in such a confined space.  The lens was able to lock on quickly and focus with no hesitation. In the field I found the same to be true.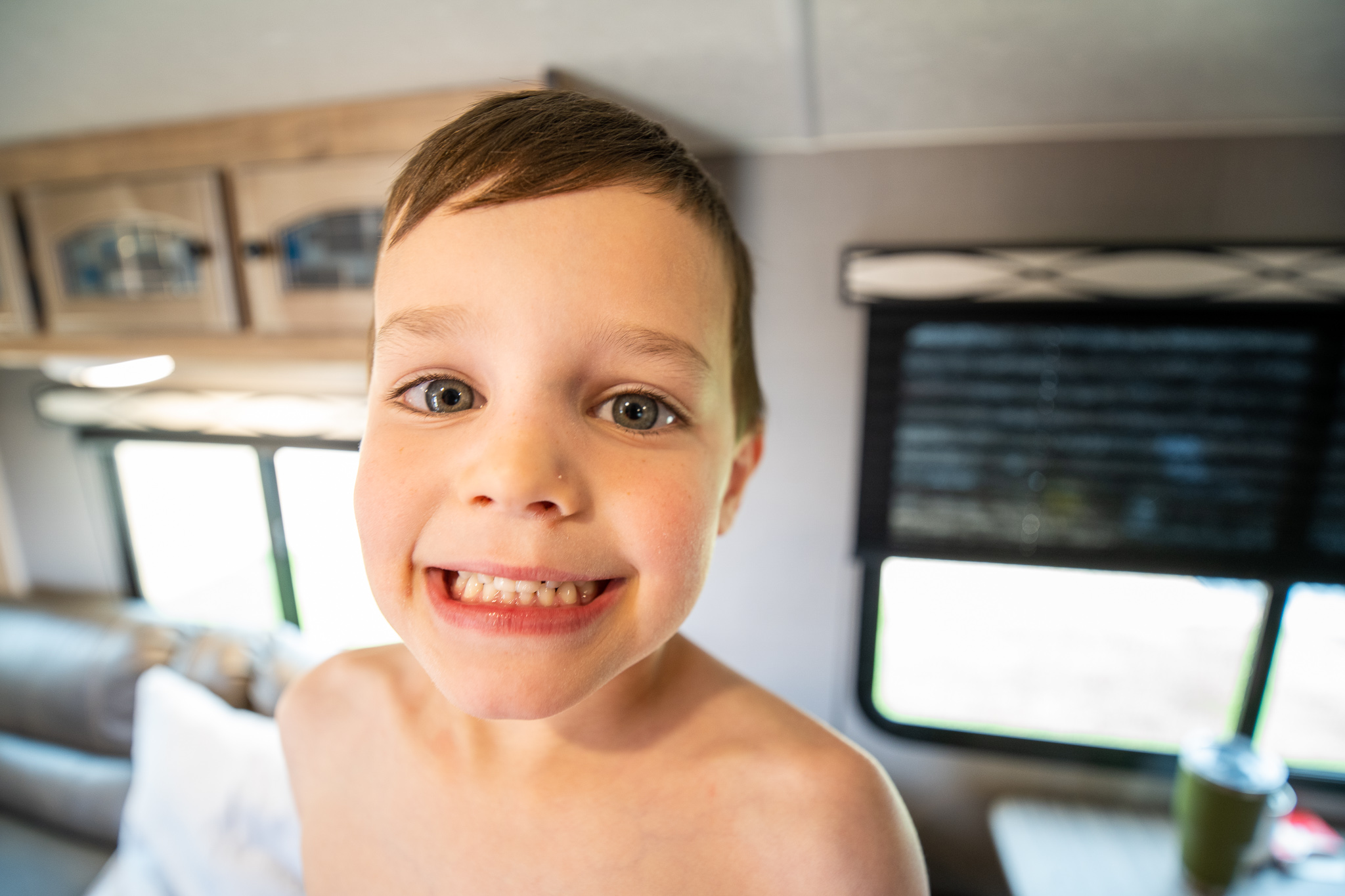 Probably the area that pleased me the most was how sharp the Tamron 17-35mm is.  I did not have a set of filters to work with, so in some cases I had to stop the lens down to get the desired effect, like the shot of the Watchman in Zion with the Virgin River  rushing below.  This was taken at f/16 and I do not feel like it is soft in any regard.  I love lenses that give me flexibility like this.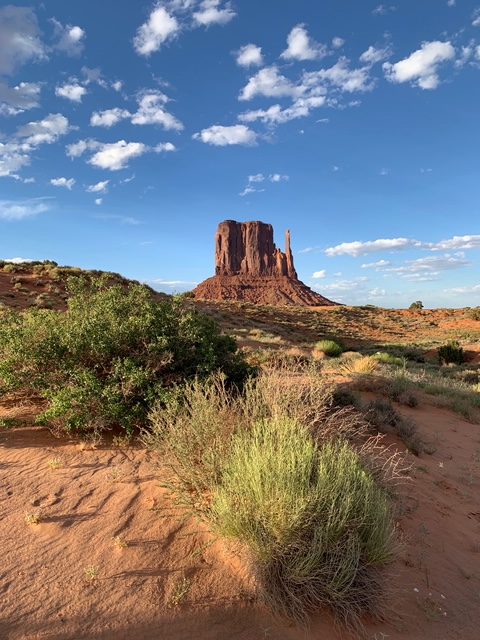 My biggest regret in testing this lens was that I was not able to do any astro work with the Tamron 17-35mm, and I think that is an area where it would really shine.  I did test the lens in regards to sun flare and the results were middling.  Most shots I was able to get nice sun flares, but at the cost of the additional lens flare.  I would say in about half of the shots I would be able to use with some time spent in Lightroom getting rid of the undesirable lens flare.   
The area most concerning to me in regards to this lens was a constant clicking sound when zoomed in.  I have only used my Sony A7III with prime lenses so I had never "zoomed" before.  Since I was using an adapter I am guessing this had to do more with that whole setup, but something to keep in mind if you plan on using this lens with anything other than the mount it is originally designed for.
Tamron 17-35mm:
Experience and Overall Opinion
Overall I was pleased that the Tamron 17-35mm, and it produced some beautiful images. All things considered whatever pitfalls there are with this lens are made up in my mind by the combination of the price, size and how sharp it is.  If you are willing to spend more and have a beefier setup I would also not hesitate to consider other options.  
Tamron 17-35mm





Surprising Performance