Durable, Useful Filmmaking Tool
Video accessories are an abundant item in the marketplace. Each piece claims to make your life easier as a creative. None however, is more important than the video cage. Whether you're a YouTuber or filmmaker, finding the best video cage for your needs is essential. I believe that I've found the best video cage for the Canon 1DX Mark II, and it just so happens to work on my Sony A7RIII as well. That cage is the ProMediaGear VRC1.
Specs
Adjustable height from 4.75"-7"
Width adjustable from 4"-5"
Cheese plate with numerous ¼-20" threaded holes
CNC machined aluminum with a black anodized finish.
Most video cages that I've used wrap around the body of the camera. The ProMediaGear video cage is a little different. Essentially a "C-cage", the ProMediaGear video cage connects to the bottom of the camera via a machined aluminum bracket plate and sliding rails. The top connects to the camera's hot shoe. This allows the cage to be used on multiple types of cameras, as long as the appropriate bracket plate is connected. If a customized plate isn't wanted, ProMediaGear also sells a universal plate as well.
The top of the ProMediaGear video cage features a decently large cheese plate with plenty of ¼-20" mounting spots. The VRC1K kit adds a cold shoe mount, NATO clamp, and NATO handle as well, which really rounds out this kit.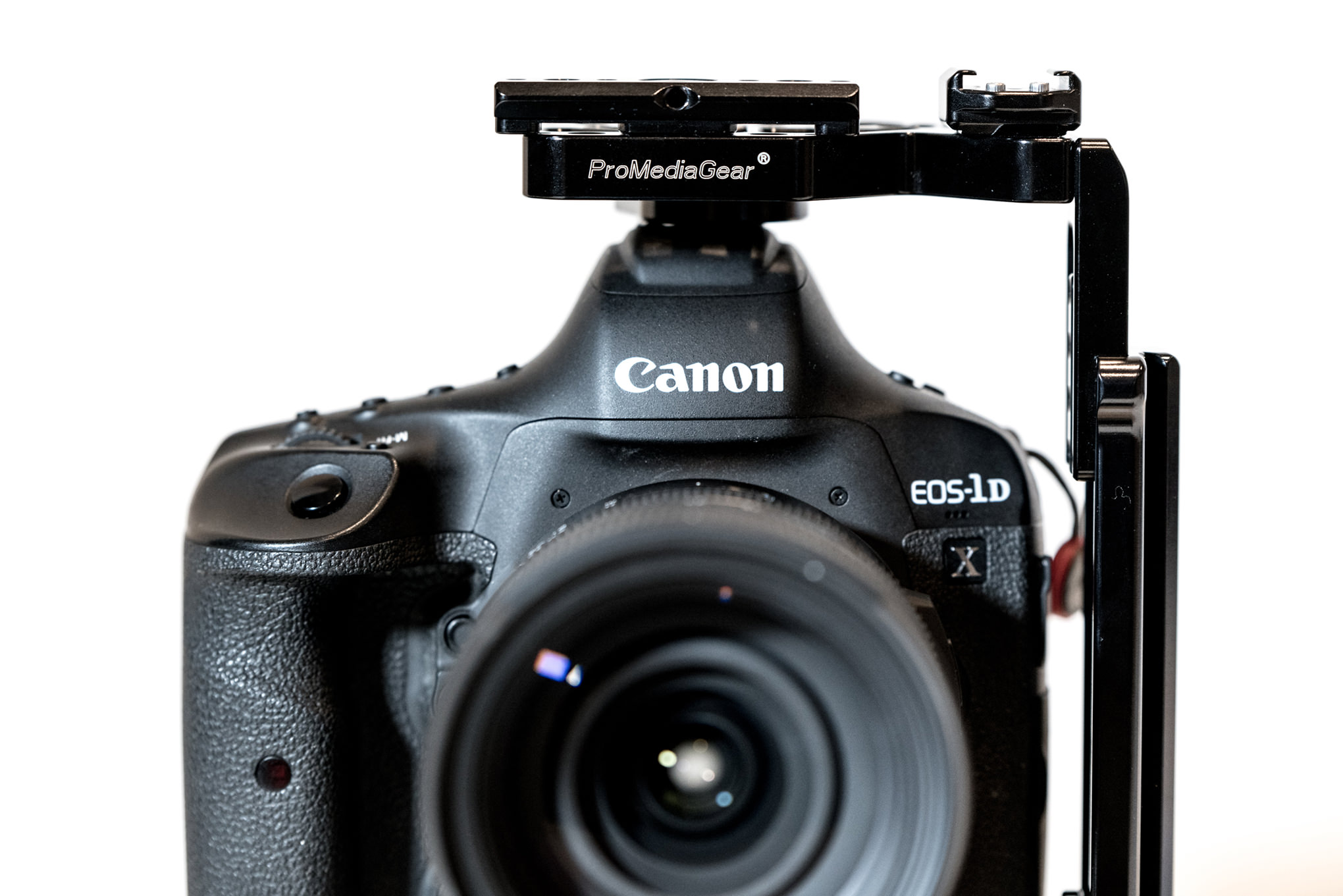 Best Video Cage For The 1DX Mark II
In practical use, I get much more use out of the ProMediaGear video cage then I do other cages. The NATO handle is a godsend, and allows me to stabilize the otherwise jittery 1DX Mark II. For certain situations, the lighter rig is better to work with. However, when using the 1DX Mark II, it's lack of stabilization actually makes me want to weigh it down even more when shooting handheld. People using RED and other cinema cameras know this all too well, but it's been a new experience for me. The CNC machined aluminum of the VRC1 gives it just have to weight to help me stabilize footage even when using non-stabilized lenses.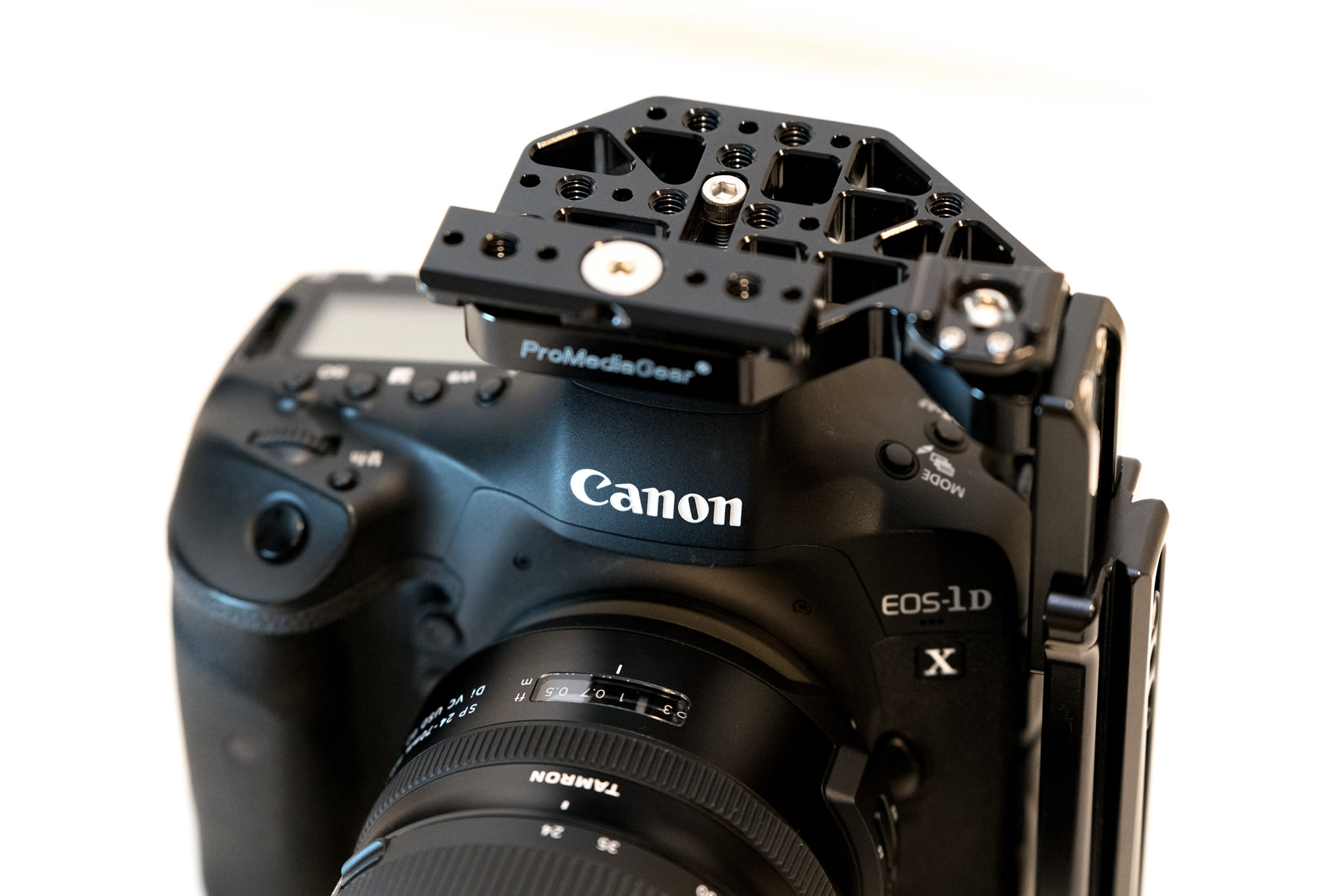 Another reason that I think the ProMediaGear video cage is the best video cage is that it allows you to use your camera like a cinema camera. Ever notice the handle on a RED camera? The VRC1K kit allows me to operate my 1DX Mark II in the same way. My preferred method of use is to stabilize the back of the body on my stomach or chest, grip the camera grip with my right hand, and either hold the lens or the handle with my left hand. The top cheese plate allows me to mount an external monitor, giving it the same feel of the RED camera setup. Don't get me wrong, it isn't the same thing, but it gets your camera much closer to feeling like a cinema camera. Gimbals don't always need to be used in every situation, and when they aren't, some stabilization is still required. The ProMediaGear video cage is, in my opinion, the best video cage for the job. While the cage will fit on smaller cameras like the Sony A7RIII, I think that it really shines on larger cameras without in body image stabilization. Adding more weight and a grip, as well as multiple mounting points turn your DSLR into a video powerhouse.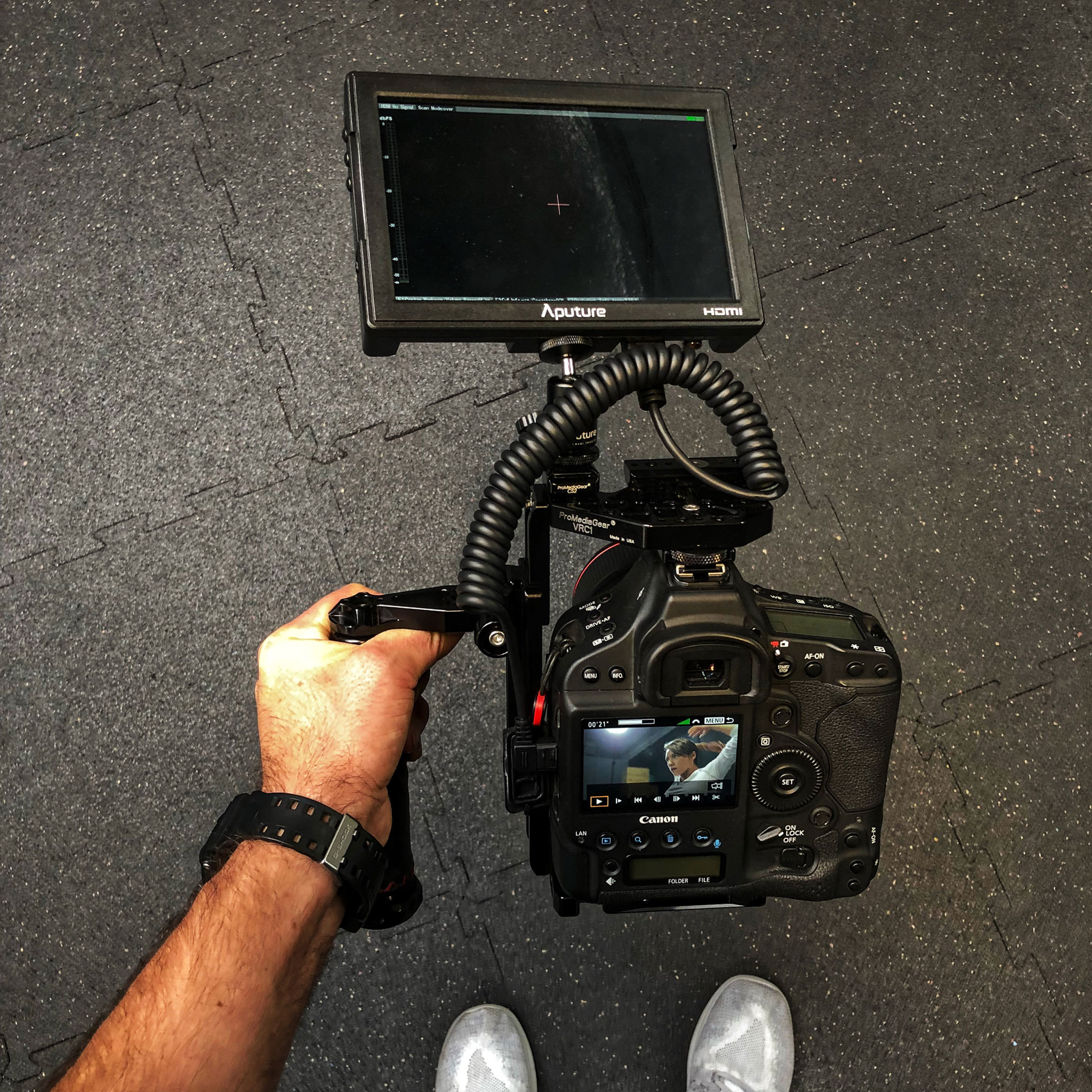 My favorite parts of the ProMediaGear video cage are as follows:
Arca-Swiss base plate for easy tripod mounting
Great build quality and wildly durable
Good accessory mounting options
Great quality handle
Easy to set up
Let's me get more stable shots in the 1DX Mark II
Grip has extra ¼-20" threads
As with any product, there are some cons. Really, the only con that has been an issue for me is that since the vertical bracket is on the left side of the camera, it blocks the battery and microphone port. The HDMI port on the 1DX Mark II is free, so I can still mount the monitor, but I would love to mount a microphone, even if just for scratch audio. While I haven't been put in any situations where I absolutely had to get audio separately and sync it in post, I know that this may be an issue for some people. Typically I like to use this as a second camera in an interview style set up, or a run and gun camera that doesn't need audio anyways. It is an issue though, and I hope that ProMediaGear will address it in a future release.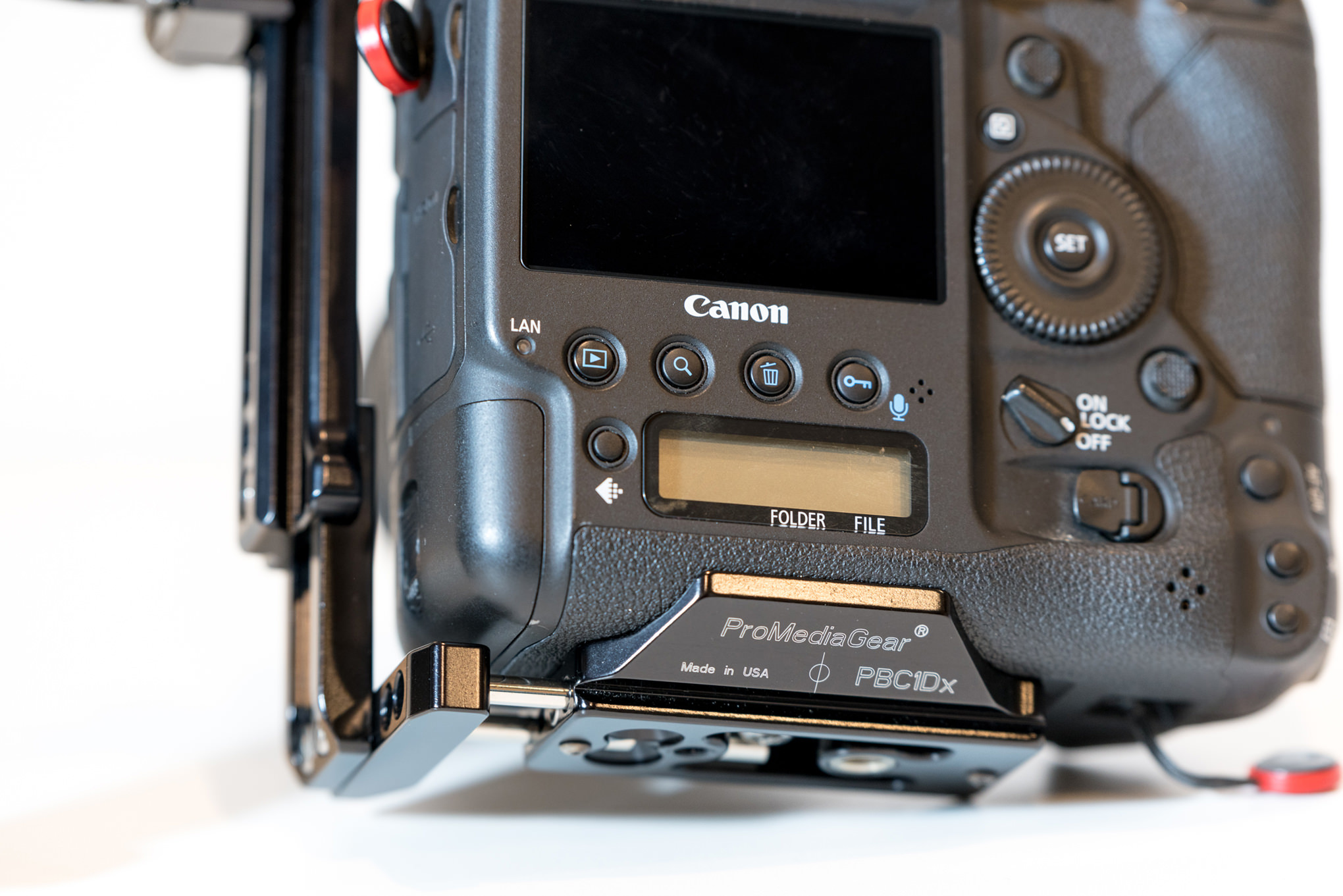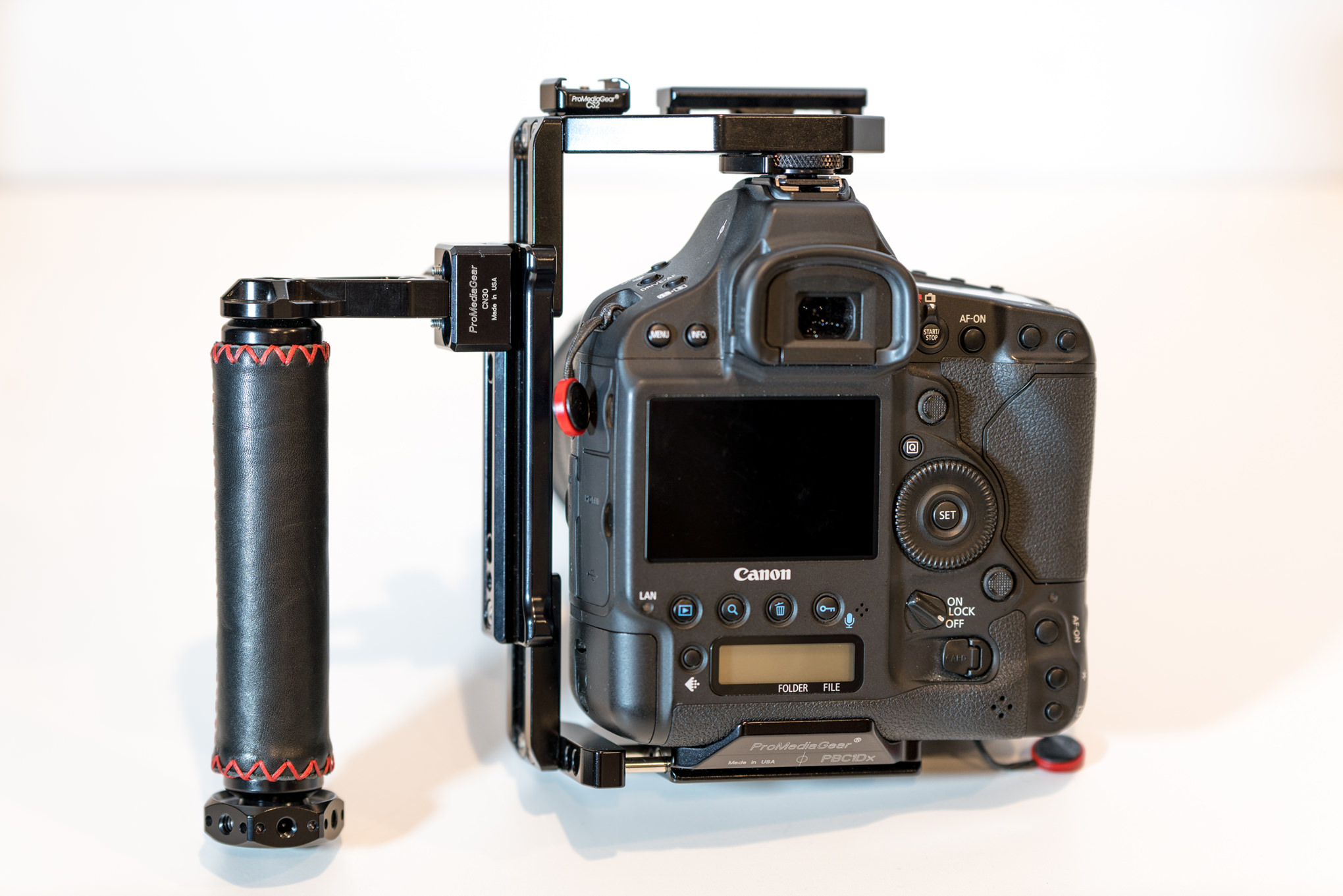 Cons
Vertical column blocks battery port and microphone port
In conclusion, the ProMediaGear video cage is by far the best video cage for me. Its ability to turn my 1DX Mark II into a video powerhouse has made shooting with this camera fun and useful. It is a durable tool that can be beat up and abused. I highly recommend the ProMediaGear VRC1 and other ProMediaGear accessories. They're built to last, won't break the bank. At only $199 for a kit, it is a must have for anyone looking to take their cinematography to the next level.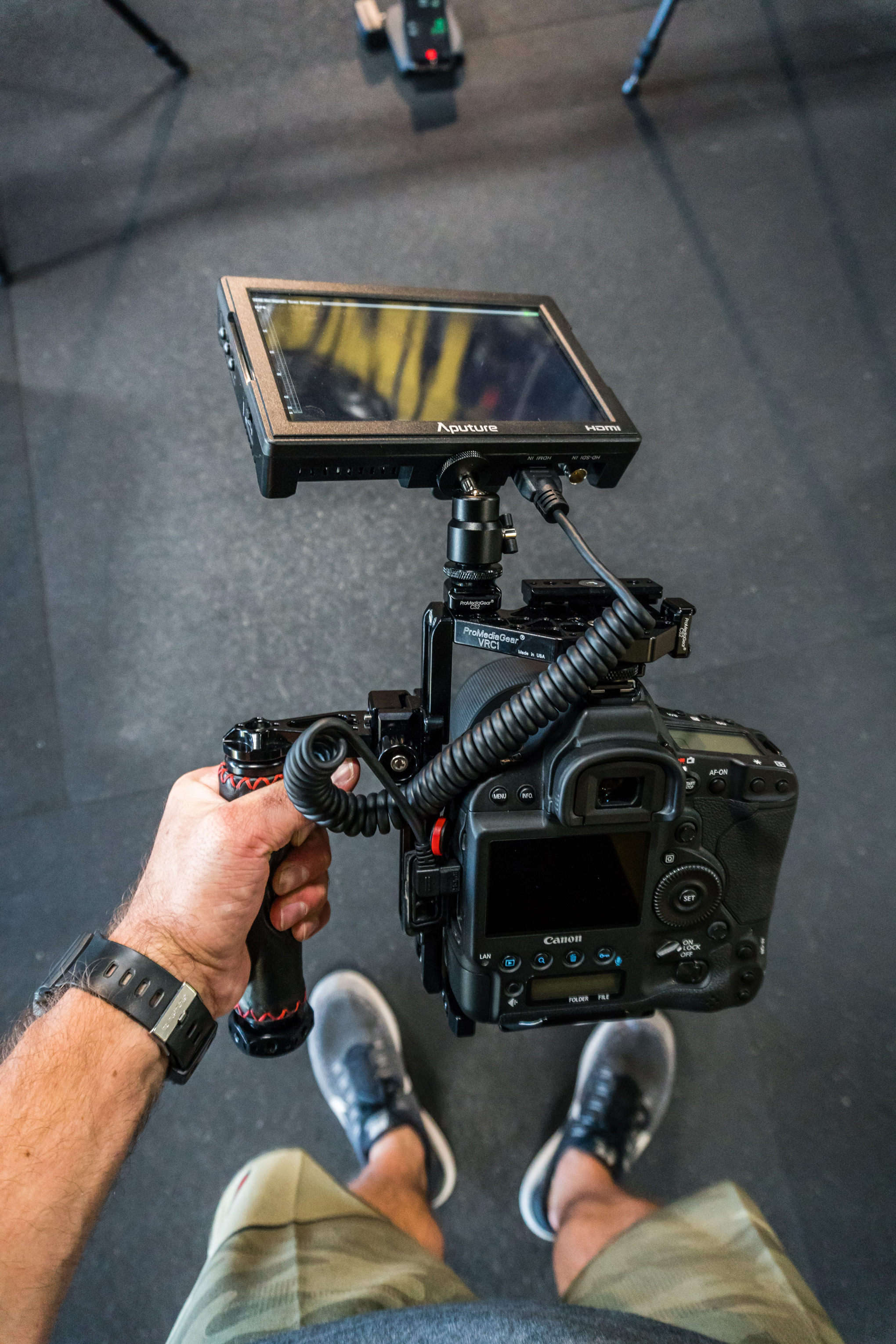 ProMediaGear VRC1 Video Cage Review
The ProMediaGear VRC1 Video Cage is an extremely valuable tool for any filmmaker. It'll last forever. For that longevity, it's wildly inexpensive too.
PROS
Amazing build quality
Turns the 1DX Mark II into a video powerhouse
Can be used on different camera bodies
Expandable/good accessory options
Arca-Swiss compatible plate
Great handle
Easy to set up
CONS
Blocks battery port and microphone jack on 1DX Mark II





Durable, Useful Filmmaking Tool