Mirrorless Master
I love trekking on a trip with a ton of gear. I mean, who doesn't. Having a ton of options to shoot with is absolutely a plus. It's not always a feasible option though. Sometimes you just want to take a camera or two, a few lenses, laptop, and small items. When that is the case, carrying that huge backpack just isn't needed, and can become a hassle to lug around. If you're a mirrorless shooter, you may have switched brands in order to carry around smaller gear, so why would you want to lug around a hug bag still.
Portage Supply Co. sent us out their Kenora backpack a few months back, and we've had the pleasure of using it for a while. The Kenora backpack fits the bill of a bag that carries the essentials and a few accessories, doesn't cost a ton, and also looks great.
What Can The Kenora Backpack Hold?
1 DSLR with a few extra lenses
or
1-2 mirrorless bodies with a few extra lenses.

Kenora Backpack Design, Build, and Features
Made of high quality materials like heavy duty 20# canvas, premium top grain leather, and a GearSilk interior, the Kenora backpack offers a ton of quality in a small package. The outer portion of the bag is really heavy duty, exactly as they claim, able to take daily wear and tear if this is your everyday carry bag. The waxed canvas is thick, has a little weight to it, and is a little water resistant, making it ok to protect your gear in a little drizzle. The main handle is very nice, dare I say over engineered, which is a good thing.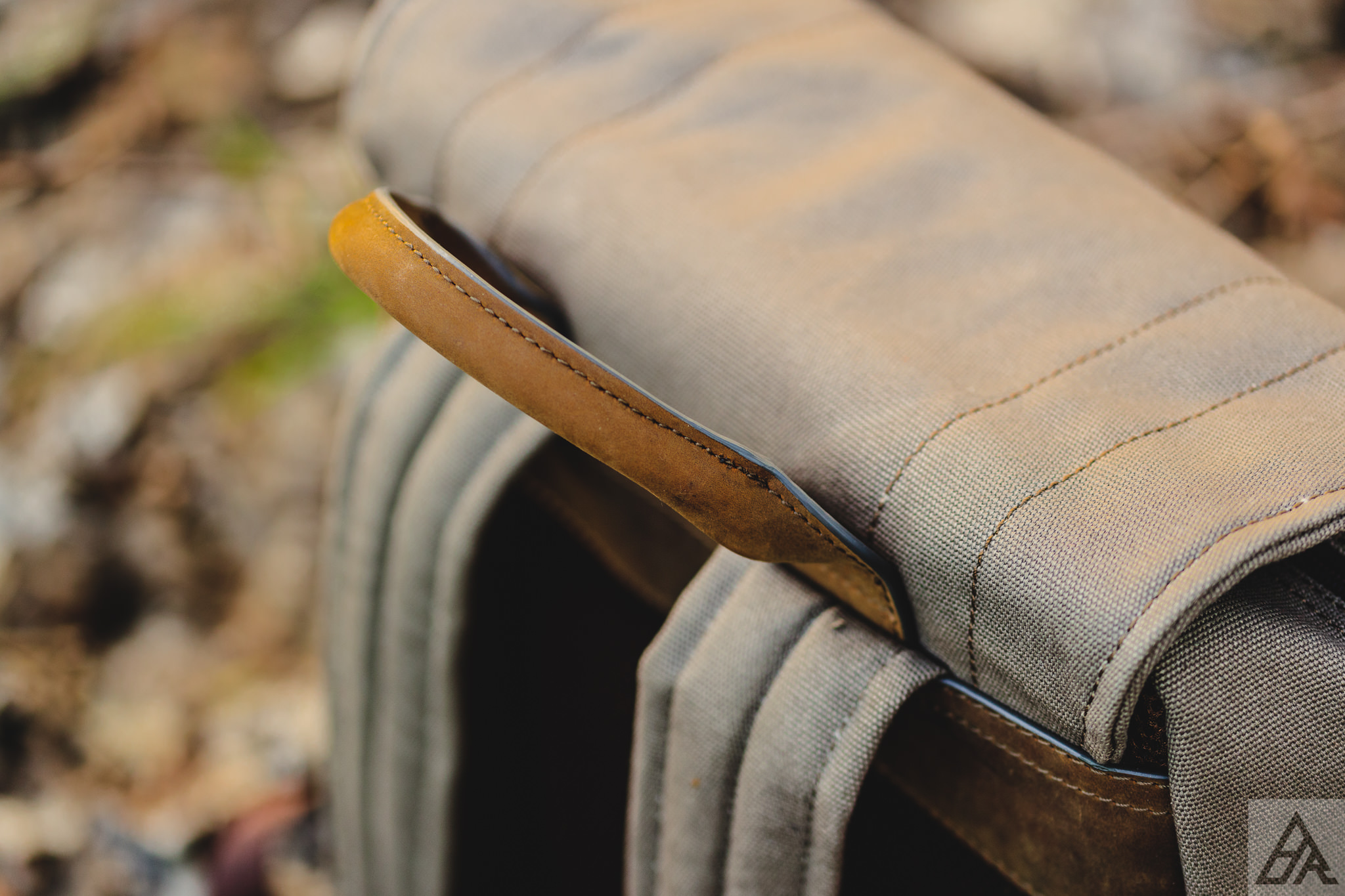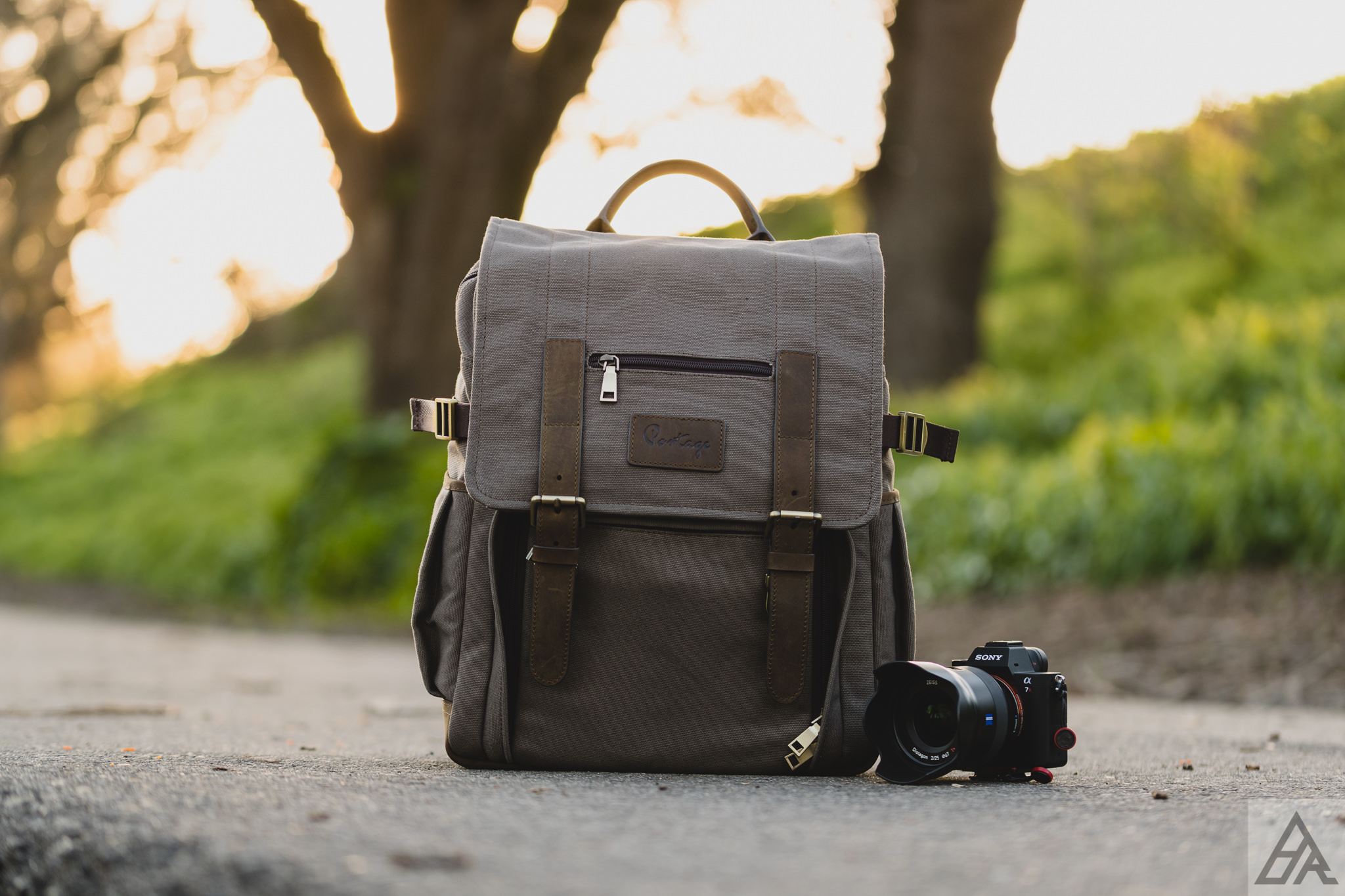 Both sides of the pouches have slots pockets, for a water bottle or small flash. These pouches I've noticed are meant for items that aren't too thick though, so be aware of that. The Kenora backpack has a large outer flap, with two straps, that closes over the camera portion of the bag, giving added security. I usually am not a hug fan of camera backpacks that open to the outside, but for an everyday carry backpack, it works. The flap also has a small zippered pocket for tiny items like business cards.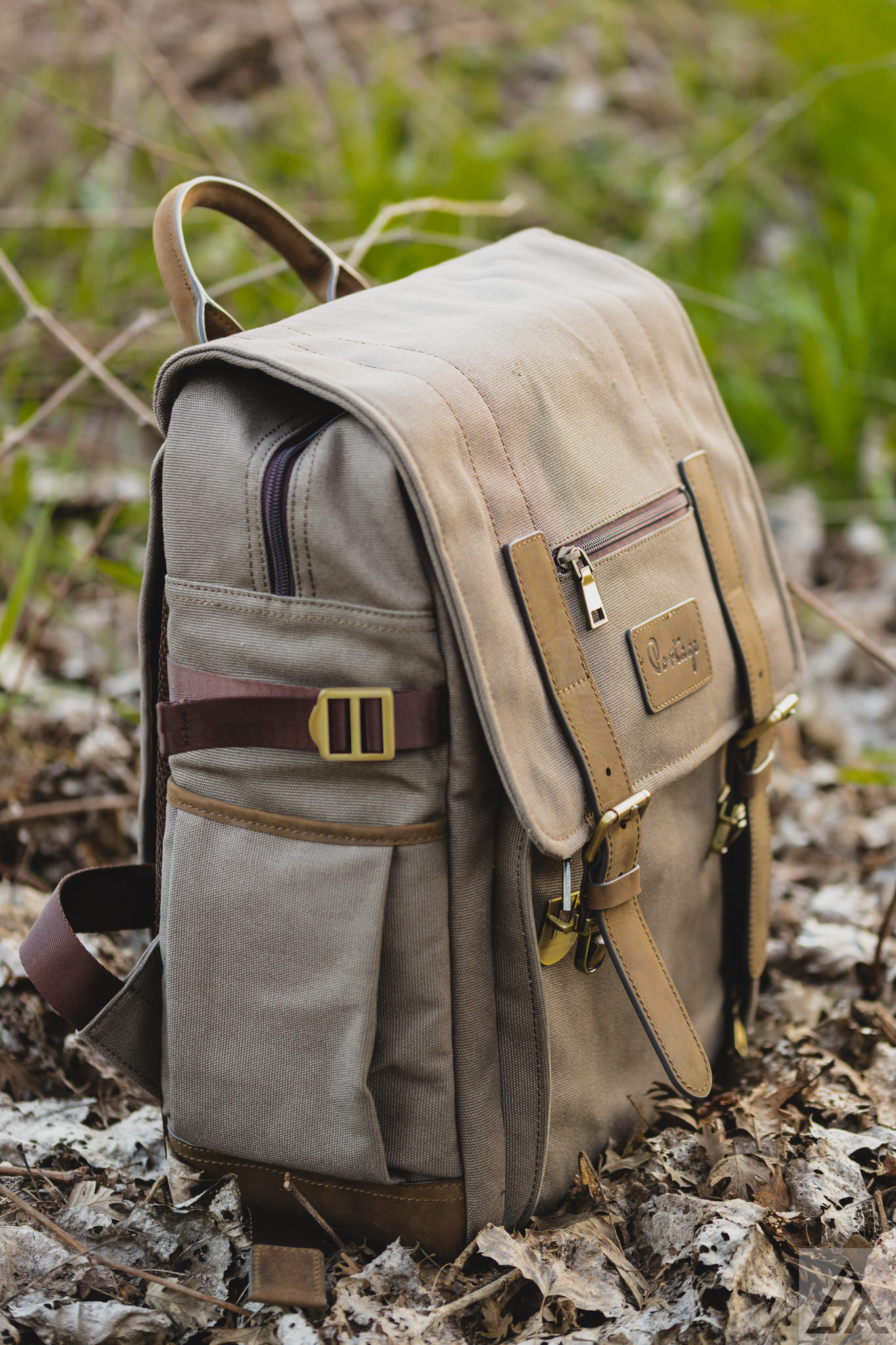 The inner divider portion of the Kenora backpack is typical, offering pretty good dividers, with a medium amount of space. I really feel like the Kenora is geared towards mirrorless shooters. I'm not a huge fan of disassembling my DSLR body from my lenses while in the bag, so I really only used my Sony setup with the Kenora backpack. That, and this backpack is not meant for a gripped body like the 1DX Mark II. For smaller bodies like mirrorless cameras, this bag can really shine. If a laptop is a must carry item, you can fit any size MacBook pro in the laptop sleeve. The upper pocket of the Kenora backpack can fit a few more items, which I typically reserved for non-camera equipment.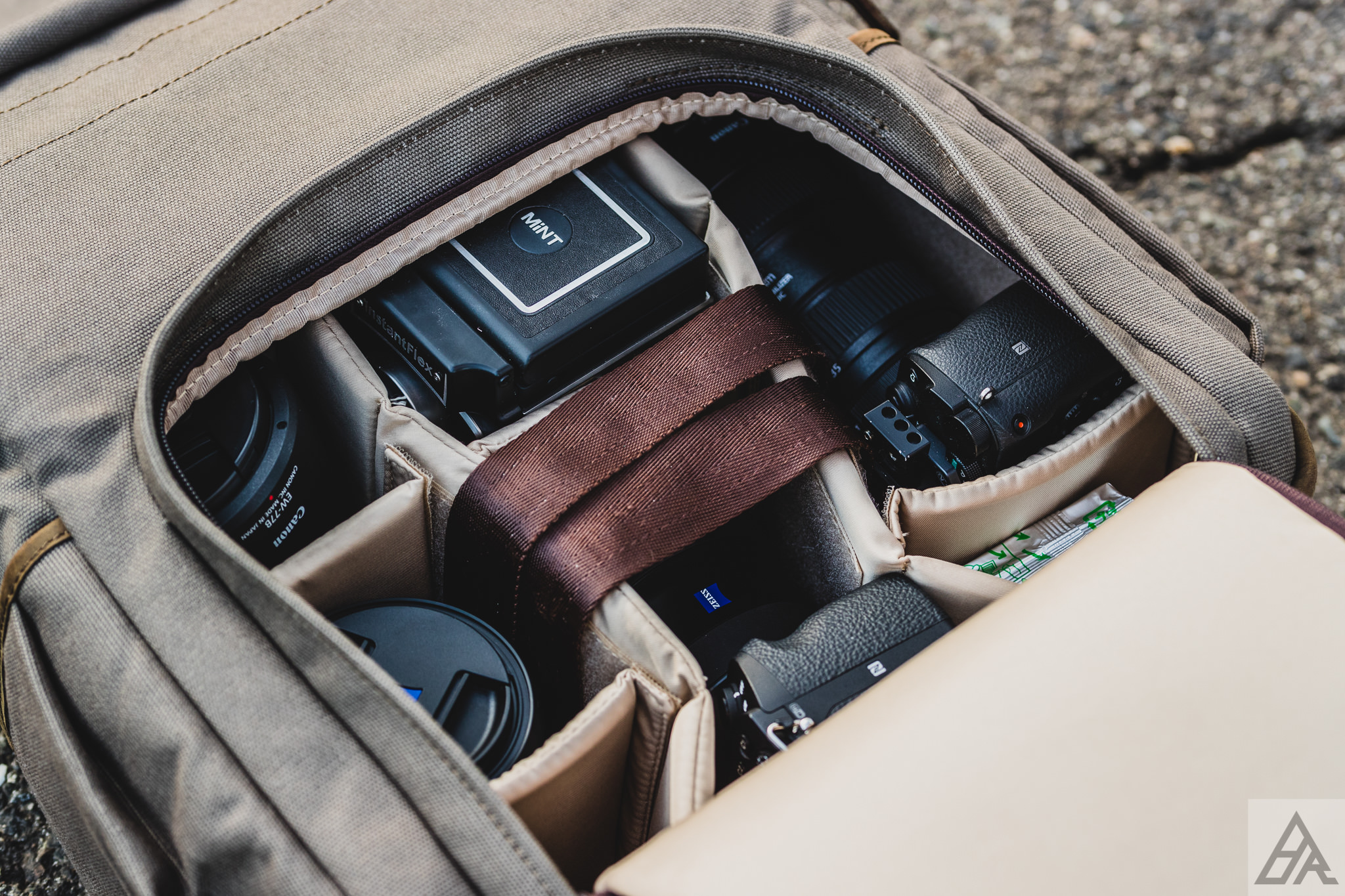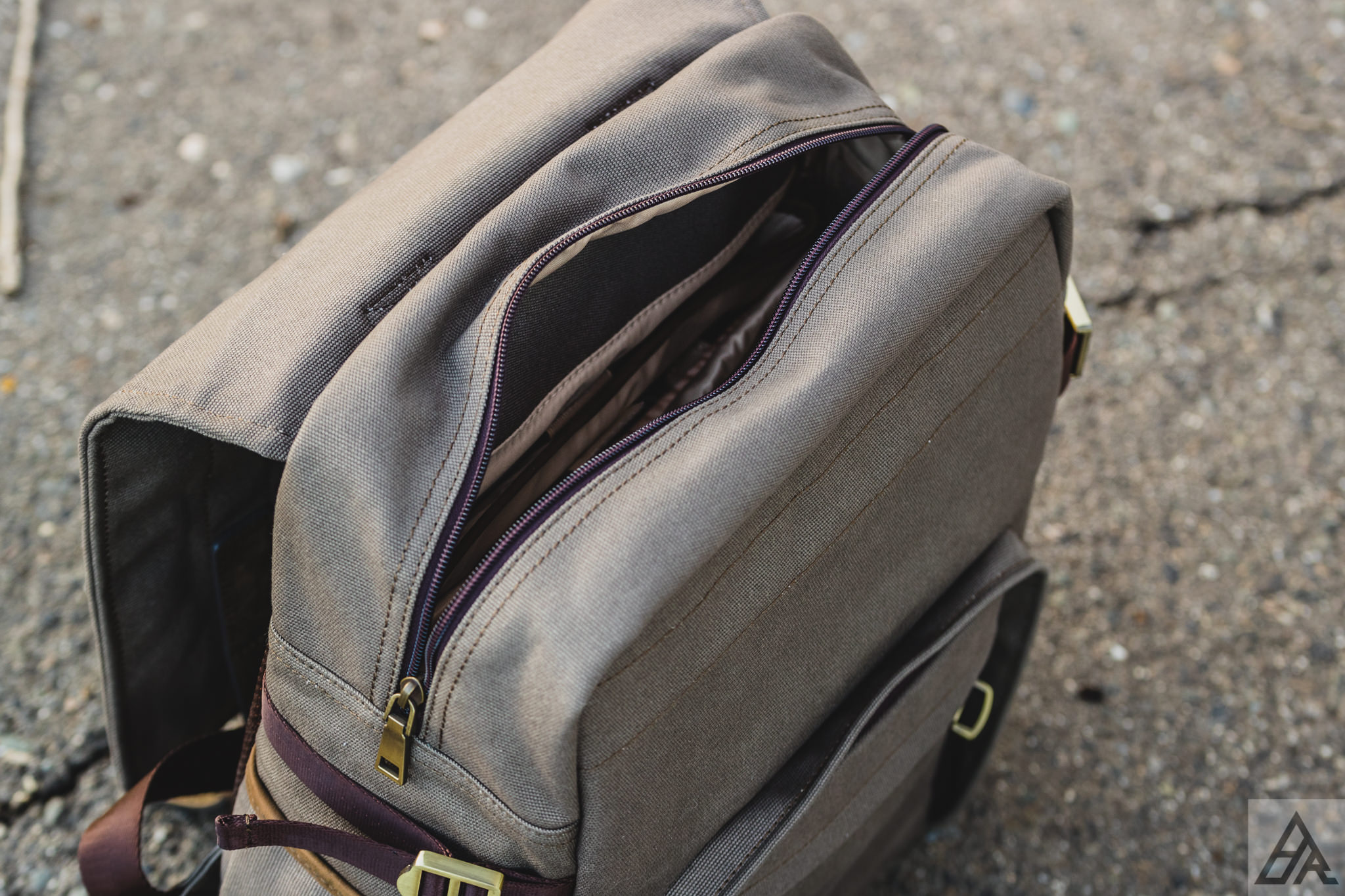 My backpacks have to fit well. I really won't wear a bag if the fit is off. To be honest, I wasn't sure how the Kenora backpack would fit when I took it out of the box. The straps don't look like anything special, and the back of the bag is flat. The Kenora really surprised me though. With a taller backpack, the fit would have been bad. Because the Kenora backpack is shorter though, the bag rests higher on your back. Paired with a mirrorless setup, the Kenora really does stay high on your back and is really comfortable. It was a pleasant surprise, and Portage Supply Co. achieved a great fit without the need for adding too much padding to the strap. That's a big deal to me, and kudos to Portage Supply Co. for achieving that.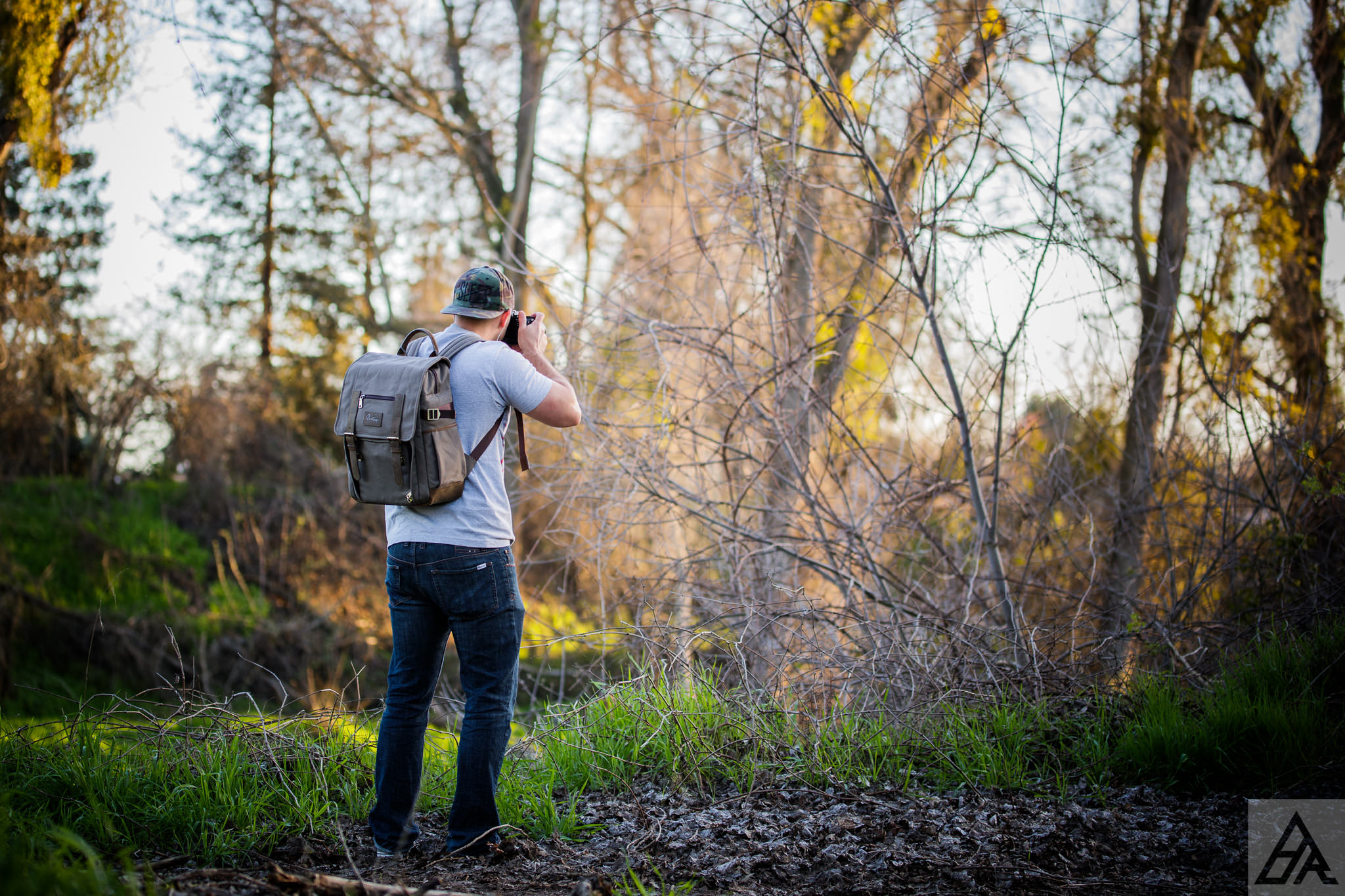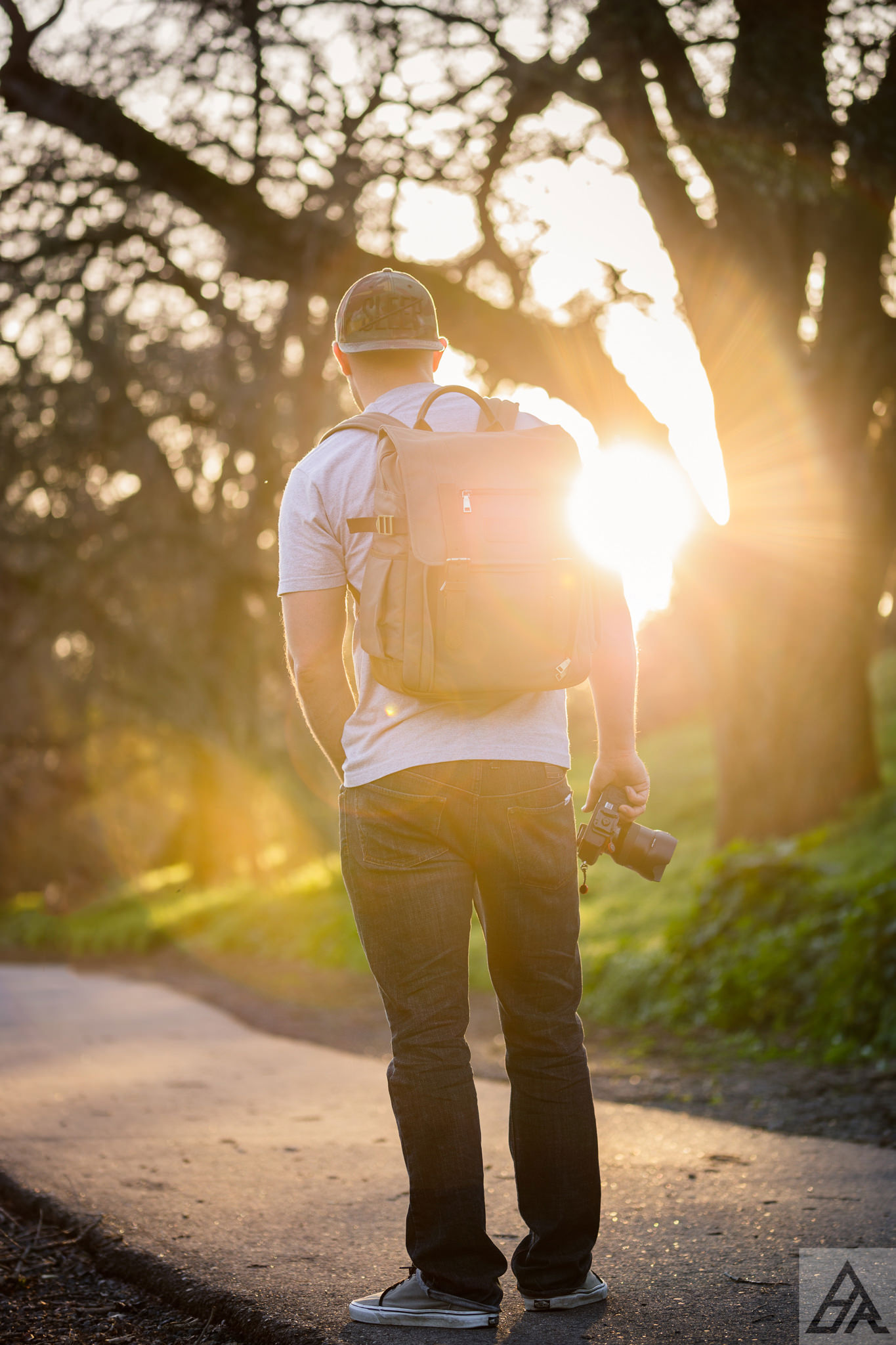 No backpack is perfect though, and the Kenora could be upgraded in a few key areas in my opinion. First, I wish they did away with one of the side pockets, and built in a side camera access panel. Another thing, while not huge, is that if you put small items in the top pocket, and there is no laptop in the bag, the items could slip into the laptop sleeve. The last little con is that the main camera compartment is a little hard to open. You could look at that as a plus though, as it adds a little extra security to the bag. I would like it to be easier though, because that security can be garnered from snapping the outer flap closed. These aren't deal breakers, but they are definitely something worth thinking about in future iterations of backpacks from Portage Supply Co.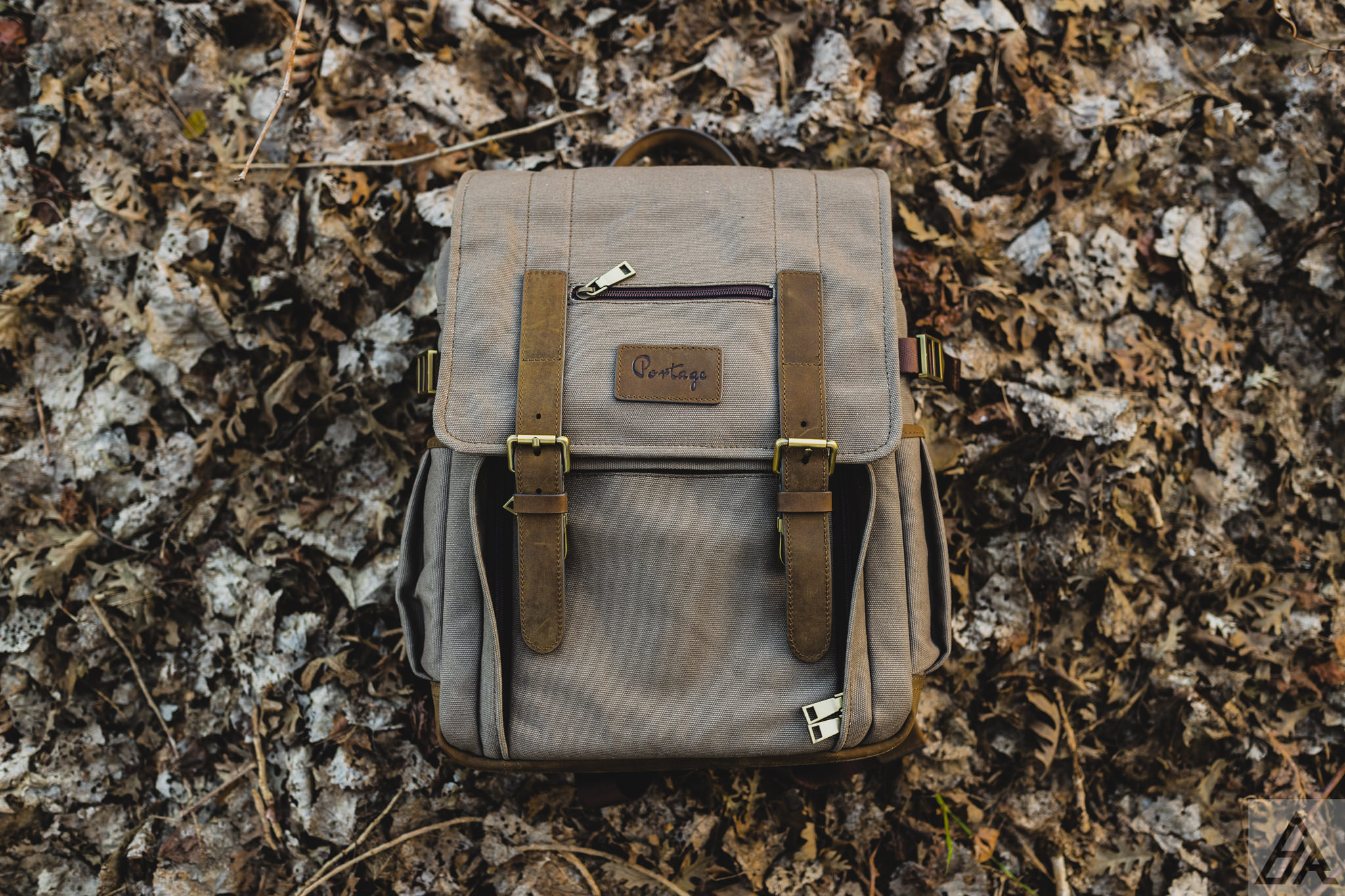 Kenora Backpack Pros:
Comfortable
Affordable/Great Value
Durable
Looks good
Fits a 15" MacBook Pro
Not excessively large
Kenora Backpack Cons:
Can't fit a lot on the sides
Small items can fall through top section
Zippers have to really be worked in
While no bag is perfect, the Kenora backpack from Portage Supply Co. offers a lot for its price. It has a lot of room for a mirrorless setup. It also is relatively affordable compared to other camera bags, and still looks great. It also doesn't necessarily look like a camera backpack, which is also an added plus. Once you work in the zippers, it can definitely be a versatile backpack. You can carry it all day without getting tired and that is really the purpose for a backpack in this smaller form factor. Portage Supply Co. has done a great job with their first backpack. The Kenora will currently run you $129, which is a steal. Check out Portage Supply Co. today. I'm confident that this is the start of something good for them.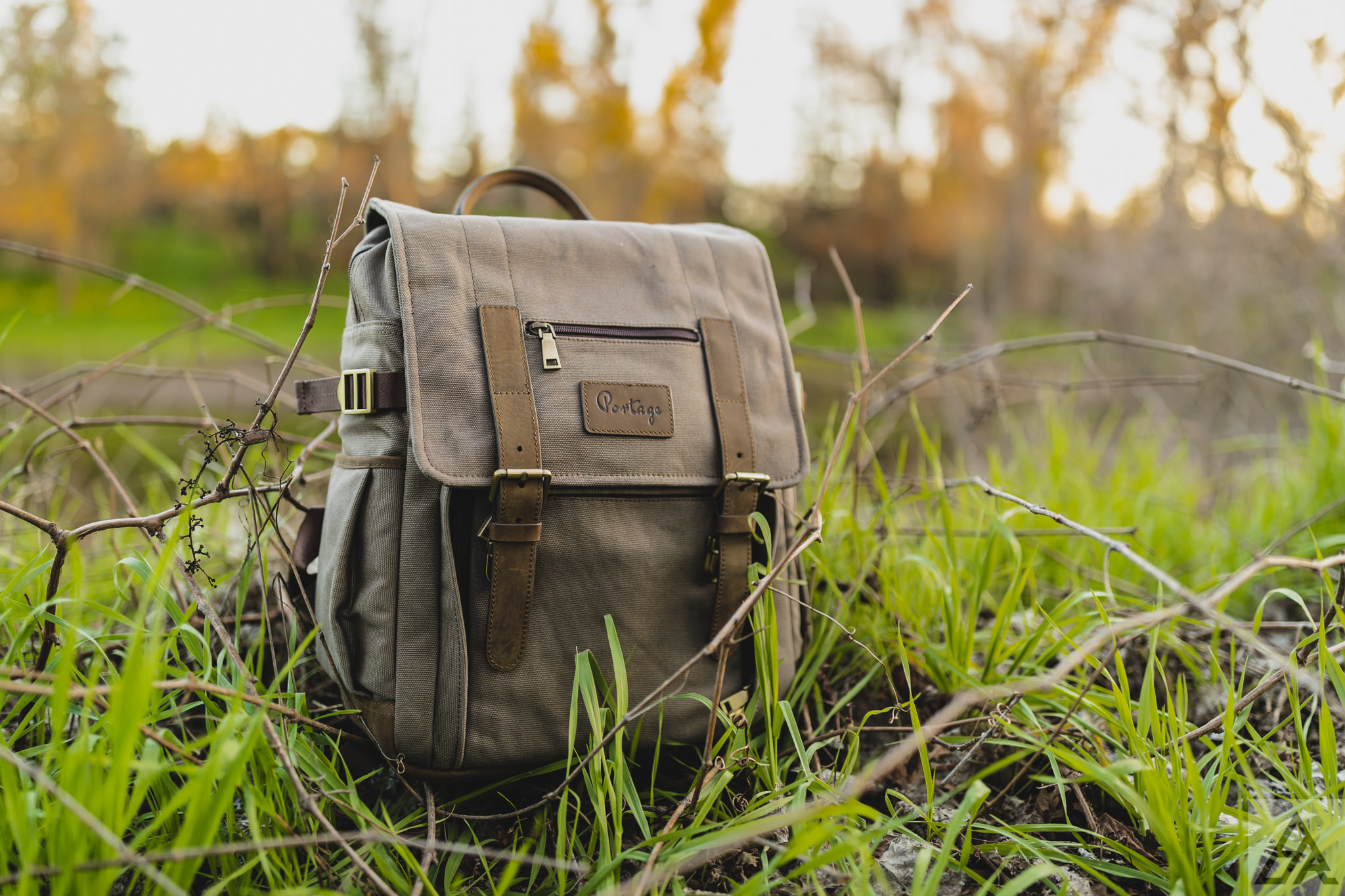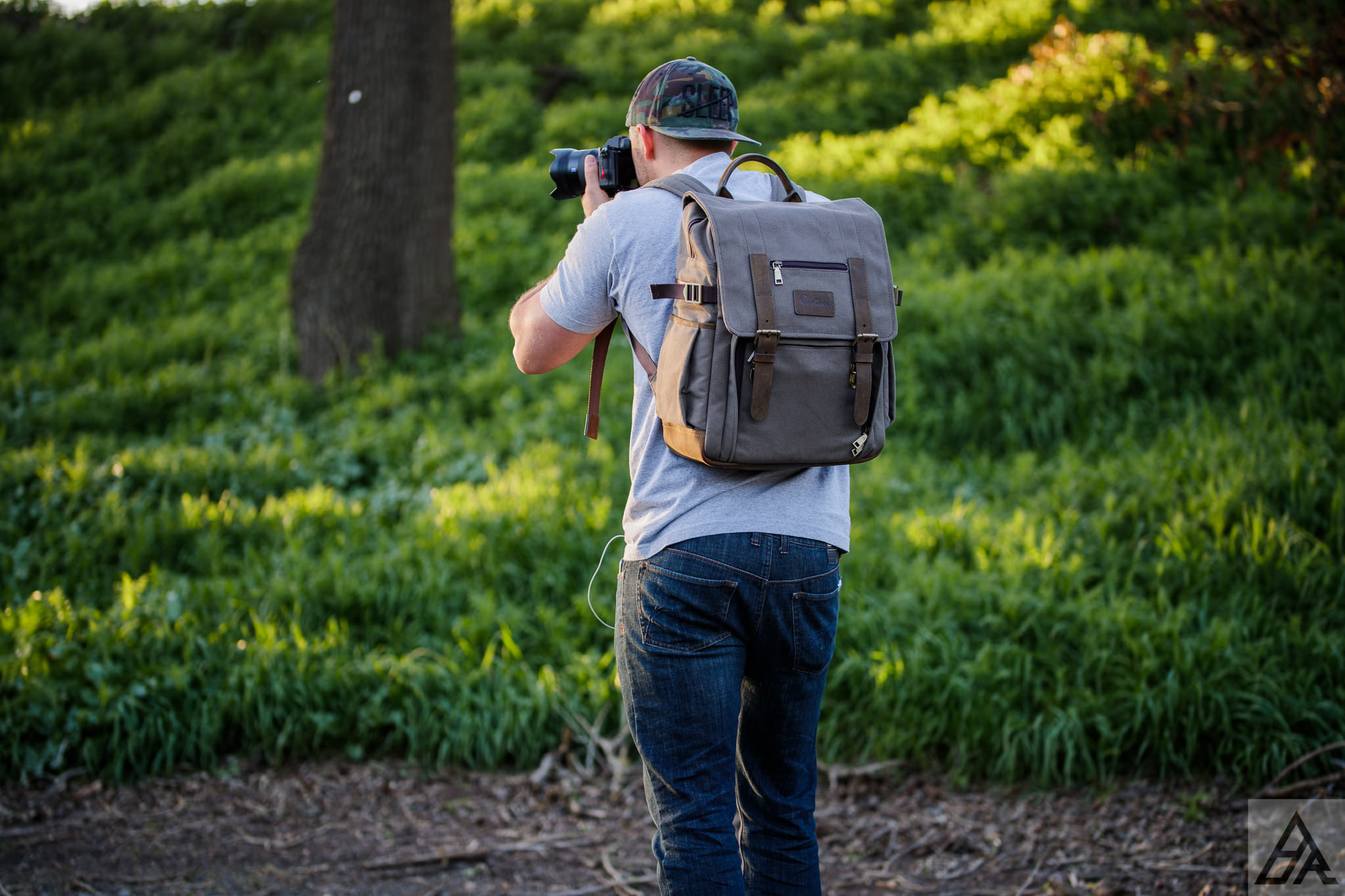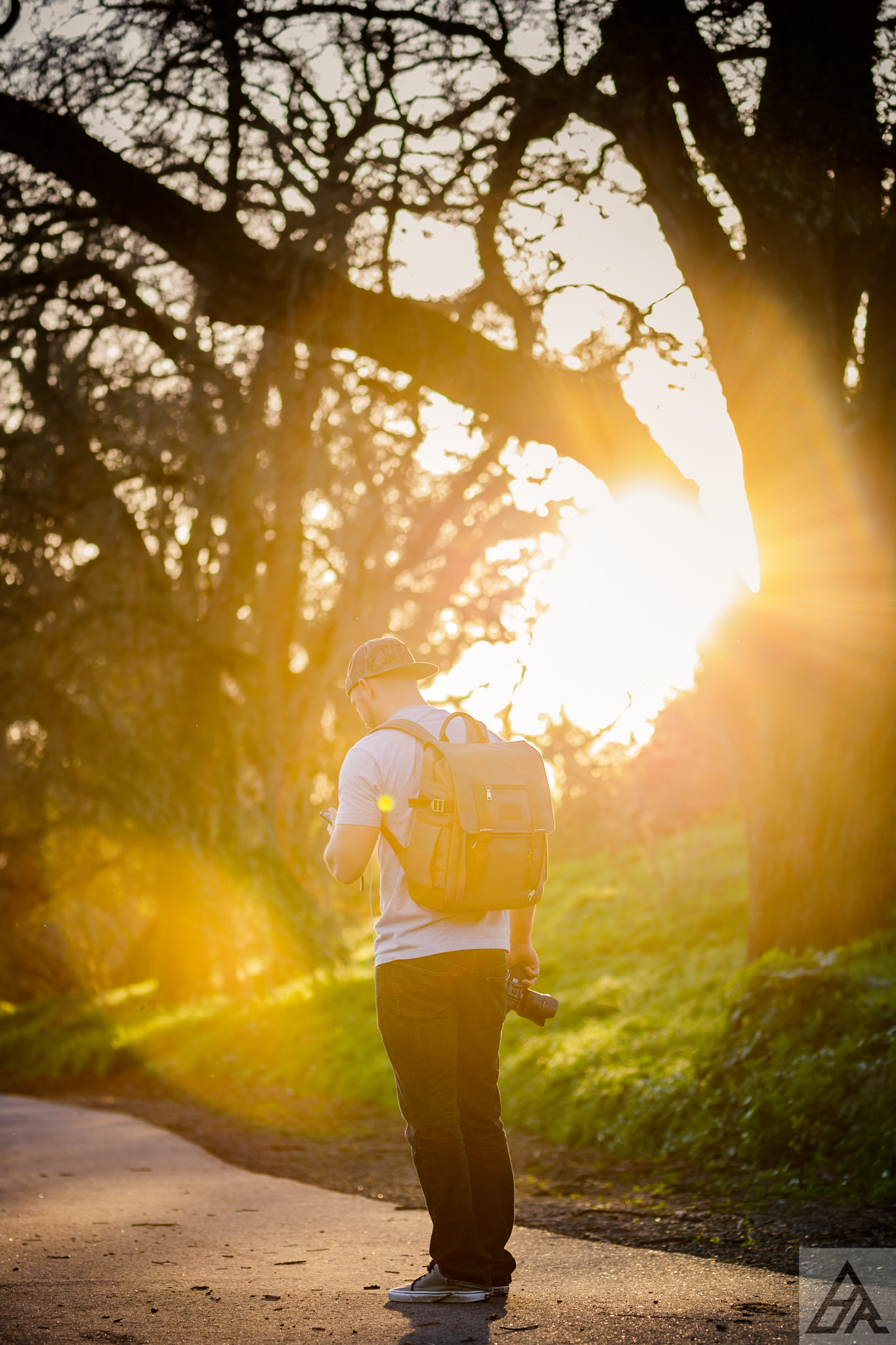 If you'd like to purchase the Portage Supply Co. Kenora Backpack, please click on our links to do so. You also throw us a few pennies off every dollar when you use our links, and it helps us keep putting out great content that keeps your informed about new gear. We thank you in advance.
Inside the Kenora Backpack
Portage Supply Co. Kenora
The Portage Supply Co. Kenora backpack offers a really aesthetic option for shooters who bring their camera everywhere.





Mirrorless Master