When it comes to my camera bag, I'm more of a backpack guy. I like distributing the weight on both of my shoulders, and it just seems a little bit easier to deal with all around. So when I went to test a large shoulder camera bag call the Stratus 15, I figured that I wouldn't like it very much. That may seem harsh, but that is me being honest. For the most part, shoulder bags large enough to carry most of my kit become cumbersome, but that's just me.
With that said, the Stratus 15 may have swayed my opinion in the opposite direction just a little bit. Don't get me wrong, I am still mainly a backpack guy, but I can see a lot of great uses for a large shoulder camera bag like the Stratus 15. Let's get into why.
Tamrac Shoulder Camera Bag – The Stratus 15
Build
It's obvious that this shoulder camera bag was designed for the working professional who has the ability to place their bags on the ground, but who also needs quick access to their gear. The outer build feels very similar to the build on the Anvil series of bags, and that is a good thing. In my opinion though, the Stratus 15 feels a little bit more robust, but that may have more to do with its shape than the actual build of this shoulder camera bag. You will have no problem setting this bag down in a not so gentle fashion and won't need to to worry about your gear. The top handle is very secure, just a secure as the top handle on the Anvil 27. (READ THE ANVIL 27 REVIEW HERE). The rain cover is not included, but the upper flap covers the main compartment's oversized YKK zippers, so you can definitely keep this shoulder camera bag out for a while in inclement conditions. One wish that I had for the build of this shoulder camera bag was for a rubberized bottom. In situations where the ground is wet or there may be puddles, I think that it would add an added level of protection for your gear.
Also check out the video review!
Fit
The fit on a shoulder camera bag is much less important than on a backpack. However it still does matter when photographers are looking around a bunch of gear. The strap on the Stratus 15 is well padded and does a great job. However, one improvement that I might suggest for future versions of the bag is that they allow you padding to slide on the strap. It is definitely still possible to get the padding the exact spot wanted, but it just takes a little extra work since the padding cannot slide. Once the padding is in the right spot, the Stratus 15 is fairly comfortable. With its boxy design, the Stratus 15 is definitely not going to be as comfortable as a messenger style bag, but I would rate its comfort as average.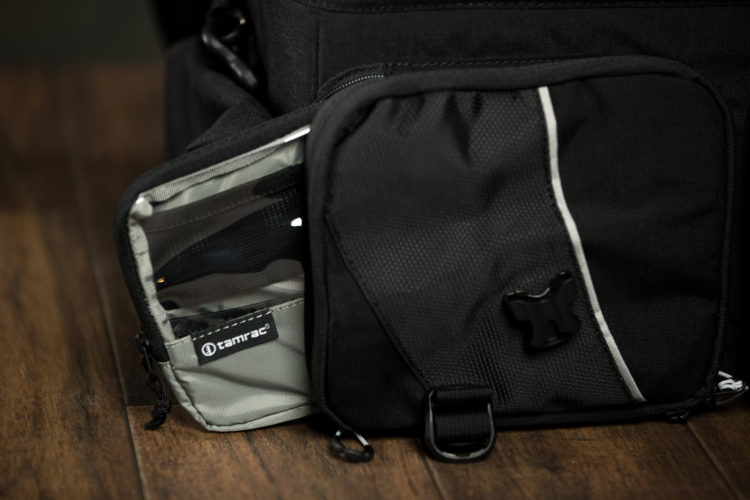 Features & What fits?
Don't forget that the Stratus series comes in several sizes, but here is what fits in the Stratus 15. Depending on your specific configuration, you should be able to get two full frame gripped or non-gripped DSLR cameras with lenses attached, a few flashes, and a bunch of accessories. If you choose to only attach a lens to one of the cameras, you will be able to get two more lenses, another body, a few flashes, and a ton of accessories as well. Because of Tamrac's lens gate system and series of dividers, if you are putting on gripped cameras in the Stratus 15 you will be able to use the space underneath your camera body, maximizing storage. I have never seen a divider system that lifts up hey camera body in order to add gear underneath it, but it is ingenious and allows for maximum use of space in the Stratus 15. One quick thing to note. Tamrac won't advertise that you can fit a 70-200mm 2.8 vertically in this shoulder camera bag, but I was able to fit it in as long as I didn't overload the clear zippered pocket on the inside of the flap. The lens will protrude upward a tiny bit, but the Stratus 15 should still provide adequate protection. That is a real space saver when you don't have to lay down your longer lenses, but rather insert them vertically. On the outside of the bag there are large pockets on each end. The front of the bag also has two zippered pockets for things like small notebooks, pens, phones, and other small items. Maybe the coolest thing that I discovered about the Stratus 15 is that it comes with to removable zippered pouches, Perfect for memory cards, memory card readers, or small items. It was an added bonus, and a bonus that I will get a lot of mileage out of. The bottom of the bag also has straps for a tripod. Overall, it seems like you can fit a decent amount of gear in the Stratus 15. If you need to fit even more gear like a 13" laptop, you can always jump up to the Stratus 21.
One other way that I think a top loading shoulder camera bag like the Stratus 15 can be used is for a video bag. It would be very easy to load one or two cameras, a couple lenses, several accessories, a RODE Filmmaker Kit, and a few small Savage LED Lights in the bag.
Value
In my opinion, the type of photographer who is going to be using the Stratus 15 is a photographer who is going to be paid for their work. At just about $200, this shoulder camera bag gives any photographer the option of bulk storing items, or storing bodies with lenses is already attached. The build quality, durability, and features of this bag are consistent with fags in that price range. Added features like the extra gear patches make this bag even more enticing. The Lens Gate System really is one of a kind, and a feature that I have not found in other bags.
Conclusion
The Stratus 15 is definitely more of a specialty shoulder camera bag, but one that is full of utilitarian features. If you are a photographer who is looking to carry multiple cameras with multiple lenses and accessories, yet does not wanted backpack, The Stratus 15 is something worth looking into. I think of this bag has a large lens bag, giving me the ability to change lenses quickly and keep moving. If you the type of photographer in need of a bag like this, the Stratus 15 option from Tamrac is a great choice.

Tamrac Stratus 15 Shoulder Bag
Are you a working pro? Check out the Tamrac Stratus 15.
BROS
Lens Gate system
Great Dividers
Well designed
Extra removeable pouches
CONS
Strap padding doesn't slide
Wish the bottom was rubberized