If you haven't noticed, we're suckers for bags here at TheBrotographer.com. Whether it is duffels, backpacks, or another type of camera bag, we love it all. When HEX contacted us and asked if we wanted to review a bag in their new Raven series, I jumped right on it. I previously reviewed the Hex Camo DSLR Backpack (READ IT HERE), and thoroughly enjoyed it. I expected nothing less from their new Raven series.
The Raven series of camera bags from HEX offers a camera pouch, sling, medium backpack, mirrorless bag, and large backpack. We reviewed the large backpack. The Raven lineup comes in one color: black. This black exterior is made of a matte black tarpaulin. I would describe it as a heavy-duty canvas, with an almost rubberized or leather look to it. This exterior is water resistant, and they add waterproof zippers as well, making the HEX Raven a great option if you're out shooting when the weather gets a little crazy. While I wouldn't recommend walking around in a monsoon, the exterior of the bag can easily protect your gear if it gets a little wet. The exterior in my opinion is extremely urban looking, with a minimalist vibe to it, which so many people enjoy these days. It undeniably looks great with a par of jeans, trainers, and t-shirt or hoodie.
The HEX Raven DSLR Backpack shares some common features with the DSLR Camo Backpack, but has a few differences as well. The main similarities are the top camera access zipper, the main camera compartment, front laptop compartment, and the interior organizing zippered compartments. There are also some differences, which we will get into.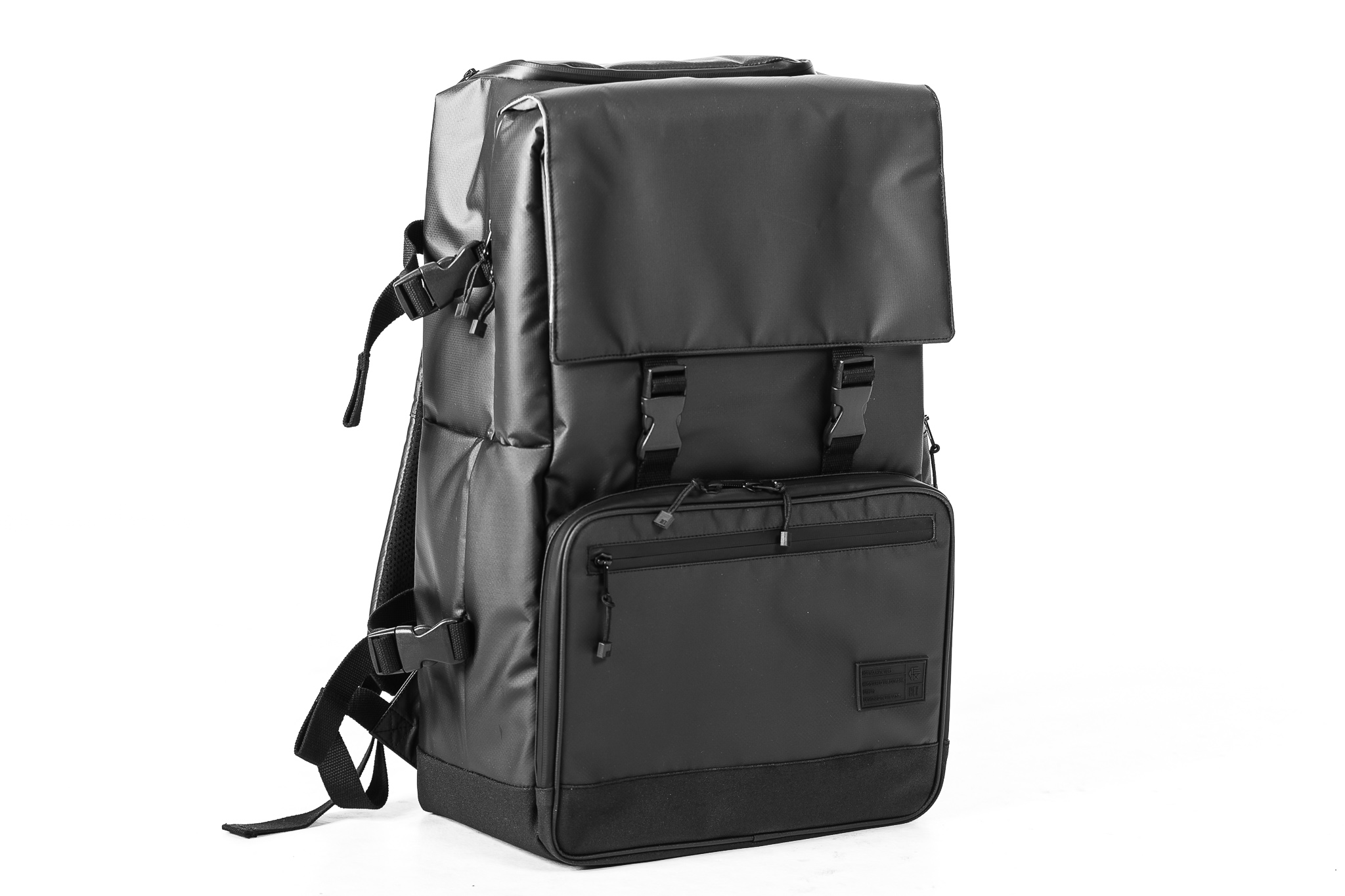 HEX Raven Features and Specs
Let's start with the outside of the HEX Raven DSLR Backpack. One of the sides has to smaller zippered pockets, one perfect for a lens cap and the other for a few Sony mirrorless batteries. Since the backpack has waterproof zippers, I feel confident putting batteries in these pockets. The top of the bag has the same zippered access to the camera compartment as other HEX camera bags. In my opinion, this is best used to access a mirrorless body. A non-gripped DSLR can fit, but it is much easier with a smaller body.
The front of the backpack has an awesome zippered compartment that folds out and can store documents, keys, batteries, or other thin items. On the outside of this compartment is an iPad/tablet/phone pocket, lined with a super soft faux-fur. The faux-fur feature is on of my favorite touches of the bag. It not only feels good, it also gives you peace of mind when putting screens in, knowing that they won't be scratched. The outside of the bag also has a place for business cards, and another compartment for any size laptop. The laptop compartment has another pocket that goes the entire height of the backpack, easily allowing for a second laptop, iPad, or Wacom tablet. The laptop compartment is also lined with the same faux-fur as the front iPad compartment.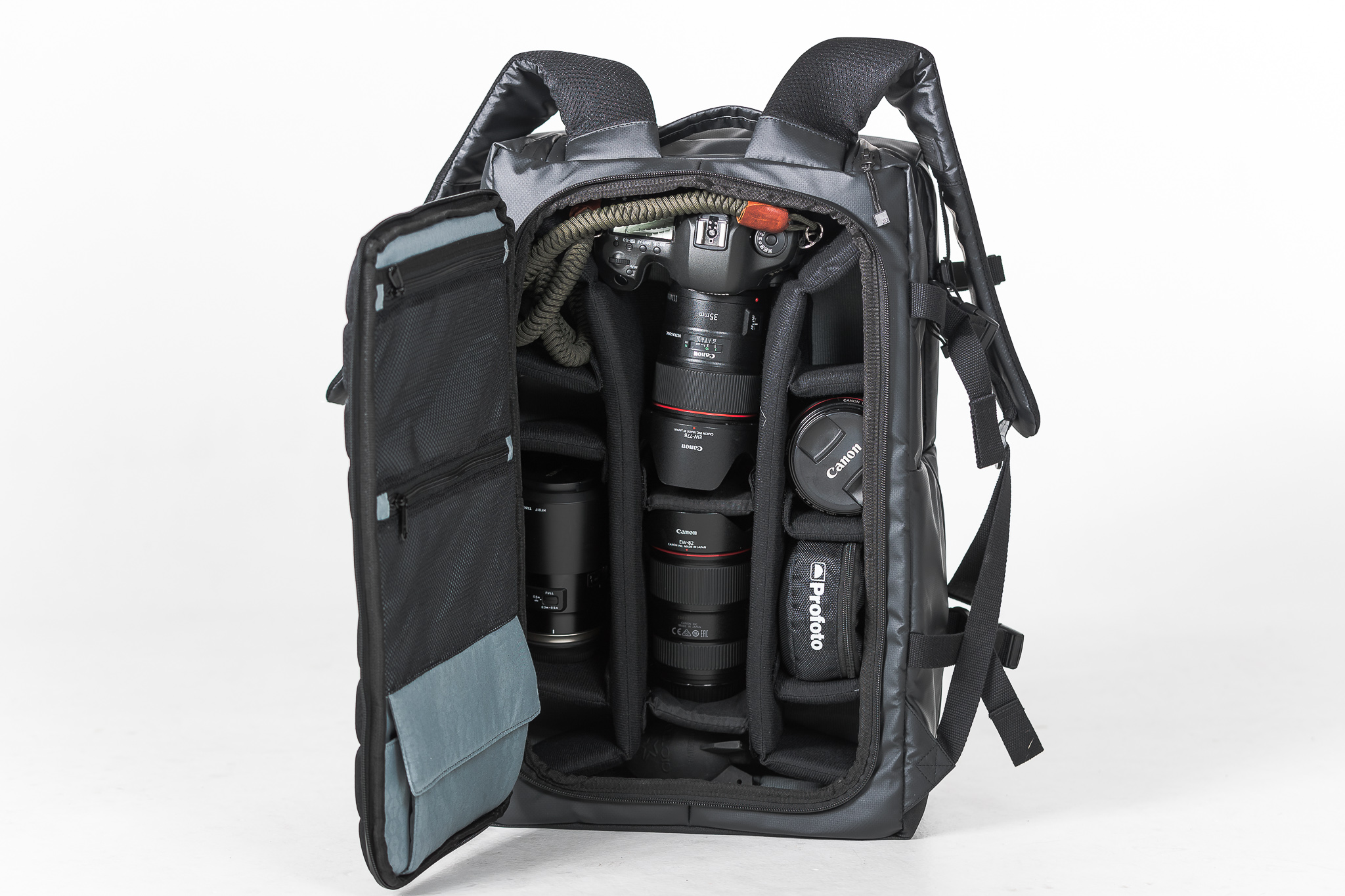 HEX Raven Comfort and Usability
I'm a big fan of the overall design that HEX the employs on their camera backpacks. The straps are well designed and very comfortable, and the bag holds its shape even while empty. I don't like when bags slouched over when they don't have gear in them, as I like them to be able to stand up on their own. HEX also has rear access to the camera gear compartment, and that always adds to my peace of mind when I am walking around in public with thousands of dollars of camera gear on my back.
If you are a shooter who uses a gripped body, don't bother with the HEX Raven DSLR Backpack. However, if you are a non-gripped shooter, it can probably hold your whole kit. Spanning the entire height and width of the bag, the main compartment can easily hold a couple DSLR bodies and several lenses and accessories. If you are a mirrorless shooter, fit anything you need inside. Several bodies, lenses, sound gear, and more will fit.
I think that the HEX Raven DSLR Backpack really excels if you are indeed mirrorless shooter. Since it isn't designed for gripped bodies, it isn't as deep as other bags. This immediately makes it more comfortable. That is not really a knock on deeper bags, as you absolutely need that depth if you shoot with a gripped body. Another way that I think this backpack excels his its use of water resistant and waterproof materials. Even in a wet environment, I'd be confident laying this bag down when I needed to access my gear. Since the bag holds its shape, if you need to set it down standing upright it is even more resistant to puddles because of the very thick waterproof lining on the bottom of the bag. The straps and back are lined with breathable mesh wherever it touches your body. Even though I haven't used this bag in the summer months when it gets hot, I'm confident that it will breathe as well as the Camo DSLR Backpack.
Some things that I wish I could change about the HEX Raven DSLR Backpack, or maybe suggest to HEX for their next camera backpack line, are these. While the top access panel is convenient, I do wish that it were a little bit larger. Getting a camera in and out is relatively easy, but with another three quarters or a full inch, it would be a breeze. I think that they could achieve this by making the laptop compartment a little smaller, Possibly only fitting a 15 inch MacBook Pro instead of a 17 inch laptop that they allow now. I think that they could gain the space they need by doing this. It's not a major issue, but it would be nice. Another change that I wish they would make on their next bag is to get rid of the exterior tiny pockets on the side in favor of a side access panel to the camera compartment. I understand that it slightly undoes the security feature of having rear access only to your camera gear, but would make grabbing a 2nd body much easier. You wouldn't even have to take the camera of your shoulder to get it. Having the ability to put a lens cap in the current pocket is nice, but most of the time I throw it in my pants or shirt pocket anyways.
Pros
Looks great/awesome urban aesthetics
Very water resistant
Hold a dream mirrorless kit
Doesn't look like a camera backpack
Holds its shape
Very comfortable
Fits a laptop, as well as tablet and Wacom tablet
Priced well
Cons
Top access panel could be large with some redesign
Wish it had side camera access.
HEX Raven Value/Overall Thoughts
At $240, the HEX Raven DSLR Backpack is priced competitively, and in my opinion is a good buy if you're looking for a well designed backpack. It will fit your needs as either a DSLR or mirrorless shooter, and you definitely can't go wrong with its minimalist, urban looks.
If you'd like to purchase the HEX Raven DSLR Backpack, please click on our links to do so. You also through us a few pennies off every dollar when you use our links, and it helps us keep putting out great content that keeps your informed about new gear. We thank you in advance.
Inside the Hex Raven DSLR Backpack
HEX Raven DSLR Backpack
The HEX Raven DSLR Backpack is an great option for non-gripped cameras.
PROS
Looks great
Water resistant
Holds a lot of gear
Blends in
Holds its shape
Comfortable
Priced well
CONS
Top access panel could be larger
Doesn't have side panel access