It'll Change Your Production
We are in the Golden Age of content creation. Let me tell you why I think that is the true. It really wasn't too long ago when Canon released there 5D Mark II, bringing hybrid shooting (both photo and video) to the masses. Before that point, dedicated cameras really were needed for photography and the video separately. Since 2008 when that camera was released, the industry has moved forward at a rate of speed that was previously unseen before that point.
We now live in a day and age where a high school kid can make a video or create a photography portfolio that looks as good as a professional. If you are of a certain age, you probably already know this. However, if you are younger, just to take my word for it. We live in a very special time with regard to technology. I can't wait to see where we will be in another 10 years.
Let's stick to the topic of video, and how in today's technological climate, products are released every year that changed the game for shooters like you and I. We now have full frame cameras in an extremely small package in the Sony A7 lineup. I'm a 1DX Mark II owner, and the Sony a7rII has still changed the game for me when I shoot. I don't shy away from heavy DSLR cameras, but mirrorless systems really do make some things easier. Aside from a few other features, Sony has changed the game for me with their 5 axis IBIS (in body image stabilization.
Watch The Video Review
Stabilization in camera has recently become a common feature. But external stabilization really has remained the same until relatively recently. I originally purchased a glidecam with the intent to use it because of its ability to easily stabilize video, but I never fell in love with it. I found it hard to balance, and it added way too much weight for me. Then I learned about 3 axis electronic gimbals, and my life was changed. I bought a DJI Ronin-M for my 1DX Mark II. It was amazing. The shots that I'm able to get with it are so smooth. However, when I picked up my a7rII the gimbal dwarfed it. I wanted something smaller and much easier to set up.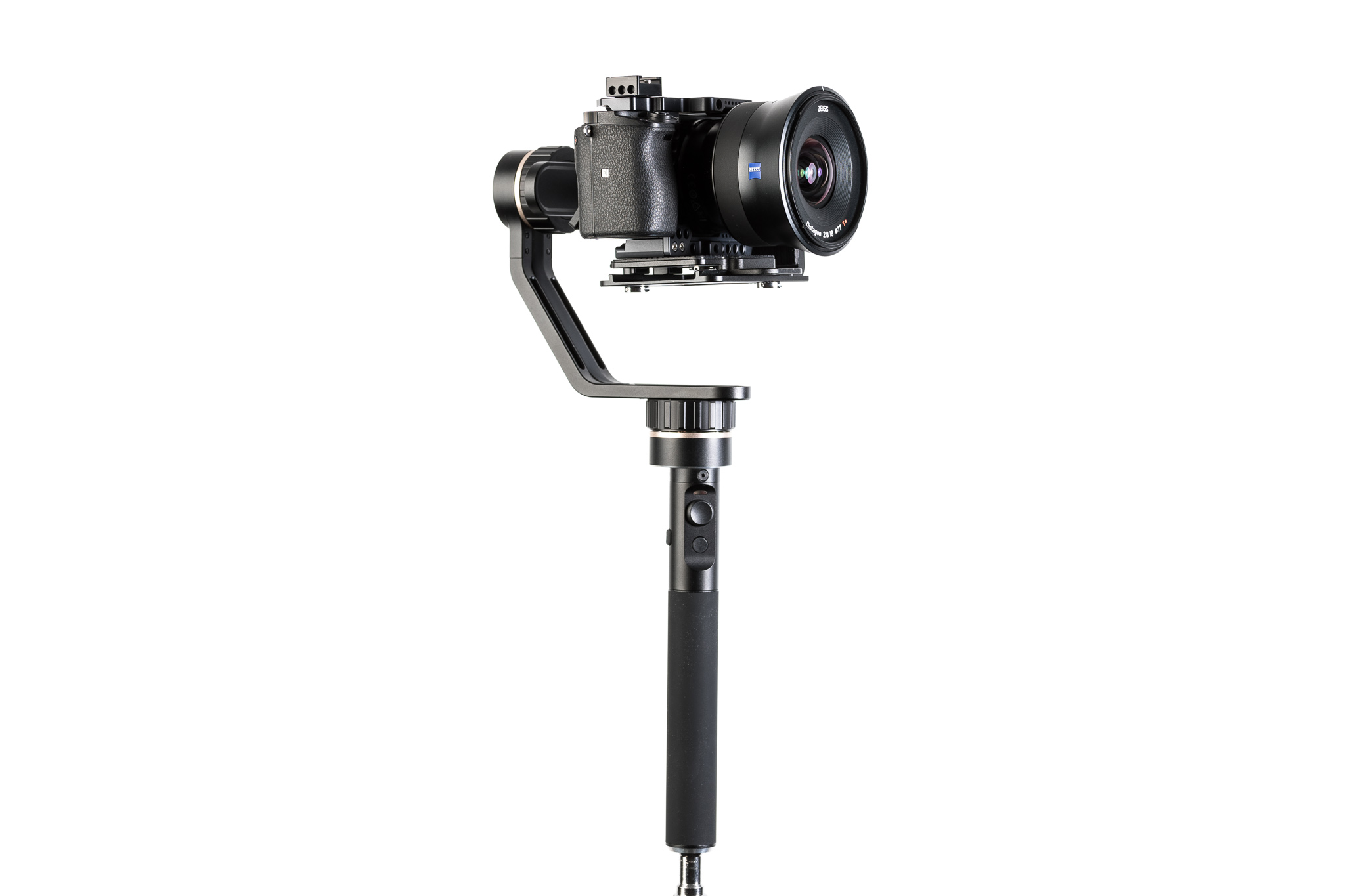 Remember when I talked about the technological climate we live in being amazing? Well, several companies out of China have been filling the need for smaller electronic gimbals that specialized in holding mirrorless cameras. Feiyu Tech is one of those companies.
They have released several gimbals in the last few years, but the newer MG V2 is right up my alley. Built for mirrorless cameras and small DSLR's, the Feiyu Tech MG V2 is a 3-axis motorized gimbal stabilizer that will change your filmmaking.
Feiyu Tech MG V2 Pros
Inexpensive
Build well
Get very smooth footage
So fun to use
Easy to balance/tool less balancing
Single and two handed configuration include
Awesome joystick
Batteries last a long time
Feiyu Tech MG V2 Cons
External monitor not mountable with Sony cameras
Feiyu Tech MG V2 Build Quality
Made from a super solid aluminum, the Feiyu Tech MG V2 build quality is top notch. In a product this small and light to begin with, I don't think that carbon fiber is needed, making the aluminum a fine choice. The metal feels very solid and well built, but not overly heavy. Without a camera on it, the Feiyu Tech MG V2 weighs just 2 pounds, making it very easy to hand hold. The surfaces where your hand is meant to grip are covered in a nice and grippy rubber. That can't be said for the main competitor of the Feiyu Tech MG V2, which uses just metal on the surface where your hand is meant to grip it. It is a small touch, but if you are running and gunning in the middle of the summer and your hands are sweaty, it's nice to know that you can still grip to gimbal with ease.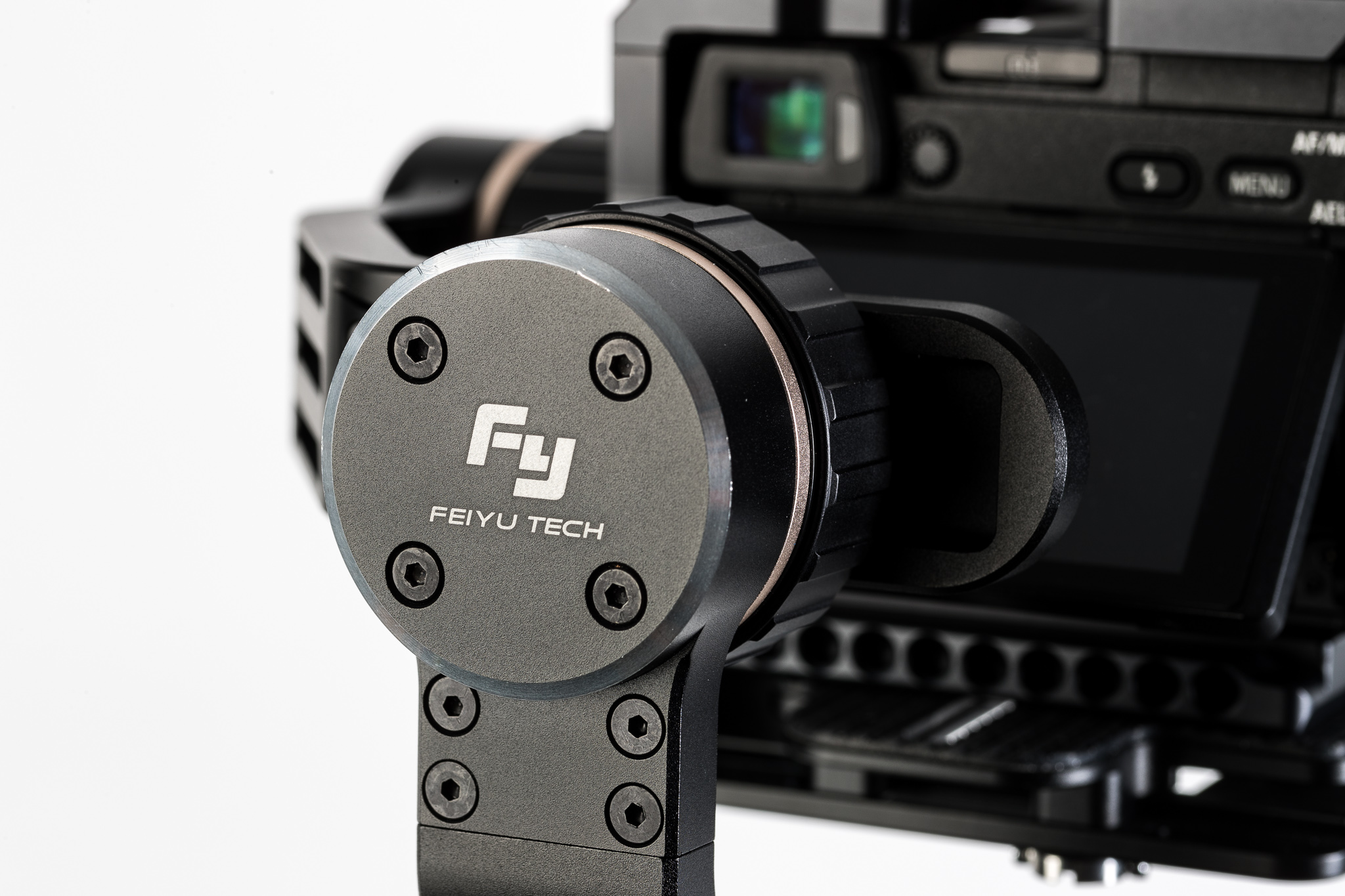 The Feiyu Tech MG V2 employs a tool less design, making adjusting the axes very easy. In many of the early gimbals that were released by some brands, there were many exposed wires. I can only see one wire exposed, but I still would not use this in the middle of the rain. Overall, the build of the Feiyu Tech MG V2 is top notch, and on par with my Ronin M.
Feiyu Tech MG V2 Features
3-Axis Motorized Gimbal Stabilizer
Supports DSLR and Mirrorless Cameras
3.5 lbs Load Capacity
Single-Handed & Two-Handed Configuration
360deg Rotation for All Axes
Fixed Axes and Pan/Tilt Following Modes
Joystick for Angle Adjustment & Settings
The Feiyu Tech MG V2 will easily hold a full frame mirrorless camera like an A7RII/A7SII with most lenses, a6300/a6500 style body with most lenses, micro 4/3, or even small DSLR's with light lenses on them. I do think it works best with mirrorless cameras though. The big advantage of a gimbal like this is size, and that is why I prefer it's one-handed configuration more that the two handed configuration. Don't get me wrong, the two-handed operation it's probably a little bit more stable, but holding a small mirrorless camera with one hand, then having the ability to throw in a backpack quickly is great. One-handed gimbals are really a game changer, giving budget filmmakers a fantastic option for steady shots, and the Feiyu Tech MG V2 does just that.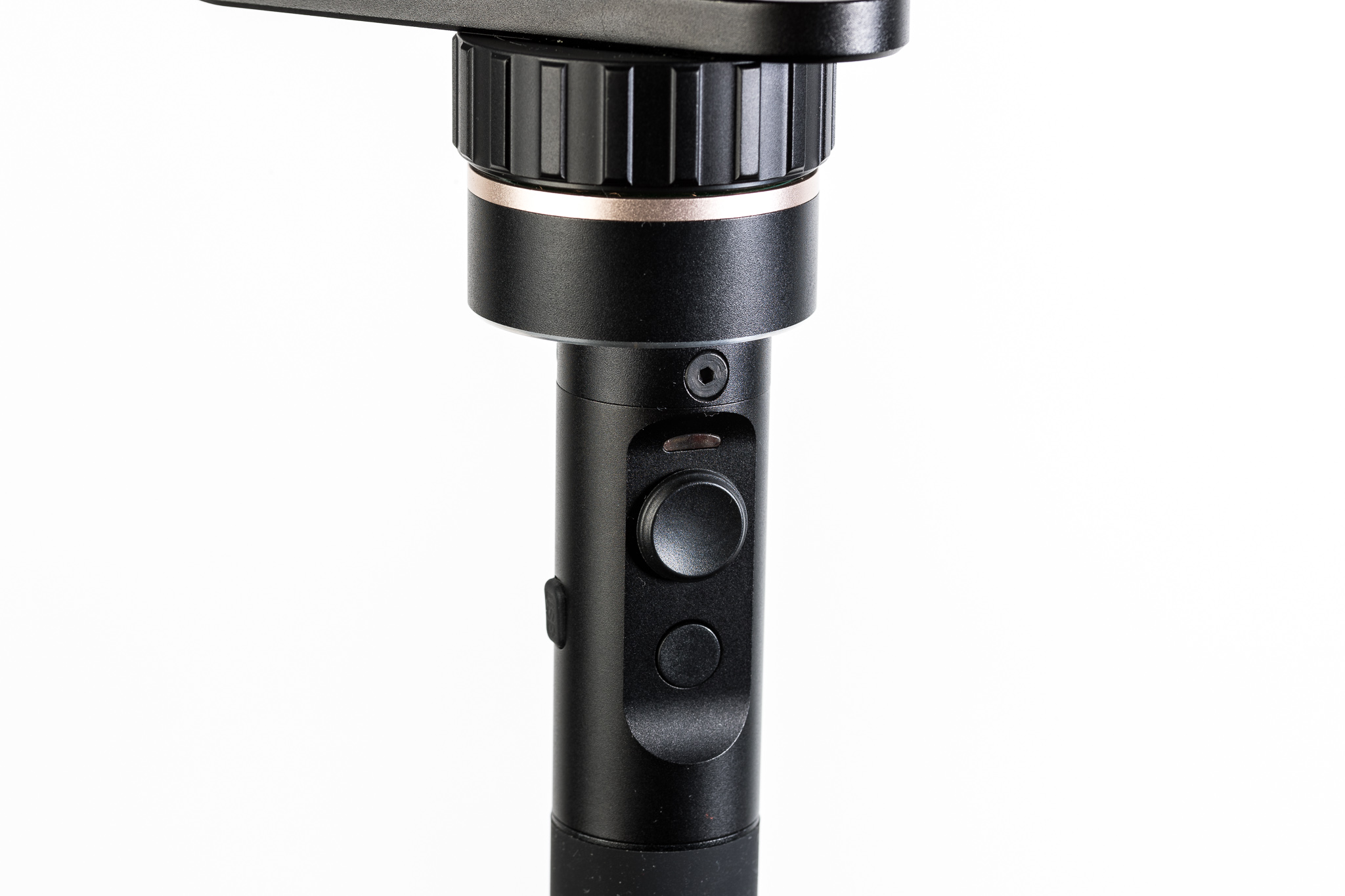 In the Ronin-M or other professional gimbals, features like a joystick are extra, and can cost at least $150-$200 extra. The Feiyu Tech MG V2 has a built in joystick that makes certain movements possible where they would have been pretty hard before. Another feature that Feiyu Tech added were two ¼-20 threads. There is one on the bottom handle when you are in single-handed mode, and another on the top section when you are in two-handed mode. Presumably a little stand can be added on the bottom threads, allowing you to set the gimbal down when not in use. Even without a stand though, I don't find setting it down to be an issue because of its great build quality, unless you're in sand or something.
The Feiyu Tech MG V2 has three main modes. The first mode is panning mode. The gimbal won't tilt up or down. If the handle is twisted, the camera will then follow the twist in a smooth motion along the panning axis. A single tap will lock the panning in place. A double tap enables panning and tilting mode. This modes allows the gimbal to follow both the panning and tilting axes. If you twist the handle, it follows left or right, and if you tilt up or down, the camera will then follow up or down depending on the shop that you were trying to accomplish, either one of these modes are extremely useful. The third mode of the Feiyu Tech MG V2 is a selfie mode, activated on a triple tap of the button. This rotates the whole gimbal towards you, if you want to film yourself.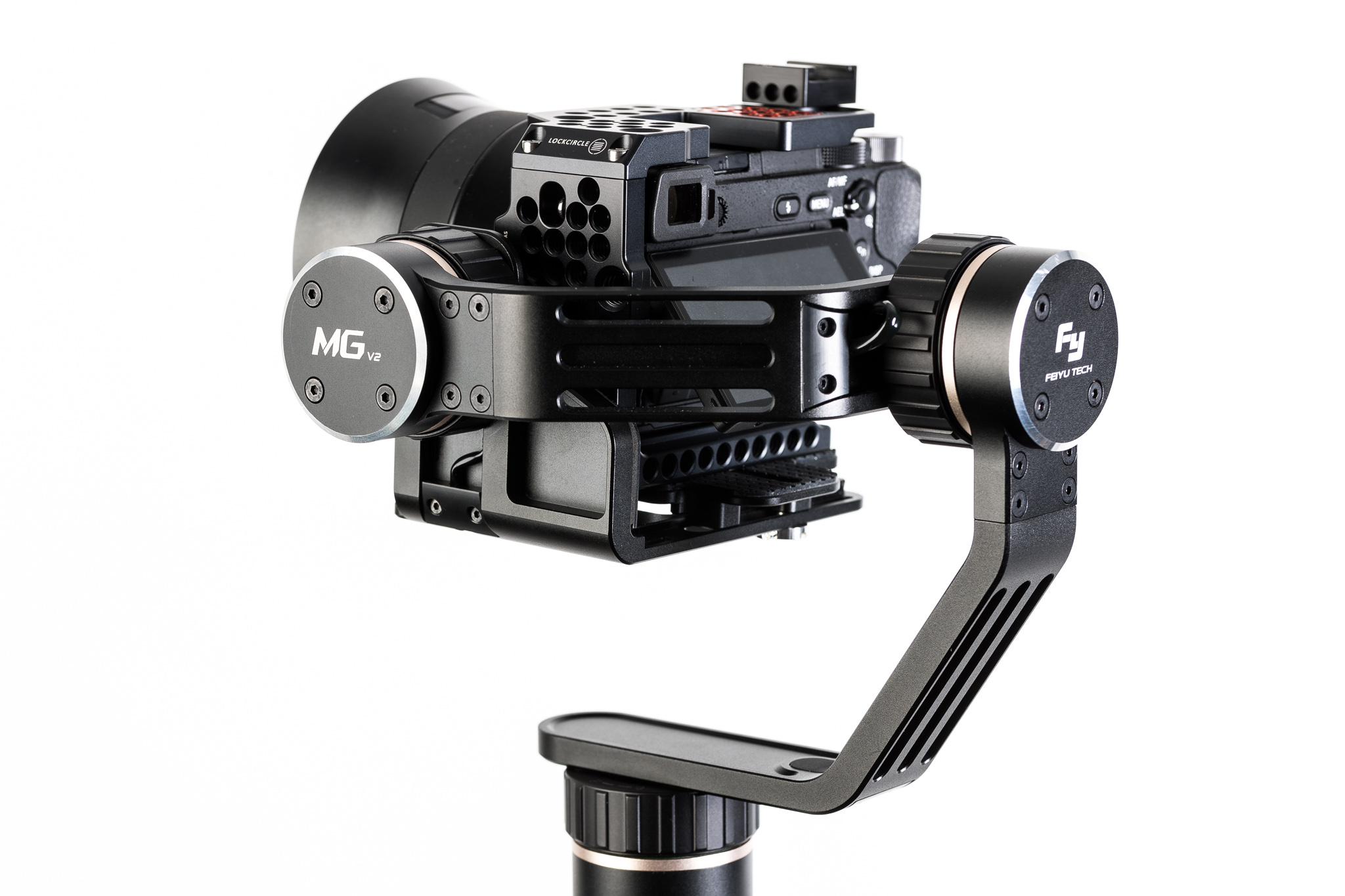 Feiyu Tech MG V2 Performance
The Feiyu Tech MG V2 surprised me with how well it performed. I have used it extensively with both the Sony a6300 and A7RII, and both performed very will with it. Once the cameras were balanced, the Feiyu Tech MG V2 took over. Not only was getting stabilized footage simple when using the sensor stabilized A7RII, but it was even a breeze when using the non-stabilized a6300 and Zeiss Batis 25mm lens. As long as I attempted to maintain a relatively smooth walking or jogging pace, the vertical axis wasn't even effected much. I have yet to use any warp stabilizer in post-production.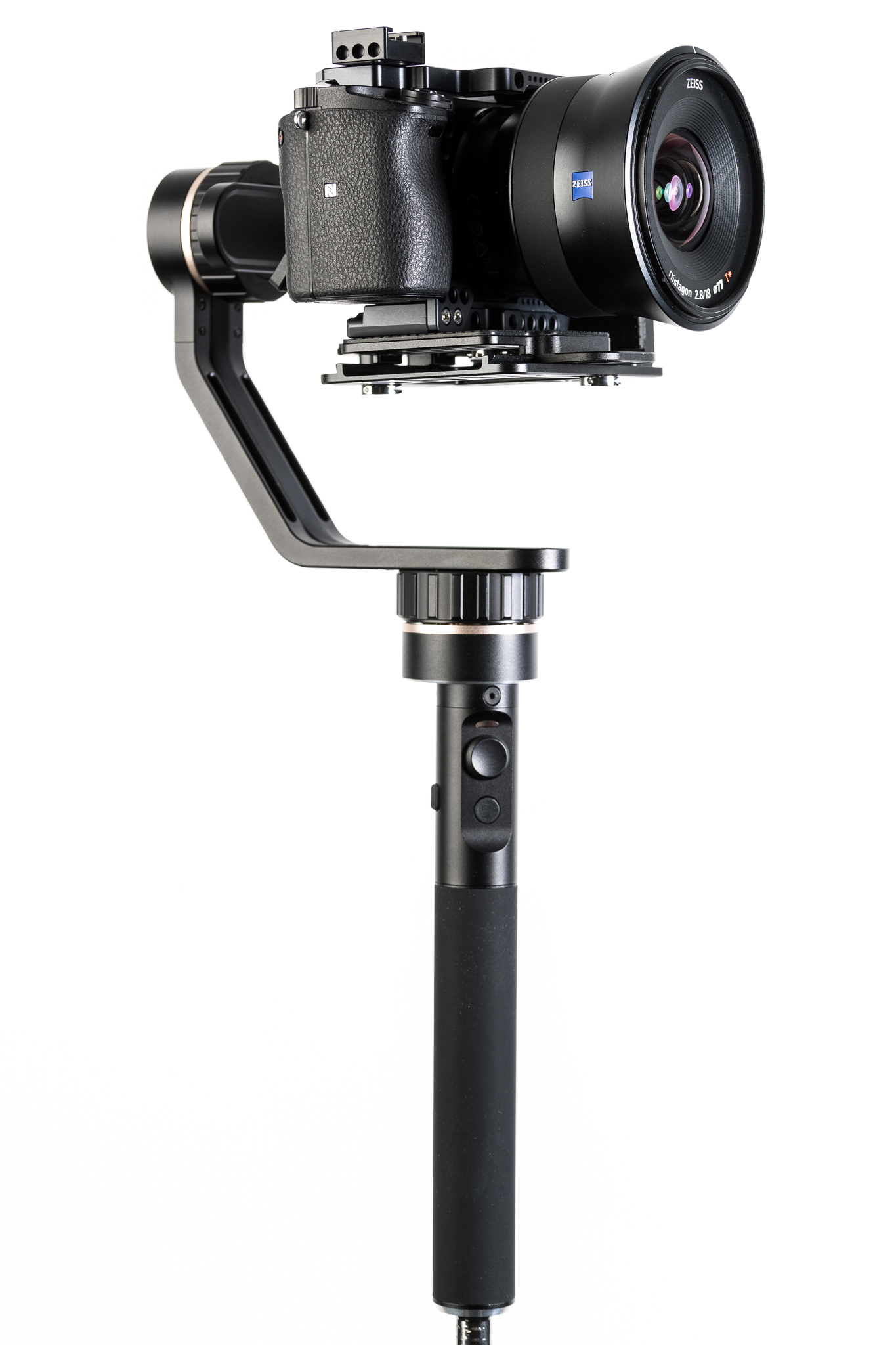 One thing worth mentioning is that I did have a strange day using to the Feiyu Tech MG V2 once. I was up at fairly high elevation, and the temperatures were around 35-40 degrees Fahrenheit. I was trying to use the Sony a6300 with the gimbal, and had no luck. I would turn on the gimbal, and it would turn off abruptly. I am not sure if it was the cold temperatures, Or if I had the balance completely off. I haven't had another experience like that again, so I really can't speak to what the problem was. I'm going to chalk it up to user error because I haven't had another issue like it. One more con that I've come across is that one of the motors is on the left side of the gimbal, therefore adding an HDMI out for an external monitor can't be done. While this seems like a pain, just using the Sony's flip out screen keeps the package light, so it isn't that big or a deal.
My most used and favorite mode of the Feiyu Tech MG V2 is the regular panning mode. I find that if I want to achieve any tilting, I prefer to use the joystick. You may use it different, but that is how I found myself using the Feiyu Tech MG V2 most of the time.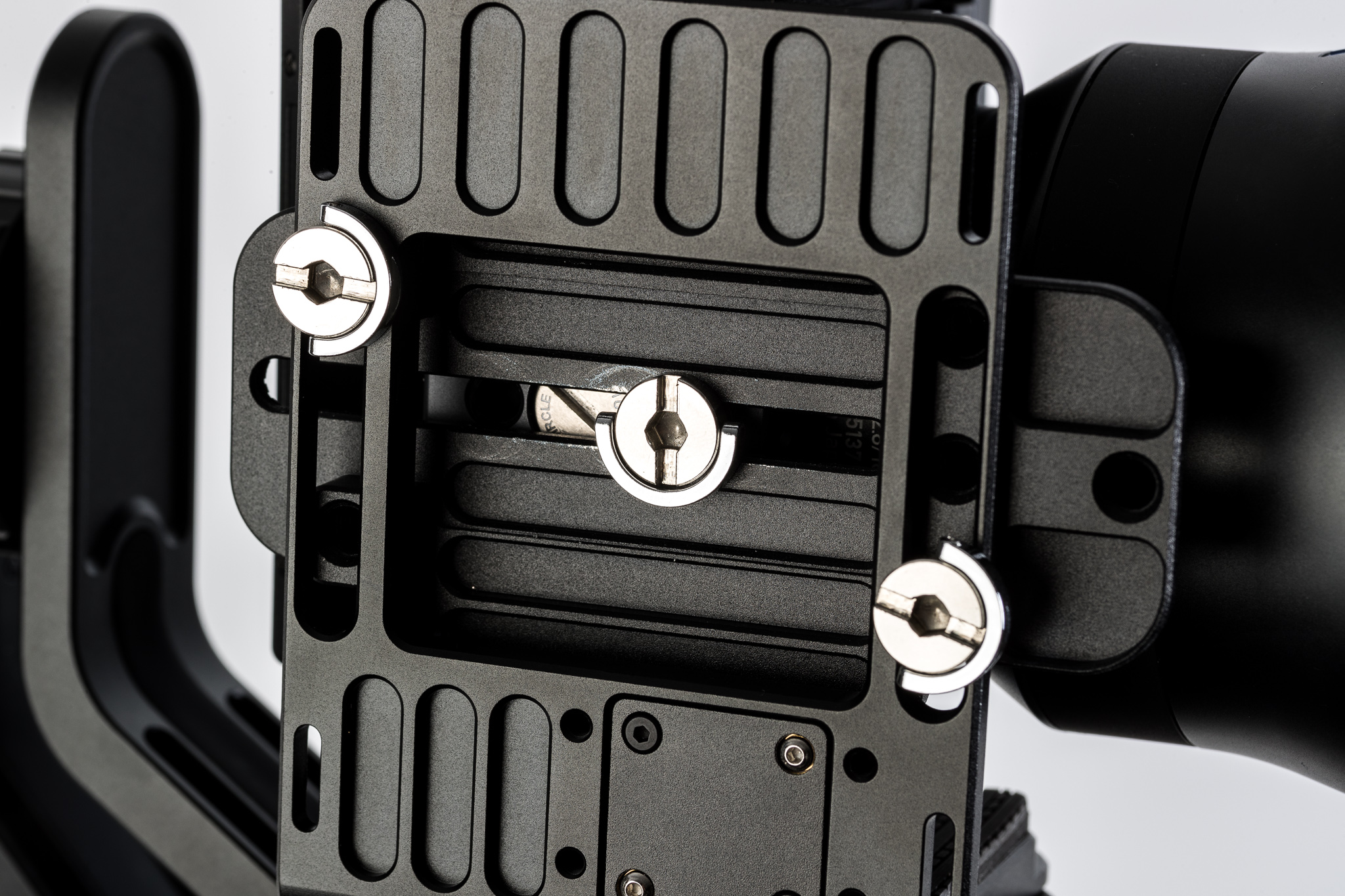 I haven't used the two-handed configuration of the Feiyu Tech MG V2 much, because I love the one-handed configuration so much. I mostly use fairly wide-angle lenses when the camera is mounted on a gimbal. However, I can definitely see the need for the two-handed configuration if I were to use a longer telephoto lens. Your mileage may vary, but that has been my experience.
Yes, this is a gushing review of the Feiyu Tech MG V2. I really think that if you want to step up the cinematic quality of your videos, then adding a 3-axis gimbal stabilizer in an easy way to do so. The Feiyu Tech MG V2 is a fraction of the size, cost, and weight of the Ronin M. I think my footage looks just as good as well. Having the ability to throw the Feiyu Tech MG V2 in a backpack with a few mirrorless cameras and a few lenses is amazing. Yes you can use it with two hands, but the single-handed orientation we'll sweep you off your feet. At the time of review, the Feiyu Tech MG V2 is only $599 for the gimbal and case. That is an absolute steal, so go pick it up while you can.
HELP SUPPORT THE BROTOGRAPHER
If you've enjoyed this content and you'd like to check the current price or purchase the Feiyu Tech MG V2, please click on our links at the top or bottom of this article to do so or click to check out the current price on ADORAMA. Doing so gives us a few pennies off every dollar when you use our links, and it helps us keep putting out great content that keeps your informed about new gear. It doesn't cost you anything, but it's a huge support and helps keep the lights on. We thank you in advance.
Feiyu Tech MG V2 3-Axis Gimbal
The Feiyu Tech MG V2 3-axis gimbal is a fantastic piece of gear that will change the way you think about shooting video.
PROS
Inexpensive
Build well
Creates smooth footage
Easy to balance/tool less design
Single & Two handed configuration
Great joystick
Long-lasting batteries
CONS
External monitor not mountable with Sony cameras





It'll Change Your Production