Superb Timelapse & Video Control
It takes a company with some real vision to really stand out in the current marketplace of gear and accessories. So many companies are popping up with gear that claims it can help your production value. More often than not, these products are either extremely overpriced or just a bunch of marketing hype. It is tough to find a brand that subtly states their value, and ends up over-delivering on promises.
Motion control devices for video and time lapse have really blown up in the last couple years, but these devices are typically very expensive. However, a brand out of New Zealand, Syrp, has stepped up and made some really cool pieces of equipment with your pocketbook and production in mind. The coolest piece of gear that they make, in my opinion, is their Genie. The Syrp Genie is a portable, automated box that allows you to capture panning automated time lapse or video on a tripod, or both panning and sliding automated time lapse or video with the use of a slider.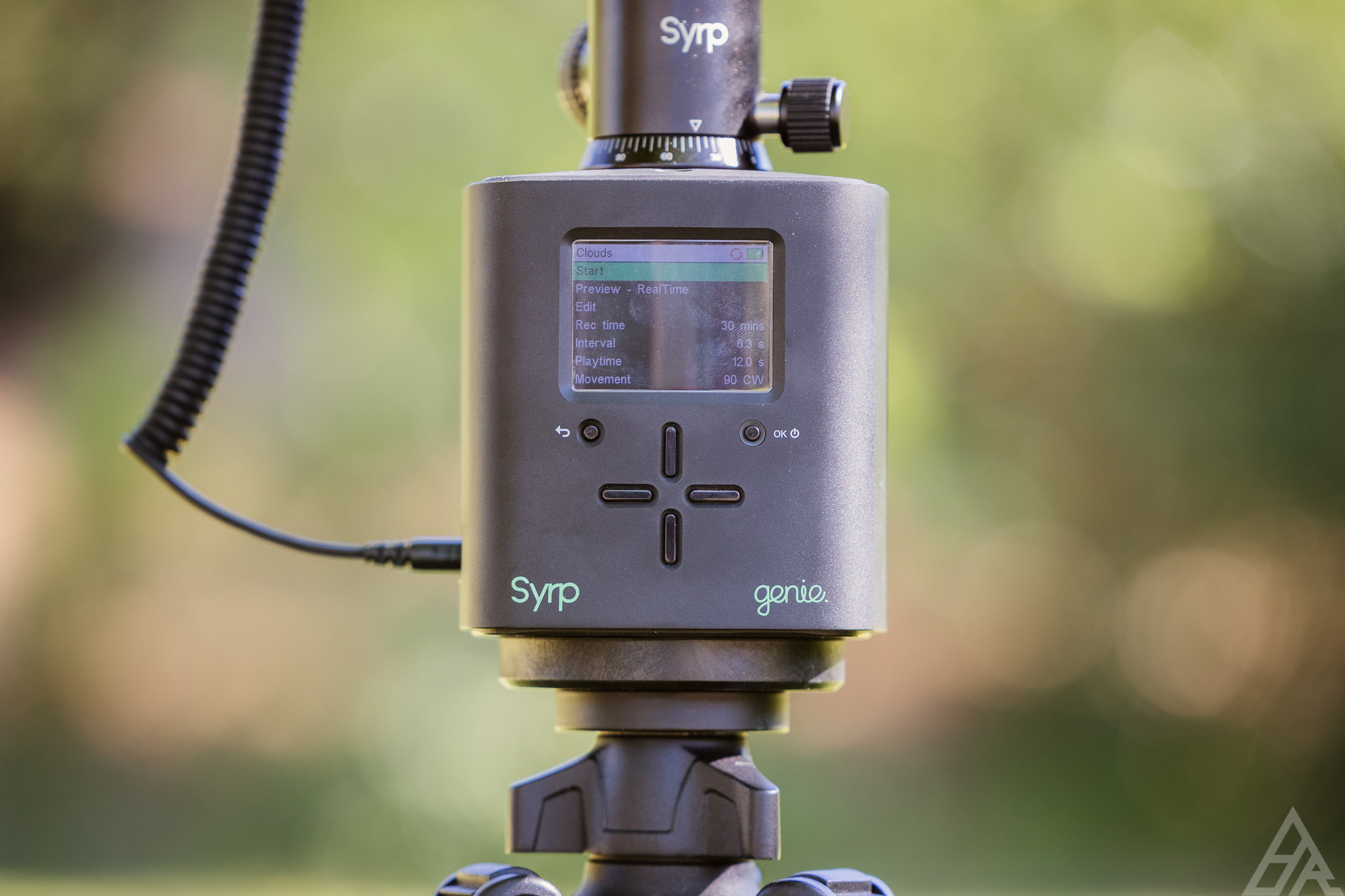 What I like about the Syrp Genie
There is no denying that the Syrp Genie has a ton of functionality in it's rectangular design. Standing at almost 5 inches tall, with a width of just under 4 inches on each side, the Syrp Genie may seem big at first. Don't be fooled though, as a ton of functionality is packed into this aluminum cube. I love the LCD screen that turns on quickly and allows you to quickly select a time lapse for video shot. The interface is extremely intuitive and easy to set up and use, and it even has preset modes for shooting different subjects like people, water, or clouds. Setting custom modes is very easy as well. The Syrp Genie also allows you to preview the movement of the shot that you are setting up, so you can check your framing without needing trial and error. That has saved a ton of time for me, especially when using it for its video functionality.
The external ports on the Syrp Genie are also very easy and intuitive, with graphical markings for each port, so you don't accidentally shove the wrong cord in the wrong hole. Another thing that I really like is that it doesn't require any extra batteries. It is internally powered, and the battery lasts forever. All of this is cool, and the simplicity of the Syrp Genie is definitely there, but the feature that makes this piece of gear stand out among all the time lapse and motion control devices out there is its ability to be used on pretty much any slider.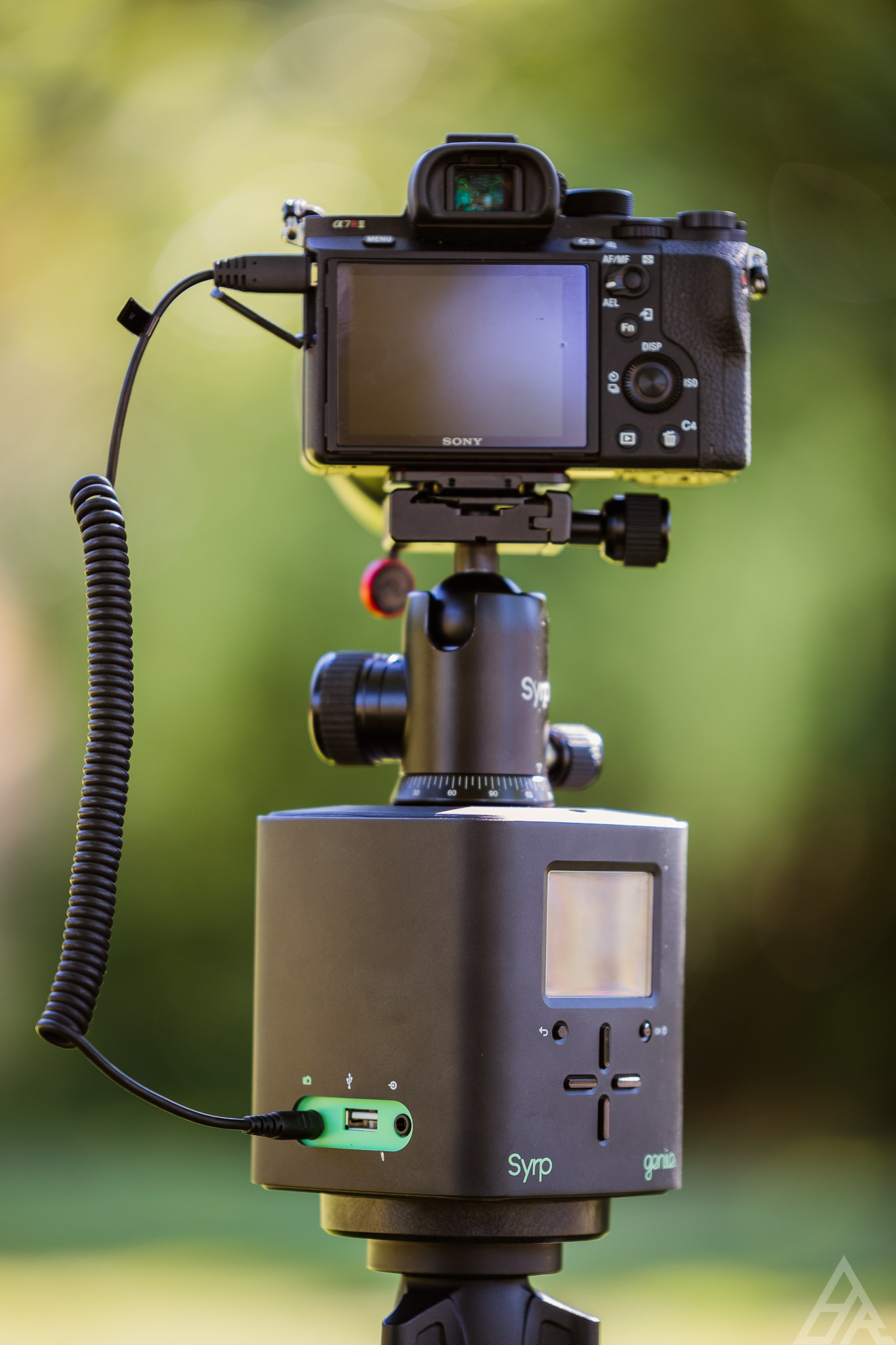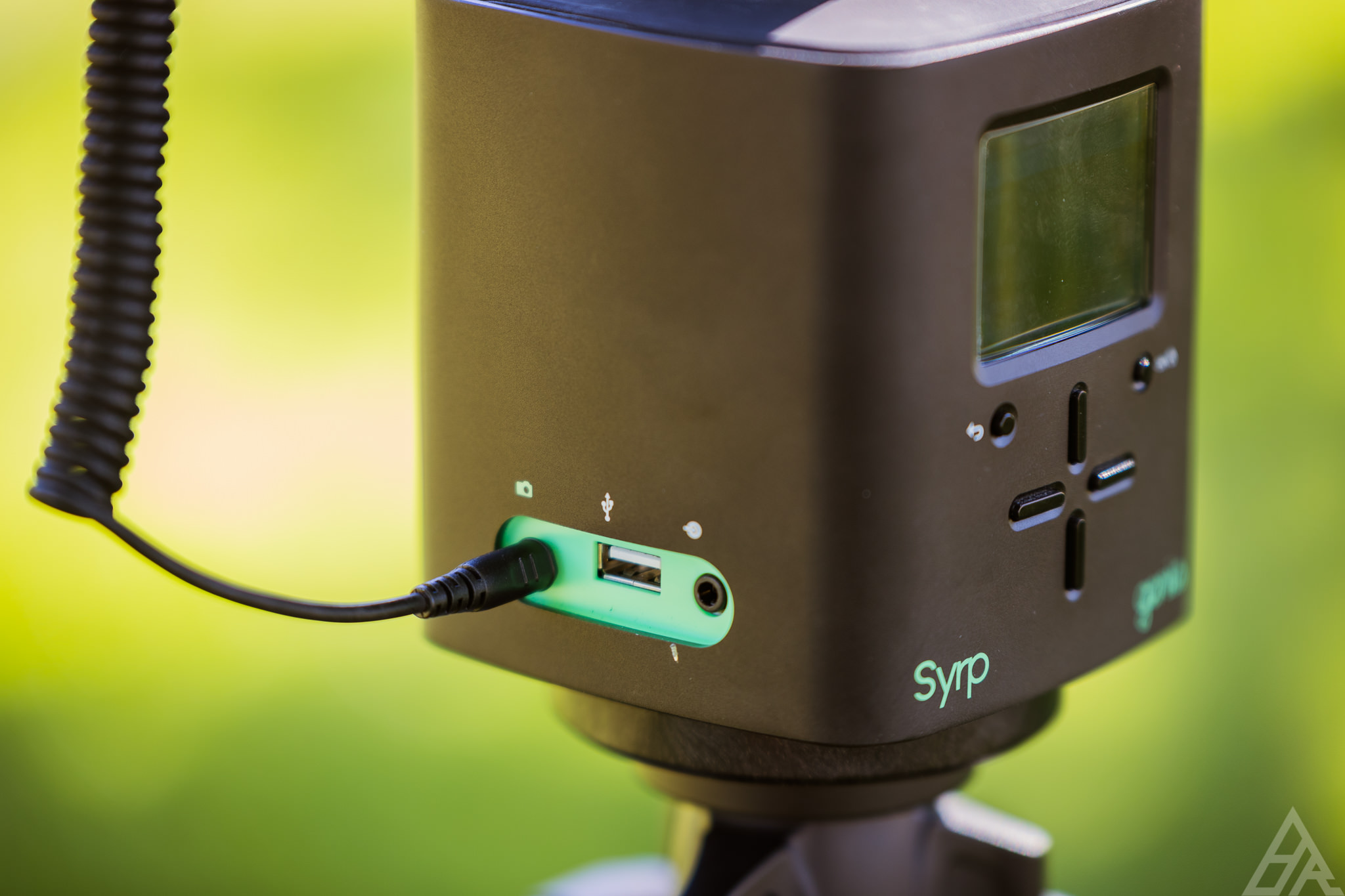 Yes Syrp also carries its own slider, the Magic Carpet, but you aren't forced to buy it if you already own another one. Whether you own a very expensive or a DIY slider, it doesn't matter. With their optional Universal Slider Mounts, the Syrp Genie can easily be added, making that slider a fully functional motion control kit. While I don't really use this feature to be honest, the Syrp Genie can also slide vertically with most cameras without the use of a counterweight. With heavier cameras, the counterweight is needed. The Syrp Genie can also be used for other aspiring DIY motion control rigs. The possibilities for your creativity are endless, and I really appreciate your product that doesn't put me in a box, while ironically being in a box!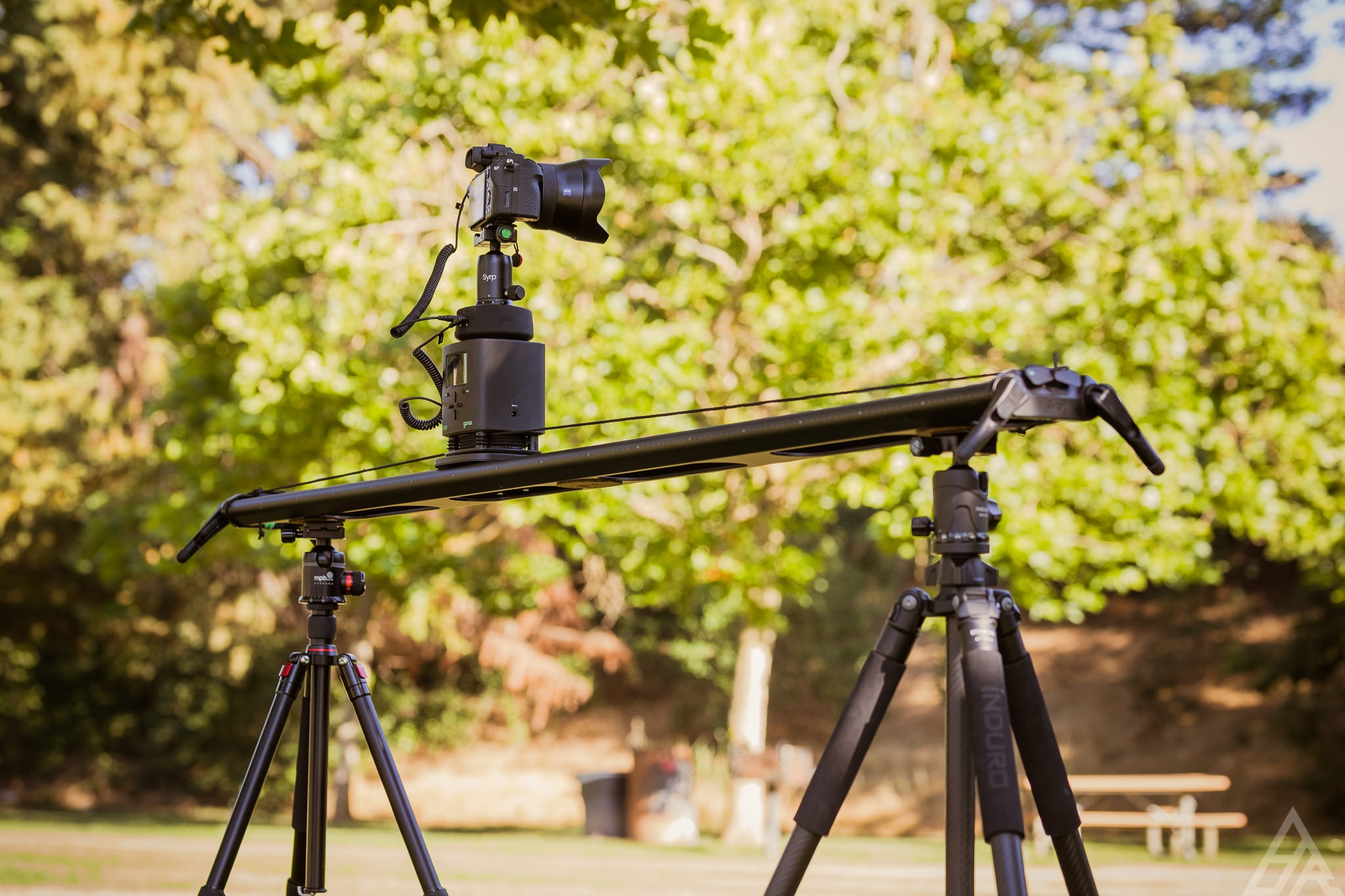 What I didn't like about the Syrp Genie
To be honest, there really isn't much to complain about. If you can get past the initial price of $789 for the Genie, then I really don't see anything to complain about. It may be expensive for an aspiring motion control or timelapse photographer to spend, but the Syrp Genie really is an investment into your creative future. The weight of the Syrp Genie may bother some people as well. But if you consider the features that are packed into the device with it's robust construction, the weight is something that I personally am willing to deal with.
Specs of the Syrp Genie
4" wide x 4.5" tall or Pan 360 degrees in 6 seconds
Can slide about 1.5" per second
Can hold up to 33lbs (15Kg)
Compatible with over 100 cameras via different link cables (Check site for info)
USB port for firmware updating
Who should buy the Syrp Genie?
If you're an aspiring time lapse photographer who needs a well built product, with insane (24 hour) battery life, the Syrp Genie is a great choice. Yes, the price is steep, but in the year I've been using it, it has never failed on me. The majority of my use of the Syrp Genie though has been in video work. That may seem weird, but the Syrp Genie really excels for me with its video functions. If you're a "one man band" or YouTuber, it's a great choice. Throwing it on a slider during an interview and having it slide back and forth on your subject can really add production value to your content. That is by far my favorite use for the Syrp Genie. Rigs built for a one man crew typically cost much more, so the Syrp Genie is a great starter option for this type of motion.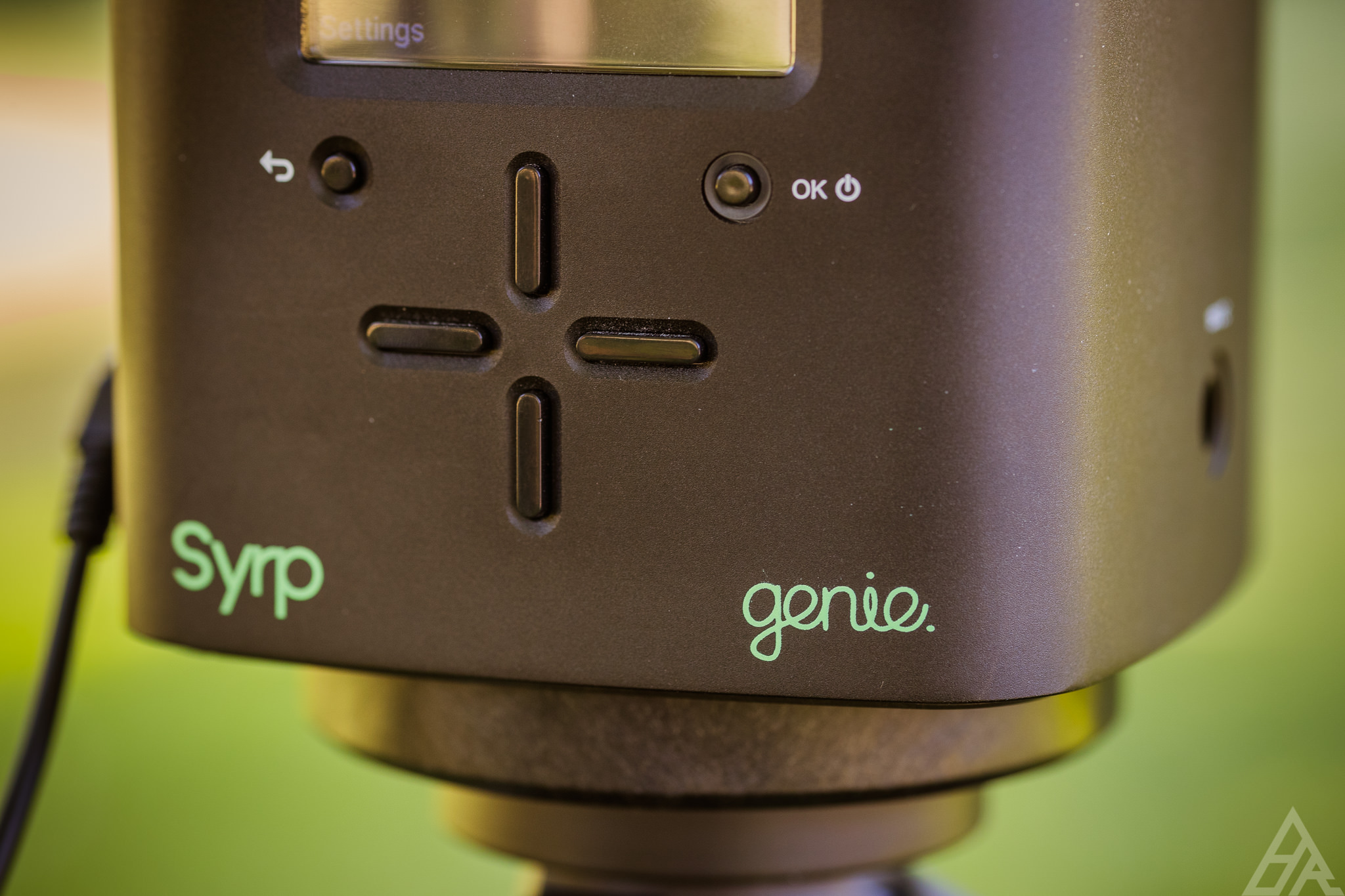 Conclusion
There are lots of options out there on the market today, so figuring out what is best for you is key. But if you are in the market for a high-quality time lapse and video motion control device, then the Syrp Genie should be seriously considered. It is my personal choice for this type of shooting.
If you'd like to purchase the Syrp Genie, please use our affiliate links below. It costs you nothing, and helps The Brotographer make content like this.
Syrp Genie Review
The Syrp Genie is my gear of choice for timelapse and video motion control. It can be use both on a tripod or with practically any slider for a variety of purposes.
PROS
Packs a ton of features into the rectangular design
Intuitive UI
Easy to use
Can be used on any slider or tripod
Preset timelapse and video modes
Can hold a heavy payload
CONS
Slightly expensive
Could be seen as heavy by some





Superb Timelapse & Video Control