A Worthy Investment
Despite operating professional camera gear for about twelve years now, writing a review for a piece of prosumer gear is an exciting first. My name is Joshua J. Cordero and I've been operating as a full-time freelance filmmaker for seven years now, under my company "Remscape", and just in the last five months have begun incorporating photography into my services. I generally specialize in corporate videos and commercials but weddings and other live events are a part of my workflow as well. While most of my productions keep me within California's Central Valley area I travel all over the country and have had the opportunity to film in various parts of Europe, New Zealand and India as well. I'm certainly a mobilized filmmaker and because of that I've invested in a wide variety of bags and cases over the years of all makes, sizes and prices. I know pretty quickly what will accommodate my workflow, what will hinder it and most importantly what's worth the investment. What I place my gear in is a very important and carefully considered decision for me. For the past couple of weeks I've had the opportunity to carry the Tenba Roadie HDSLR Video Backpack – Black 22 in. Right off the bat I'll say this…I've never seen a bag quite like this.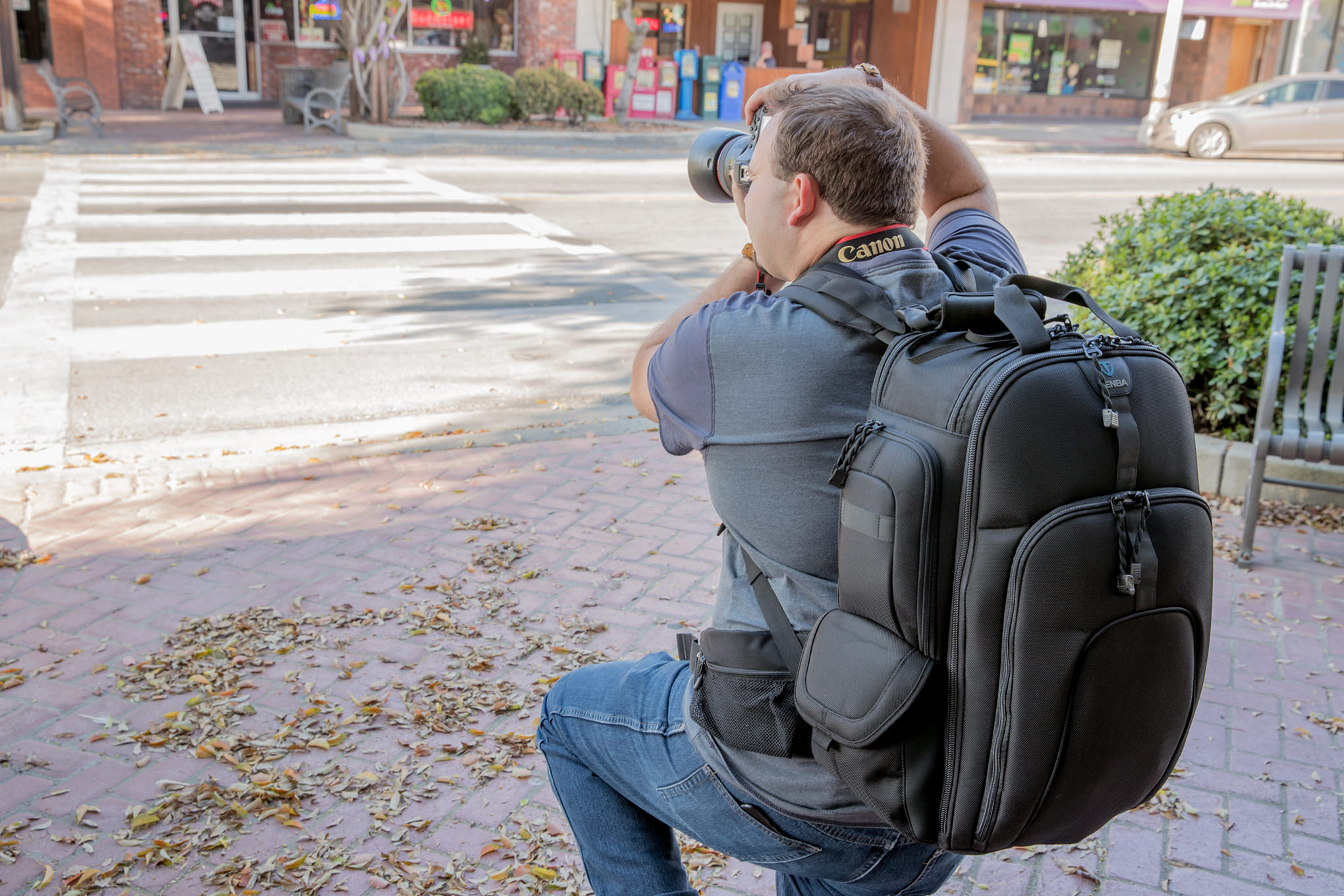 This really is a bag for filmmakers, photographers or both. For photo shoots I've been able to pack every single piece of gear I've needed with the single exception of lights. For video productions, especially if you're a DSLR user, this will hold the majority of your equipment.
I took this bag on two very different kinds of shoots but with similar gear needed. The first a rigorous shoot in the mountains to film highlights of a camp and capture some 4K B-roll. The second a photo shoot in a downtown area for a city website. For both these shoots I packed:
(8) Canon 1DX Mark II batteries
(9) CompactFlash Memory Cards
(2) Battery Chargers and Cables for the 1DX Mark II
iPad
Binder
Large Notebook
15" MacBook Pro and cables
Several microfiber cloths
Can of compressed air
Zeiss Lens Cleaning Kit
Zacuto Z-Finder Pro 2.5x
Sandisk ImageMate Reader/Writer
Tascam DR-100mkiii Linear PCM Recorder
Rode VideoMic Pro with Lyre Suspension and Dead-Cat Windshield
To top it off, I hung a Canon 100-400 f/4.5-5.6L IS II USM Lens from one of the hip straps of the Roadie HDSLR Video Backpack.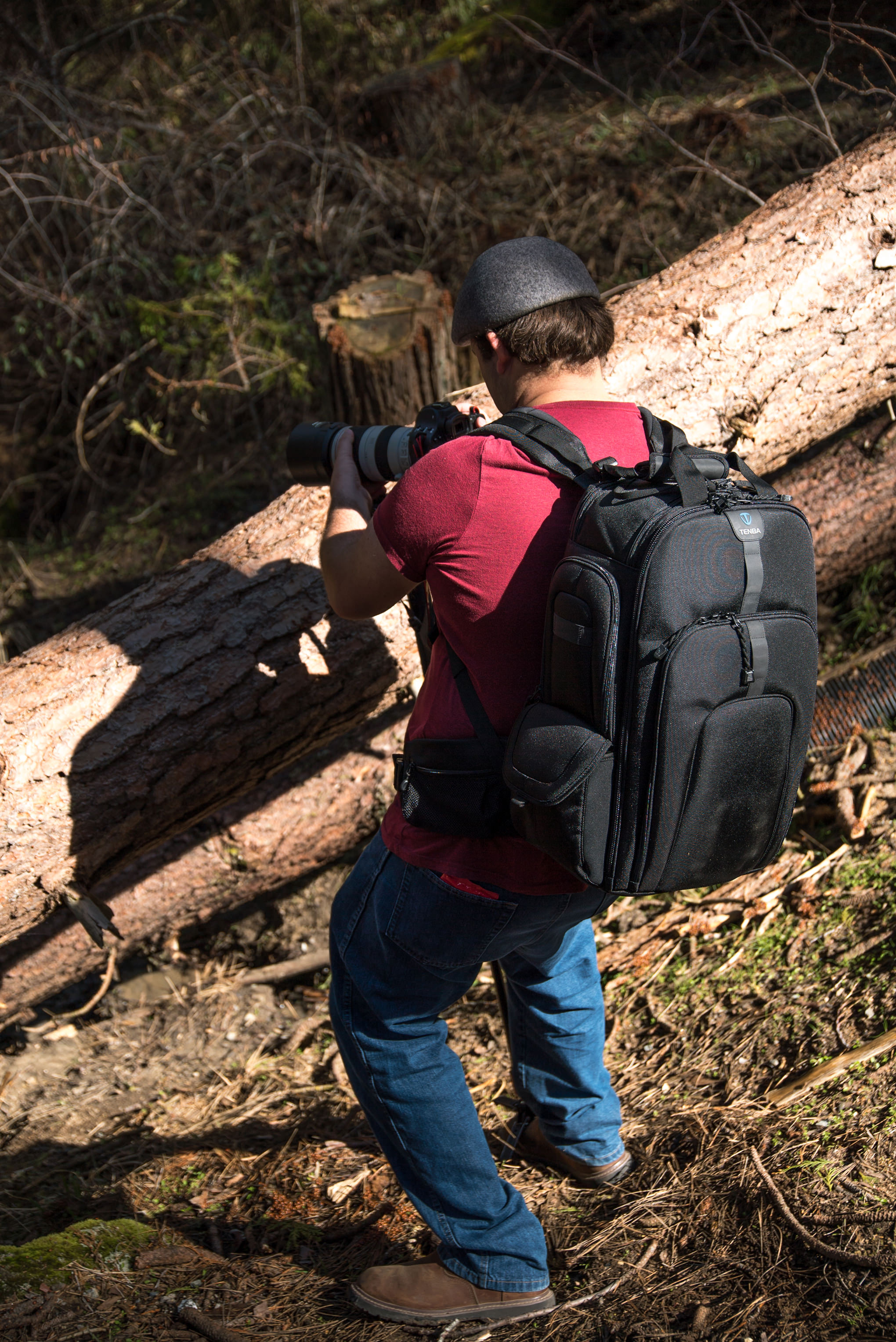 The design of the bag is second to none. The Roadie HDSLR Video Backpack features YKK Self-Healing Zippers that withstand the weight and rigors of a full bag; you can practically hear the quality when zipping these things. I can't tell you how many zippers I've had break on me with previous bags and these held up to enormous loads and stress. Even the water-repellant Nylon makes for a durable bag that can withstand repeated use in any environment. The overall look of the bag is a unique combination in professional compartmentalization and formal appearance. This is the kind of bag that offers professional features, durable materials and yet still looks nice enough to wear at a wedding or business meeting. Albeit the black color does absorb dirt and dust horribly but can be cleaned easily with a damp washcloth.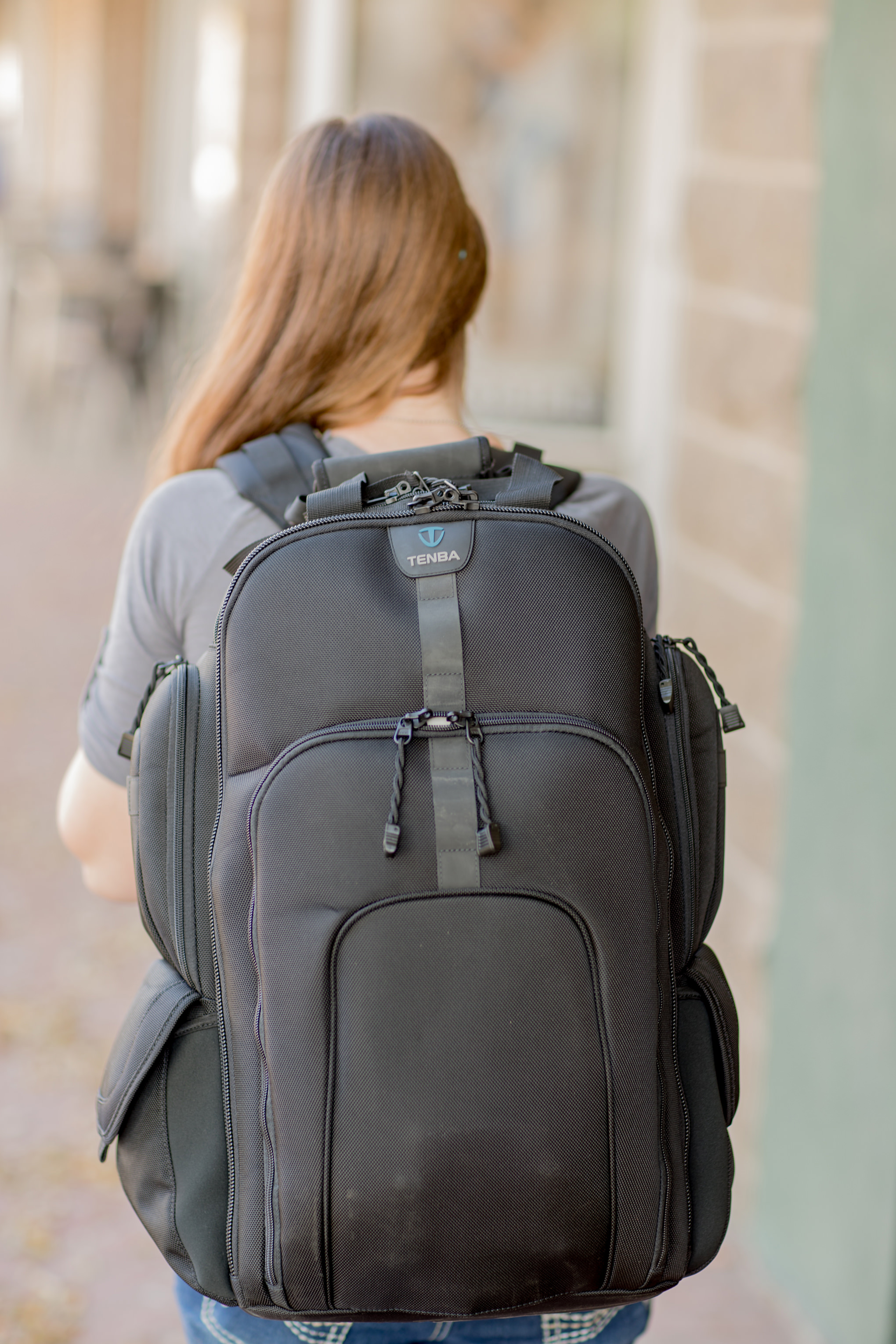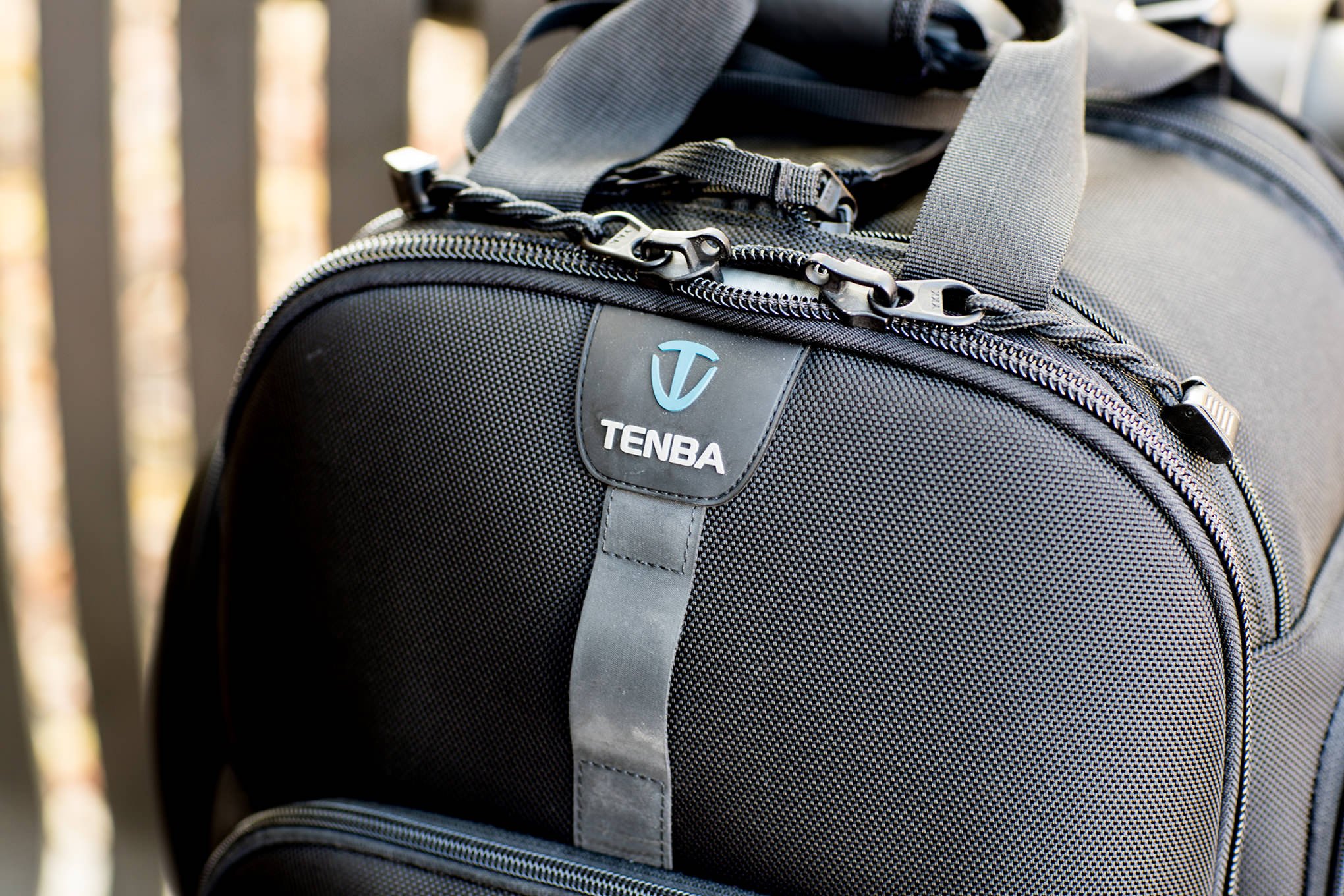 The degree of compartmentalization far surpasses any bag I've ever owned. You almost need to get used to it, as it can be initially easy to forget where you placed something leading you on a hunt through pockets and compartments.
The top of the Roadie HDSLR Video Backpack features butterfly flaps where I was able to store both my Tascam DR-100mkiii and my Rode VideoMic Pro for quick and easy access along with extra batteries and memory cards. The bottom of this access can actually be removed to get into the main camera compartment without opening it although I never found myself using it.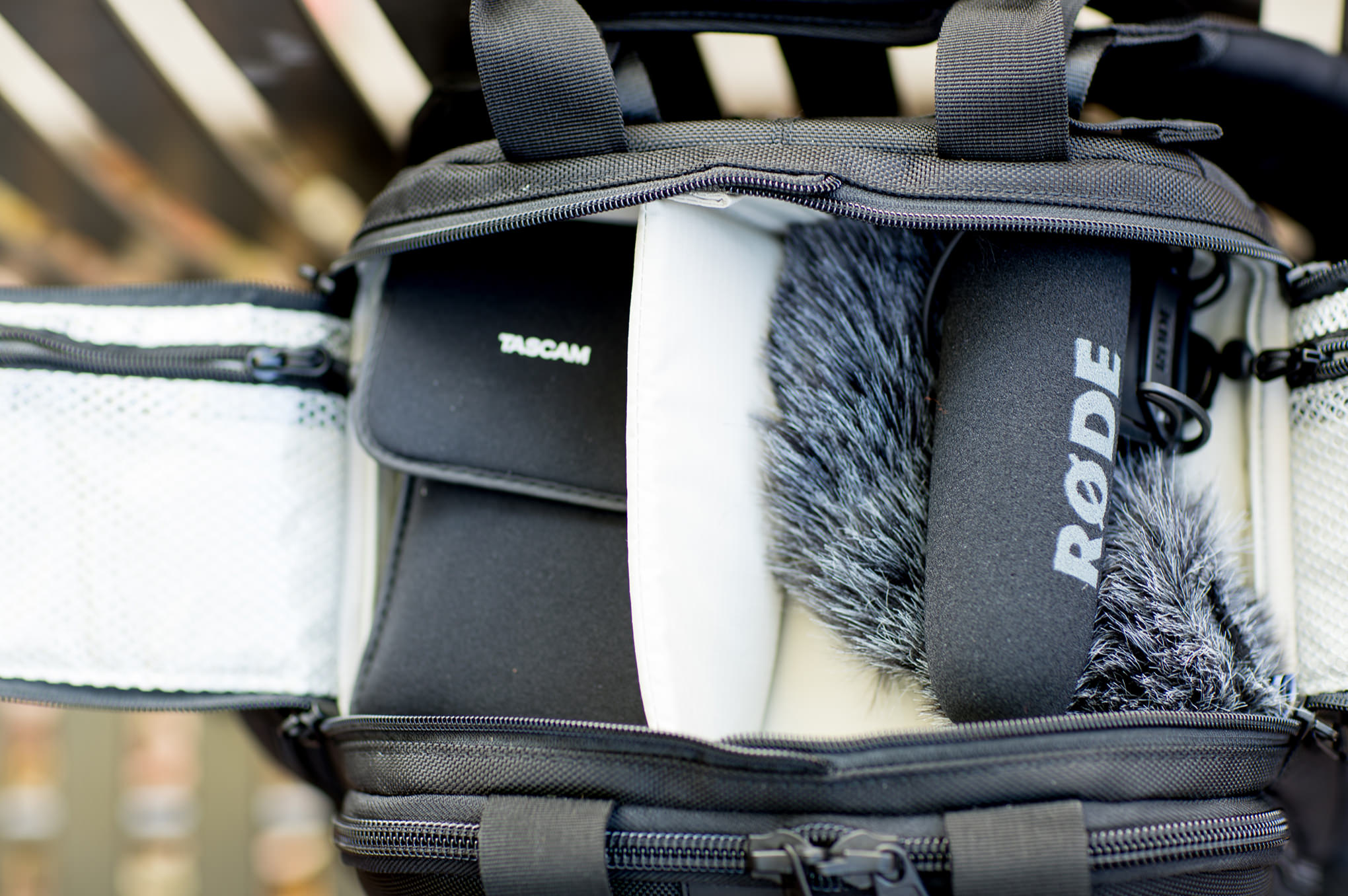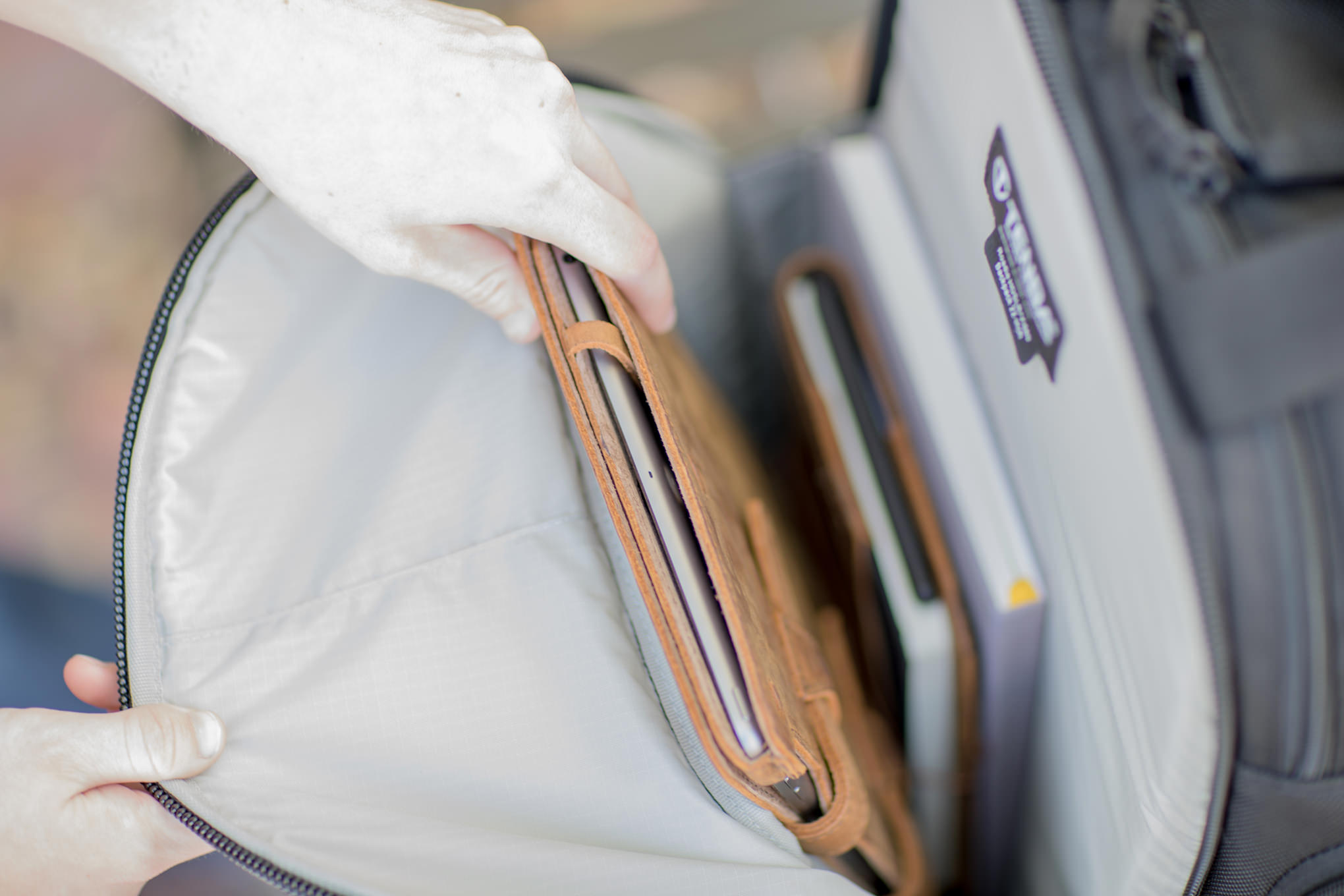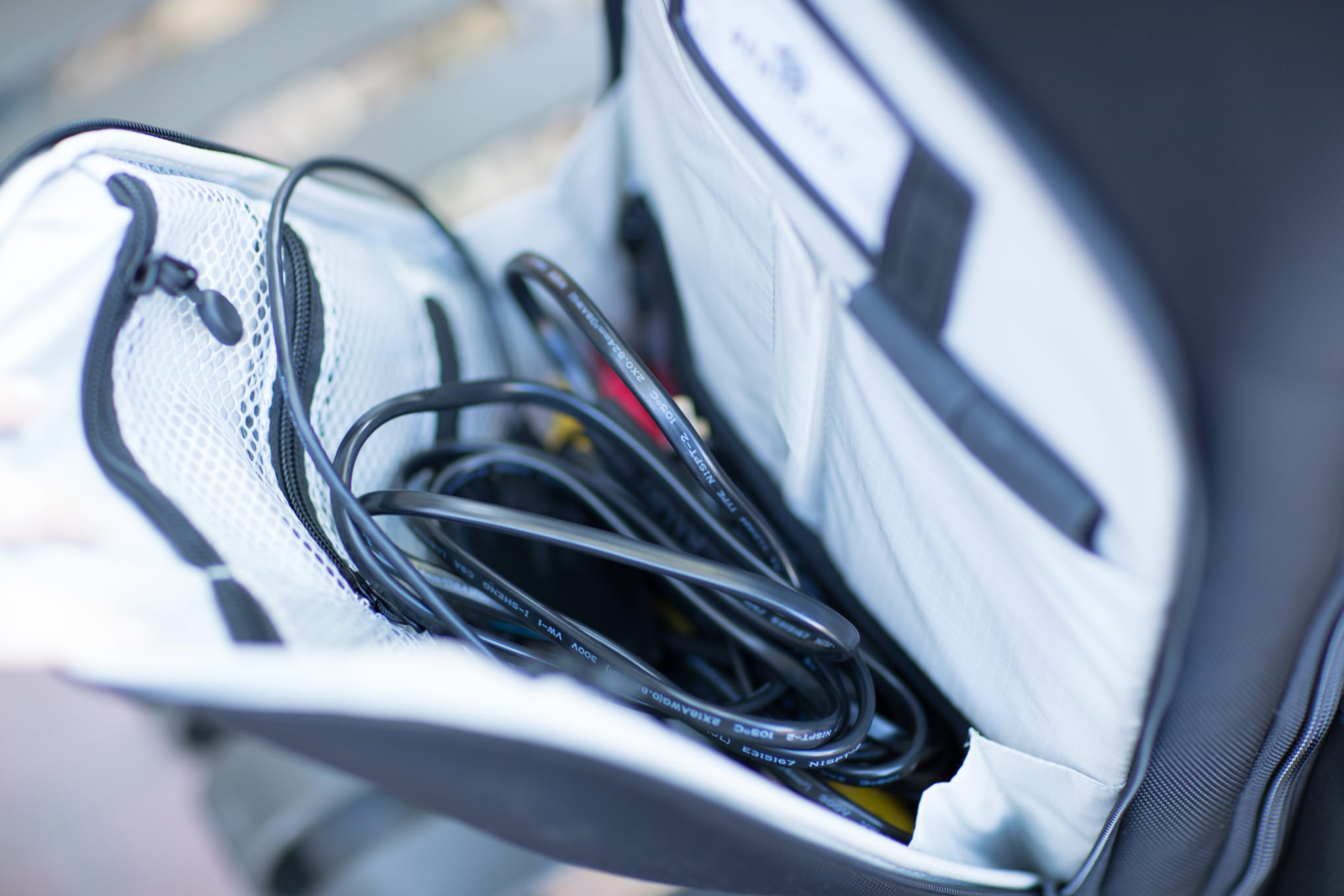 The sides of the bag feature long pockets that I personally stored chargers and cables within but would be perfect for putting longer microphones, shorter boom poles or action-sized tripods/monopods. One of the bottom side pockets contains a very convenient weather wrap for extra protection in rain, snow or harsh environments. The opposite bottom pocket contains a wrap-wallet with a total of ten slots. These could be used for both SD and CF cards but I found myself preferring to store my memory cards in one of the front compartments instead. In fact I just removed the wrap wallet entirely.
The hip straps each feature additional storage, the right a zipping pocket with a collapsible water bottle holder and the left a netted, zipping pocket. Very convenient for smaller items.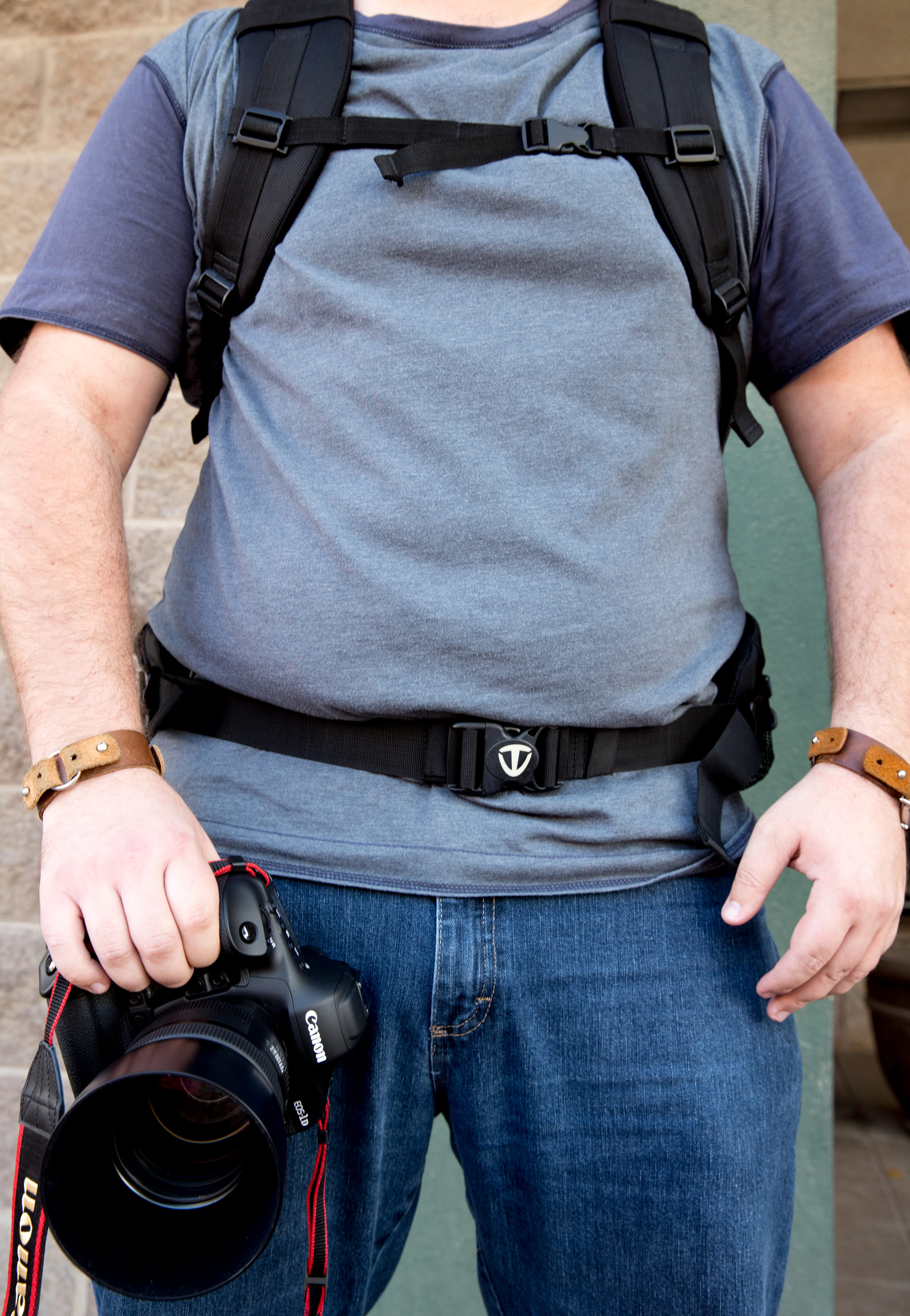 On the front is a long compartment that goes deep enough to cover the entire length of the bag. This is where I always stored my MacBook Pro, Binder or iPad (or a combination of these). This is the perfect place to store anything clerical related or even a 17" laptop and keep it separate from your camera gear.
Just beneath, and only a few inches shorter, is the front accessory compartment. I'm honestly still trying to get used to this part of the Roadie HDSLR Video Backpack because it contains nine separate places to store things. It's extensive and you can easily squeeze in memory cards, cables, card readers or lens filters here along with some quick access business cards. In fact, if you're traveling abroad this wouldn't be a bad spot to place plane tickets, ID, keys or your passport as well but be sure to use a TSA-approved luggage lock though (which these zippers do accommodate).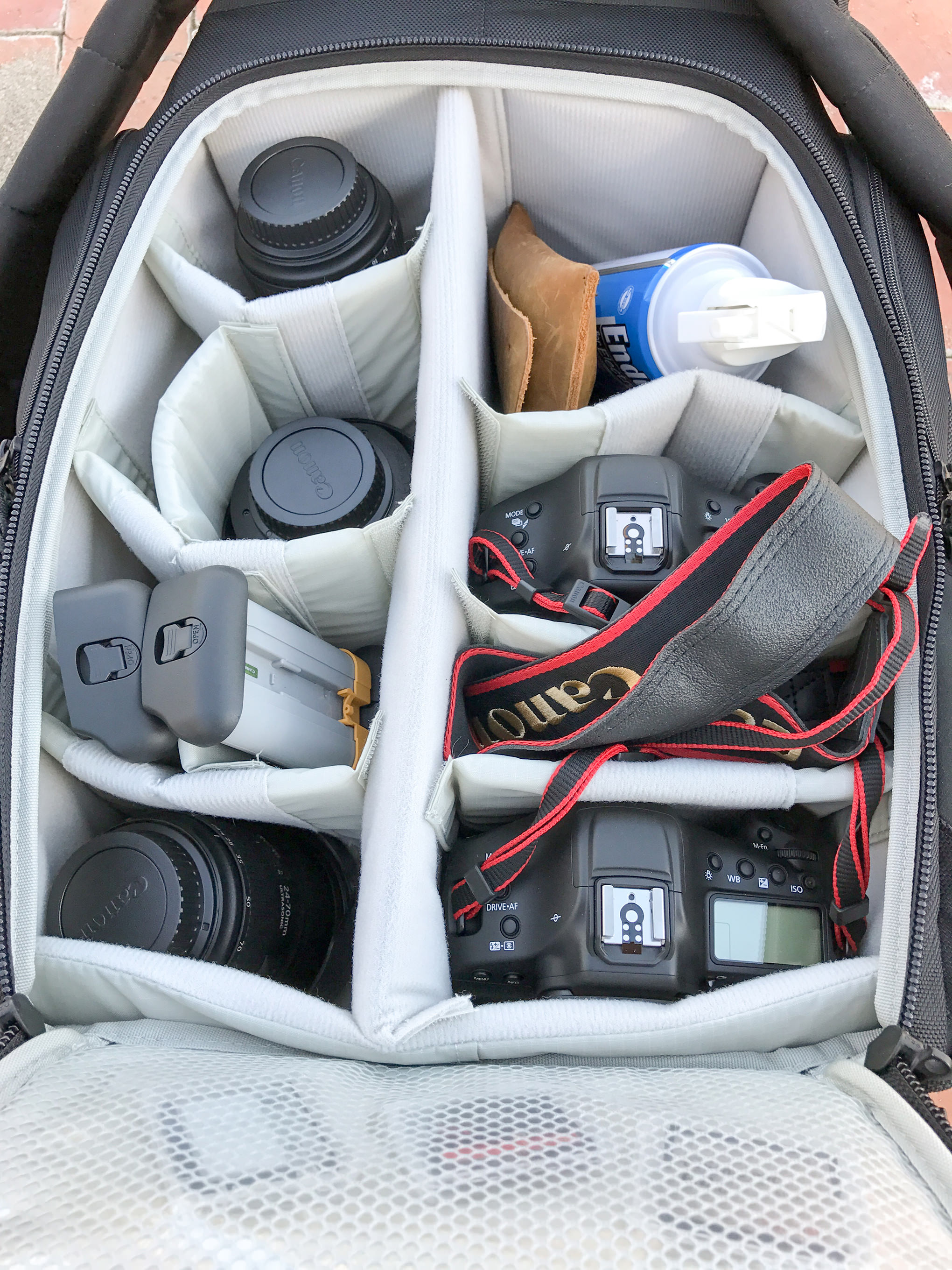 Finally the main camera compartment. This is the first thing I noticed that was incredibly unique about this back and initially confused me as the camera compartment is on the harness side of the bag (the part that rests against your back) instead of the front. This provides a whole new level of security to your equipment, you. Gear cannot be quickly removed from the backpack while carrying it, which I absolutely love. To access your camera gear through the camera compartment you must remove the backpack first. This provides not only security but also really peace of mind especially when working in crowded places or unfamiliar locations. Inside are an assortment of padded dividers that held both my cameras and almost all of my lenses. Even if you're not a DSLR user you can still fit the majority of your main camera gear here. I own a Canon C100 and can still see myself using this backpack when requiring to film with it.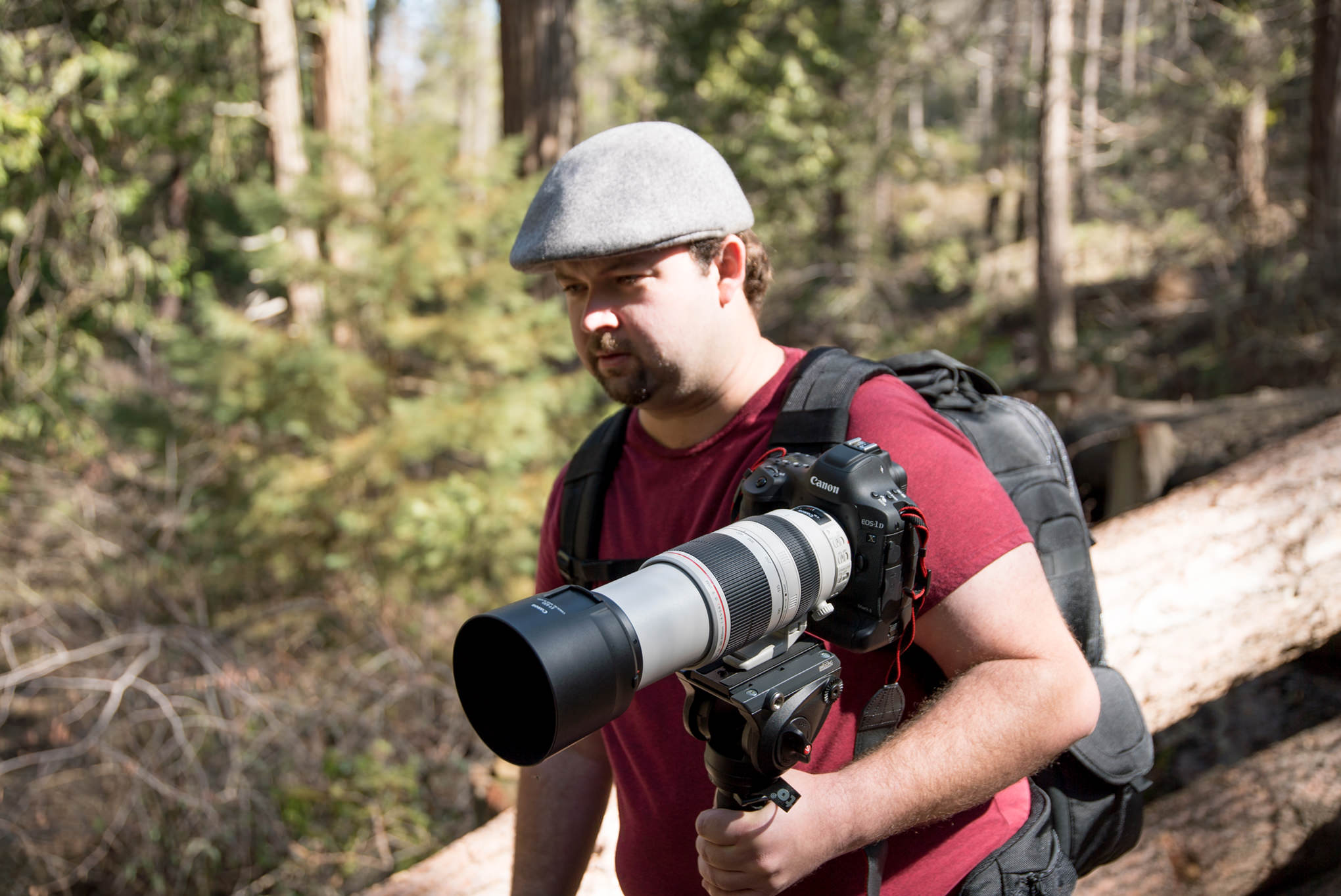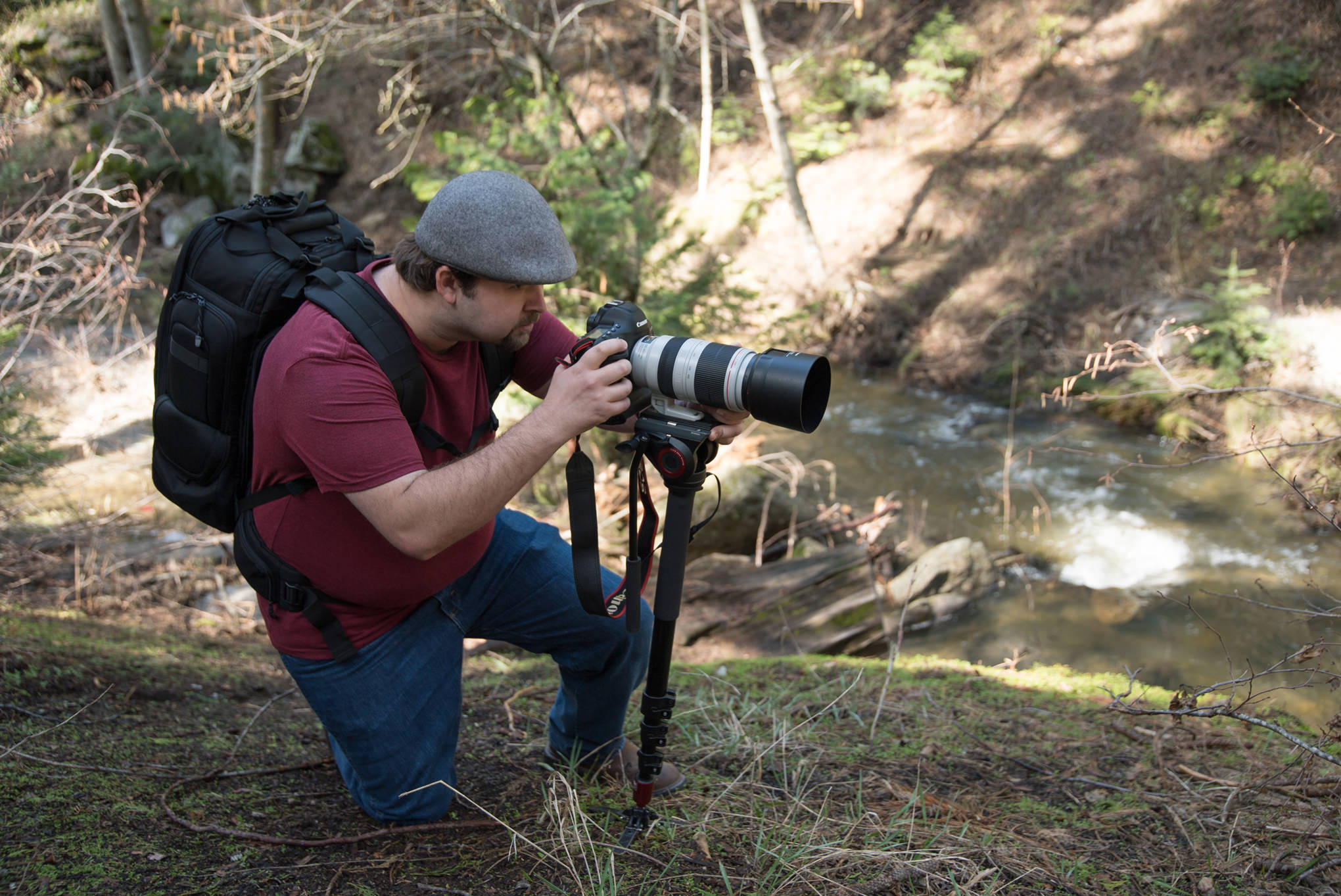 Staying true to their motto Tenba made absolutely no compromises with this bag. It is durable in every sense of the word. While it collected a fair amount of dirt during my shoot in Badger, California after a quick cleaning with a damp washcloth it looked good as new. Despite having equipment pressing up against it, indentations abounded when it was full but after removing everything that was stored inside the bag showed no signs of residual markings, scratches or tears. I've had the opportunity to take this bag on about twenty shoots so far and personally I don't see it loosing any of its luster through repeated use. Its solid build and abounding amount of storage have made it my go-to-bag for photo or video shoots.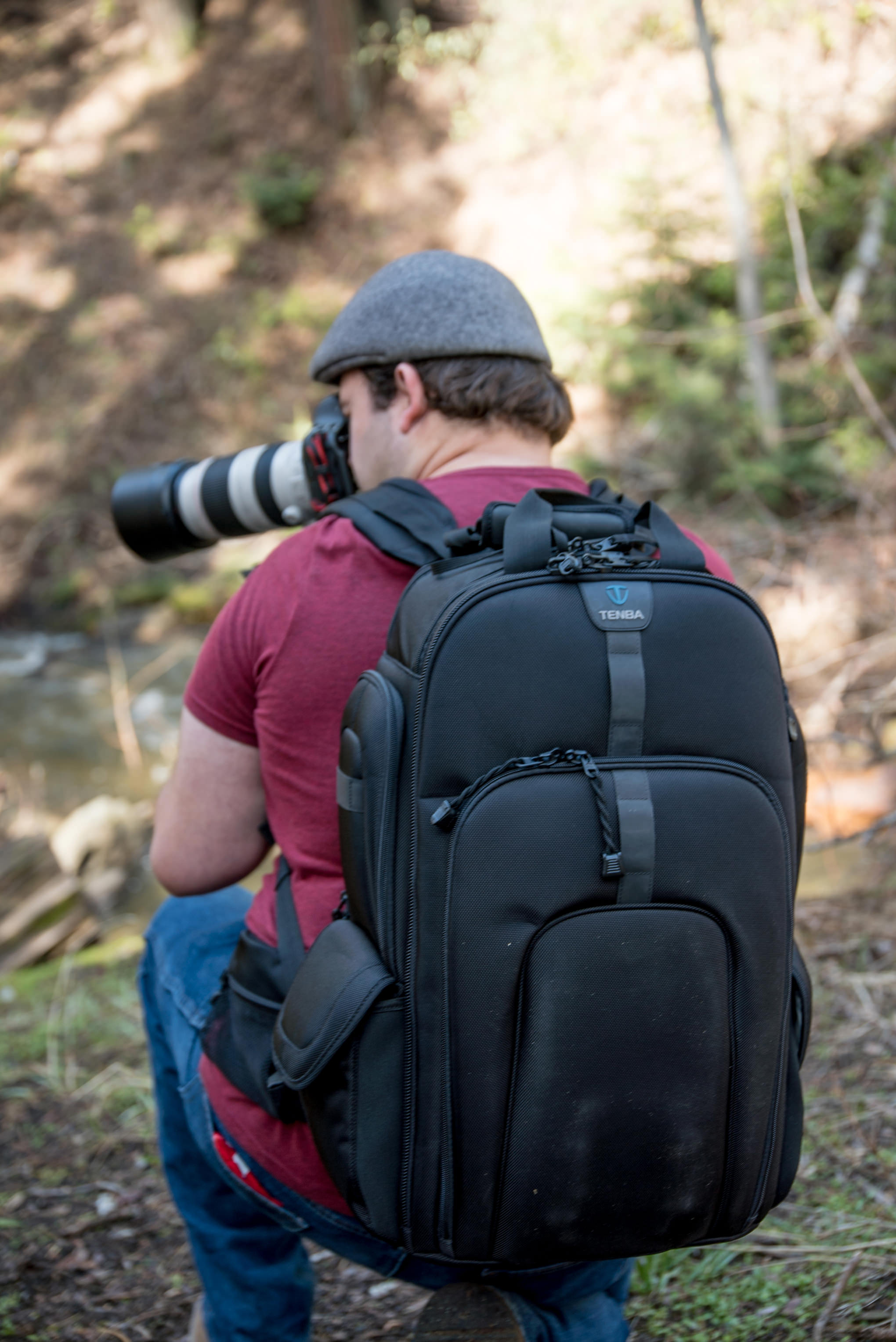 The Roadie HDSLR Video Backpack is available for $349.95 and quite honestly for the quality that accompanies this backpack that is a very fair price. During some of my shoots this bag was carrying over $20,000 worth of camera equipment and in this backpack I knew it was both safe and secure every minute it spent there. I was at ease the entire time working, never concerned with the well being of my gear. That in itself is priceless. Backpacks, bags and cases are a field of gear where one might be obligated to consider affordability over quality but that is not the case with this backpack. For the protection it offers, the sheer amount of storage and again compartmentalization it'd be one of the best investments you'll ever make as a camera operator.
If you're planning on filling the bag to its capacity, like I did, you'll be pleased to know the shoulder straps feel comfortable over long periods of time and the hip belt and chest strap do well to distribute the weight evenly. For four days I was hiking up and down hills in Badger, California with this on and I never once felt uncomfortable. Keep in mind I'm a 6' 250lbs man. My petite assistant carried it filled to capacity and the bag appeared to dwarf her. While she shared she was also very comfortable wearing it for a few minutes she could see how a few hours of the backpack maxed out could be cumbersome for someone of her size.
PROS:
Durable materials
Maximum storage
Clever and convenient compartmentalization
Professional appearance for any shoot
Handy accessories
Great for DSLR users or large camera operators
Harness side camera compartment is fantastic for security and safety
2nd bag killer
CONS:
Black nylon absorbs dirt and dust easily
Excessive compartmentalization can take a little getting used to
If filled can potentially be heavy over long periods for lighter individuals
At this point when I pack for a shoot this is the first bag I grab and in plenty of cases it's the only bag I grab. Its storage accommodates nearly every kind of gear you could need. I don't personally know anything about the people at Tenba but either they've incorporated a lot of feedback from filmmakers and photographers or they themselves are because this bag is incredibly well designed and addresses almost all of the concerns I've had from previous (non-Tenba) bags I've owned. With the amount of gear professional filmmakers and photographers take on a shoot organization is key to setting up quickly and implementing shooting promptly. Tenba's Roadie HDSLR Video Backpack – Black 22 in. not only offers an unprecedented amount of compartmentalization and organization but it enables shooters to feel safe about where their gear resides and enables them to start capturing sooner. Any owner of this backpack will quickly discover how much it accommodates their workflow and most importantly that it's well worth the investment.
HELP SUPPORT THE BROTOGRAPHER
If you've enjoyed this content and you'd like to check the current price or purchase the Tenba Roadie HDSLR Video Backpack, please click on our links at the top or bottom of this article to do so or click to check out the current price on Adorama or Amazon. Doing so gives us a few pennies off every dollar when you use our links, and it helps us keep putting out great content that keeps your informed about new gear. It doesn't cost you anything, but it's a huge support and helps keep the lights on. We thank you in advance.
Tenba Roadie HDSLR Video Backpack Review
The Tenba Roadie HDSLR video backpack is a highly utilitarian backpack, capable of being used in most any filmmaking or photography situation.
PROS
Durable materials
Maximum storage
Clever and convenient compartmentalization
Professional appearance for any shoot
Handy accessories
Great for DSLR users or large camera operators
Harness side camera compartment is fantastic for security and safety
2nd bag killer
CONS
Black nylon absorbs dirt and dust easily
Excessive compartmentalization can take a little getting used to
If filled can potentially be heavy over long periods for lighter individuals





A Worthy Investment