Game Changer For Third Party Lenses
For decades, Canon and Nikon simply dominated the market when it came to autofocus lenses for their DSLR cameras. Simply put, their reign may be coming to an end, and I believe that is single handedly because of the new Tamron 70-200mm f/2.8 G2.
You're probably thinking, "Hey bro, what about all the Sigma Art lenses?" Well, that's a very valid point. Here's my thought process on that. Sigma, and Tamron for that matter have been making excellent lenses the last few years that have been the rivaling or even beating similar lenses from Canon and Nikon. There have been a few zoom lenses, but for the most part both brands have been creating primes that have really set the bar high for not only themselves and other third party manufacturers, but also Canon and Nikon. I still maintain that the Sigma 85mm Art is the sharpest lens I've ever used, but it really is a one trick pony. I also recently reviewed the Tamron SP 150-600mm f/5-6.3 G2 lens (read that review here). I absolutely love that lens, but the tradeoff for its low price is a narrower aperture.
What the market has really been looking for is for either Tamron or Sigma to release a very strong performing 70-200mm f/2.8 with image stabilization. Tamron has done just that, and beat Sigma to the punch with their new 70-200mm f/2.8 G2.
Watch the Video Review As Well

Important Specifications and Features
Construction: 23 elements in 17 groups
Fits full frame and APSC Canon and Nikon Cameras
Aperture range: 2.8-22
Closest focusing distance: 37.4"
Maximum magnification: 1:51
Image stabilization: Up to 5 stops in VC Mode 3
Aperture blades: 9 bladed
Front filter size: 77mm
Length: 7.5" (without lens hood)
Weight: 52.9 oz. (3.3lbs)
Construction and Ergonomics – Tamron 70-200mm f/2.8 G2
Design
The Tamron 70-200mm f/2.8 G2 keeps in line with Tamron's newly designed SP G2 lineup. The lens is made of a beautiful black metal that feels nice and cold to the touch. Comparing it with the Canon 70-200mm f/2.8L IS II, it feels just as solid, which is a win. This full metal construction is a must for any lens that wants to be taken seriously, and Tamron continues to nail that with their G2 design.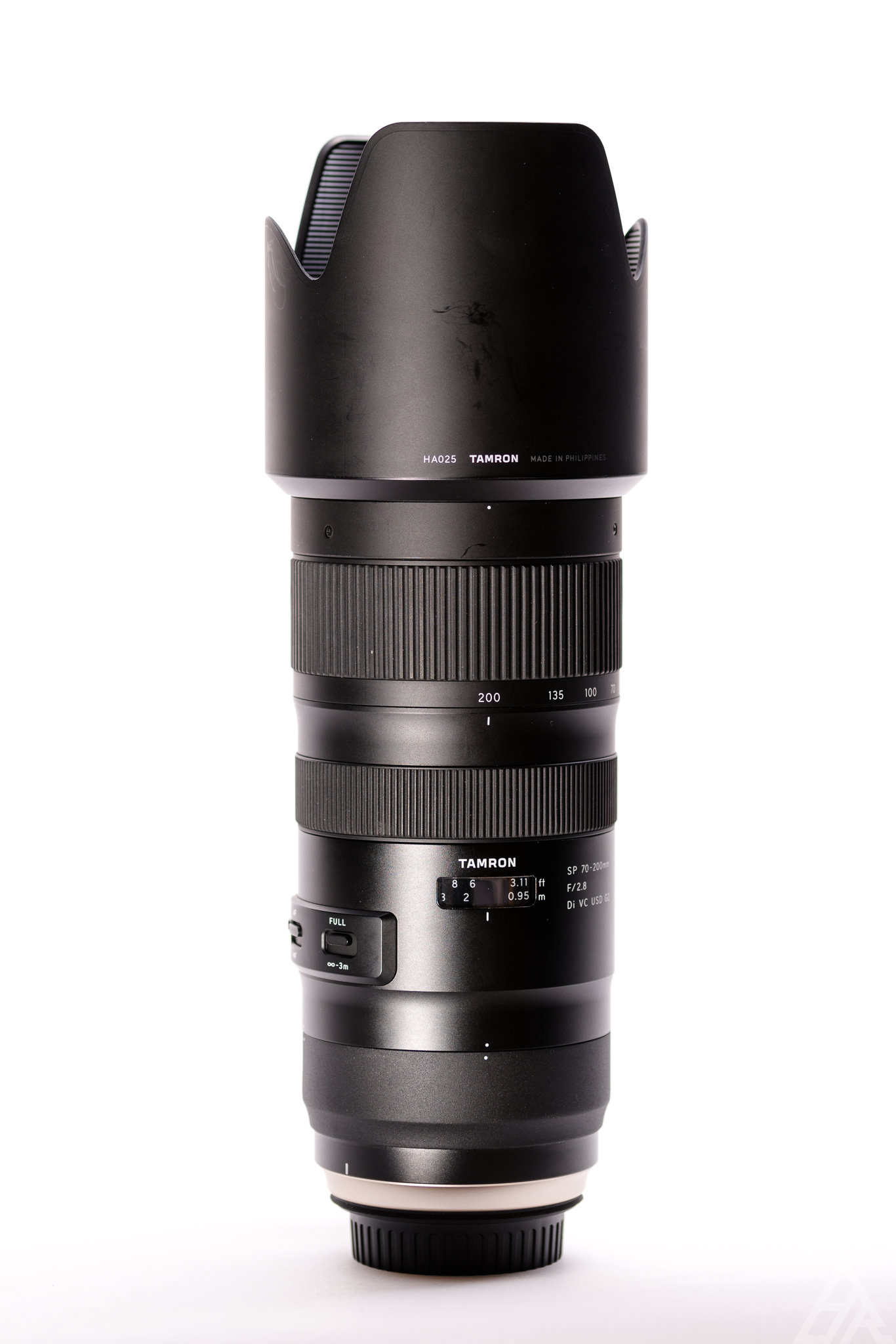 The lens mount is made from a strong metal, and it is also weather sealed with a nice rubber gasket. This gasket seems to be as strong as the Canon version, which I am also happy about. Tamron also claims that the entire lens is weather sealed. Just in front of the gasket is the tripod mount. Tamron has employed a built-in Arca-Swiss mount in this lens, which is a huge win for me. There's nothing worse than forgetting your tripod mount, and you'll never have that problem with the Tamron 70-200mm f/2.8 G2. It's something that I've not seen from any other manufacturer, but I can pretty much guarantee that other companies will be copying this move in years to come.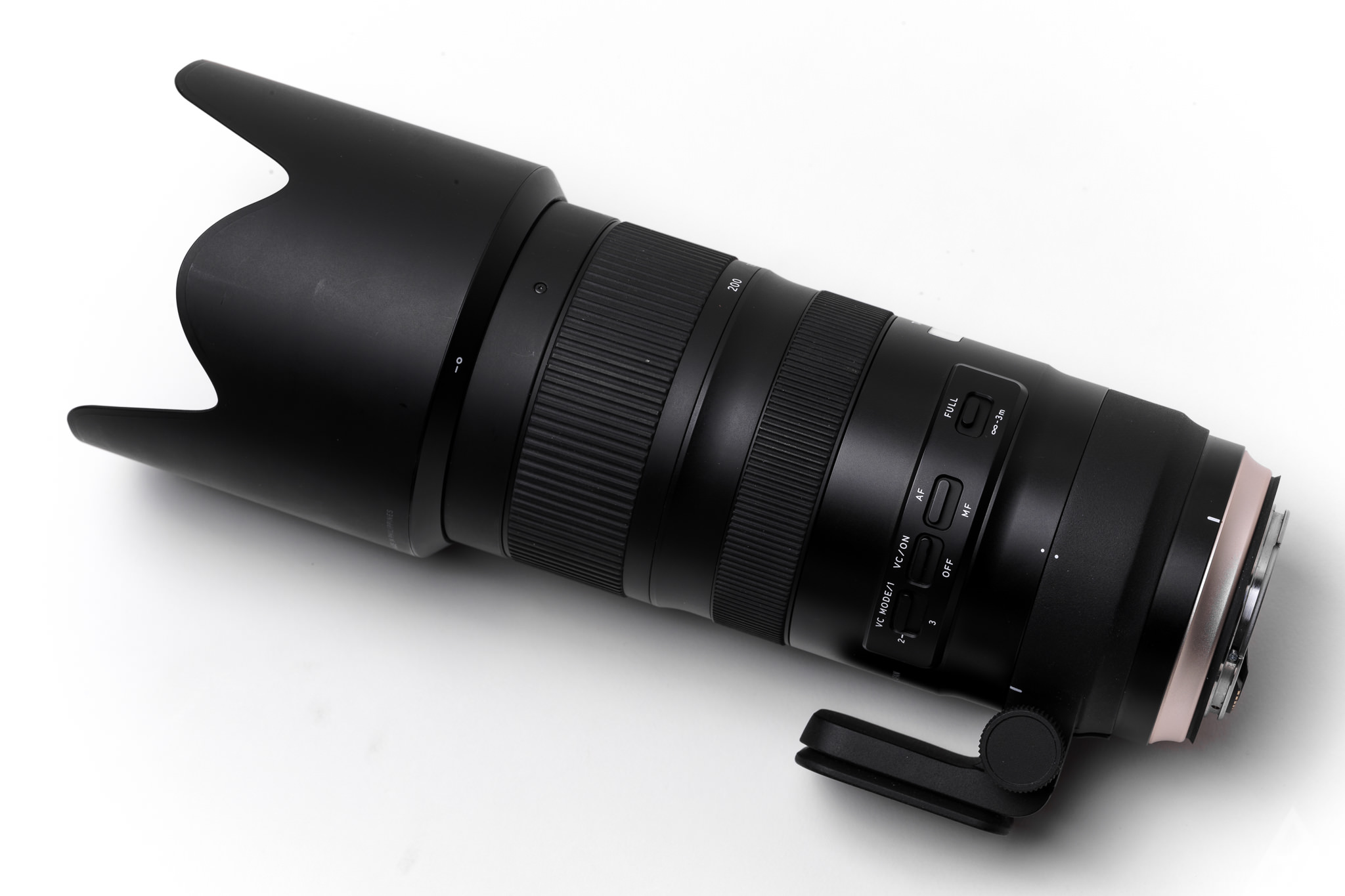 The tripod mount can be easily turned with the adjustment of a single dial, or removed entirely when the lens is not connected to your camera. I much prefer this tripod collar to the Canon version, as it is much easier to work with. If you don't need the mount, it can also be removed without taking off the whole collar, something that also cannot be said for the Canon.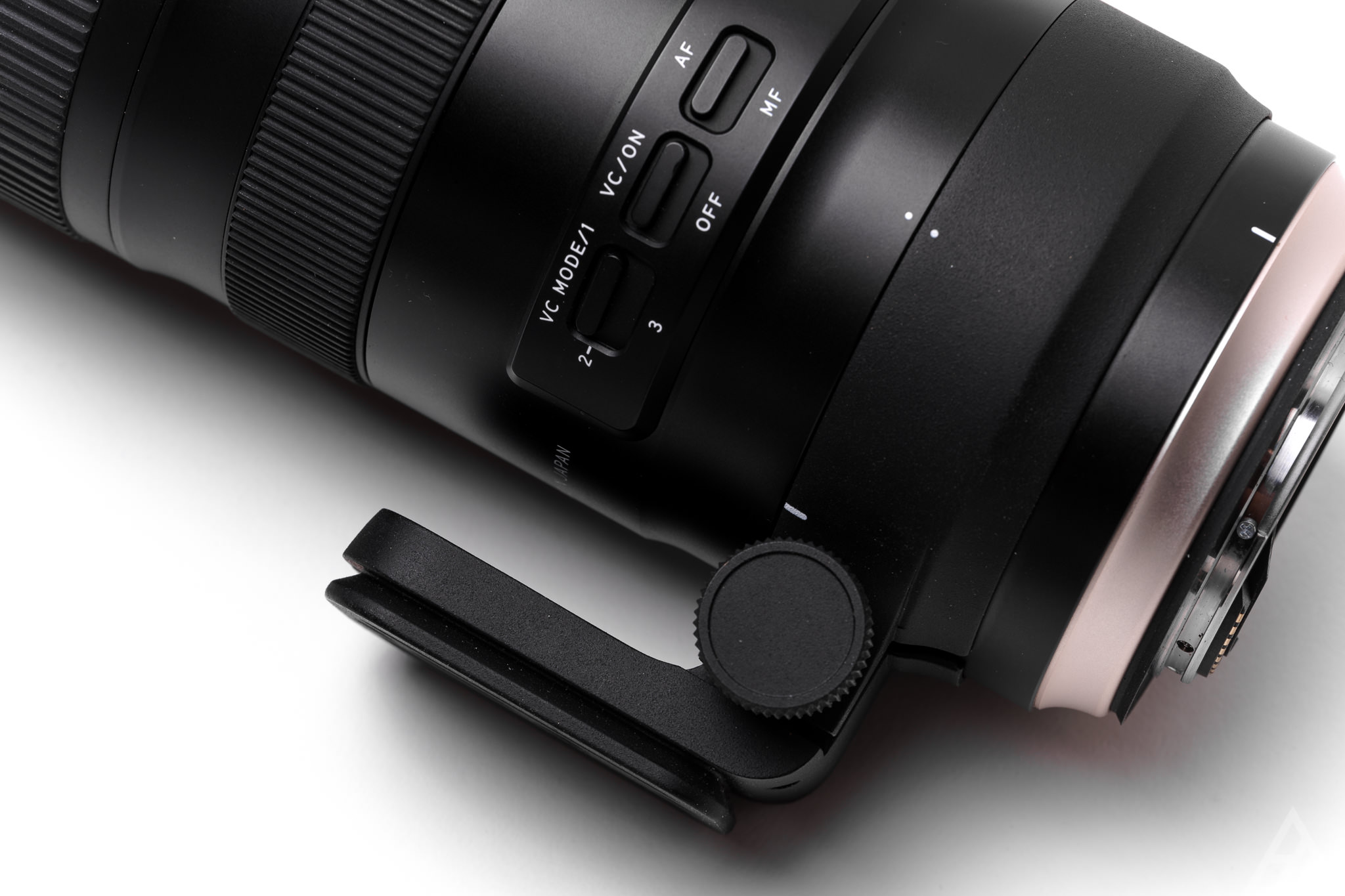 Just above the tripod collar is the focus distance scale, some branding, and four separate switches, exactly like it's big brother, the SP 150-600mm G2. The first is the VC (Vibration Compensation) switch, which has three separate positions. Mode 1 is your general mode, and stabilizes both the viewfinder and final image. This mode is advertised as giving an equivalent of four stops of image stabilization. Mode 2 is intended exclusively for panning. Mode 3 doesn't stabilize the image in the viewfinder, and only turns on at the point in which the image is taken. Tamron advertises that 5 stops of image stabilization can be achieved in this mode, which would make it the best of any 70-200mm lens in its class. In my experience, Tamron's vibration compensation is superb. While I can't say exactly to what point it is working, it seems to work well. I mainly stayed in Mode 1, and it worked well for me.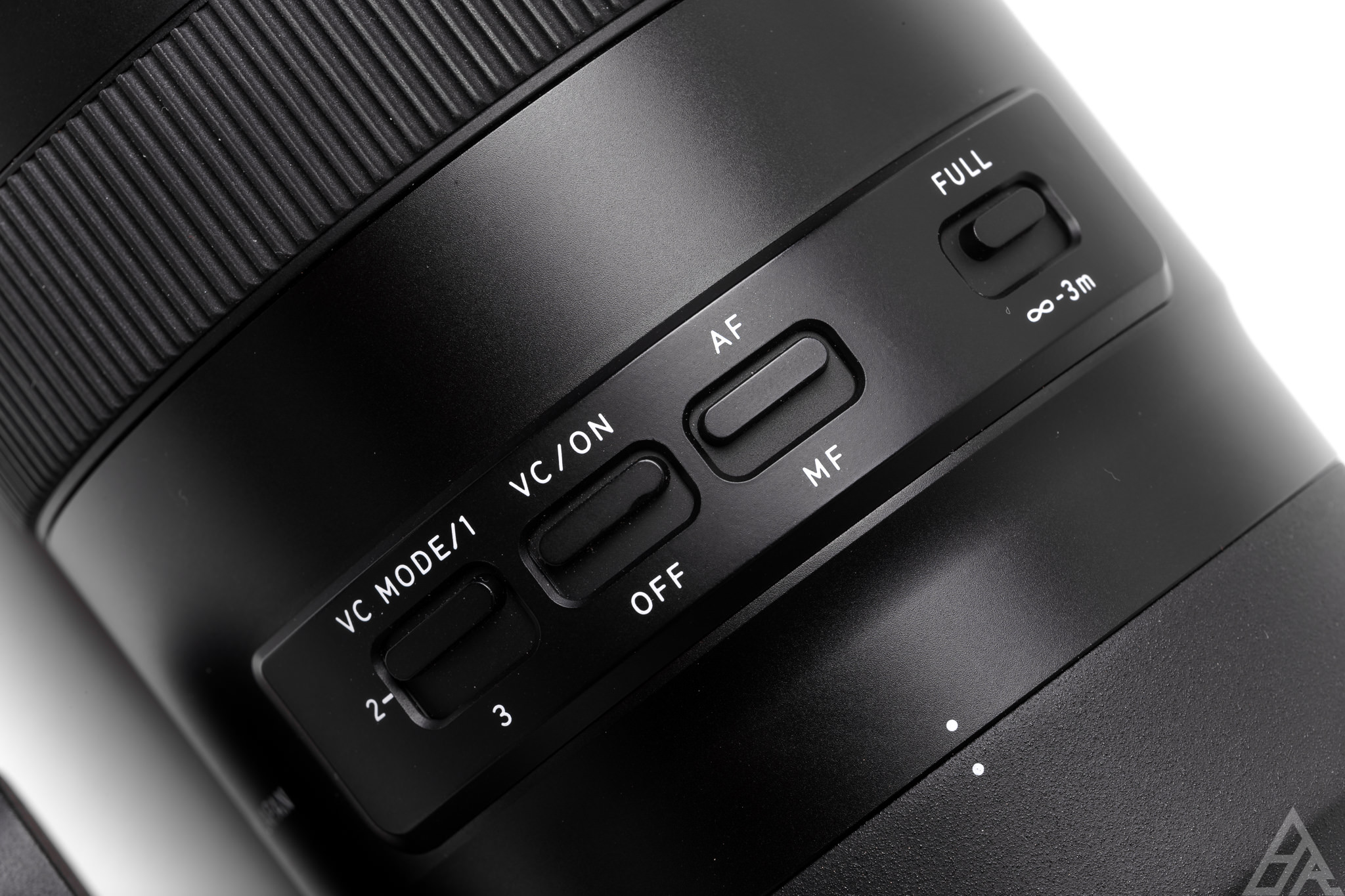 The second switch on the Tamron 70-200mm f/2.8 G2 is for turning the VC off and on. The third is an AF/MF switch. Both are standard. The fourth switch is a focus limiter, with two options. The first option is for its closest focusing distance (.95m) to 3 meters, ideal for close work. The second is for the full focal distance. These switches have a nice tactile feel about them, with a satisfying "click" when they are moved.
One part of the design on the Tamron 70-200mm f/2.8 G2 that I don't like as much is the metal near the front of the lens. Tamron didn't use the same black, sleek metal that they use on the rest of the lens, but instead use a metal with a matte finish. This finish is much more prone to scratches. The same goes for the lens hood, which picks up pretty much any scratch thrown its way. The lens hood is relatively sturdy, but doesn't feature a felt interior for catching dust or a locking mechanism.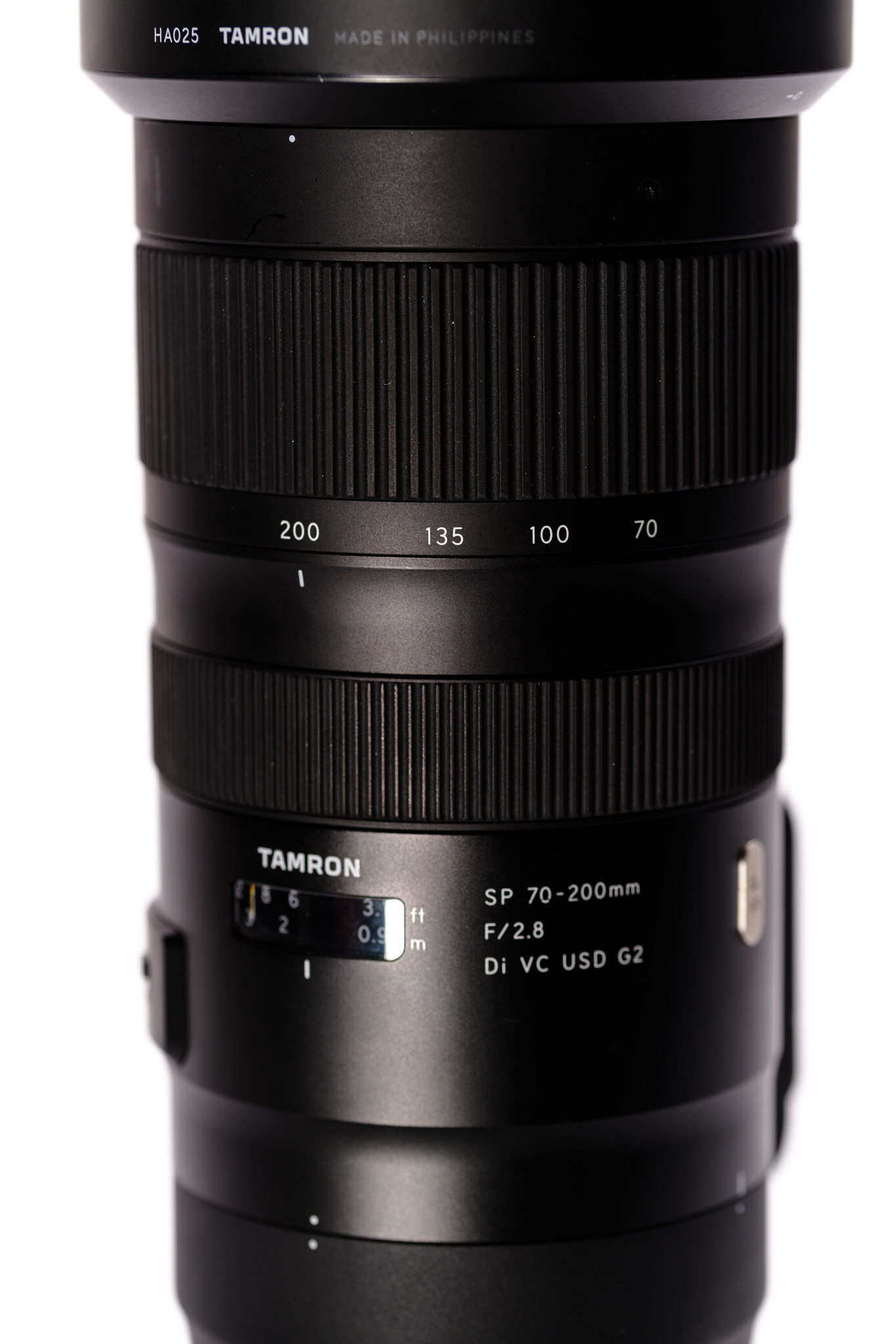 Zoom and Focus Rings
While I really am elated by many aspects of the Tamron 70-200mm f/2.8 G2, the zoom and focus rings are not one of them. Tamron placed the focus ring on the end closer to the body, and the zoom ring on the far end. This isn't a placement that I'm familiar with personally, and really found it hard to break my muscle memory when I came to hand placement. However, that wasn't a huge issue, as I would slide my hand forward when I felt the smaller focus ring.
Tamron 70-200mm f/2.8 G2 ||

AMAZON

||

ADORAMA
The issue that I found harder to deal with is the reverse zooming direction on the zoom ring. Both rings, especially the zoom ring, have a great tactile feel. However, I am used to zooming while turning the ring left instead of right. In an environment where things are happening quickly, knowing your gear is of the utmost importance. If you are used to Canon lenses, I suggest giving yourself ample time to re-teach your brain the zooming direction. I found it hard to deal with, but I know that given more time, this wouldn't be as big of an issue. I also find that the zoom ring on the Canon 70-200mm L IS II is also more fluid, with less of a sliding feel to it. The Tamron 70-200mm f/2.8 G2 zoom ring isn't quite as smooth, but at $600 less, I'll take it.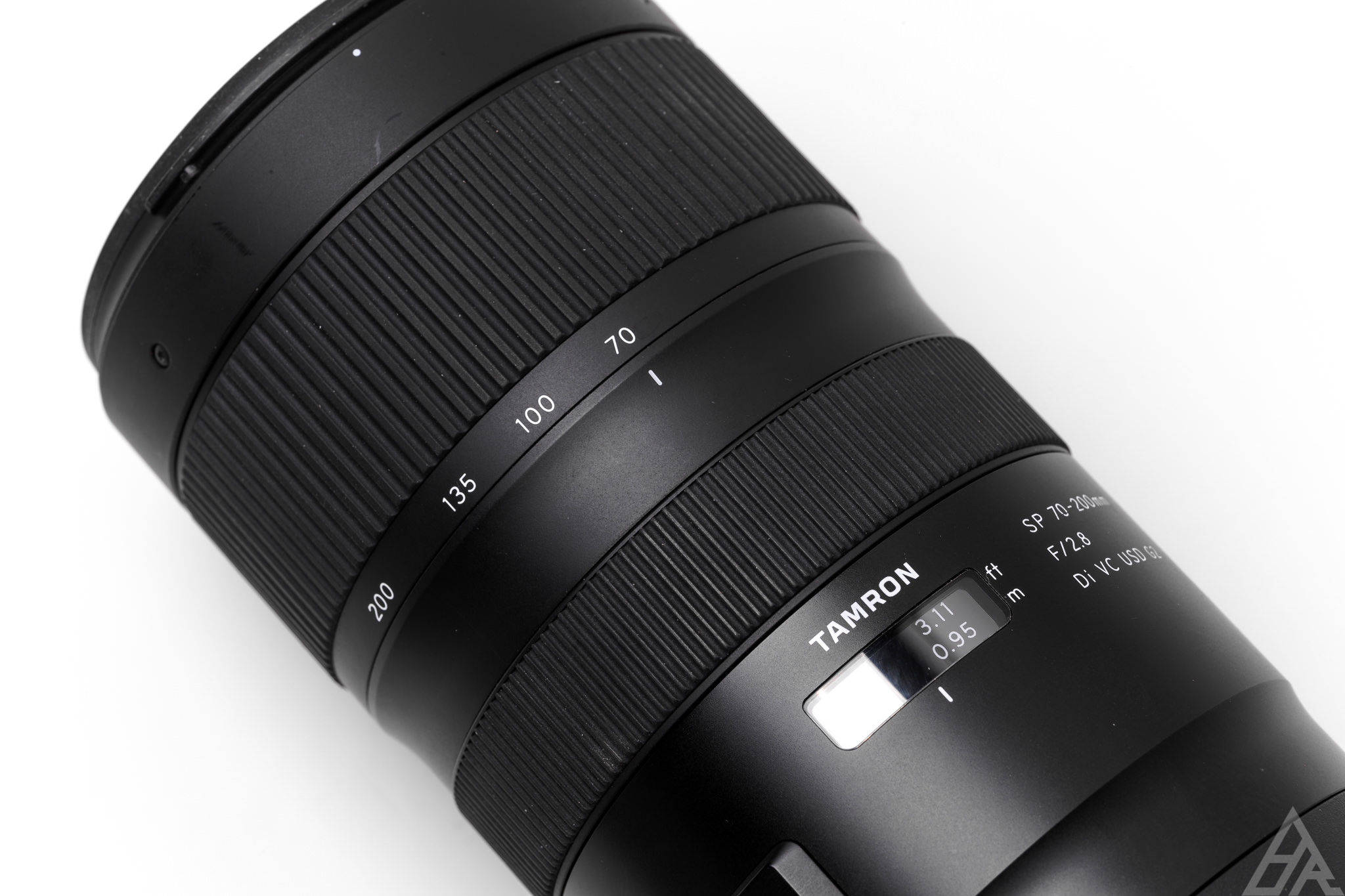 Optics
Tamron really set out to improve the optical design, materials, and coatings of the 70-200mm f/2.8 G2. They recognized that a 70-200mm lens is often used for portraiture, where backlighting your subject is very popular. They added an eBAND coating to minimize flare and ghosting. Tamron also added an LD (low dispersion) element to get rid of chromatic aberration. In my experience, the Tamron 70-200mm f/2.8 G2 did quite well in that area. It's key for me to get rid of as much CA as possible, especially when shooting backlit. There nothing worse than having to get ride of that magenta and purple fringing in high contrast situations.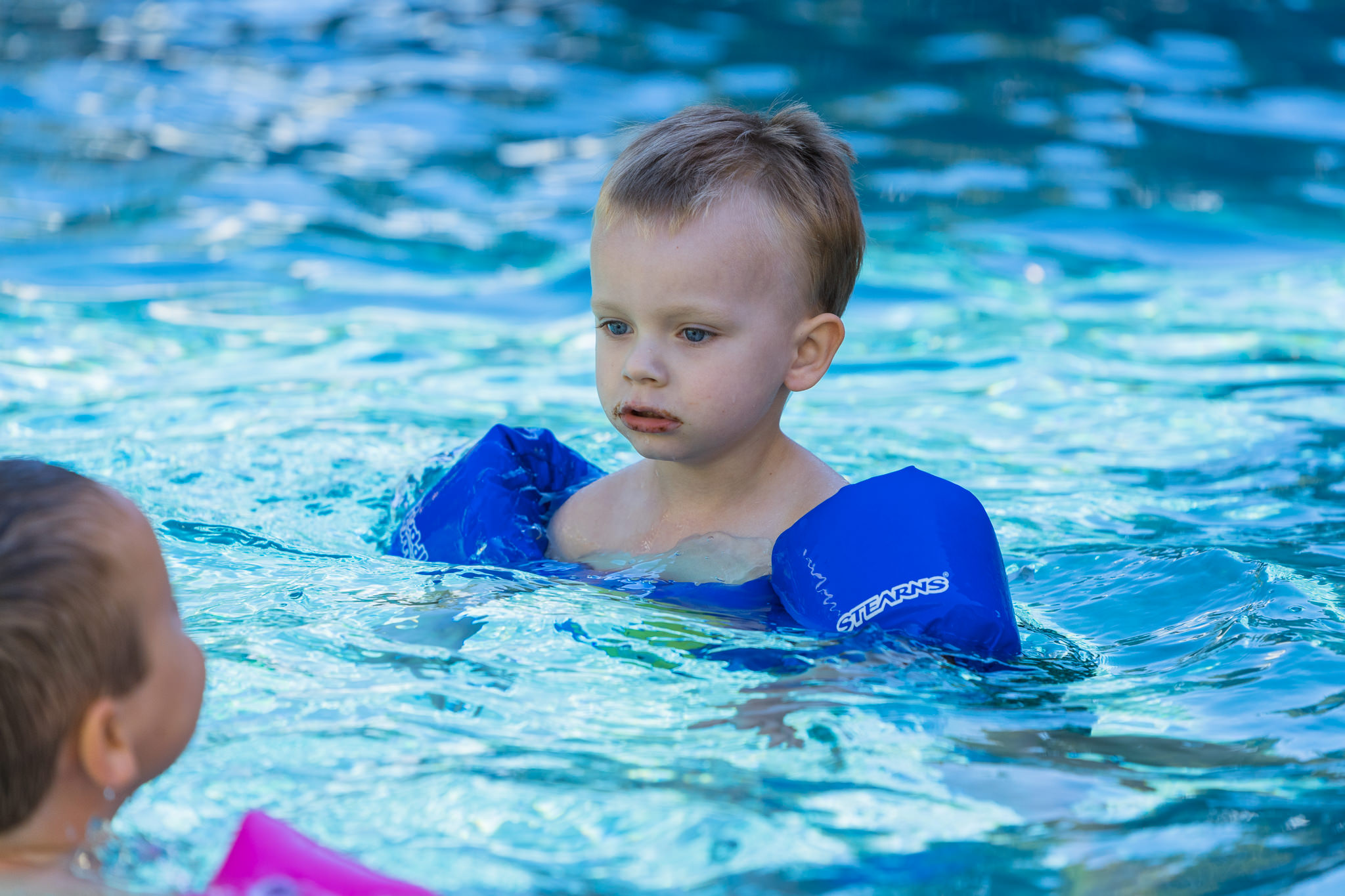 Autofocus – Tamron 70-200mm f/2.8 G2
The 70-200mm focal length is a jack-of-all-trades. Arguably, it is one of the zooms that most benefits from fast and accurate autofocus, whether it is portraits, indoor or outdoor sports, events and weddings, or a variety of other purposes, autofocus is key.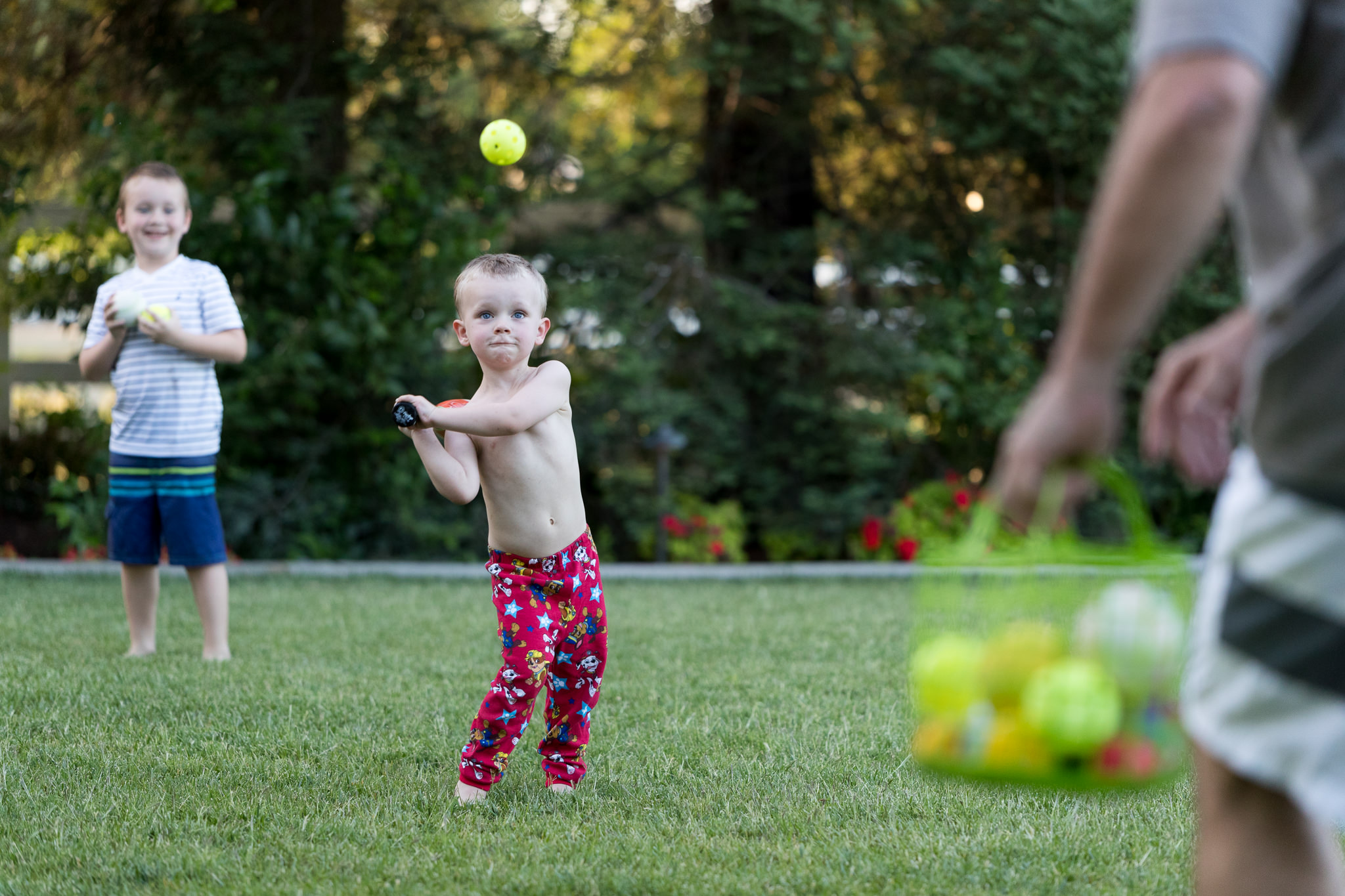 Overall, I am very happy with both the auto focusing speed and accuracy on the Tamron 70-200mm f/2.8 G2 lens. Focus locked on almost instantaneously throughout the focal range and in all focusing modes. Since I don't do lab testing with lenses (way too boring!), but try to use them how do in the real world, I can't really speak to whether my few out-of-focus images are because of the lens or user error, but there weren't that many of them to worry about. Most lenses will drop a frame here and there, and I found that the amount of usable images coming from the Tamron 70-200mm f/2.8 G2 was more than acceptable. I have no gripes about the speed or accuracy on this lens, and I believe that you will be pleasantly surprised as well.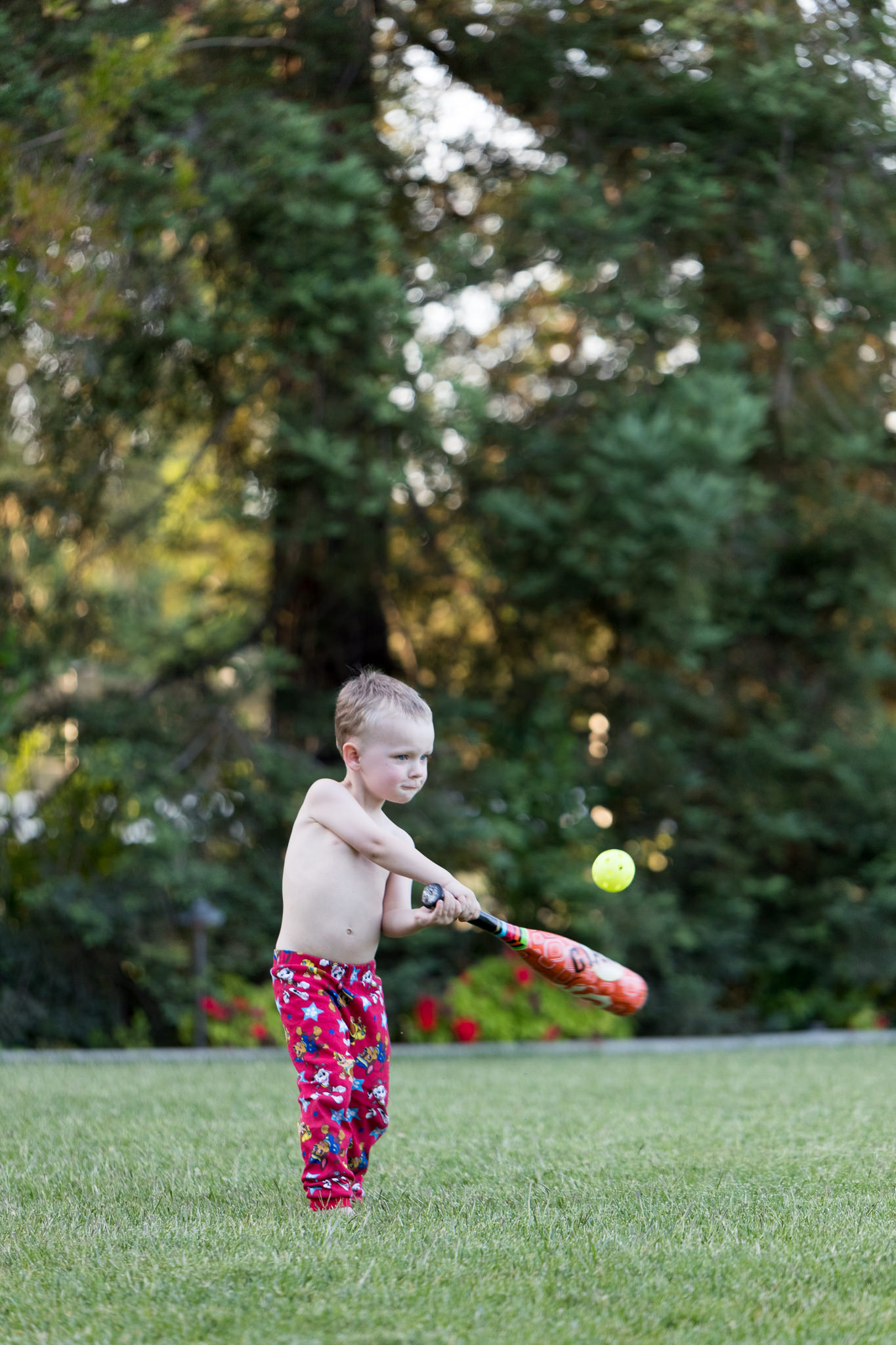 Sharpness – Tamron 70-200mm f/2.8 G2
I fully expected the Tamron 70-200mm f/2.8 G2 to be sharp, but not as sharp as my Canon version. I was pleasantly surprised to find that it was indeed sharp throughout the zoom range, and on par with the Canon version at most focal lengths. It does suffer a little bit wide open at 200mm, but by f/4 it is back to being tack sharp. When I say that it suffers a little bit, it really is just a tiny bit. It is perfectly usable and I didn't second guess shooting it at f/2.8 and 200mm, but it is worth noting.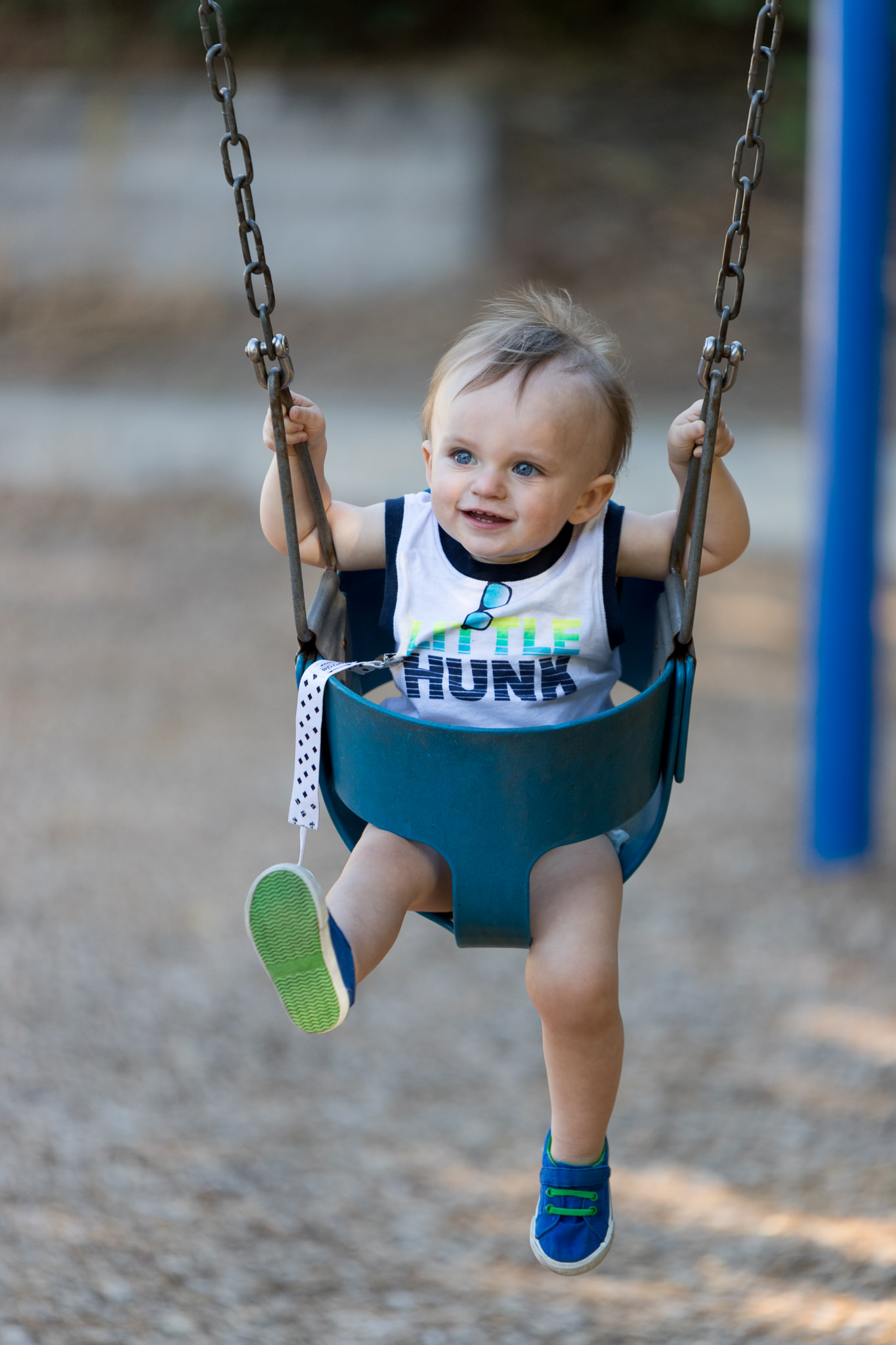 Bokeh
I'm a fan of the bokeh of the Tamron 70-200mm f/2.8 G2. While it is a bit onion shaped, I wouldn't describe it as busy. I do feel that the bokeh gives the sharp portion of the image a nice pop, with good separation. I think that it has similar characteristics to the bokeh on certain Sigma Art lenses, which is definitely a compliment, and puts Tamron in that category.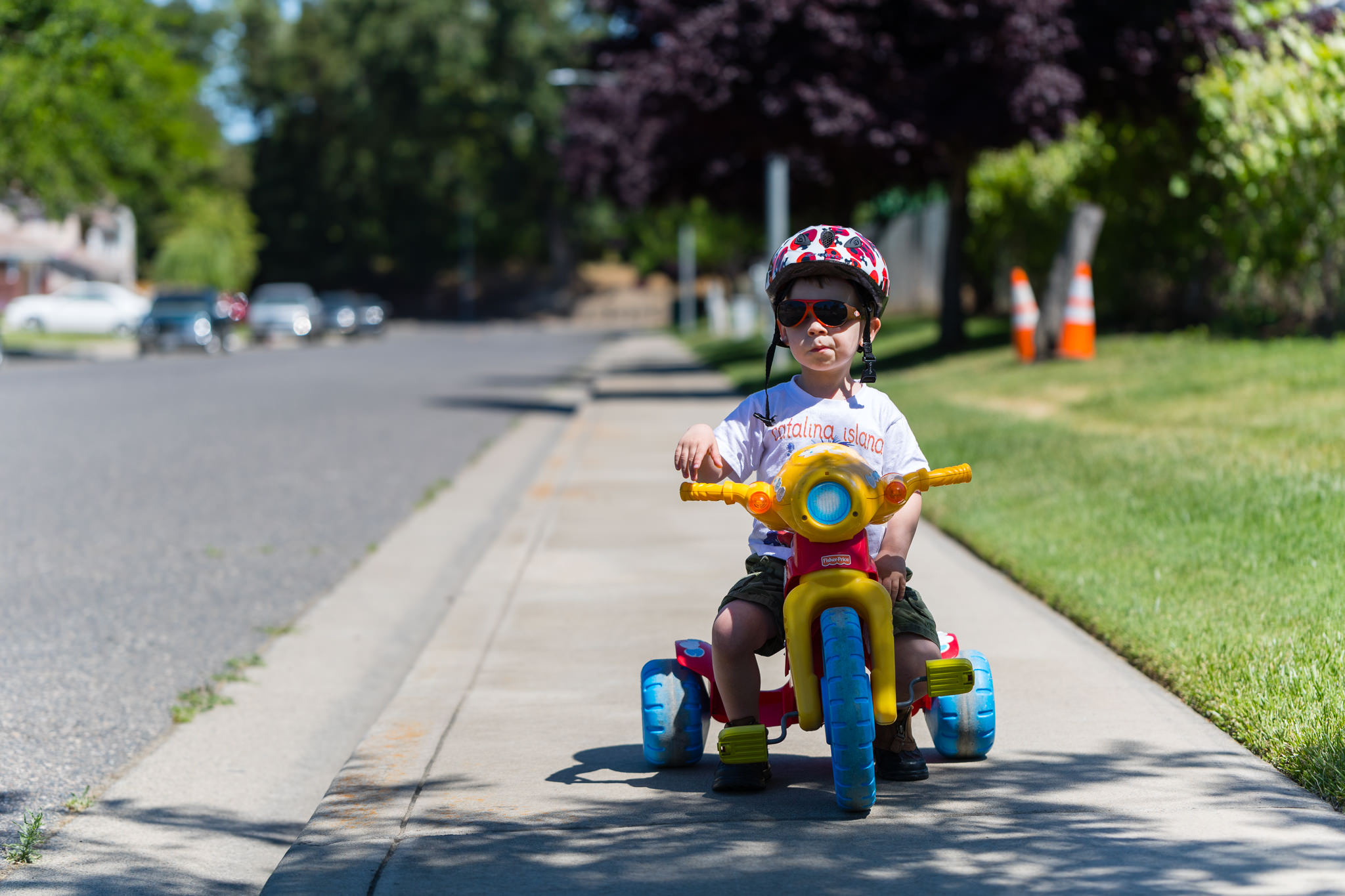 Chromatic Aberration
The CA on the Tamron 70-200mm f/2.8 G2 is pretty well controlled, with just a hint of fringing in super high contrast situations. It is perfectly manageable though, and nothing like a lens like the Canon 85mm f/1.2L II. As long as lenses handle the CA to a point, Lightroom can do the rest. I've found though that if it gets out of hand, that a lot more post processing is needed. That's not the case with the Tamron 70-200mm f/2.8 G2 though.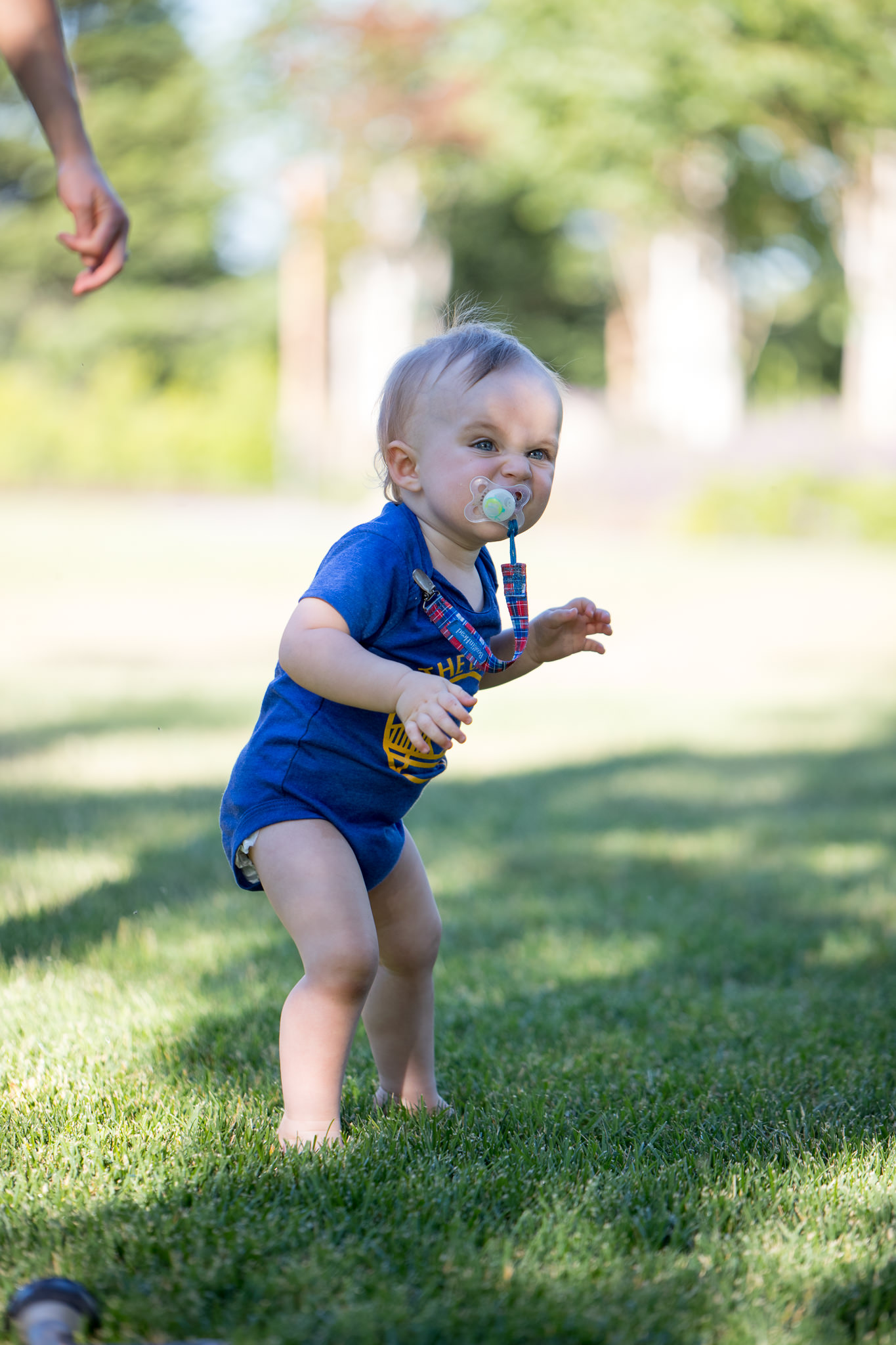 Vignette on the Tamron 70-200mm f/2.8 G2
There is some slight vignetting on the Tamron 70-200mm f/2.8 G2 wide open. This is very easy to handle in Lightroom as well. Stopped down, the vignette is gone for the most part.
My Overall thoughts and conclusion of the Tamron 70-200mm f/2.8 G2
Let's start with value. This is where I think the Tamron 70-200mm f/2.8 G2 really changes the game. Canon's high-end 70-200mm run $1,899 new, while Nikon's new 70-200mm runs a whopping $2,796! The Tamron 70-200mm f/2.8 G2 comes in at a staggeringly low $1,299. That is why I think this lens officially shifts the dominance in lenses away from the two major manufacturers. Sure, there are a few features here and there that I like better on my Canon 70-200mm, but for the most part you get the exact same features on the new Tamron 70-200mm f/2.8 G2. In some cases you actually get more, such as the added mode for image stabilization.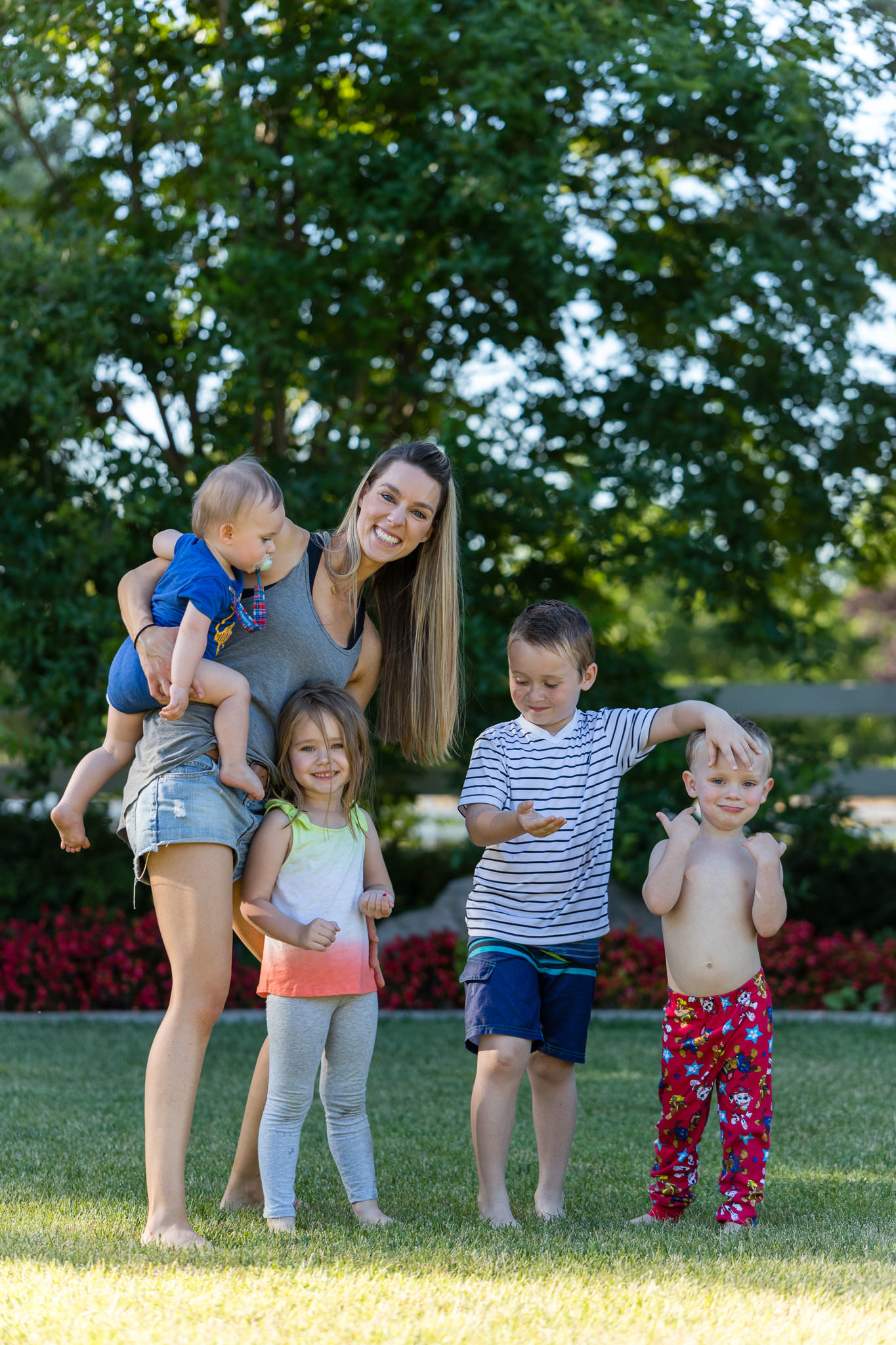 I really enjoy the design direction that Tamron is going with their G2 lineup. The 70-200mm f/2.8 G2 looks great on my 1DX Mark II, and doesn't stand out as much as the big white Canon lenses. The Arca-Swiss style tripod mount is also one of the most genius features I've seen in a lens. Sometimes it is the simplest things that makes all the difference, and being able to quickly throw this lens on a tripod without worrying about attaching a plate is a fantastic design addition.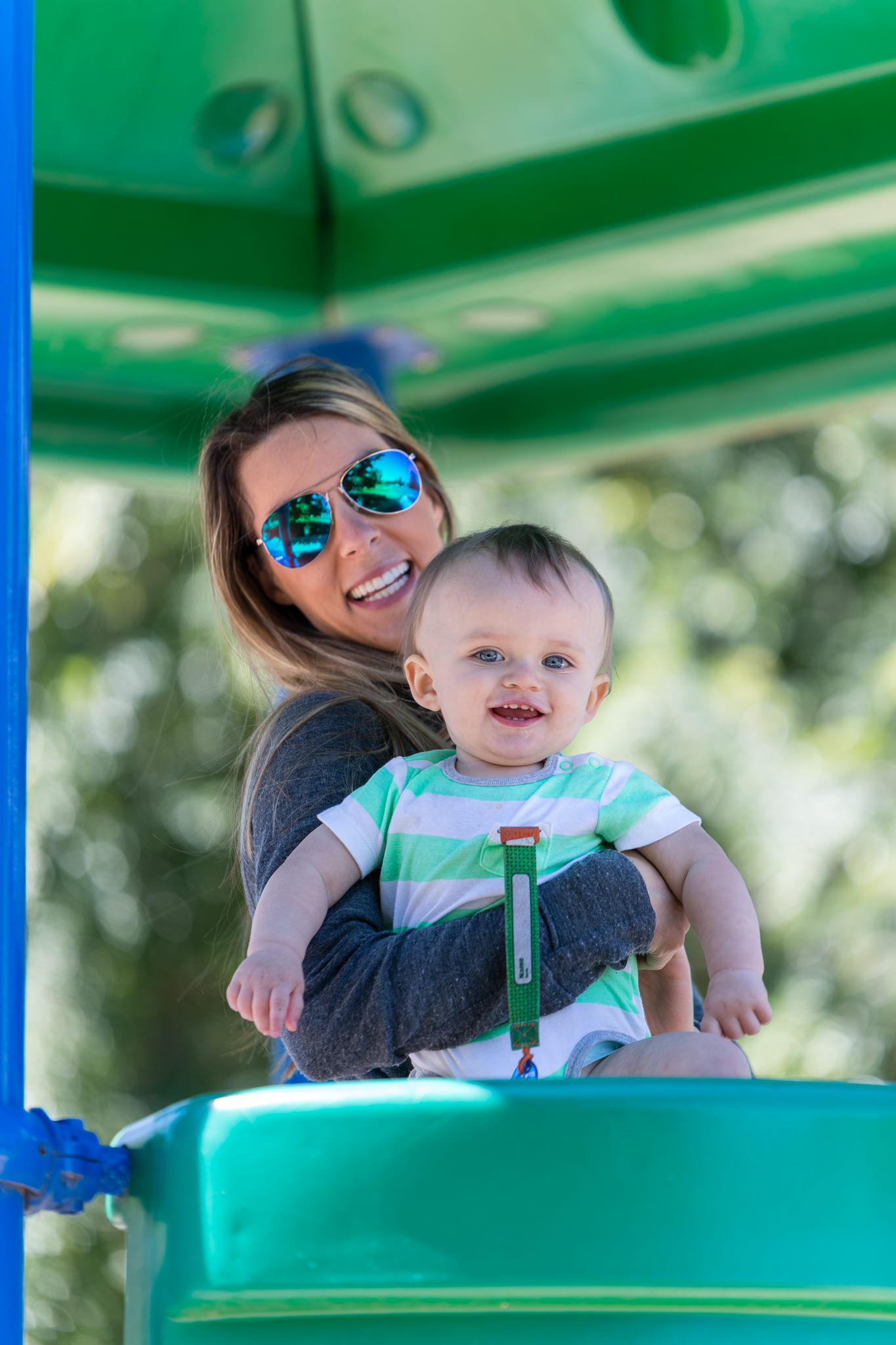 The sharpness on the Tamron 70-200mm f/2.8 G2 also matches the Canon, with the exception of 200mm and f/2.8. Autofocus is also on point, which is something that would have been a deal breaker for me. Tamron has stepped up their game so much in the last few years, and I'm really excited to see what they do in the future. Their G2 lineup is getting fairly stacked with lenses. I'm sure that many photographers are looking for the G2 version of the 24-70mm f/2.8, because Tamron has long had the only 24-70mm with vibration compensation, which is a great differentiating factor. When that lens is released, I do hope that they reverse the zoom rings, and allow the turning of the zoom ring to be in the Canon direction. I don't think they will do this because of their previous design of the Tamron 70-200mm f/2.8 G2 and 150-600mm G2, but we'll see.
Overall, the Tamron 70-200mm f/2.8 G2 is highly recommended by The Brotographer. Not only does it perform extremely well, is designed great, but it also has fantastic value for your money at a price of only $1299. Those savings might very well allow you to purchase another lens in a different focal length, giving you even more versatility. I would recommend a 35mm lens to pair with the Tamron 70-200mm f/2.8 G2.
If you'd like to purchase the Tamron 70-200mm f/2.8 G2, please consider using our affiliate links below. We make a few dollars when you use our links, and it helps The Brotographer make more content like this.
Tamron 70-200mm f/2.8 G2 ||

AMAZON

||

ADORAMA

 
Tamron 70-200mm f/2.8 G2 Review
The Tamron 70-200mm f/2.8 G2 is the first zoom lens that reaches Canon L series and high end Nikon design, handling, and performance. Highly recommended.
PROS
Built in Arca-Swiss tripod mount
Great value for money
Nice sharpness
Fast autofocus
Great stabilization
CONS
Reverse zoom ring direction from Canon lenses
Zoom ring is in front of focus ring
Lens hood prone to scratches





Game Changer For Third Party Lenses